Thousands marched in the streets of New York Thursday in response to the two recent killings of black men by police officers, stopping traffic and confusing tourists in Times Square.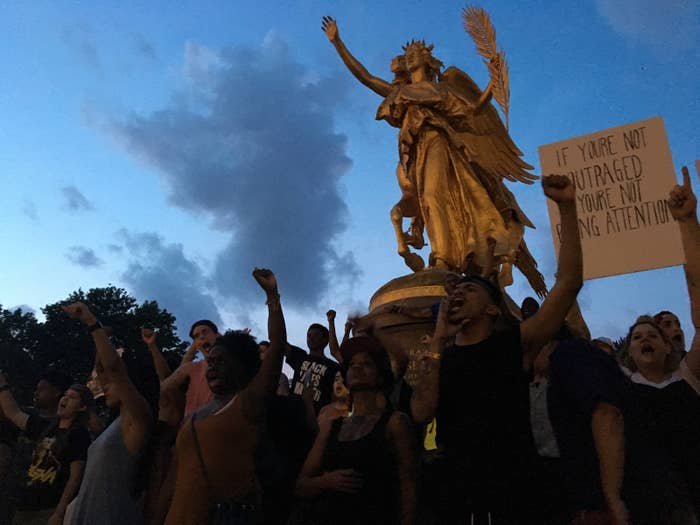 A few thousand demonstrators walked through traffic from Union Square to Times Square chanting, "Black Lives Matter," "Hands Up, Don't Shoot," and other chants that have become familiar in response to the slew of police killings of black men over the past four years.
"With every one of these I just feel lower and lower, less and less valued," Alexa Palacios, 25, told BuzzFeed News. "But being here you feel like you're not alone."
On Tuesday, Alton Sterling, a 37-year-old black man, was selling CDs outside a convenience store in Baton Rouge, Louisiana, when a 911 call from a homeless man brought the cops to the scene. Two police officers wrestled Sterling to the ground, and shot him repeatedly in the chest.
The next day, Philando Castile was pulled over for a routine traffic stop while in a car with his girlfriend, Diamond "Lavish" Reynolds, and her 4-year-old daughter. Reynolds said later in a Facebook livestream https://www.buzzfeed.com/tasneemnashrulla/philando-castile-shooting?utm_term=.du2yny66V#.sf9LdLAA2 that as Castile reached into his pocket to retrieve his ID, police shot him multiple times in the chest.
Part of both altercations were captured on camera.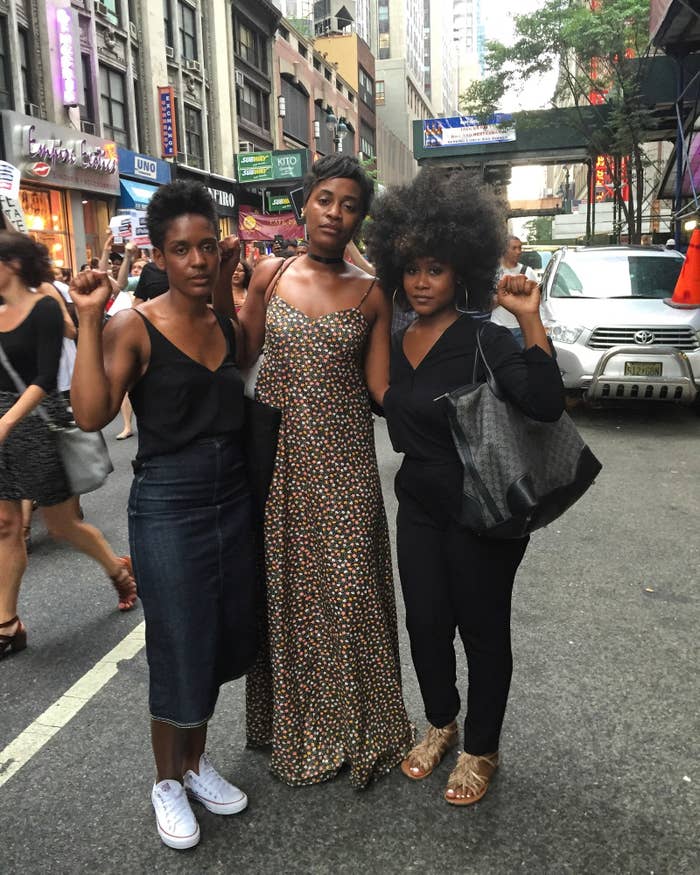 Many protestors were there with their young children. Britney Irving, a 30-year-old public defender, told BuzzFeed News this was her 4-year-old son's second Black Lives Matter protest.
"My baby boy, Elias ... is the same age as that young girl who watched [Castile] get shot four times by the police," Irving said. "I can't even.. there are no words."
Irving hasn't "had the talk" with Elias yet, hasn't yet told him what growing up "a black man in America means," and doesn't yet know how she is going to go about it.
"How am I supposed to teach him to be a man, but teach him not to stand up for himself to police, no matter how right [he is]?" she said.
All Elias knew Thursday night was that they were there to "protest things that bad people do," Irving said. "I'm teaching him to stand up for what's right."
Two more children, Mohammad, 7, and Josiah, 6, told BuzzFeed News it was their second "parade."
But for many protestors, it was the first time they had taken to the streets. "It finally got to be too much," Leila Jean, 27, told BuzzFeed News.
John and her friend, Ashley Dalton, said they immediately called their male relatives when they heard the news.
"I'm nervous to even have a son in this country because of the way black men are treated," Jean said. "I couldn't sit at home anymore, I had to do something."
"I'm just trying to get through it," Dalton said through tears.
Brendan Washington, a 25-year-old black man at the protest, expressed a similar sentiment.
"I'm angry, I'm hurt I feel hopeless, sad..." Washington said, "But I can't sit at home and post on Facebook and Twitter, I gotta do something."
A man near Washington who declined to give his name said he'd been to five Black Lives Matter protests, but noted the one on Thursday appeared to have the fewest black men yet.
"I think a lot of us have finally been scared home," he said. "But not me."
Once the protest reached Times Square, police started boxing in the marchers, telling them to get out of the streets before arresting dozens of protestors with zip-tie handcuffs and loading them onto New York City busses.
Tourists walked by the screaming crowds, confused, as police broke up the protest into smaller, more manageable sections.
"How can you do this to us?" protestors screamed at a row of black police officers as they stood blocking them from the street.
"If you see something, say something right?" one woman yelled at a row of non-white police officers, quoting the NYPD anti-terror advertisements. "If you care about your people this is when you stand up, this is when you do the right thing, not take the overtime hours on your paycheck."
The New York demonstration was just one of many that took place across the U.S. But in Dallas, a similar protest took a deadly turn after at least three police officers were shot dead.
They were among seven other officers who were shot and left in critical condition by what appeared to be two snipers in elevated positions.