The death of Seaman James Derek Lovelace was ruled a homicide by medical examiners Wednesday, two months after he was repeatedly dunked and splashed by his instructors until he drowned.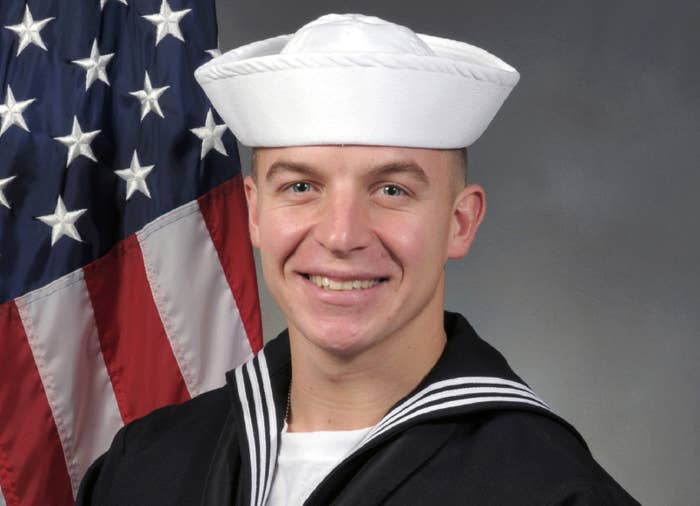 Lovelace was undergoing combat swimmer training as part of the notoriously challenging Basic Underwater Demolition SEAL course at the Naval Amphibious Base Coronado in Southern California on May 6 when he was rushed to the hospital.
According to analysis of video surveillance obtained by the Naval Criminal Investigative Service (NCIS) and reviewed by the San Diego medical examiner's office, Lovelace drowned "at the hands of" Navy SEAL instructors.
Lovelace was struggling during a swimming exercise in which trainees are instructed to tread water in a pool while in uniform, including combat boots, while also wearing masks filled with water.
SEAL instructors are supposed to manufacture "adverse" conditions by creating waves, splashing, and yelling at the students in military style, but are not supposed to dunk them or push them underwater.
The medical examiner's report obtained by BuzzFeed News describes an instructor on a platform near the pool taking notice of Lovelace struggling with the exercise. The instructor allegedly pointed Lovelace out to a second instructor, who then was said to have dunked Lovelace and followed him around the pool for around five minutes repeatedly splashing him, dunking him, and yelling at him.
"The decedent is also splashed by other individuals during the event," the report reads. "At one point in the video, another individual in the water is seen pulling him up and away from the instructor."
Lovelace was eventually pulled from the water and was initially verbally responsive, though not coherent. He later died in a nearby hospital after "aggressive attempts at resuscitation."
His cause of death is listed in the report as "drowning," with a contributing factor of "cardiomegaly," better known as having an enlarged heart, a symptomatic condition that is generally easily treatable but can be worsened by stress.
A statement provided to BuzzFeed News by NCIS spokesperson Ed Buice noted that it is "important to understand that 'homicide' refers to 'death at the hands of another' and ... is not inherently a crime."
The nomenclature of the autopsy report does not signal that the Naval Criminal Investigative Service investigation into Seaman Lovelace's death has culminated, nor that conclusions have been reached regarding criminal culpability.

The NCIS investigation is open and active and NCIS does not discuss the details of ongoing investigations.
Neither the U.S. Navy nor the Coronado training base immediately responded to BuzzFeed News' request for comment.
One of the instructors involved in Lovelace's death was removed from training duties shortly after the incident, NBC reported.
SEAL training continued as normal for three days before a "safety stand-down" was implemented. Training was halted, methods were reviewed, and emergency equipment — such as oxygen tanks and defibrillators — were added near the training areas. These changes were "precautionary measures," a spokesman for Naval Special Warfare Command, Navy Lt. Trevor Davids, told the Washington Post.
Two other Navy trainees died within a six-month period in 2016. In November, Petty Officer 2nd Class Caplen Weare, 24, died in a car crash hours after he was kicked out of his class. His blood alcohol level was nearly double the legal limit, the Virginia-Pilot reported in May.
In April, Danny DelBianco, 23, jumped off the 22nd floor of a San Diego hotel shortly after quitting the Navy during "hell week," the hardest period in the demanding training.
In a statement made after the three deaths, commanding officer of the Naval Special Warfare Center Capt. Jay Hennessey said that the Navy SEALs would keep a closer eye on trainees who drop out of the program — though he mentioned nothing about reexamining the training itself.
"Despite a successful track record, any loss of life drives us to ensure we are doing everything possible to make training safe and effective," Hennessey said. "In the wake of the recent suicide, we have acknowledged opportunities to improve out-process and recovery procedures for students who disenrolled – specifically improving accountability for sleep-deprived sailors."