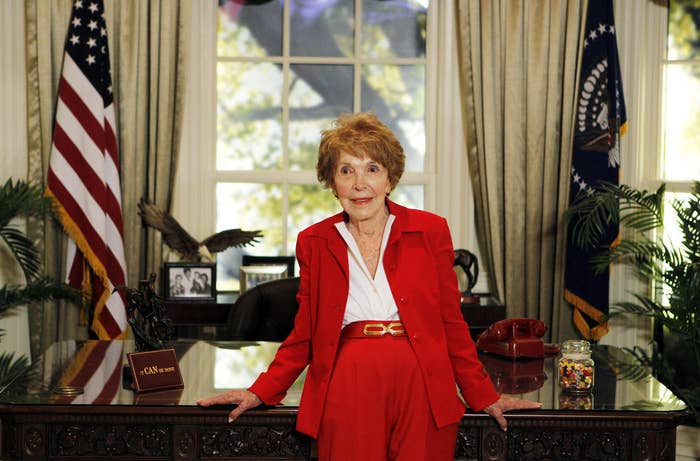 Nancy Reagan, former first lady of the United States and the widow of former President Ronald Reagan, died in her Los Angeles home Sunday morning. She was 94.
According to a statement sent to BuzzFeed News from Joanne Drake of the Reagan Presidential Foundation, the cause of death was congestive heart failure.

"Mrs. Reagan will be buried at the Ronald Reagan Presidential Library in Simi Valley, California, next to her husband ... who died on June 5, 2004," Drake said.
"I am saddened by the passing of my step-mother Nancy Reagan," her step-son Michael Reagan, the adopted son of Ronald Reagan and his first wife Jane Wyman, wrote on Twitter. "Nancy is where she has always wanted to be with her Ronnie."
"Now she is at peace," he wrote.
President Barack Obama released a statement of condolences on behalf of him and his wife.
"Nancy Reagan once wrote that nothing could prepare you for living in the White House," the statement read. "She was right, of course. But we had a head start, because we were fortunate to benefit from her proud example, and her warm and generous advice."
"We remain grateful for Nancy Reagan's life, thankful for her guidance, and prayerful that she and her beloved husband are together again."
Nancy Reagan was born in 1921 in New York City. She was named Anne Francis Robbins but was always called "Nancy" by her family, according to the Reagan Foundation.

In the 1940s she moved to Hollywood to pursue a career in acting. There she met then-actor Ronald Reagan. In 1952, the two were married. Within three years the couple already had two children: daughter Patti Davis and son Ron Jr.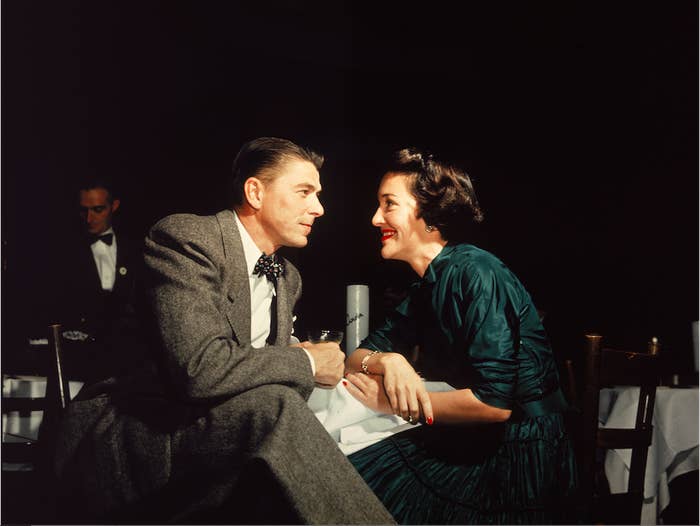 More than 10 years later — after starring in only one movie together, Hellcats of the Navy — Ronald Reagan began to become politically active.

After Ronald Reagan served as the governor of California, he was elected president in 1980 and served two terms.
Nancy Reagan was notoriously involved in her husband's campaign and presidency. She was known by many as one of his most trusted advisers, who often put his image, reputation, and well-being above her own.

"Without Nancy, there would have been no Governor Reagan, no President Reagan," said Michael K. Deaver, a close friend and longtime political aide of the Reagans who died in 2007.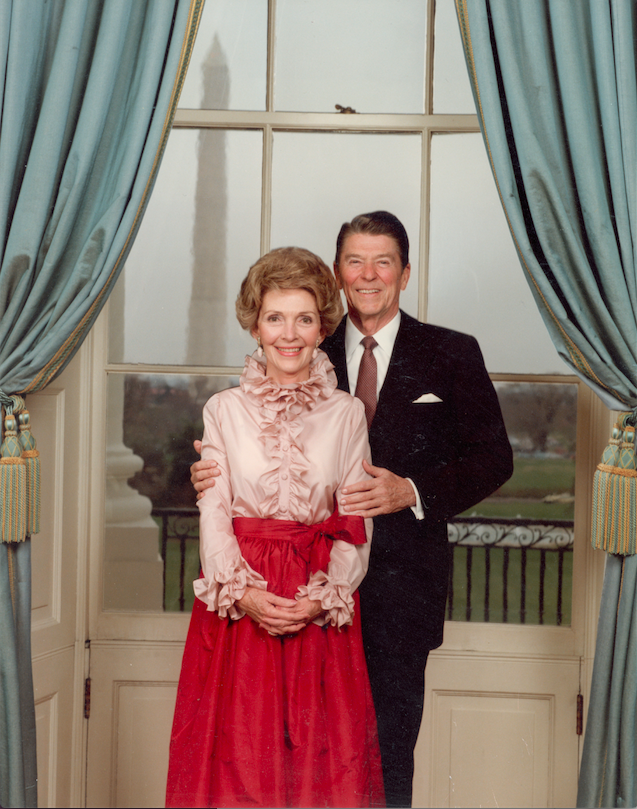 Nancy Reagan exercised power behind the scenes, helping to hire and fire political consultants during both of her husband's campaigns for the Republican presidential bid, first in 1976, then, successfully, in 1980.
Publicly, she pointedly portrayed herself as a chic first lady and devoted wife, often saying she had happily given up her career in acting to devote herself to her husband's career.
She received criticism when, in their first term, she replaced the White House china — which was paid for with private donations — in order to restore the White House to its Kennedy-era glamour.
Former President George W. Bush also released a statement of condolences, commending the former first lady for her devotion to her husband and her taste in interior decoration.
"Her influence of the White House was complete and lasting," he wrote. "When we moved into the White House, we benefited from her work to make those historic rooms beautiful."
Nancy Reagan garnered further controversy for the White House when, shortly after the attempted assassination of her husband in his first year as president, she reportedly brought in a Californian astrologer to help with designing Ronald Reagan's schedule.
Later in her time as first lady, Nancy Reagan served publicly as the powerful face of the famous anti-drug "Just Say No" campaign.
Behind the scenes she continued to function as a prominent adviser throughout Reagan's presidency. In 1987, when it was revealed that Ronald Reagan secretly signed off on sale of arms to Iran, Nancy Reagan was heavily involved in attempting to recover from the scandal.

She was influential in the decision to fire Donald Regan, Ronald Reagan's chief of staff, and in convincing her husband to issue a public apology, which he eventually did. She never sought and received little credit for the turnaround until years later.
In 1985, Nancy Reagan turned down a plea for help from Hollywood legend and friend of the Reagans Rock Hudson, who was dying of AIDS. Nine weeks later, he died.
Nancy Reagan was diagnosed with breast cancer in 1987. She underwent a mastectomy of her left breast and began to openly discuss the diagnosis and operation in order to encourage women to have mammograms every year.

She remained notoriously loyal and publicly protective of Ronald Reagan throughout his struggle with Alzheimer's disease and up until his death in 2004.
Toward the end of her husband's life, Nancy Reagan publicly broke with then-President George W. Bush in order to support embryonic stem-cell research, and increased her advocacy after Ronald Reagan's death.
"Our former First Lady redefined the role in her time here," the Obamas' statement continued.
"Later, in her long goodbye with President Reagan, she became a voice on behalf of millions of families going through the depleting, aching reality of Alzheimer's, and took on a new role, as advocate, on behalf of treatments that hold the potential and the promise to improve and save lives."

She is survived by her two children, Ronald Reagan Jr., a left-wing political analyst, and Patti Davis, a former actress and model.