There Are More Secretly Recorded Planned Parenthood Videos
They highlight Planned Parenthood's lack of prenatal care, but some points are misleading.
Anti-abortion group Live Action on Monday released a video of secretly recorded phone calls and in-person meetings at 14 Planned Parenthood clinics across America that do not provide prenatal care.
The thesis of the videos is that Planned Parenthood says women rely on them not just for abortion — but also services such as prenatal care. Live Action argues that since that many Planned Parenthood clinics — they list 97, but released the recordings of 14 — do not offer prenatal care, it shows that they are "focused on abortion." The videos come in the midst of a debate over cutting off Planned Parenthood's federal funding — which is prohibited by law from being used on abortions — unless they agree to stop performing abortions.
"The abortion giant has insisted that prenatal care is one of its core services that women will lose if its taxpayer funding is cut off," Live Action's statement about the video reads. "Live Action's investigation proves those services are virtually nonexistent at the abortion chain."
Live Action invested $500,000 in promoting their newest video on Facebook and through other online platforms. On Thursday afternoon the video had 10 million views and more than 300,000 shares. Live Action's president and founder, Lila Rose, told BuzzFeed News that it is the beginning of a series of videos to be released over the coming months with the goal of increasing Planned Parenthood's chances of losing funding.

"Planned Parenthood is transparent about the services we provide," Planned Parenthood Vice President Dawn Laguens said in a statement to BuzzFeed News. "This misleadingly edited video is yet another attempt by opponents of safe, legal abortion to create a false impression of Planned Parenthood and the important work we do in communities across the country every day."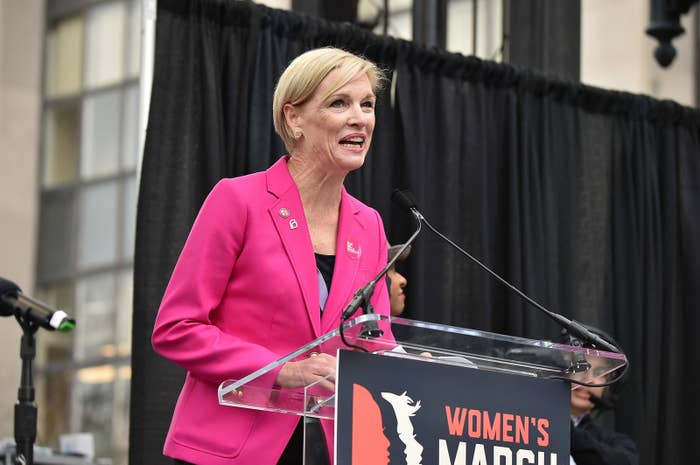 Some background
A pregnant woman receives prenatal care up until she gives birth. It is usually given by the doctor, hospital, midwife, or health organization that will deliver the child, and includes frequent ultrasounds and tests to make sure the fetus is healthy. Women could go to their local Planned Parenthood or health clinic for generally cheaper prenatal care, though Planned Parenthood does not deliver babies.
Live Action is an anti–abortion rights group devoted to taking undercover videos of Planned Parenthood in attempts to discredit or catch its employees in illegal activities. In 2011, Live Action sent actors posing as pimps and prostitutes into Planned Parenthoods in an attempt to expose Planned Parenthood for aiding and abetting child trafficking. Though this campaign and many others like it have caused a stir, none of them have succeeded in permanent legal repercussions for Planned Parenthood, with the exception of one clinic's yearlong probation over a paperwork error.
What parts of the video are true?
BuzzFeed News called all of the 14 Planned Parenthood health centers in the videos and found similar results to Live Action; most of them do not offer complete prenatal care, though all of them offered referrals to nearby clinics and hospitals that do. BuzzFeed News also called two clinics in Los Angeles and one in Ann Arbor, Michigan, which said that they do offer full prenatal care. (There are about 650 Planned Parenthoods in the US, and the group would not say how many are licensed and staffed to offer prenatal care.)
Live Action is correct in saying that prenatal care is not a large part of Planned Parenthood's services — according to its latest annual report, Planned Parenthood performed 17,419 prenatal services versus more than 4 million STI tests, nearly 3 million contraceptive services, 323,999 abortions, and nearly 700,000 cancer screenings.
About four clinics BuzzFeed News called said they were able to provide the first prenatal visit, which Planned Parenthood's website says consists of an ultrasound, STI testing, a pap smear, a breast exam, and possibly other blood and skin tests, services that Planned Parenthood offers to both pregnant and nonpregnant women.
What parts are not true?
A number of aspects of the video are misleading. The first is the implication that because Planned Parenthood does not perform prenatal services, its main focus is abortion. As the above annual report shows, in 2014–2015, Planned Parenthood performed 323,999 abortions out of 9,455,582 total services. (It should be noted that if the numbers were broken down by patient, and not services, these numbers would be closer in size. Planned Parenthood does not release that information.)

The video also exaggerates the amount that Planned Parenthood promotes their prenatal services as fundamental to their care centers. In 2011, when Planned Parenthood performed about 10,000 more prenatal services than they reported in its most recent annual report, it was more of a talking point. In recent years, Planned Parenthood has refrained from bringing up prenatal care as a reason they should not be defunded, and instead focus on cancer screenings, STI testing, and other services.
At the beginning of the video, there are three clips of Planned Parenthood president Cecile Richards and Planned Parenthood Michigan CEO Lori Lamerand saying the words "prenatal care." Two of these clips are misleading.

The first clip is accurate and is not taken out of context. It is a short recording of Richards saying that "folks depend on Planned Parenthood for prenatal care," at a rally in 2011. In some areas (Ann Arbor, the Rocky Mountains, and parts of New York and Los Angeles, for example), Planned Parenthood is one of the few clinics to provide full, inexpensive prenatal care.
The second clip, however, is taken entirely out of context. It is of Richards' 2016 endorsement of Hillary Clinton for president and shows her not talking about Planned Parenthood's services at all, but about the issues that some voters care about. "They want a president who will stand up for the gun lobby," Richards said, and "a president who will fight for prenatal care, Head Start, health care for kids, and first-class public schools."
The third clip, also from a 2011 rally, shows Lamerand saying that she wants to "focus on" prenatal care. Planned Parenthood Ann Arbor does offer prenatal care throughout pregnancy.
The takeaway?
While Planned Parenthood does not offer very many prenatal services compared to their other services, they do not claim to, as the video suggests they do.
CORRECTION
In 2011, Live Action performed a sting on Planned Parenthood in an attempt to expose it for aiding and abetting child trafficking. Lila Rose did not act in the sting herself, as previously reported in this article.