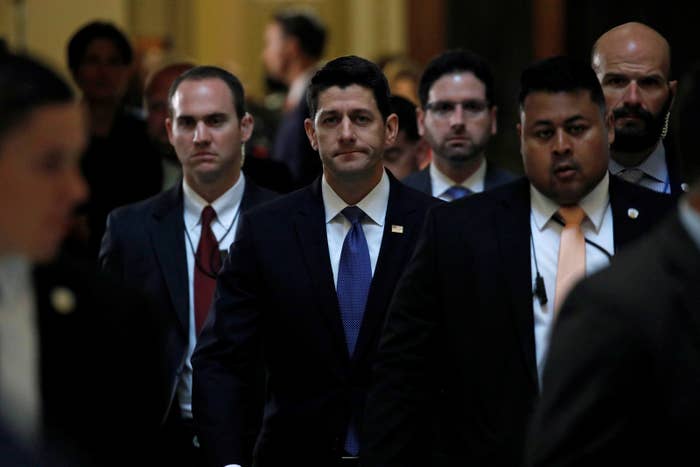 Multiple members of Congress said there was an uptick in threats coming into their offices both before and after Wednesday morning's shooting at a US House Republican baseball practice.

A gunman allegedly opened fire on the practice in Virginia on Wednesday morning, forcing Republican members of Congress who were present to take cover. Rep. Steve Scalise, the number three Republican in House leadership, was shot, along with two Capitol Police officers, a congressional aide, and a lobbyist, according to law enforcement. President Trump said the assailant died from his wounds.
Multiple Democratic representatives said during a members-only security briefing that they had received calls after the shooting saying, "You guys are next," California Rep. Nanette Diaz Barragàn told BuzzFeed News.
According to Barragàn, more than one of her Democratic colleagues said during the briefing that they had received a similar call and other threats on their personal phones following the shooting. Barragàn said she did not receive one herself, and would not name those who did, citing their safety.
One of the calls went to "a member who was not on the [Democratic baseball] team," she said, "and other Democratic members expressed concern that they were getting calls saying, 'You Democrats, you Democrats.'"
Members agreed during Wednesday's meeting that there have been more threats recently during the last few weeks and months, two Democrats told BuzzFeed News. A House Democratic aide confirmed the uptick.

Members shared stories about threats during the meeting, including Reps. Al Green, Emanuel Cleaver and House Minority Leader Nancy Pelosi, according to the member. Pelosi also referenced the threats she has received in a speech on the House floor after the meeting.
Green, a Democrat from Texas, told BuzzFeed News later Wednesday that he received a number of "polarizing" and "party-specific" calls today, similar to the ones described by Barragàn.
Green added that he has received a spike in threatening phone calls lately, most of which were in response to his plans to prepare to impeach President Trump.

Green said that many members of both parties discussed an increase in the amount and "intensity of ugly calls" they've been receiving lately. "Some of the them were the kinds of threats that really tug at your heart," he said.
Cleaver's office did not immediately respond to a request for comment.
Barragàn said police told members they will follow up on all of the "leads." The Capitol Police did not immediately respond to a request for comment.
One Republican member said that he received multiple threats before Wednesday morning's shooting, and that he had reported them to authorities.
Arizona Rep. David Schweikert, a Republican who is not on the baseball team, told reporters that his office had filed four threat assessments on Tuesday, the day before the shooting, based on people emailing and calling his office. He said one of those threats was "wishing my little girl is dead."
"In the past we've always sort of just sucked it up, we've sucked it up and just, 'oh that's not real.' But you've got to understand, there's something wrong," Schweikert told reporters.
Some members raised concerns about security during a House briefing after the shooting on Wednesday according to North Carolina Rep. Mark Walker, the team's starting pitcher who was present for the incident. "There were some concerns about the potential of upgrading members of Congress's security where you can have some funding to be able to take care of protection," Walker said.
Some House members have had a longstanding request to use their member accounts to pay for security at home since former Rep. Gabrielle Giffords and others were shot at a constituent event in Tuscon, Arizona, in 2011, the House Democratic member said.
North Carolina Rep. G.K. Butterfield pressed the security issue in Wednesday's meeting, saying that members could using campaign funds to pay for it, as long as they had previously received a documented threat. The Federal Election Commission does allow members of Congress to use campaign funds for "home security enhancements made in response to threats to an officeholder's safety," according to its website.
That came as news to some concerned Democrats. "I didn't even know, fuck that would be helpful for me to know. I'll use my damn campaign account they didn't even point that shit out," the Democratic House member told BuzzFeed News after the meeting.
Democratic Rep. Charlie Crist added that members raised the possibility of receiving something like the security that covers the federal judiciary. "When a federal judge gets nominated and approved by the Senate, then, like, immediately there are surveillance and equipment that are dispatched to protect their well-being and their family's well-being. That's just one idea that was thrown out this morning," he told reporters.
New York Rep. Joe Crowley, the chair of the Democratic Caucus, told BuzzFeed News that he supports an increase in security and has discussed it for his New York office, but that he cautioned that the threat of violence is something members of Congress "have been dealing with for quite some time."
"We are public officials, part of our shtick is to draw attention to ourselves so we will always be mindful of [the danger of that]," Crowley said, "but I am more concerned about the safety of my staff."
Crowley added that although he will not change his behavior because of the shooting, he thinks he and his fellow members of government have a lesson to learn about the importance of their rhetoric.
"I think overall there should be more of a sense of the importance of what we say and how it is interpreted from the top down," Crowley said. "We have a responsibility and the president has a responsibility to understand the rhetoric and what we say has consequences."
Pennsylvania Rep. Lou Barletta, a Republican, said security is always something members of Congress think about — especially when they're out in public at town halls and other meetings.
"You have to worry about doing town hall meetings, not only for your own safety but for the safety of people that go," Barletta said. "And your staff, I worry about my staff who take a lot of the abuse from people. I just think nationally the rhetoric has gotten too hateful."

House Freedom Caucus Chair Rep. Mark Meadows said the House will "look at additional protocols on security in the future."
"I think basically whenever you have a number of members high-profile targets out there, having some type of security will be key."
Despite Wednesday's shooting and alleged threats, the annual Congressional Baseball Game will go ahead with heightened security on Thursday night. The event, which is over 100 years old, pits Democrats against Republicans in a friendly match for charity at Nationals Park.
Adrian Carrasquillo contributed to this story.