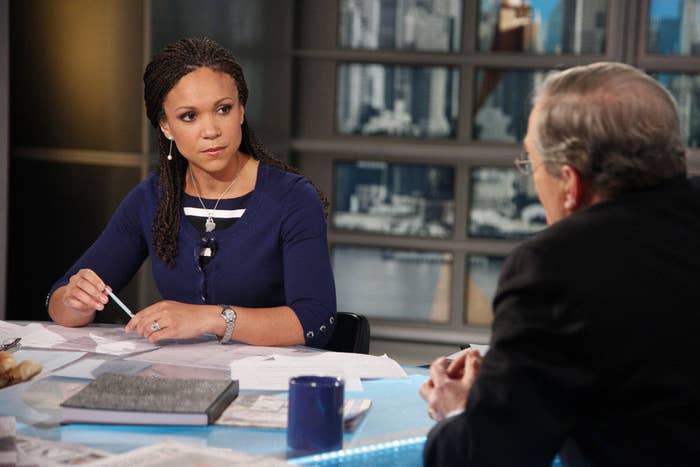 Melissa Harris-Perry is officially out at MSNBC, the network and television host confirmed Sunday.
The announcement comes two days after Harris-Perry refused to host her weekend program, saying she felt "worthless" to the MSNBC executives.
The same day, Harris-Perry asked a former MSNBC producer to publicly release an email she sent to her staff, expressing frustration with the recent "change in editorial tone and racial composition" of MSNBC.
"I will not be used as a tool for their purposes," Harris-Perry wrote. "I am not a token, mammy, or little brown bobble head. I am not owned by [MSNBC Chairman Andy] Lack, [President Phil] Griffin, or MSNBC."
Harris-Perry said that over the past few weeks she has felt "silenced" by MSNBC and treated with "insulting absurdity," having been replaced two weeks in a row with a campaign coverage program called Place for Politics.
"No one on the third floor has even returned an email, called me, or initiated or responded to any communication of any kind from me for nearly a month," Harris-Perry wrote in the email.
In a statement responding to Harris-Perry's email, MSNBC said that her show was not the only one to be replaced, adding that the network found her reaction "surprising, confusing, and disappointing."
Harris-Perry wrote that the "pre-emption," or replacement, was an attempt to sideline her show without officially canceling it.
After days of media reports, an MSNBC spokesperson confirmed on Sunday morning that Harris-Perry and the network were "parting ways."
Harris-Perry also tweeted a farewell to her show, nicknamed "Nerdland."
The announcement of Harris-Perry's departure was followed by an outpouring of support for the host on social media.
The hashtag #MSNBCSoWhite began trending, and many Twitter users reprimanded the network for what they interpreted as the attempt to "drown out diverse voices."
Harris-Perry told CNN that she and MSNBC were working on an exit deal through "third parties".

Her contract with MSNBC expires in October. She also works as a professor at Wake Forest University in North Carolina.