Sponsors have begun terminating ties with Russian tennis champion Maria Sharapova after she made a surprise announcement that she failed a drug test and would take a hiatus from the sport.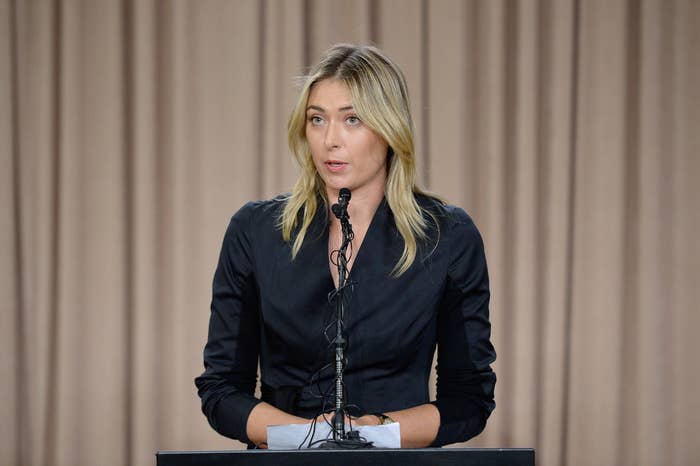 "A few days ago I got a letter from the [International Tennis Federation] that I had failed a drug test at the Australian Open," Sharapova said Monday at a press conference in Los Angeles.
She said she had been taking a medication called meldonium for 10 years before it was put on the federation's ban list in January. She said she didn't realize it was placed on the list.
"I was given this medicine by my doctor for several health issues I was having back in 2006," Sharapova said.
She described the issues as repeatedly catching the flu, magnesium deficiency, irregular EKG results, and the first signs of diabetes, which she is genetically predisposed to, she said.
"It made me healthy and that's why I continued to take it," she said.
The five-time Grand Slam champion has suffered numerous shoulder injuries and has played only four events in the past eight months: three WTA tournaments and the 2015 Fed Cup final. She withdrew from this week''s BNP Paribas Open at Indian Wells.
Nike announced Monday evening that the company had suspended its contract with the tennis star.
"We are saddened and surprised by the news about Maria Sharapova," Nike said in a statement. "We have decided to suspend our relationship with Maria while the investigation continues."
The sportswear company has been one of her biggest backers since she won Wimbledon at age 17, and she now has her own line of clothing at Nike. Forbes reported that Sharapova signed an eight-year deal in 2010 with Nike that could be worth as much as $70 million.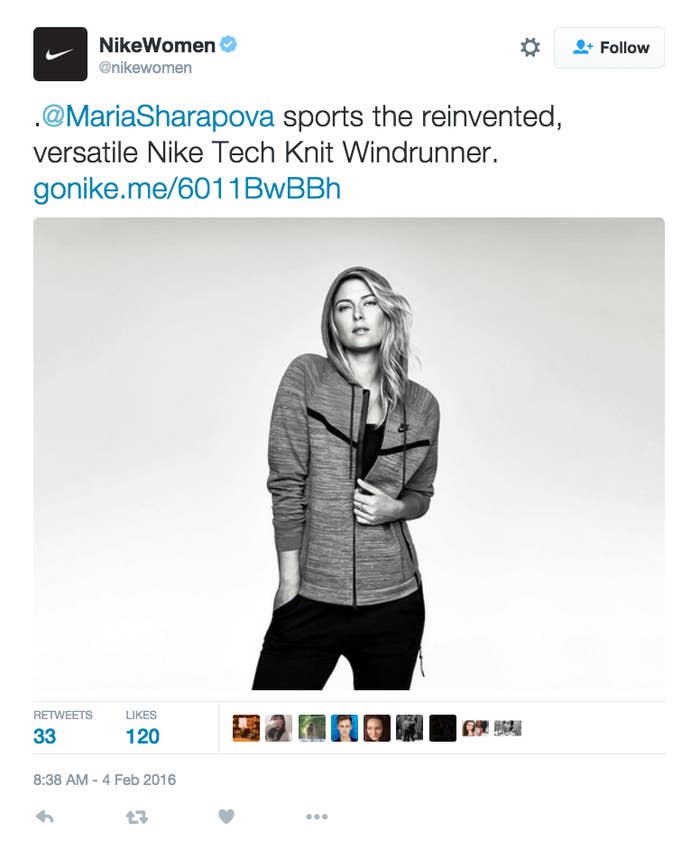 Swiss watch brand TAG Heuer also announced it would no longer sponsor Sharapova.
"Maria Sharapova was under contract with TAG Heuer until December 31th, 2015. We had been in talks to extend our collaboration," a spokesperson said.
"In view of the current situation, the Swiss watch brand has suspended negotiations, and has decided not to renew the contract with Ms Sharapova."
German luxury car company Porsche followed suit and said in a statement Tuesday it had "chosen to postpone planned activities" with Sharapova "until further details are released and we can analyze the situation."
Tennis star Serena Williams – who recently beat Sharapova at the Australian Open – publicly praised her competitor for taking responsibility for her actions.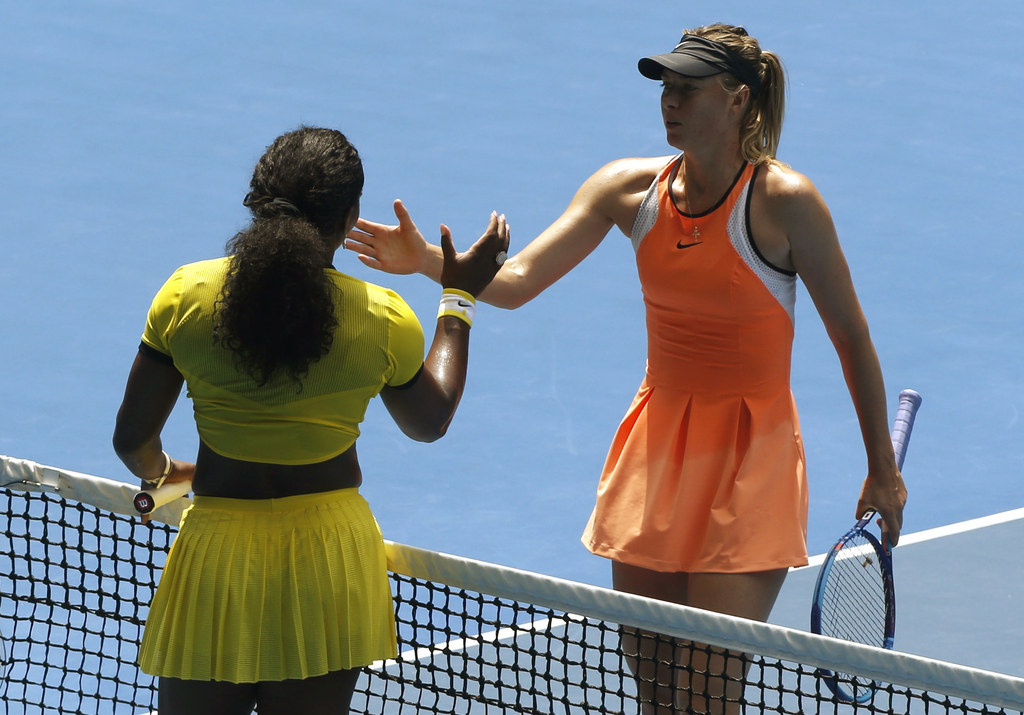 "In sport and in life there's always a double standard," Williams told press Tuesday.
"Whether it's a race thing or a sex thing [it's] always there. ... As Maria said she's ready to take full responsibility and I think that showed a lot of courage and a lot of heart."
As Sharapova's endorsers continue to drop out, Williams – who holds 21 major titles – is poised to become the highest paid female athlete in the world.
At the same press conference former WTA World No. 1 Caroline Wozniacki was not as generous to her fellow tennis star.
"We double and triple and quatriple[sic] check [the ITH ban list], because sometimes even things like cough drops or nasal sprays can be on the list," Wozniacki said, sitting next to Williams.
"As athletes we always make sure that there's nothing that could put us in a bad situation," she added.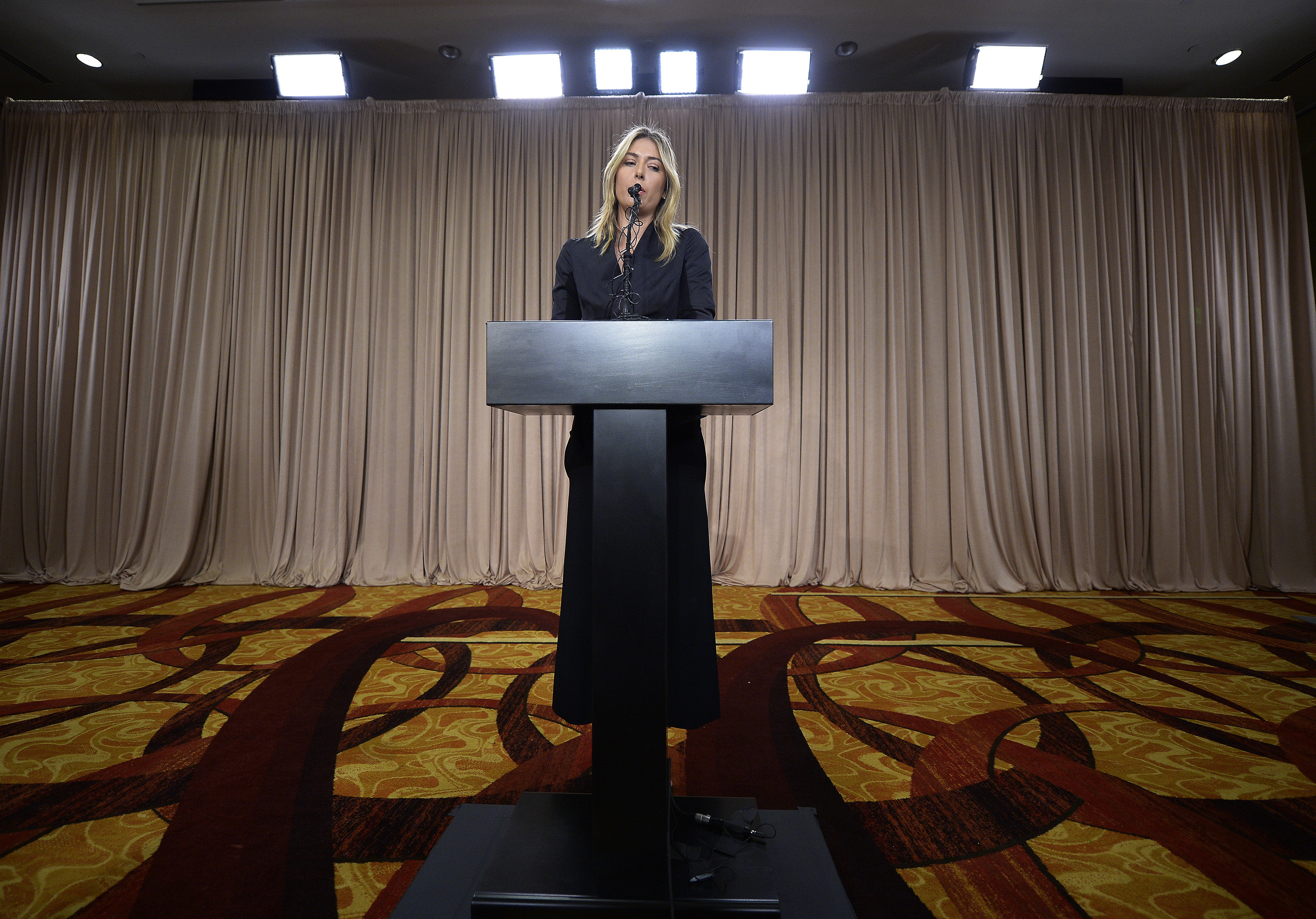 When Sharapova called the press conference, many assumed the 28-year-old was about to announce her retirement.
"I don't want to end my career this way and I really hope I will be given another chance to play this game," Sharapova said in a somber tone. "If I was ever going to announce a retirement it would not be in a downtown LA hotel with a fairly ugly carpet."
Sharapova said on Dec. 22 she received an email including a link to a list of new prohibited items. "I did not click that link," she said.
Meldonium, or "mildronate," was one of numerous medications her doctor prescribed for her symptoms, she said.
Meldonium "improves physical capacity and mental function in the case of ischemia" — or reduced blood flow, according to Grindex, the Latvian medical company that manufactures the drug.
Though it can be used to treat the conditions that Sharapova described having, it can also benefit healthy users. Meldonium increases oxygen to the blood, which could plausibly increase an athlete's endurance and performance, which is why it was banned by the World Anti-Doping Agency.
Sharapove added that she did not know the alternative name for the medicine, preventing her further her from understanding it had been banned by the federation.
She does not yet know the consequences of the test failure, she said, but she said she will be taking a hiatus from competing and will work with the federation to discuss the next steps.
"I've let my fans down, I let the sport down that I've been playing since the age of 4 that I love so deeply," Sharapova said.
Sharapova is currently the seventh-ranked player on the WTA Tour and has been the highest-paid female athlete for over a decade.