For most March for Life attendees, Friday was historic. Mike Pence became the first vice president to address the 43-year-old rally in person — the highest elected official to ever do so — and the president tweeted his support to his more than 20 million followers, echoing Ronald Reagan and George W. Bush's telephone calls into the event.
"Trump is opening new spaces for people who believe in life are finding new opportunities for the promotion of our message," Grazie Christie, the policy advisor for the Catholic Association. "We haven't had that for many years, it's giving us hope." David Daleiden, a well-known anti-abortion rights activist, told BuzzFeed News it was a sign that things were "going our way."
But not everyone was thrilled with the presidential endorsement. Many Secular pro-life marchers, right-to-life supporters whose issues are broader than abortion and extend to human rights, and a strain of feminism on display at the Women's March a week before counted themselves in a pro-life, anti-Trump faction of the march.
They repeatedly brought up the executive order signed by Trump the day of the march to ban immigrants from Muslim-majority countries and the order to build a wall on the Mexican border, as well as Pence's questionable history with gay conversion therapy and HIV/AIDS. And they disliked Trump's treatment of women — from saying debate moderate Megyn Kelly had blood "coming out of her wherever" to confiding to an entertainment show host that he's grabbed women "by the pussy."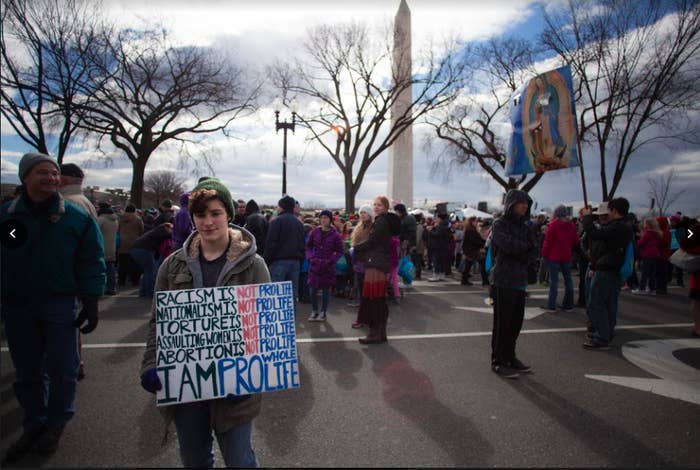 One group of marchers told BuzzFeed News they boycotted the rally where Pence spoke and only attended the actual marching portion of the day.
"Donald Trump and Mike Pence have shown a blatant disregard for human life," Kyle Murphy, who attended the march with the Life Matters Journal, told BuzzFeed News.
And Rosemary Geraghty, another member of Life Matters, agreed. "I appreciate that [Pence] is here speaking on behalf of the pre-born, I just hope he can learn to extend the empathy he has for the preborn to refugee children."
"You can call yourself pro-life as much as you want," Geraghty said, growing more passionate with each sentence, "but if you are keeping refugees out while bombing their countries, if you sexually assaulting women and … bragging about it, respecting unborn human life is just not enough."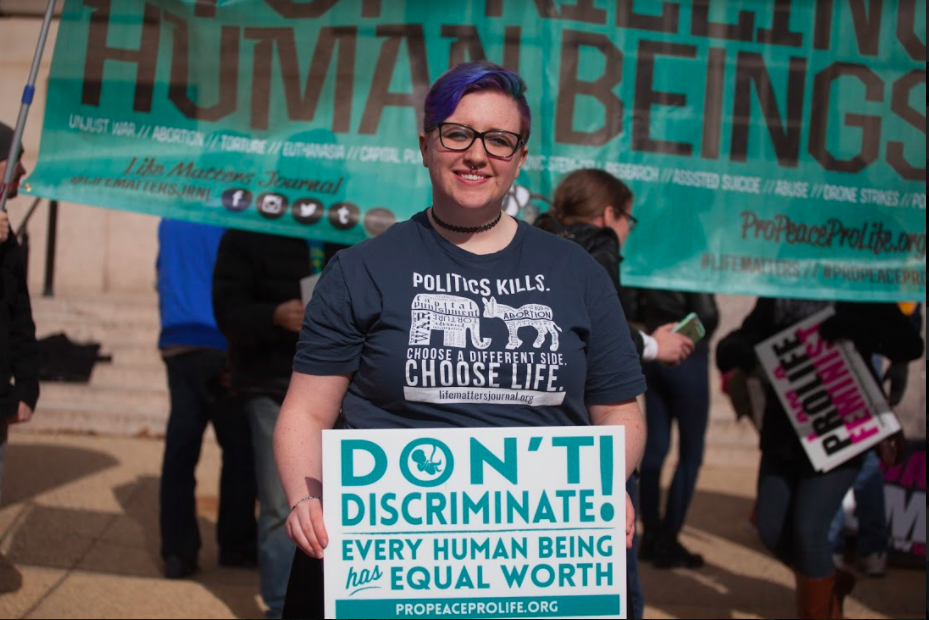 Murphy left the Republican party once Trump became the nominee, he said, adding that the level of involvement the administration had in the march was "concerning."
"I hate to see our side tainted by Trump," Sarah Burkey, a member of the anti-abortion group New Wave Feminists told BuzzFeed News. Burkey has attended the march every year since she was 13 and said it "feels like home."
This year, she said, she felt a bit less comfortable. When she saw a sign reading "Trump is working for God," Burkey, a Catholic, rolled her eyes, scoffed, and said, "Not my God."
"Trumpism limits our ability to reach pro-choice people," added Kristine Kruszelnicki, the director of Humanists For Life. "I want people to see that we are open minded and have good, sound arguments. Coming out with Trump signs tends to negate that opportunity."
"Trump loves the unborn? No. Trump loves himself," Kruszelnicki said, laughing. "Trump loves Trump, that's about it."
To be sure there were "Make America Great Again" hats sprinkled throughout the crowd, and chants of "Trump! Trump!" burst out whenever an abortion rights protester was spotted. A December survey of Trump voters by the Glover Park Group found that six in ten Trump voters think abortion should be illegal, but with exceptions. A Gallup poll from 2016 found that Americans who identify as either "pro-choice" or "pro-life" split the country nearly in half.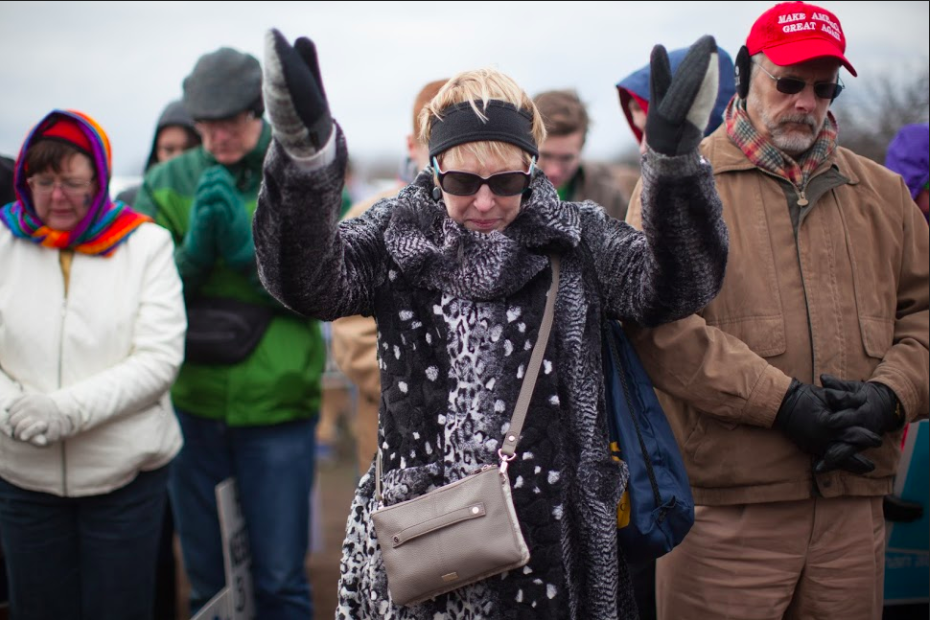 Daleiden, who was responsible for the widely-circulated, secretly recorded, heavily edited, videos of Planned Parenthood employees talking about fetal tissue, argued that the issues of immigration and abortion were very separate.
"There's no crime that a baby committed that he or she deserves death for," Daleiden told BuzzFeed News in between march attendees coming up to thank him for his work and, at one point, kiss his hand. "And that's really, really different from immigration, from torture, from refugees."
Some marchers were even distrustful of Trump's stance on abortion. Trump seems to have become more anti-abortion rights as the presidential campaign went on — during one of the earliest debates he defended Planned Parenthood, which sent a shock through the right. Now he repeatedly says he will soon nominate a Supreme Court justice in the mold of strict conservative Antonin Scalia.
Several attendees marching with different groups agreed that Trump only became anti-abortion to "increase his chances of getting elected."
"The most dangerous thing we ever did was make abortion a partisan issue," Destiny Herndon-De La Rosa told BuzzFeed News. "So that if this candidate, who I don't believe is pro-life at all, just says he's pro-life and wears this label, he gets this huge base of voters."
Herndon-De La Rosa said she spent the past five years working with people to make the anti-abortion movement "pro-woman" by focusing on giving women "everything they need to choose not to have an abortion." She said seeing people "jump so quickly on the Trump train" because he donned their label was frustrating.
"And so when you go and have this man who for all intents and purposes is a sex offender," she said, "I think we lose all credibility for our movement."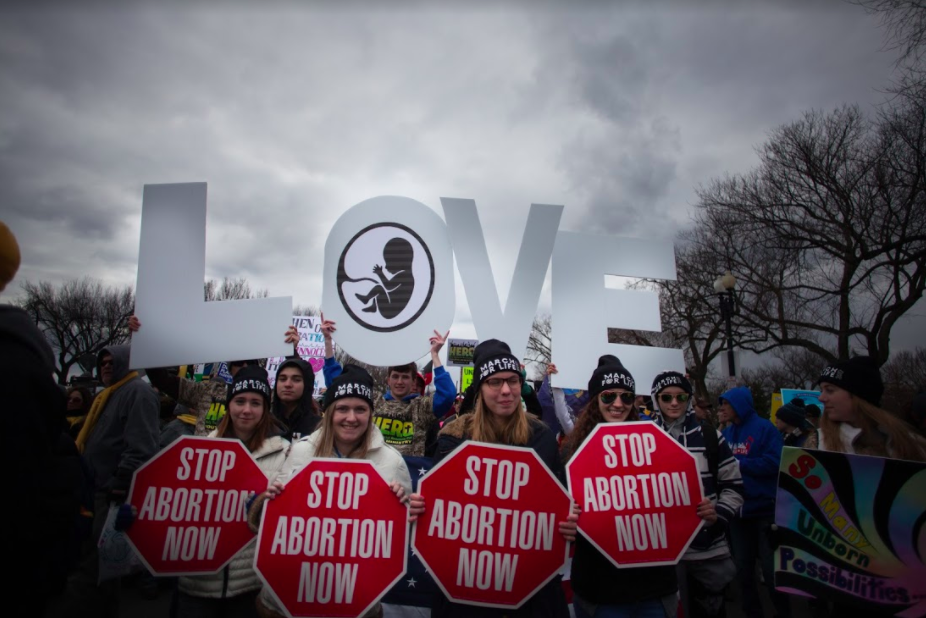 Some of the anti-Trump women at the March For Life attended the Women's March on the very same streets the week before, which brought mixed feelings. (Shortly before the Women's March, a number of anti-abortion groups that signed up to participate were taken off the official organization list, and the Women's March released a statement saying its platform supported abortion rights. Despite this, many of the anti-abortion groups went anyway and many said they felt very welcome.)
Still, some women who attended both were nervous to bring out their signs at each event. At the March For Life, they were reluctant to show signs with the words "feminist" or "humanist" on them. At the Women's March they were reluctant to raise their signs that read "pro-life."
Destiny Herndon-De La Rosa, the founder of New Wave Feminists, which is against abortion, told BuzzFeed News she was wary of pulling out her sign reading "Pro-Life Feminist" and waited a while to do so — but when she did, she received positive responses and said the whole march "it was beautiful."
"A 60 or 70 year-old woman walks up to me, decked in Planned Parenthood pink, and said 'I am so glad you are here, we disagree on this but thank you for representing your point of view,'" Herndon-De La Rosa said. "And you know, we got that message over, and over, and over."
Herndon-De La Rosa and other women who attended both marches said people at the March For Life also thanked them representing a different, secular perspective. However, she said she felt more "animosity" from the March For Life crowd than at the Women's March — she thought that this was partially because they were often mistaken for protesters. Kruszelnicki, who also attended both marches, said she experienced some aggression that was clearly about her views.
"At one point I was struggling to carry my pretty big 'Pro-Life Humanist' sign and asked a man for help," she said. At first the man took it, but as soon as he read the sign he said, "Oh no, I'm a Catholic, I can't hold this," and "literally dropped the sign to the ground and ran off," Kruszelnicki said, laughing.