Teen Who Scaled Trump Tower In Manhattan Faces Criminal Charges
Stephen Rogata of Virginia, who climbed nearly 21 stories of the 68-story building using suction cups, was charged with trespassing and reckless endangerment.
A 19-year-old man, who used suction cups to scale Trump Tower in Midtown Manhattan on Wednesday, was arrested and charged with criminal trespass and reckless endangerment, the New York Police Department said Thursday.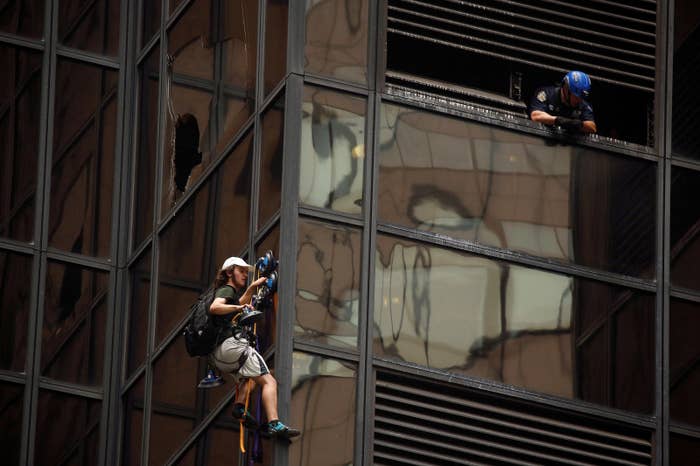 NYPD officers removed the windows above Rogata on the 21st floor of the 68-story building and snatched him out of the air, hours after he began climbing the building.
At a news conference after the incident, police officials said the climber was a 20-year-old man from Virginia who traveled to New York City Tuesday and stayed in a hotel overnight.
Police said on Wednesday that he "previously went by one name and now he goes by another name."
Officials said they worked to prevent the man's progress up the building by removing window panes. That eventually limited him to ascending a single, narrow piece of glass — which, police said, could have cracked under his weight.
As the man climbed onto that piece of glass, New York Police Detective Williams grabbed him and pulled him into the building.
"I reached out and took hold of his hand and said, 'Sir, you need to come with me,'" Williams told reporters Wednesday evening.
Once the man was inside the building, he surrendered peacefully and was arrested, Williams said. Police then took the man to a hospital for a psychological evaluation.
Police confirmed that the climber was responsible for the video. In it, he describes himself as an "independent researcher seeking a private audience with you to discuss an important matter. I guarantee that it is in your interest to honor this request."
"Believe me, if my purpose was not significant I would not risk my life pursuing it," the man adds.
The video concludes with the man telling people "to get out and vote for Mr. Trump in the 2016 election."
Late Wednesday, Trump tweeted about the incident, thanking police for "protecting the people and saving the climber."
Here's everything that led up to this dramatic moment, which ended the man's climb:
He was first seen climbing the building at the corner of Fifth Avenue and 57th Street without safety ropes around 4 p.m. ET.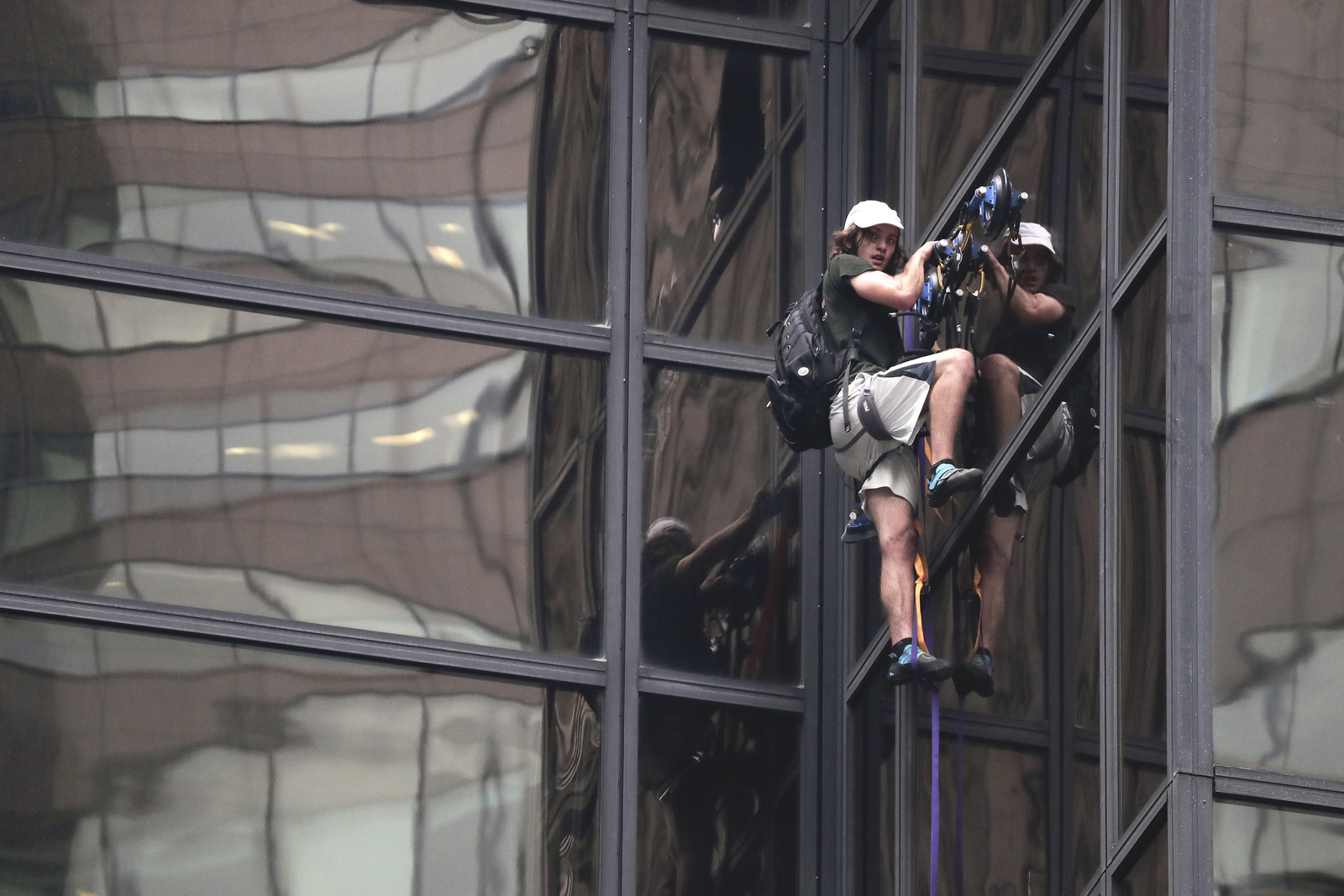 In images from the scene, police could be seen breaking windows and removing air vents from the side of the Trump building.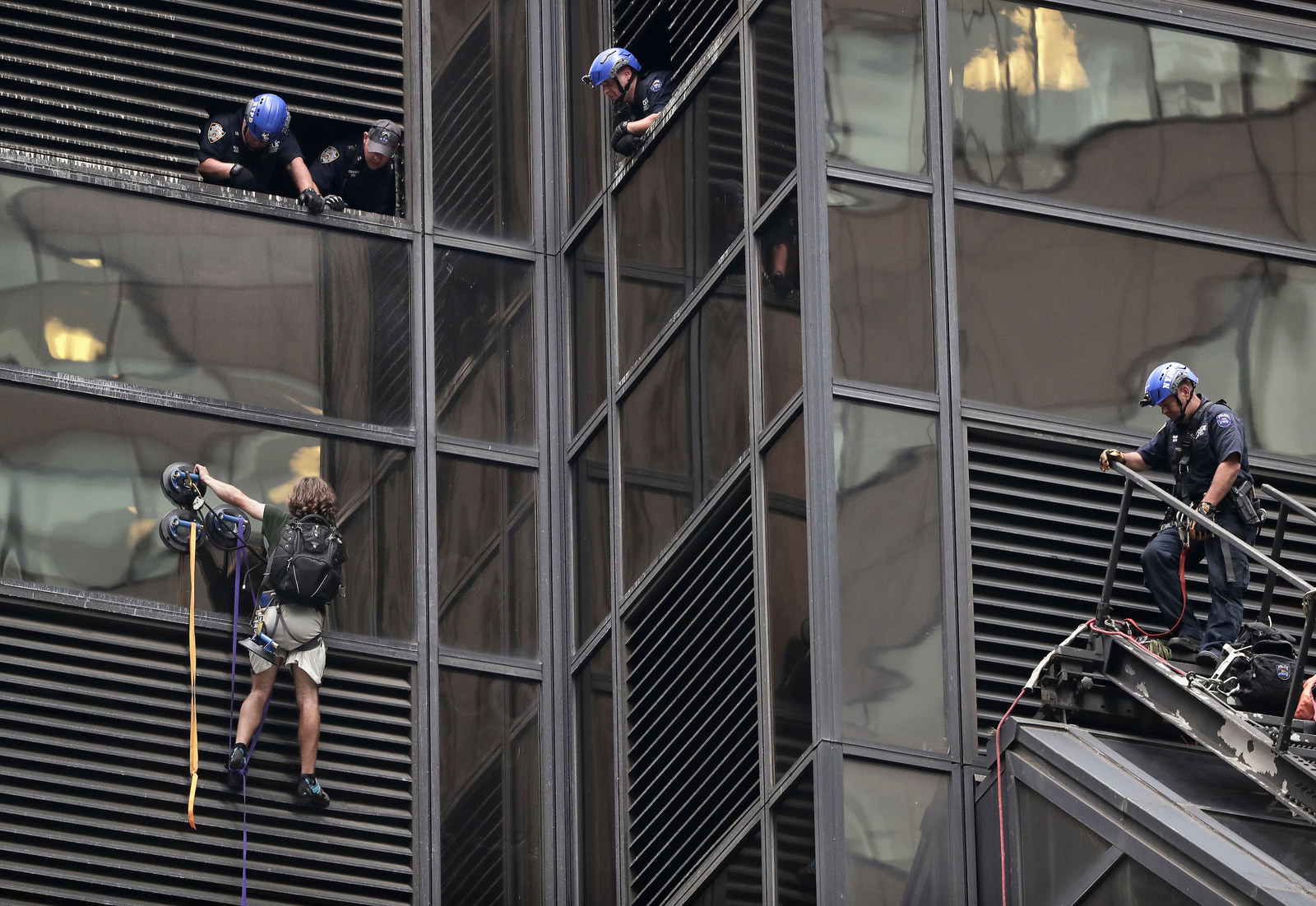 Police also laid a towel over the broken glass to prevent officers from being injured.
A large inflatable mat was deployed by police to cushion the man if he fell.
Police also lowered themselves toward the man in a window-washing unit.
Initially, the man managed to avoid police by climbing horizontally away from them.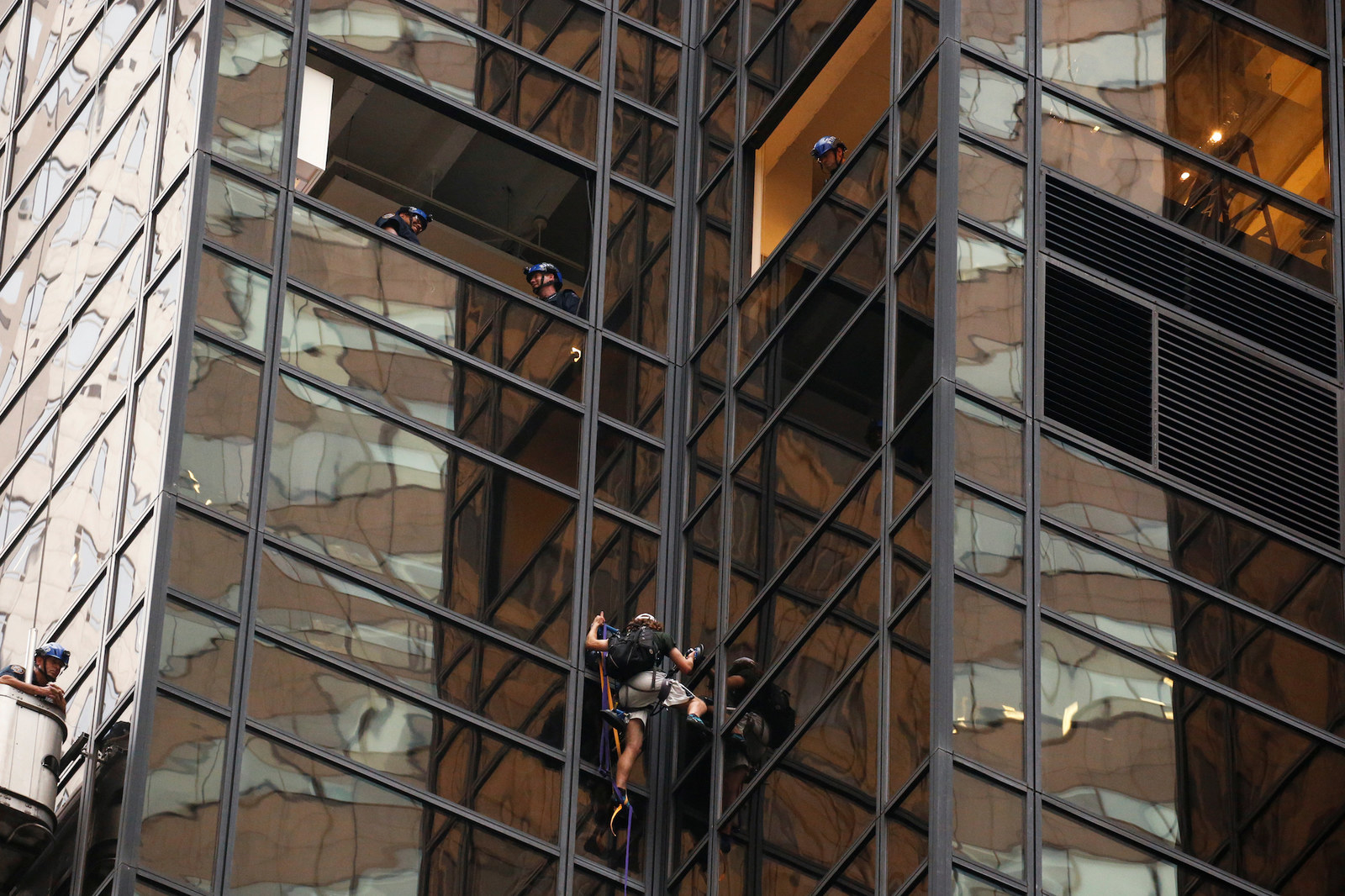 Here's a better look at the suction cups:
Here's a picture from inside the tower: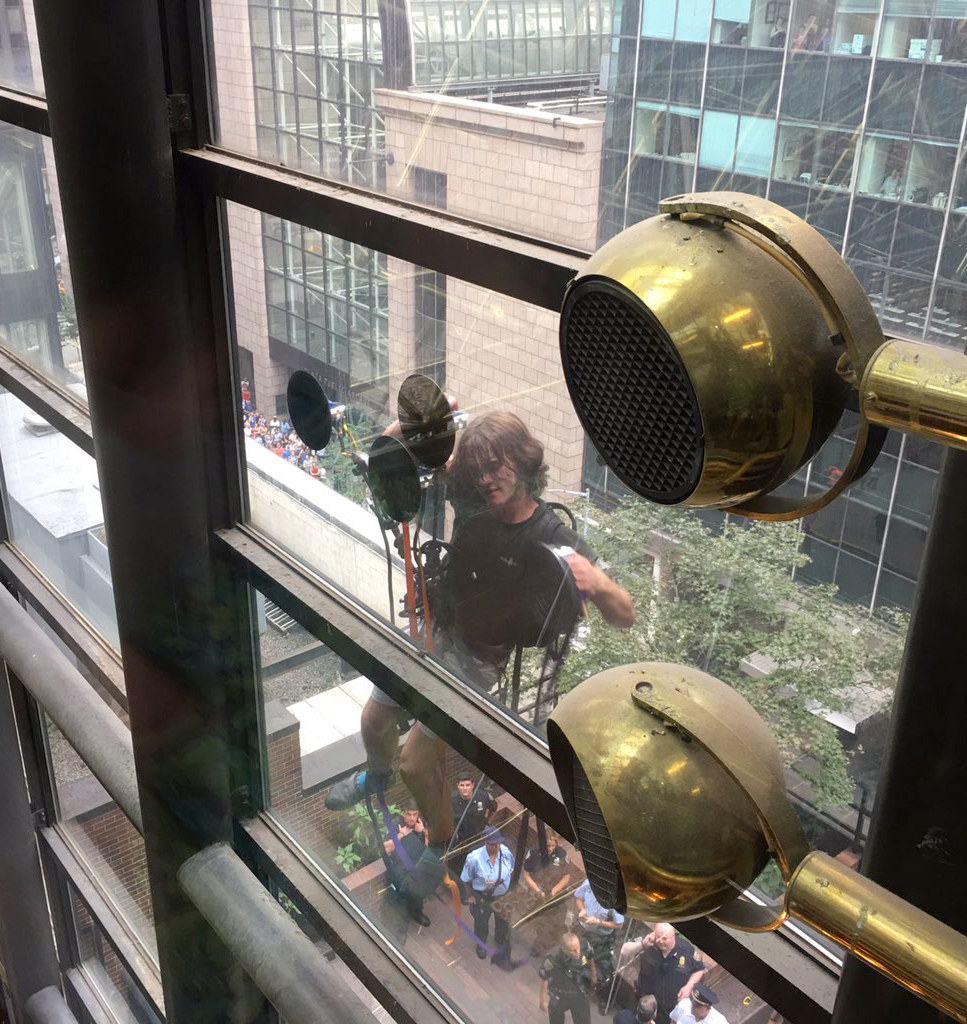 Donald Trump, who was spending Wednesday in Virginia and Florida on the campaign trail, lives with his family in the penthouse of the building.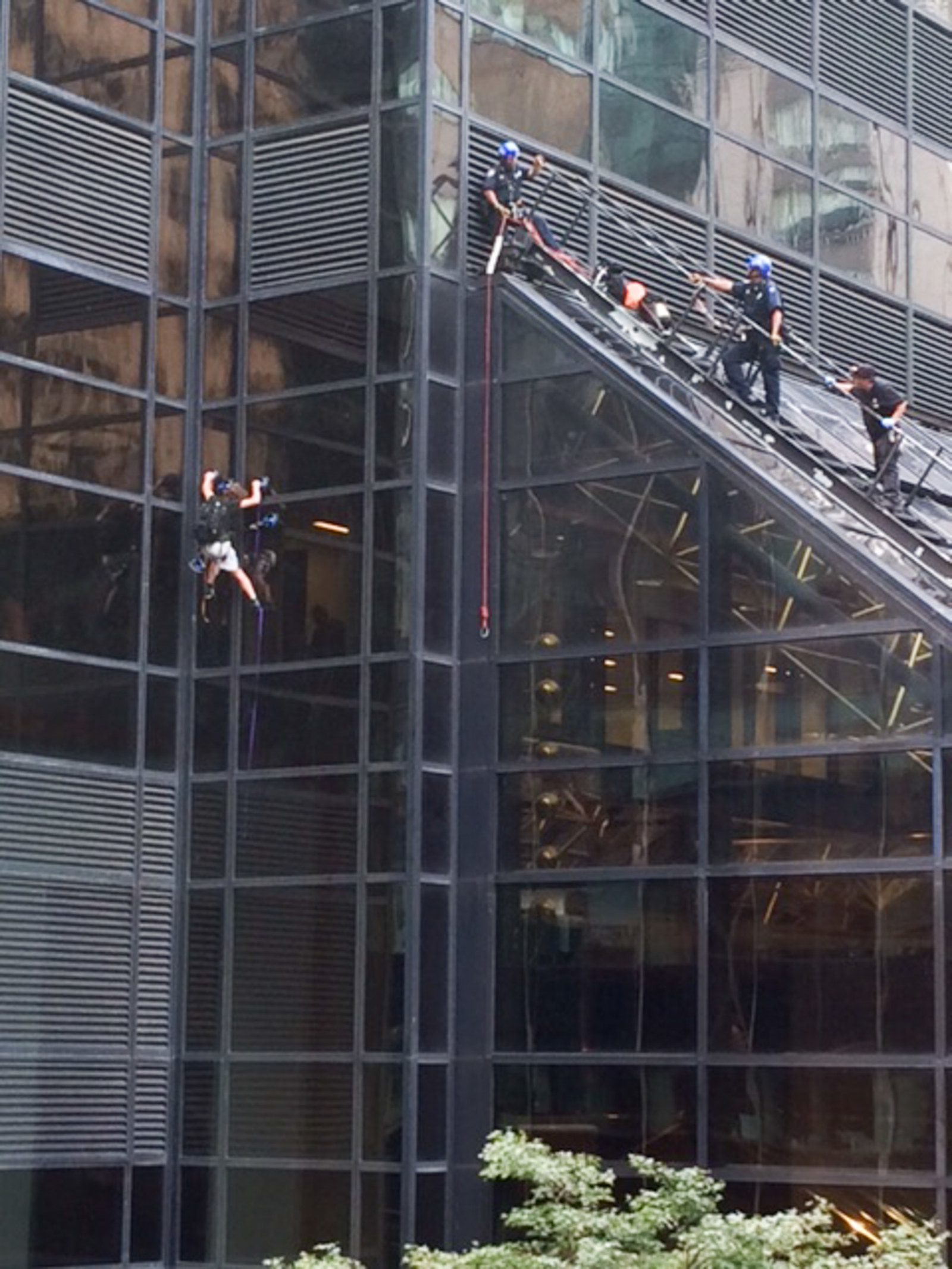 Finally, police limited the man's route, then grabbed and yanked him off of the suction cups.
Rey Clarke, a man who once climbed the New York Times building in Manhattan, told BuzzFeed News the climber "knows what he's doing."
"He's graceful, knows what he's doing. I admire him. He's calm. I'm glad I did something like this already," said Clarke. "He's been climbing for a couple of hours now and the amount of work is obviously exhausting but you get into a supernatural zone."