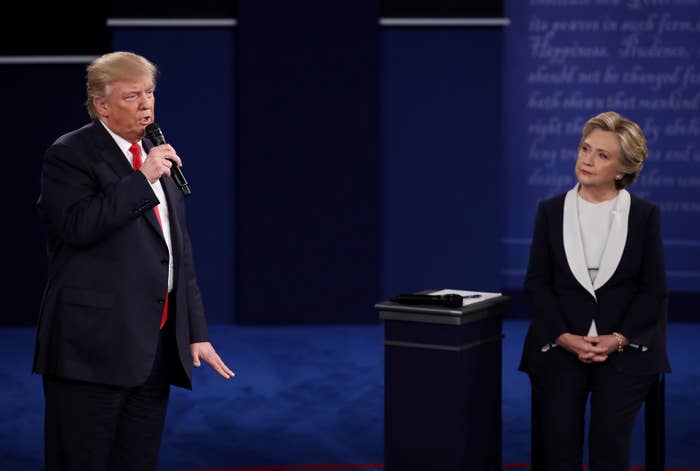 Donald Trump denied Sunday evening during the second presidential debate that he has sexually assaulted women by grabbing them "by the pussy" and kissing them against their will — as he said he did in a 2005 hot mic recording.
That response was in the middle of the effectively surreal first portion of the debate, which was unlike any in modern history.
It began when Trump was asked whether he would be an appropriate role model of appropriate behavior — questions underscored by his 2005 comments — by minimizing the behavior, shifting to military strength, and attacking former president Bill Clinton.
"I don't think you understand that this was locker room talk. I apologize to my family and to the American people," he said. "Certainly I'm not proud of it. This is locker room talk and when you have a world where ISIS is chopping off heads, drowning people in steel cages where you have wars and horrible, horrible sights all over."
Hillary Clinton answered the question more directly without addressing the video at first. "I think it is very important for us to make clear to our children that our country really is great because we are good and we are going to respect each other, lift each other up," she said.
Trump acknowledged the video, adding, "I'm very embarrassed by it, I hate it but it's locker room talk and one of those things. I will knock the hell out of ISIS. We're going to defeat ISIS."
Moderator Anderson Cooper probed Trump on whether he had actually done the things he claimed to do in the video — kiss women without asking and "grab them by the pussy" — and still Trump shifted back to his pledging military might.
"I have tremendous respect for women and no, I have not," Trump said. "I will tell you I'm going to make the country safe."
Clinton said, "That's why, to go back to your question, I want to send a message, we all should, to every boy and girl and indeed to the entire world that America already is great but we are great because we are good."
Trump rejoined, "It's just words, folks. Just words, though it was unclear if he was talking about what he had labeled his "locker room talk" on the bus in 2005. What Bill Clinton did, Trump claimed, were actions.
"There's never been anybody in the history of politics in this nation that's been so abusive to women," Trump said of Bill Clinton.
He added that Hillary Clinton also "attacked" these women, four of whom —
Juanita Broaddrick, Kathleen Willey, Kathy Shelton, and Paula Jones —  Trump brought to the debate and sat in the front row.
Bill Clinton "was impeached, lost his license to practice law, he had to pay an $850,000 fine to one of the women, Paula Jones, who is also here tonight, and I will tell you that when Hillary brings up a point like that and she talks about words that I said 11 years ago," Trump continued.
"I think it's disgraceful and I think she should be ashamed of herself if you want to know the truth."
Trump then continued on the offense, moving from attacking Bill Clinton back to attacking Hillary Clinton and, of course, her emails.
"Your campaign, Sidney Blumenthal, he's another real winner that you have, he's the one that got this started along with your campaign manager," Trump said, referring to a former aide to Bill Clinton with whom Hillary Clinton exchanged many of the emails cited in Benghazi investigations.
"When you talk about apologizing the thing you should be apologizing for are the 33,000 emails that you deleted and that you acid-washed and then the two boxes of emails and other things last week that were taken from an office and are now missing," Trump said.