US Olympic swimmer Ryan Lochte and three fellow competitors were robbed by men "posing as armed officers" in Rio early Sunday morning, he and his teammates said.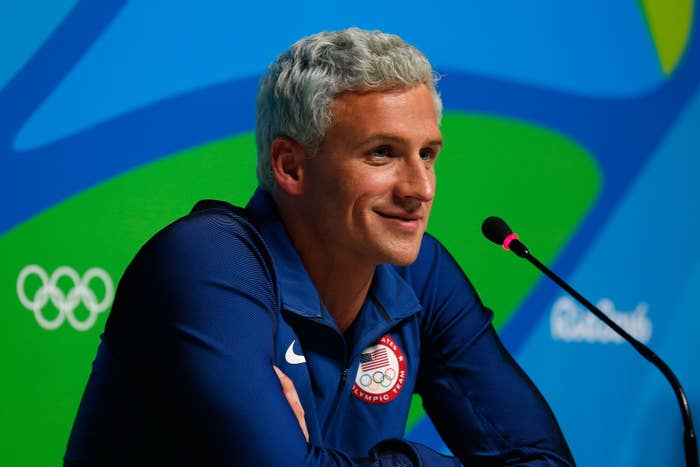 Lochte confirmed the incident to NBC hours after his mother, Illeana Lochte, told Fox Sports about it.
"The guy pulled out his gun, he cocked it, put it to my forehead and he said, 'Get down,'" Lochte said, describing the incident. "I put my hands up, I was like 'whatever.' He took our money, he took my wallet — he left my cell phone, he left my credentials."
A spokesperson for the International Olympic Committee (IOC) initially called Lochte's mother's claims "absolutely not true."
However, the US Olympic Committee (USOC) later confirmed to BuzzFeed News that the incident had in fact occurred.
"According to four members of the U.S. Olympic Swimming Team (Gunnar Bentz, Jack Conger, Jimmy Feigen and Ryan Lochte)," USOC spokesperson Patrick Sandusky said in an email, "they left France House early Sunday morning in a taxi headed for the Olympic Village."
Sandusky said the athletes' taxi was stopped by multiple men posing as armed police officers who demanded the Americans' money and "other personal belongings."
He added that the swimmers are now safe and cooperating with authorities.
The 32-year-old Olympic champion's mother told Fox that Lochte called her immediately following the robbery, describing the incident as "terrifying." She said his wallet had been taken but that he and his teammates were unharmed.
In Lochte's description of the incident, he portrayed himself as not so afraid as his mother described.
"We got pulled over, in the taxi, and these guys came out with a badge, a police badge, no lights, no nothing, just a police badge, and they pulled us over," Lochte said. "They pulled out their guns, they told the other swimmers to get down on the ground — they got down on the ground. I refused, I was like we didn't do anything wrong, so — I'm not getting down on the ground."
It was then when the man put the gun directly to Lochte's head and Lochte responded, "Whatever," he said.
Lochte's mother said she and Lochte's girlfriend were going to meet Lochte after the incident, and that he was now waiting for them safe at the Olympic Village.
Shortly after this report was initially published, however, a spokesperson for the IOC, Mark Adams, said at a press conference that the story was "absolutely not true."
Adams said his denial was based on information from the USOC and Lochte himself.
Hours after this statement, Lochte told NBC that his mother's report was true and the USOC released a statement backing his claims.
Lochte swam in two events at the Rio Games, winning gold in the 4x200-meter freestyle relay.