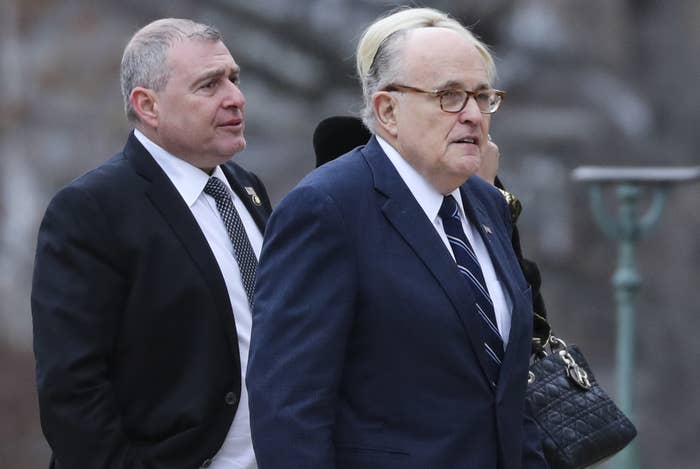 NEW YORK — Lev Parnas and Igor Fruman pleaded not guilty to four counts of campaign finance violations in a federal court in New York City Wednesday. The two men are longtime associates of Rudy Giuliani, a lawyer working for President Donald Trump, and were key players in his campaign to oust the former US ambassador to Ukraine and dig up dirt on former vice president Joe Biden.
Parnas and Fruman — along with two other men, David Correia and Andrey Kukushkin, who pleaded not guilty in the same courtroom last week — are accused of violating federal campaign finance laws prohibiting foreign nationals from donating to US political campaigns.
Parnas and Fruman made their first appearance in US District Court for the Southern District of New York Wednesday morning, for an arraignment in which they announced their pleas and the lawyers agreed on the next meeting with the judge.
Parnas came to court with his wife by his side. The men have been blocked from talking to each other outside of court as part of their bail agreement, they greeted each other but otherwise kept their interaction minimal.
Parnas and Fruman were charged with four counts, while Correia and Kukushkin were only charged with one related to an attempt by all four men to influence the campaign of a local Nevada politician with money sourced secretly from a Russian businessperson, in order to help their aspiring recreational marijuana business.
The additional three counts for Parnas and Fruman involve laundering foreign money into US campaigns, entering "secret agreements" in order to hide the campaign finance scheme from federal regulators and the candidates they were donating to, setting up "straw donors" to hide the funds from the Federal Election Commission, and committing "conspiracy" to "knowingly defraud the United States by impairing, obstructing, and defeating the lawful functions of a department or agency of the United States."
Parnas and Fruman were arrested together at Dulles Airport outside of Washington, DC, on Oct. 9. Both men had one-way tickets to Vienna, Austria, but were apprehended before boarding the plane and taken to jail in Alexandria, Virginia, where their bail was set at a $1 million bond each. They both met the bail requirements and are currently being kept in home detention with GPS monitoring. Under the conditions of the bail package, they are only allowed to travel to the Southern District of New York and the Southern District of Florida, and only with the court's permission. As part of Parnas's bail, he is allowed to travel to the Eastern District of Virginia and the District of Columbia, also with permission from the court.
Separately, a federal grand jury issued a subpoena that resulted in financial records on Parnas and Fruman being turned over to investigators, BuzzFeed News reported Tuesday.
In court, after Parnas and Fruman both pleaded not guilty to the charges, the prosecution announced that they would be conducting "voluminous" amounts of discovery in the case before the next hearing. US attorney Rebekah Donaleski told US District Court Judge Paul Oetken that they are filing more than a dozen search warrants for information concerning Parnas and Fruman, including physical files, electronic devices, emails, social media accounts, more than 50 bank accounts, and more than a dozen financial statements. The investigation into what they will need is ongoing, Donaleski told the court, and they will present all of their findings to Parnas and Fruman's legal team on a rolling basis.
In response to this, Parnas's attorney, Edward MacMahon, told the court that he was concerned that some of the information that the prosecution will uncover in discovery would violate attorney–client privilege between Giuliani and Parnas, as well as, potentially, executive privilege.
In response to this, Judge Oetken seemed confused and asked if MacMahon was saying that Parnas worked for Trump. MacMahon responded that Parnas worked for Giuliani, who worked for Trump.
"Mr. Parnas was using Giuliani as his lawyer," MacMahon told the court, "and Giuliani was also acting as attorney for President Trump."
"I can't invoke executive privilege, only the president can invoke that," MacMahon continued, but as executive privilege is "sensitive" and "complicated," MacMahon said, he wanted to make sure it was something the court and the prosecution were aware of.
When asked outside the courtroom whether Giuliani worked for Parnas or vice versa, MacMahon told BuzzFeed News, "They worked for each other."

Outside of the courthouse, Parnas gave a brief statement to the press with his wife and lawyers standing behind him.
"Many false things have been said about me and my family in the press and media recently, I look forward to defending myself vigorously in court and I'm certain that in time, truth will be revealed and I will be vindicated," Parnas said. "In the end, I put my faith in God. Thank you."
Fruman, meanwhile, left from the courthouse's side exit, avoiding reporters.
Parnas and Fruman's next court date is Dec. 2 and will focus on discussing the discovery findings and set a trial date. That's the same day as Correia and Kukushkin's next hearing.

Here are three things you should know about Parnas and Fruman and how they fit into the ongoing impeachment inquiry into President Donald Trump:

Who are Parnas and Fruman?
Parnas was born in the Ukraine and Fruman in Belarus, though they both immigrated to the US as children and are both now US citizens and live in South Florida. Before getting caught up in Trump's world, the men had a history of failed businesses and shady financial dealings, BuzzFeed News uncovered in an investigation published in July.
Parnas, 47, was a stockbroker. He worked for three brokerage firms that were later expelled by regulators for fraud, though he was never charged individually. Over the years, Parnas has faced nine court judgments for failing to pay loans and debts. A business of his, aptly named Fraud Guarantee, was set up to help people safeguard against fraud and other financial crimes, but the company was evicted in 2015 for rent debt.
Fruman, 53, ran an export business that ships goods between the United States and Odessa, Ukraine. One of his investments, a milk canning plant, was declared bankrupt seven years ago over debts that reached nearly $25 million.
Up until March 2018, the men had "no significant" financial involvement in US politics, the indictment against them said, but since that date they together have donated hundreds of thousands of dollars to Republican campaigns, much of which was allegedly funneled through personal accounts, shell companies, and apparently came from a foreign donor.
How are they connected to Trump, Giuliani, and impeachment?
Parnas and Fruman have been photographed with and dined with Trump; have met and dined with his son, Donald Trump Jr. and Republican National Committee chair Tom Hicks Jr.; and have visited Mar-a-Lago and the White House.
As BuzzFeed News reported, the two men used their connections in Kyiv and their proximity to the White House to push an agenda that would benefit Trump and their own business ventures.
Giuliani, who works for Trump, has referred to the two men as his clients, though the financial aspect of their relationship remains unclear. Giuliani acknowledged that the men have helped him dig up information that could be beneficial to Trump and have investigated allegations against Trump's rivals. In May of this year, Giuliani told the New York Times that Parnas helped arrange a trip for him to Ukraine, where he hoped to meet with the newly elected president, Volodymyr Zelensky, about matters that could help Trump's presidency. The New York Times has reported that federal prosecutors in Manhattan are allegedly looking into Giuliani's ties to Ukraine and whether his work with Parnas and Fruman broke lobbying laws.
During their travels, Fruman and Parnas met at least four times with top Ukrainian prosecutors and oligarchs in Kyiv and Israel and repeatedly connected the Ukrainian officials with Giuliani, BuzzFeed News reported. Parnas and Fruman also urged a top Ukrainian prosecutor to investigate allegations that Biden had intervened in Ukrainian government affairs during his time as vice president in order to orchestrate the firing of a prosecutor who was probing corruption claims at a company where Biden's son Hunter was a board member at the time.
There has so far been no evidence supporting these allegations, but they were the very subject that began the current, escalating impeachment inquiry into President Trump: On a call in July, Trump asked Zelensky to do him a "favor" and investigate the "whole situation in Ukraine," making reference to the hack of the Democratic National Committee during the 2016 election, and former special counsel Robert Mueller, a record of the call released by the White House in September shows. He also asked if Zelensky would look into the unsubstantiated Biden allegations.
Shortly before this call, Trump had personally ordered a hold on vital security aid for Ukraine. While the White House has claimed the requests on the call were not a quid pro quo arrangement, the United States' top diplomat in Ukraine told lawmakers in private testimony for the congressional impeachment inquiry Tuesday that there was a direct link between the hold on funds and Trump's request that Zelensky investigate his political rivals.
In May 2018, $1.2 million was wired to a company called Aaron Investments 1, which was owned by Parnas. BuzzFeed News has reported that the money originated from a mortgage that Fruman took out last year against an oceanfront condo he owned in South Florida. Shortly after this transfer, Parnas and Fruman made a $325,000 donation to America First Action (a super PAC that donates to pro-Trump candidates), according to the indictment and records obtained by BuzzFeed News.
The men also pushed officials in the US and Ukraine to campaign for the removal of then–US ambassador to Ukraine Marie Yovanovitch. Yovanovitch, a longtime, well-respected diplomat, had been critical of Ukraine's anti-corruption efforts, which she believed were inadequate.
In 2018, Parnas and Fruman met with then–US representative Pete Sessions and told him that Yovanovitch was disloyal to Trump, BuzzFeed News reported in July. Sessions then contacted Secretary of State Mike Pompeo to recommend firing Yovanovitch (Sessions has since denied that Parnas and Fruman were behind this decision). In May 2019, Yovanovitch was removed from her post. Yovanovitch gave key testimony in the impeachment inquiry earlier this month.
What are the alleged crimes?
The indictment says that Parnas and Fruman, when signing a donor form, falsely reported that the $325,000 donation to America First Action was from Global Energy Producers (GEP), a gas export company the two men set up, when in fact the money was from Fruman's mortgage and "never passed through the GEP account," the indictment claims. The PAC claims to have had no knowledge of the actual origin of the funds.
The indictment claims that GEP was essentially a straw company with "no income or significant assets" and that the men named it on the form in order to conceal their identities and to hide the contribution from the Federal Election Commission.
The indictment says these illegal contributions were made to several candidates and committees. In the summer of 2018, prosecutors alleged that the two men committed to raising $20,000 for an unidentified sitting member of Congress and around that time asked for the lawmaker's help in getting Yovanovitch removed. Those details match what BuzzFeed News has reported about Sessions' involvement, though he declined to say whether or not he is the member of Congress involved.
The final count in the indictment accuses Parnas and Fruman of conspiring with Correia and Kukushkin to funnel money from an anonymous Russian bankroller. In the fall of 2018 the "foreign national" sent Fruman $1 million, the indictment says, which the four men then used "to attempt to gain influence and the appearance of influence with politicians and candidates."
The influence they sought seemed to primarily concern a failed business venture: a Las Vegas recreational marijuana business. The men missed the deadline to apply for a license for it by two months, emails quoted in the indictment show. Shortly after that, the men donated $10,000 to the candidate running for that seat of the official who needed to give them permission to get their license. The marijuana business venture never happened.