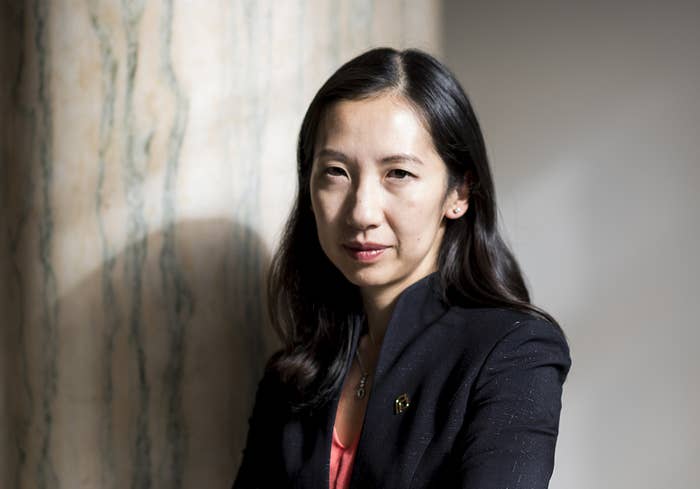 Planned Parenthood President Leana Wen, the first physician to head the women's health care group in 50 years, said she was removed from her position by the organization's board "at a secret meeting," capping months of internal concerns over her management style and a perceived shift away from the group's political work.
Wen attributed her departure to "philosophical differences over the direction and future of Planned Parenthood," she said in a tweet on Tuesday.
She was in the position for less than a year.
"I believe that the best way to protect abortion care is to be clear that it is not a political issue but a health care one," Wen wrote in a statement about her sudden termination.
Shortly after the New York Times broke the news, Wen tweeted she had only just learned of her dismissal and that she and the board had been in the process of "good faith negotiations about my departure."
Planned Parenthood confirmed the news in a press release, announcing that Alexis McGill Johnson, cofounder of the anti-bias research group Perception Institute and Planned Parenthood board member, will temporarily replace Wen until a new president is installed.
Wen and Planned Parenthood were involved in weeks of negotiations around her departure, and the board announced the meeting internally a week ago, according to a source familiar with the matter. Wen was told she could resign, the source said, but she would not.
BuzzFeed News spoke to six sources familiar with Wen's firing, all of whom named significant management issues as part of the board's decision to oust Wen. BuzzFeed News is granting their requests for anonymity so they could speak openly about the matter. At one point, Planned Parenthood's board hired an executive management coach to improve Wen's relationship with staff, two of the people said.
Wen's departure comes in the midst of an intense uptick in the fight over abortion rights, as states have passed restrictive anti-abortion laws in recent months, including one in Alabama that outlaws abortion almost entirely. One source familiar with the board's thinking said her removal was accelerated by the intensifying battle over abortion rights, saying that she was not the right leader in this climate.
Wen was first appointed as president last September, coming from her job as Baltimore's health commissioner with a high-profile lawsuit against the Trump administration under her belt. She was first and foremost a doctor and her team put an emphasis on her medical credentials, kicking off her presidency with a campaign called "This Is Healthcare," emphasizing Planned Parenthood's role outside of politics, drawing a contrast with her predecessor, former Planned Parenthood president Cecile Richards, who had turned the organization into a political powerhouse during her tenure.
As senior political staffers began to depart the organization early this year, Planned Parenthood employees, board members, and supporters were quick to express concern that Wen planned to emphasize the group's status as a health care provider, shifting away from the political focus Richards instilled during her 10 years as president.
Wen "demonstrated a complete lack of leadership capability at a time when this organization requires an extraordinary leader," a former senior staffer at Planned Parenthood said on Tuesday. "These are the times when people have to look out for what is best for the organization, and this was the best thing for the organization."
"She walked in and hired people in very senior leadership roles who knew nothing about Planned Parenthood," the former senior staffer added.
Two other sources familiar with the situation told BuzzFeed News that the management issues began on Wen's first day as president. One of the sources said Wen was first warned about her behavior about six months ago and that the board had given her specific directives for improvement but that she had seemingly disregarded them entirely.
As Wen began reorganizing Planned Parenthood, staff grew more and more concerned. By the time the group announced its split with Wen on Tuesday, the list of top political staff departures neared the double digits.
A source familiar with the situation told BuzzFeed News that eventually the board looked up and realized nearly all the staff they knew and trusted were gone.

Deirdre Schifeling, executive director of the organization's political arm, and Wendi Wallace, Planned Parenthood's director of political outreach, both told staff early this year that they would be leaving the organization. Schifeling and Wallace's departures, as described by three operatives familiar with the organization's inner workings who declined to speak on the record, came as a hit to the political infrastructure that Richards had helped build in her decadelong tenure as president.
Under Wen's short tenure, Planned Parenthood's fundraising saw a significant decline without Richards at the helm.
Planned Parenthood repeatedly asserted that it was not changing direction under Wen, and Schifeling and Wallace both said their departures were unrelated to any shift at the organization under her leadership. In response to BuzzFeed News' reporting, Wen insisted in a series of tweets that Planned Parenthood's "core mission is providing, protecting and expanding access to abortion and reproductive health care" and that the organization would "never back down from that fight."
During the beginning of Wen's tenure at Planned Parenthood, the staff she brought with her distributed a 182-page handbook on rules and tips for staffing Wen. The "Special Assistant Guide" from the Baltimore City Health Department, according to a copy obtained by BuzzFeed News, details guidelines on timeliness ("Nothing can fall through the cracks"), office demeanor ("Make sure to frequently look up [from Twitter] and make eye contact with Dr. Wen to see if she is trying to communicate urgent information"), language use ("Dr. Wen 'learns' not 'hears'"). and correspondence ("Try not to look at emails more than once. Take care of it then").
"The handbook was honestly just the beginning of her management issues," the source familiar with the situation said. "Shit has been crazy, there was a whole system of insanity: a deep mistrust of staff, giving directives that made no sense, saying things that were factually inaccurate, saying one thing then saying something else completely, micromanaging control over what people were allowed to say and not say."
When Wen first came on she had no interest in "the long-term future of abortion access work that had already been going on, saying there was no budget for it," the source said, adding that they witnessed staff crying in meetings with her, feeling as if their decades-long expertise was being ignored.
Two sources told BuzzFeed News that Wen also refused to use "trans-inclusive" language, for example saying "people" instead of "women" and telling staff that she believed talking about transgender issues would "isolate people in the Midwest." For a period of a few months, Wen sometimes went through Planned Parenthood's press releases and documents, deleting the word "sexual" from the phrase "sexual and reproductive health," the source said. She also resisted using the word "abortion" as a stand-alone term, preferring "abortion care" or other phrases entirely.
Wen did not immediately respond to BuzzFeed News' request for comment.
Wen brought in a tight-knit group of people from the Baltimore Department of Health with whom she would constantly have "secret meetings" without other staff, two sources said, not seeming to trust anyone else. She would often be dishonest with other staff members, the sources said, and "refused to listen to area experts who had been at Planned Parenthood for years about how to execute political work or how to talk about abortion."
"Oftentimes we wouldn't know that, say an op-ed she wrote was posting or what she was going to say in a speech until she had already said it," one of the sources said, adding those kinds of actions are the reason that so many staff members left Planned Parenthood after Wen took over.
Kate Nocera contributed to this story.
UPDATE
This post has been updated with more information about Leana Wen's firing.
UPDATE
This post has been updated to note BuzzFeed News' granted the sources requests for anonymity so they could speak openly about the matter.