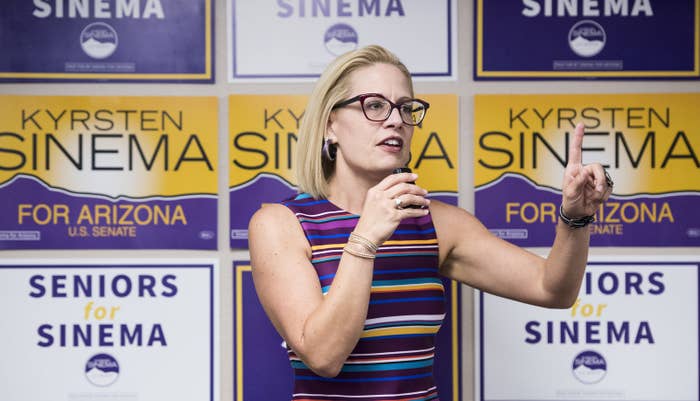 PHOENIX — On the weekend Donald Trump was visiting Phoenix to campaign for Republican Senate candidate Rep. Martha McSally, young, progressive, Latinx volunteers flooded the city's suburbs in droves, going door to door, often in bright pink Planned Parenthood T-shirts, canvassing for the Democratic ticket.

They were energized by the president's presence in their town, seeing it as a sign that Republicans, for the first time in decades, were scared of losing the seat. They were fired up by McSally's campaign ads, which use anti-immigration, alarmist language that sounds strikingly similar to the president's tweets. But when they were asked about their support for Democratic Senate candidate Rep. Kyrsten Sinema, many responded with a sigh.
"It's like when we had to vote for either Trump or Hillary," Angelica Romero, 21, the vice president of the Planned Parenthood student activist group on the Arizona State University campus, told BuzzFeed News. "Hillary wasn't the perfect candidate, there was a lot I disagreed with her on, but are we gonna vote for Trump? No. Are we gonna vote for McSally? No."
Sinema, who is running for retiring Sen. Jeff Flake's seat in a state that has been thoroughly Republican for more than a decade, is a moderate Democrat who has a record of voting with Republicans, particularly on immigration. Nearly all of the 14 young, progressive, Latinx voters and organizers who spoke with BuzzFeed News — most of whom were involved with immigration activist organizations — acknowledged that Sinema's record on this highly personal issue was not ideal. But there they were campaigning for her anyway, and campaigning hard, because to them the alternative was unthinkable.
"McSally is just so much worse," Athena Salman, a young, progressive Democratic state legislator in Arizona told BuzzFeed News. "To create a false equivalency there is absurd and dangerous," she added. "That's how we ended up with Trump."
Sinema is a Blue Dog Democrat. According to FiveThirtyEight, she votes with Trump 62.2% of the time, the fourth-most of any Democrat in the House (McSally, on the other hand, votes with him 97.8% of the time). To the chagrin of her progressive supporters, she has played up this centrism during her campaign, dropping her party affiliation from her ads, telling press it's "hard" for her to say she's a "proud Democrat," and declining to endorse Democratic gubernatorial candidate David Garcia. (Garcia, for his part, hasn't endorsed Sinema either.)

However, a solidly moderate Democrat may be what the party needs to turn an Arizona Senate seat blue in a state where immigration and border security rank among some of the top concerns of voters. The state has been predominantly red for decades: It has only voted for a Democrat in a presidential election once since 1952, hasn't elected a Democratic senator since Sen. Dennis DeConcini retired in 1995, and hasn't had a successful statewide Democratic candidate since former governor Janet Napolitano won reelection in 2006.
In the primaries, progressive organizations like Planned Parenthood, EMILY's List, and the Human Rights Campaign, which frequently speak out against Republican immigration policies, went all-in on Sinema over Deedra Abboud, a progressive civil rights lawyer. The groups have spent millions of dollars on ads and organized thousands of their supporters on her behalf throughout the campaign.

A spokesperson for the Human Rights Campaign told BuzzFeed News in a statement that the organization has supported Sinema — the first openly bisexual woman elected to Congress — since she first ran for the House, and was quick to endorse her for Senate as well. "She was one of HRC's easiest and earliest public endorsements for the 2018 cycle," the statement said, "and HRC Arizona has been bold and unequivocal in its support for her bid to be our next Senator." A spokesperson for EMILY's List told BuzzFeed News in a statement that it endorsed Sinema because "she was by far the strongest candidate in the race," and that it believes she can "bridge party lines and fix our broken immigration system."
Planned Parenthood Action Fund Vice President Dawn Laguens told BuzzFeed News in a statement that her organization is "proud to support" Sinema, citing her background on abortion rights and health care. "We've been proud to defend people's health and rights alongside Kyrsten in the House and look forward to continuing that work together in the Senate," the statement said.
The groups' decision to weigh in for Sinema so early in the campaign came as a disappointment to many of the immigration activists and Planned Parenthood canvassers campaigning for her this month. They told BuzzFeed News they supported Abboud in the primaries, a young Muslim woman with an anti-establishment, pro-immigrant platform, who in many ways fits the trend of young, minority, progressive candidates driving the "blue wave" in other states.
"She's part of the minority group, she supports immigrants, she supports reproductive rights, she wanted health care for all, so I believe that we needed someone new, a new face to represent the minority group she's a part of," Romero said, a sentiment that was expressed by the three other former supporters as well. "I believe she would have been perfect."
But by the week of the primaries, Sinema had a nearly 100-to-1 funding advantage over Abboud, who did not accept money from PACs, dashing Abboud's chance at becoming a serious challenger to Sinema's campaign. Sinema won in a landslide.
"When they tell you that they almost would have preferred Flake running for Senate as opposed to Sinema? That's bad."
Now, as the race against McSally grows more heated, many of the immigration activists that supported Abboud have found themselves having to rally their communities around a candidate it's harder to build enthusiasm over.

"I have friends that are DACA recipients, people who are politically involved and have advocated for not only themselves, but their communities," Isela Blanc, a Democratic member of the Arizona House of Representatives told BuzzFeed News before heading out to canvass for Sinema. "When they tell you that they almost would have preferred Flake running for Senate as opposed to Sinema? That's bad."
Immigration activists have long been critical of Sinema's voting record. In 2017, she voted for a Trump-backed bill called "Kate's Law" that would increase penalties for migrants reentering the country after being deported and includes prison time for convicted criminals who try to reenter, as well as another bill that would give the government the power to deport immigrants suspected of being in gangs, regardless of whether or not they themselves had committed crimes. This bill, in particular, sparked concern among immigration activists that it would give Immigration and Customs Enforcement increased ability to deport immigrants in the country legally "simply because of where they live or with whom they spend their time," as the National Immigration Justice Center wrote in a statement at the time.
Sinema also voted for the "Verify First Act" last year, which would require government verification of an individual's immigration status before providing them with tax credits designed to make insurance more affordable under Obamacare. Activist groups campaign against the bill, citing concerns that it would limit access to health insurance for low-income people and have a chilling effect on immigrants in the country legally who are wary of drawing government attention to their immigration status.
Sinema was also one of just five Democrats who voted for an ill-fated funding bill that would have provided $1.6 billion for Trump's border wall, though she released a statement at the time saying that she did not support the border wall funding and unsuccessfully voted to remove it from the bill. In 2015, Sinema also voted to greatly increase the length and intensity of the vetting process for Syrian and Iraqi asylum-seekers by requiring that the federal government certify that they are not a threat through background investigations before they are allowed to enter the US. And she introduced an amendment with conservative Rep. Matt Salmon to prevent people from Afghanistan, Egypt, Iraq, Libya, Yemen, Somalia, or Nigeria, among other countries, from being able to travel to the US for short tourism or business trips.
When reached for comment, Sinema's campaign pointed BuzzFeed News toward Sinema's history working with members of the Latinx community in Arizona, as well as her outreach to Latinx voters during the campaign.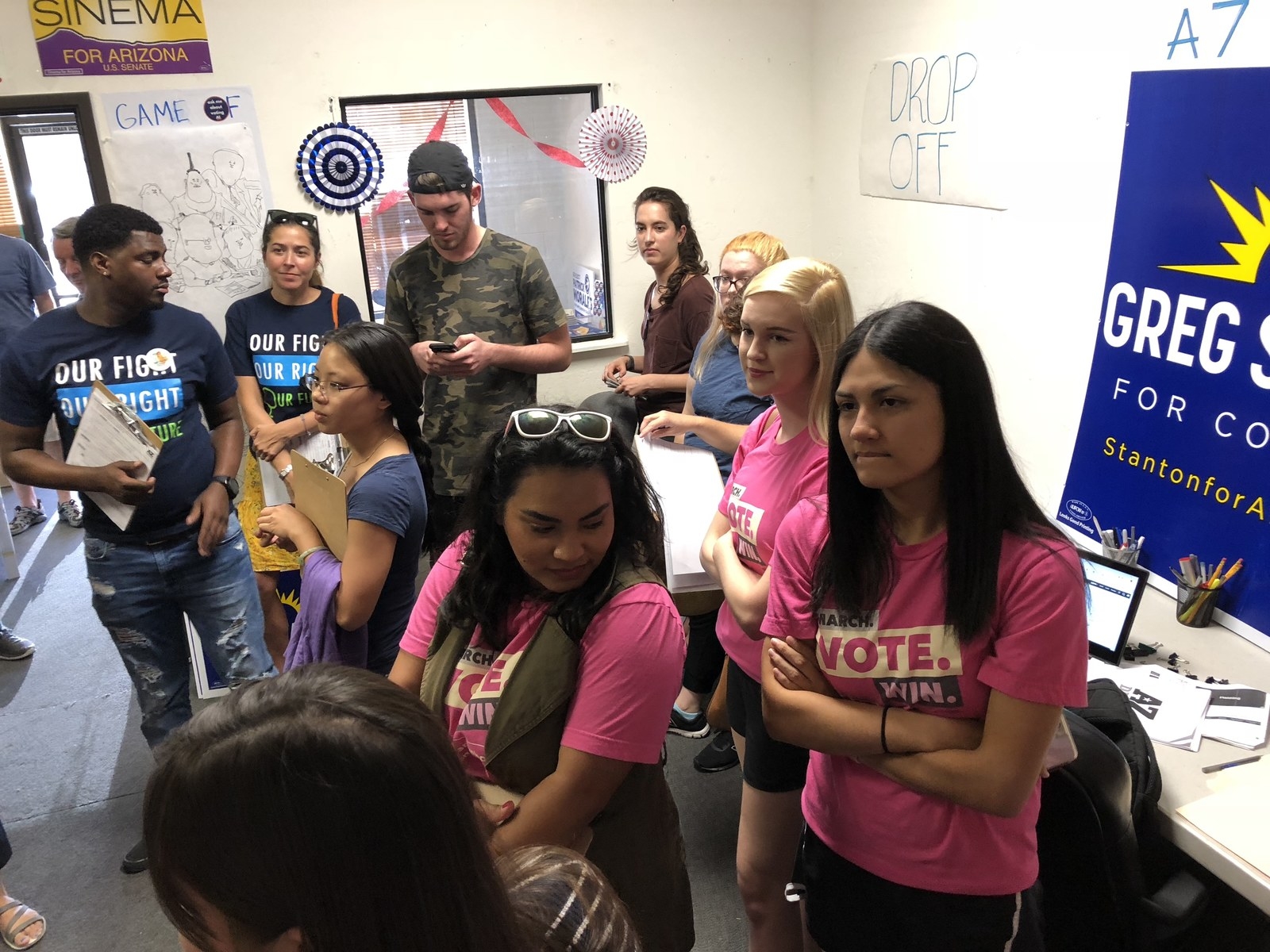 Now weeks away from the general election, the volunteers who spoke with BuzzFeed News, many of whom were associated with Raíz, Planned Parenthood's Latinx program, said that despite Sinema's immigration record, they trusted Planned Parenthood made the right decision. Many said that ultimately they knew Sinema had the best chance of winning and not supporting her was not worth the risk of electing McSally, who had already voted eight times to defund Planned Parenthood.

"Planned Parenthood was there for me when I needed them," Planned Parenthood canvasser Carolina Olivarria Barraza, 22, told BuzzFeed News. Barraza is an ASU student who immigrated from Mexico as a child with her family and has since gained citizenship. She has preexisting conditions that had kept her bedridden until that weekend when the doctor gave her the okay to canvass. "I think them supporting [Sinema] was the right choice."
"Some of my family can't get health insurance and need Planned Parenthood," Romero said. "I'll vote for anyone who supports that."
Canvassers have turned out in "record numbers," Planned Parenthood told BuzzFeed News. Just in October, 659 new members joined their canvassing effort and completed over 200 shifts. Many of the volunteers BuzzFeed News spoke with as they canvassed were associated with Raíz; others were part of local immigration organizations and Latinx workers' rights associations.
Recent polls show that this attitude is not unique to the most active in Arizona's progressive community. On Tuesday NBC released a poll showing Sinema six points ahead of McSally, mostly thanks to Latinx voters, women, and independents.
"Look, she is bad on immigration, and we're disappointed in her," Betty Guardado, an advocate with CASE Arizona, an immigrant and workers' rights organization, told BuzzFeed News. "But we also have to look at the whole state and see where the state is at, and we believe that if she went gung ho on immigration issues she wouldn't be where she is right now. … We had to go with the candidate that we knew was gonna win."
So instead of focusing on the negative, the volunteers have chosen to emphasize Sinema's liberal and loyal stances on abortion, universal health care, and LGBT issues. She also has supported labor unions in Arizona, they said, and she has consistently supported the DREAM Act, which granted legal status to young adults who were brought to the US by their parents as children.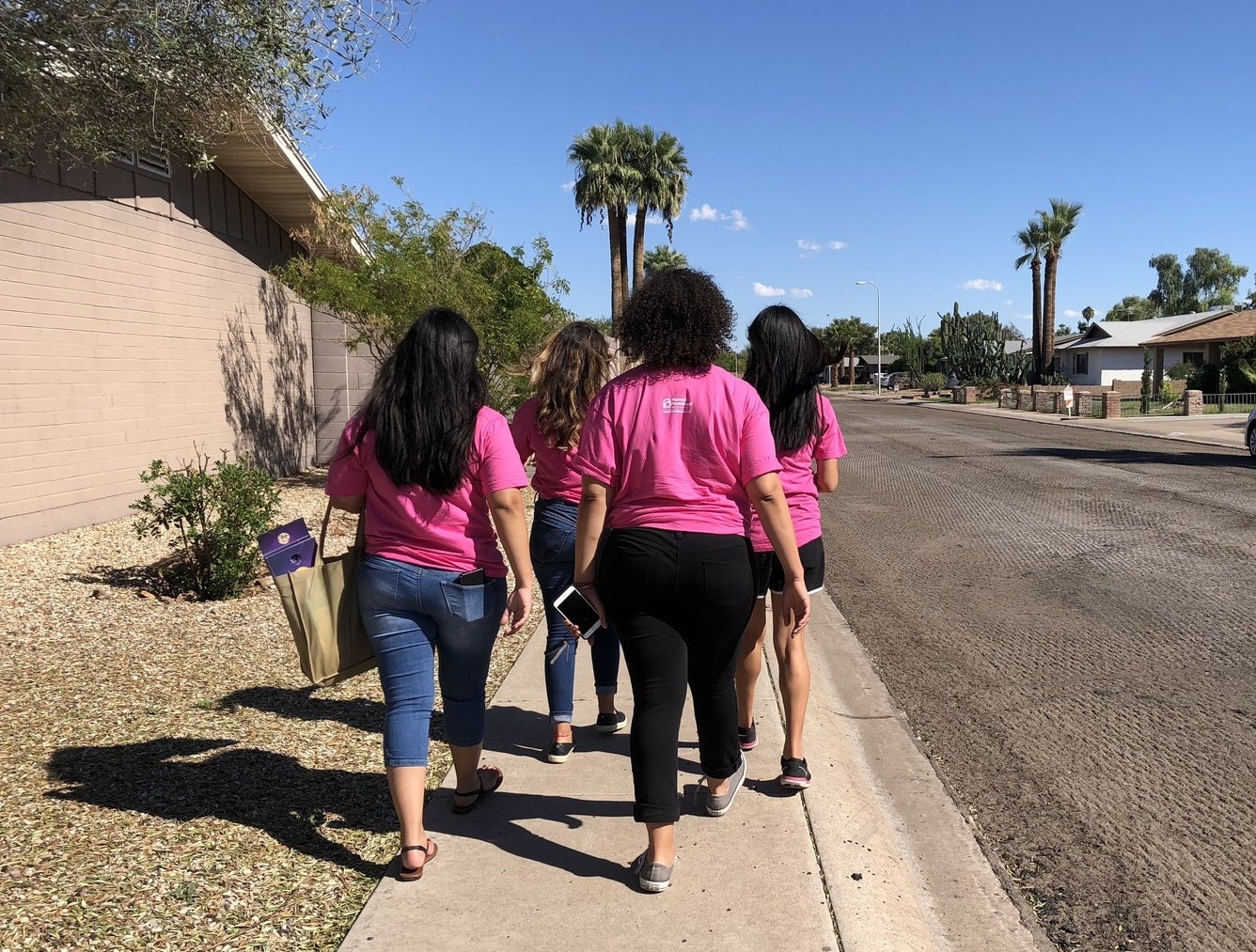 Danny Ortega, a lawyer who has worked in the immigration activist community in Phoenix for decades, told BuzzFeed News that he was familiar with the concerns expressed by the young, Latinx, and activist communities about Sinema's immigration record and that he agreed with those concerns.

"But that shouldn't get in the way of facing the reality of this Congress, that in order to come up with workable solutions you need compromise," Ortega said, emphasizing that Sinema's history of crossing the aisle is her strong suit. "I think Kyrsten's part of the solution here, despite the reservations" of some of the people on the ground.
And maybe in a more friendly Congress, some of the volunteers said, her liberal side will start to take over.
"I've known Kyrsten [Sinema] since 1999, and I've been a physical and financial supporter of her since her first race," Abboud, who is now encouraging her supporters to vote for Sinema, told BuzzFeed News. "She used to be a lot more liberal; she used to be a lot more outspoken. Everyone is pinning their hopes on if there is a Democratic majority, she will move back that way."
And for the burgeoning progressive population, there are others on the ticket they can feel excited about. Young, minority state legislators, and candidates like Garcia, whom Sen. Bernie Sanders recently flew to Arizona to rally for. If they win, it will mark a real sea-change in Arizona politics.
"There is going to be such a world soon," where progressive activists see candidates who better reflect their views succeed in Arizona, National Organization of Women Arizona (NOW) board member Dianne Post told BuzzFeed News. "Maybe not this election cycle, but soon."
CORRECTION
Angelica Romero is the vice president of Planned Parenthood Generation's Arizona State University chapter. An earlier version of this post misstated her title.