A boulder that Kent State University students often write messages on was spray painted with the words "Cops Live's [sic] Matter" on Wednesday — the same day the campus remembered the 46th anniversary of the National Guard fatally shooting four people during an anti-Vietnam war protest.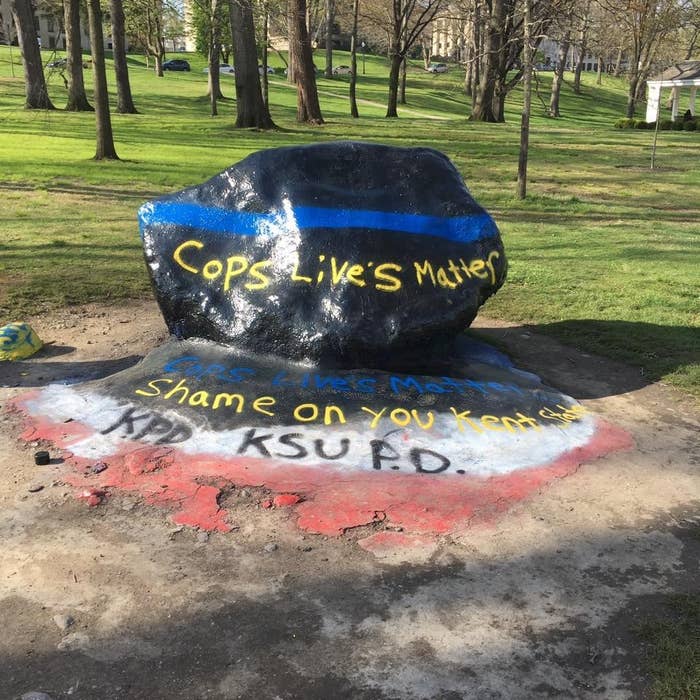 Each year Kent State University holds a ceremony in commemoration of the May 4, 1970 killings. The National Guard who were called in to quell a non-violent campus protest.
A student "task force" chooses the ceremony speakers each year, a university spokesperson told BuzzFeed News. This year they decided to draw a connection between the Kent State students and the Black Lives Matter protests against police brutality occurring around the country.
The task force invited Samaria Rice, the mother of Tamir Rice – a 12-year-old who was shot and killed by a police officer while playing with a toy gun in Cleveland — to deliver a speech regarding police use of force.
The morning of her appearance, the campus boulder – an symbol of freedom of speech on campus, one alumnus told BuzzFeed News – was covered with anti-Black Lives Matter sentiments, including the words "No Rice."
After the announcement that the ceremony would have a Black Lives Matter theme, many claiming to be students and alumni expressed anger on social media — sometimes using the same words that appeared on the boulder on May 4th.
"Very disappointed in my alma mater," one alumni wrote on Kent State's official Facebook page on Wednesday, echoing the public Facebook comments and tweets of dozens of people claiming to be Kent State alumni or students.
Many of those angry with the school said the anniversary of those killed for protesting the Vietnam war was not a time for politics, but remembrance. Others took a more directly anti-Black Lives Matter approach, using the hashtag #AllLivesMatter or calling Tamir Rice a criminal.
On Wednesday pictures began circulating online of the Kent State rock — upon which "anyone is allowed to write anything," university spokesperson Emily Vincent told BuzzFeed News – with the words "All Lives Matter," "Shame on you KSU," and "Cops Live's [sic] Matter." It was also signed with the acronyms for Kent State Police Department and other local police departments in the area.
Courtney Root, a firefighter in the area, told BuzzFeed News that she saw a man with his hood up graffitiing the words on the rock Wednesday morning. When she asked him if he was a police officer, he "danced around answering," she said, "but made it pretty clear that he was."
The Kent State Police Department told BuzzFeed News no one was immediately available for comment.
Hundreds of students showed up to hear Samaria Rice's speech. Many held pictures of Tamir Rice's face and held up their fists in solidarity as Samaria spoke.
She addressed the 2014 shooting of her son attacks on freedom of speech both at Kent State in 1970 and during current Black Lives Matter protests.
"What do we have the First Amendment rights for if we can't exercise them," Rice said, "and who is the law enforcement to kind of knock that down, let alone put their hands on you?"
Students cheered and murmured in agreement, many dressed entirely in black and holding Black Lives Matter signs.
Rice said that the only way "change will occur" is with "all of us standing together and unifying .... [to] set an example for the government to say listen, look, we're not going to take this anymore."
"You can't just keep killing unarmed Americans," she said.
Later the same day, the rock was re-painted with the words "Black Lives Matter," Tamir Rice's name, and a drawing of a hand giving the middle finger next to "Trump 2016."
"The rock is a free speech area, anyone can paint on it at any time we do not monitor it it," Vincent told BuzzFeed News.
She said it is not uncommon for the rock to be repainted multiple times in a day. Often people paint it for other people's birthdays, or fraternities advertise events. Sometimes offensive words or symbols are painted on it, she said, but the school has designated it a "freedom of speech zone," and they do not interfere.
The boulder has since been painted over once more to say "Blue Lives Matter," another form of "cops lives matter," KSU alumnus Justin Rice, who lives near the boulder, told BuzzFeed News.