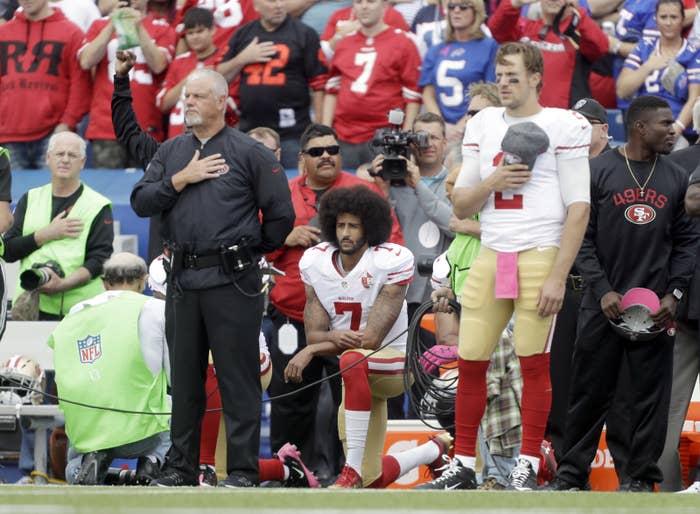 San Francisco 49ers quarterback Colin Kaepernick kneeled once again during the national anthem in Sunday's game against the Buffalo Bills, receiving an angry response from fans both inside and outside the stadium.
Bills fans booed him and chanted "USA! USA!" when the quarterback refused to stand for the "Star Spangled Banner" before his first game as the 49ers' starting quarterback, taking over for Blaine Gabbert.
According to reporters at the event, vendors at the game in Orchard Park, New York, were also selling t-shirts and beer koozies showing Kaepernick's image in a rifle scope, reading "Wanted: Notorious Disgrace to America," and "Shut Up and Stand Up! Kaeperdick."
Kaepernick sparked controversy in August when he became the first pro-athlete who refused to stand during the national anthem as part of a protest against police brutality and racial inequality and oppression.
Kaepernick staged his first demonstration alone, but has since been joined by many fellow football players across the country, including his own teammates.
On Sunday, safety Eric Reid and linebacker Eli Harold followed Kaepernick in his silent protest, while other teammates Antoine Bethea, Jaquiski Tartt, Keith Reaser, Rashard Robinson, and running back Mike Davis continued their tradition of raising their fists during the anthem in the sign of "black power."
Will some Bills fans booed the players, others showed their support by staging a "kneel in" outside the stadium.
Kaepernick arrived at Sunday's game wearing a t-shirt emblazoned with the image of Muhammad Ali, the civil rights icon and boxer who died in June.
Some, including filmmaker Spike Lee, have drawn comparisons between the two athletes for their protests.
"How can you love Muhammad Ali and not love [Kaepernick] for the stance he took?" Lee said in June.