A Judge Tried To Fine A Man $1 For Every Time He Groped An Underage Girl
Pennsylvania judge Lester Nauhaus's conduct was reported after he gave out the sentence and implied that President Trump thought groping women without their consent was okay.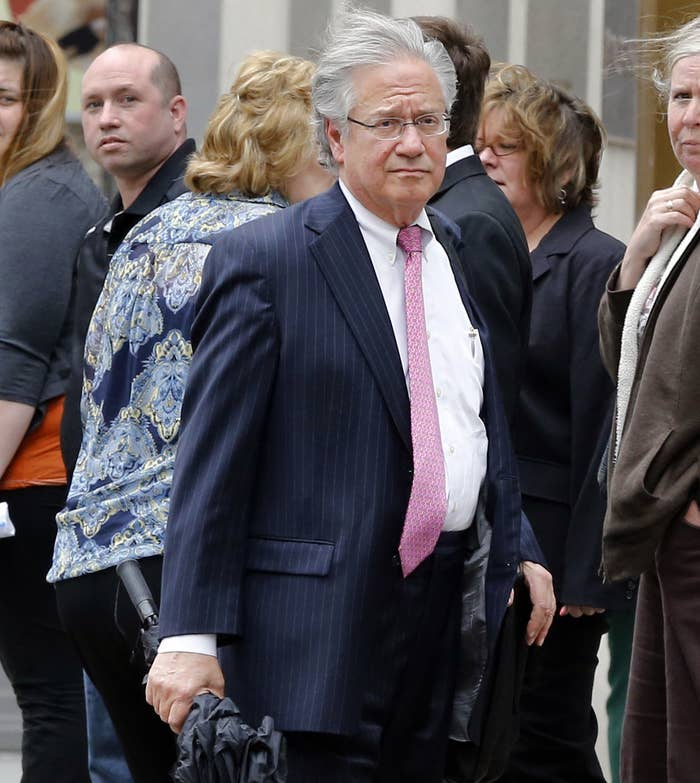 A Pennsylvania judge will be reported this week for suggesting a fine of one dollar for every time a man inappropriately grabbed and groped a 15-year-old girl without her consent.

Common Pleas Senior Judge Lester G. Nauhaus's "conduct has no place in our [judicial] system and the District Attorney will bring it to the attention of the appropriate persons and, if necessary, the Judicial Conduct Board," a spokesperson for Allegheny County District Attorney Stephen A. Zappala Jr., in the Pittsburgh area, told BuzzFeed News Sunday.

Nauhaus came under fire after suggesting the symbolic amount in court last week. He eventually let the perpetrator off with no fine.

The offender — who was under 18 at the time of the crime, and therefore has his identity protected by the court — was previously convicted for harassment by a district magistrate for repeatedly grabbing a younger girl's genitals and other parts of her body over the course of multiple years while they were in middle school and high school, the Pittsburgh Post-Gazette reported. A transcript of the hearing was obtained by the Pittsburgh City Paper.
Nauhaus also seemed to imply in the hearing that President Donald Trump believes grabbing women's genitals without their consent is okay, and later cited this as evidence that "we live in this really crass, inappropriate society where people talk like this all the time."

The assailant — who has been in the state's child-welfare system for some time —appeared before Nauhaus to appeal a $300 fine he received for his harassment charge, alleging that he was unable to pay it. Despite his being charged with harassment, the assailant's actions qualify as "indecent assault" under Pennsylvania law, a crime one step below sexual assault in sentence severity.
The assailant's attorney Dawn Walters, a lawyer with the child legal advocacy group Kids Voice, told the court that her client knew what he did was wrong, but was unable to pay the fine. Assistant District Attorney Jeff Tisak, told Nauhaus that they were seeking 90 days probation and a no-contact order on behalf of the victim, who was present at the appeal hearing.
"Fine," the court records show Nauhaus responding. "I'm going to give him a 90-day postponement. He has to do community service. And he has to pay a $3 fine. How many times did he touch?"
"I'm going to say about six times, maybe," the victim told the court. To which Nauhaus responded, "A $6 fine."
Tisak interrupted the judge with an objection to the unusual sentence.

"It is just highly inappropriate to tell a young girl that inappropriate touching is worth a dollar a time," Tisak said.
Nauhaus reiterated that the assailant would not be able to pay the $300 fine, and asked if Tisak wanted the newly 18-year-old defendant thrown in jail.

"That's not the point," Tisak contested.

"Of course, it's the point," Nauhaus responded, before waiving the fine entirely.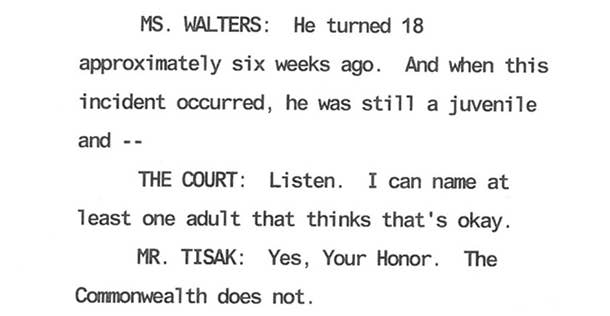 At another point in the hearing, when discussing the actions of the defendant, Nauhaus said, "Listen, I can name at least one adult that thinks that's okay," he said. "He's an important guy."

When asked by the Post-Gazette whether he was in fact referring to Trump — who infamously bragged on tape about grabbing women "by the pussy" — Nauhaus replied, "I was referencing that we live in this really crass, inappropriate society where people talk like this all the time."
Toward the end of the hearing Nauhaus told the court that he "felt bad for the victim," but that there "really isn't much I can do."

Later, in an interview with the Post-Gazette, Nauhaus assured the newspaper that he was not trying to "mock or denigrate" the victim's experience, but that the attorneys did not give him a sentence suggestion and he was just trying to "find some way of punishing" the assailant on his own.

"Such conduct has no place in our system and the District Attorney will bring it to the attention of the appropriate persons and, if necessary, the Judicial Conduct," a spokesman for the district attorney's office, Mike Manko, said in a statement. Manko added that his office has been working with a local victims policy board to make "drastic changes to the way our office ... deals with domestic violence cases."
"In effectuating these changes, we dealt with the same type of conduct then as is being exhibited by this particular jurist now," he said.

This is not the first time Nauhaus has come under fire for his actions on the bench. In 2015, after former Pennsylvania state Supreme Court Justice Joan Orie Melvin was convicted in a corruption case, Nauhaus made her pose for a photo in handcuffs then demanded she send the picture, along with a hand-written apology note, to every state judge in Pennsylvania. The appellate court took issue with the sentence, saying that demanding the picture be distributed went a step too far.
CORRECTION
The defendant was charged with harassment. A previous version of this article stated he was charged with a sex offense.