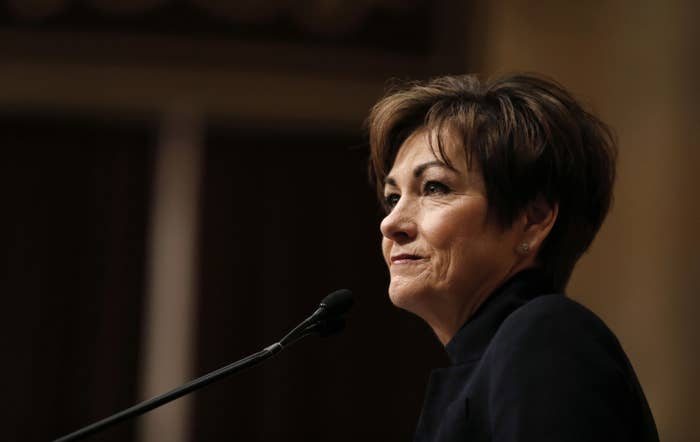 Iowa legislators passed a so-called heartbeat bill Wednesday that bans abortion after a fetus' heartbeat can be heard through an ultrasound — on average around six weeks into a pregnancy. If signed, it will be the most restrictive abortion law in the country.
The bill was fast-tracked by the Republican-controlled Statehouse and passed in the early hours of Wednesday morning. It now heads to the desk of Gov. Kim Reynolds, who opposes abortion rights but has not made any public comment on whether she will sign the bill.
"Governor Reynolds is solidly pro-life and will never stop fighting to protect the unborn, however, she doesn't comment on any bill until seeing it in its final form," Reynolds' communications director Brenna Smith told BuzzFeed News in an email Wednesday. "Our office has not yet received the bill from the legislature for review, but the governor looks forward to reviewing the final language with her team and taking action in the next couple of days."
Opponents of the bill argue that it is essentially a complete ban on abortion, as many women do not know they are pregnant until they have missed two periods — about 8 weeks into pregnancy. For women who find out, a recent decline in the number of abortion clinics in the state often makes abortions difficult to obtain in a short period of time.
In recent years, state legislators across the country pushed similar bills banning abortions after six weeks and citing a fetus' heartbeat as a standard, but none have been signed into law. A similar bill was passed in Ohio in 2016 but was vetoed by Republican Gov. John Kasich. Rep. Steve King, a vehemently anti-abortion Republican from Iowa, introduced similar legislation in Congress last year, but it was shirked in favor of a less restrictive abortion bill.
"The Iowa General Assembly just passed Heartbeat legislation that will protect nearly every baby from abortionists," King tweeted Wednesday morning. "The most consequential legislation in Iowa history. America thanks you!"
Unlike many other versions of the heartbeat bill, the legislation passed in Iowa has exceptions for some cases of rape or incest. (All of the heartbeat bills contain exemption for cases where pregnancy threatens the life of the pregnant woman.) The Iowa bill qualifies that abortion is only legal in cases of pregnancy by rape if the woman reports the incident to the police or a doctor within 45 days of the incident, or, for cases of incest, within 140 days, according to the Des Moines Register.

The bill also has an exemption for cases where the fetus will not survive birth, and prohibits the use of fetal tissue from abortions for medical research.
Abortion rights advocacy groups are likely to quickly challenge this law in court, should the governor sign it. Planned Parenthood recently sued over the current most restrictive abortion ban law in the country — a 15-week ban signed by Mississippi Gov. Phil Bryant in early April. A judge quickly blocked that law after its signing, as litigation continues.
In a statement emailed to BuzzFeed News Wednesday, NARAL Pro-Choice America communications director Kaylie Hanson Long called the ban "cruel and unconstitutional," citing the 1973 Supreme Court ruling Roe v. Wade gave women in the US the right to obtain abortions until the fetus could viably live outside the womb.
"After passing an unconstitutional abortion ban in the middle of the night, Iowa has brought the GOP one step closer to their ultimate goal: overturning Roe v. Wade and banning abortion completely," Hanson Long wrote. "We call on Iowa Governor Kim Reynolds to do the right thing, and veto this bill. The lives and constitutional rights of Iowa's women hang in the balance."