At first glance, it looked like a completely ordinary wedding. The bride wore a white dress with a long train and bows on the lace sleeves, her hair done up in a mock beehive. Her bridesmaids each held a bouquet that matched their differently colored lace dresses. The bride and groom took pictures on the beach, and a small reception of friends and family took place in a low-ceilinged room afterward. The guests drank and danced under banners and balloons reading "Just Married."

But this wasn't quite an ordinary wedding, because in the groom's place was a painting — specifically, a painting resembling one of Johnny Depp's most famous characters: Captain Jack Sparrow from the Pirates of the Caribbean franchise. In July 2016, Amanda Sparrow Large Teague, 44, gathered her friends and her four children onto a boat and sailed 12 miles off the coast of Belfast in Northern Ireland. There she was married at sea to Jack Sparrow's spirit by a local legal registrar and officiant. His presence at the wedding was symbolized by a candle, the portrait of Captain Sparrow, and a ring on a pirate's sword. The wedding cake topper read "Mr. and Mrs. Sparrow" inside of an intricate heart.
"I declare myself as married on forms and such, and this has not been challenged so far," Amanda told me in an interview close to the date of their first anniversary. "But of course, he doesn't receive any benefits because he's a spirit."
The Jack Sparrow universe isn't only still thriving; it's expanding.
Amanda is a former Jack Sparrow impersonator, which she says was part of her journey on the way to meeting Jack. In 2015 she made headlines for the commitment and expense she put into making her costume as accurate as possible, complete with gold teeth, that character's tattoos, and a legal change of her name to Sparrow. Amanda puts as much thought into her house as she does in her own appearance, covering it in a collection of nautical antiques, with one room decorated like the Black Pearl, the ghost ship from Pirates of the Caribbean.
While Amanda's case is unique, she is not alone in loving Captain Jack Sparrow. When the first Pirates of the Caribbean movie came out 2003, he was a character the likes of which a generation of young viewers had never seen before. He wasn't a bland, flaxen-haired Disney hero, and he certainly wasn't the golden boy Orlando Bloom, his foil in Pirates. As Depp himself has said in many interviews, the character was The Rolling Stones' Keith Richards combined with cartoon skunk Pepé Le Pew — a macho but effeminate drunk clown, with rock star sex appeal, but a cartoonish quality and enough androgyny to be unthreatening. He tapped into, as Catherine Lacey puts it in her book The Answers, the "odd moment before adulthood [when you are] biologically old enough to know desire, but young enough to believe in magic."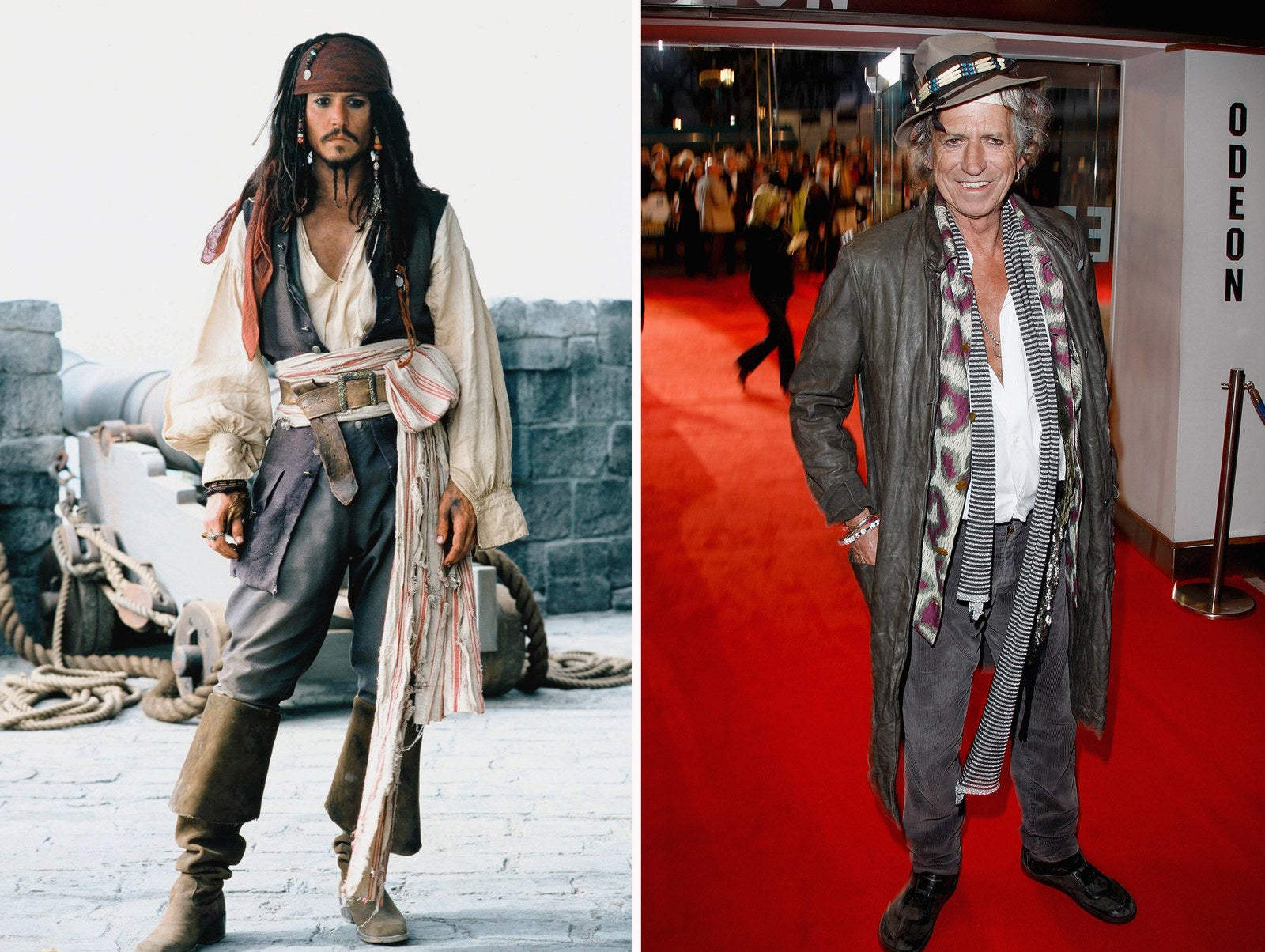 I was one of these young people swept up by Sparrowmania in the mid-2000s. But before I recently spent days Googling, emailing, DMing, and calling up strangers involved in the Sparrow universe, I — and most of the former Sparrow lovers I know — thought the character had long since lost his appeal. That all the movies after the first one were nothing but soulless grabs at blockbuster cash, and that Depp, now 54, had put the nail in the coffin of his androgynous bad boy/heartthrob status with his Trump impersonation, allegations of abuse by his ex-wife Amber Heard, lawsuits against his managers, and rumors of potential financial ruin due to irresponsible spending — including buying an entire French village, multiple islands, and $30,000 worth of wine a month.
But we were wrong. The Jack Sparrow universe isn't only still thriving; it's expanding. The popularity of the character pervades — and Depp knows this. He has started appearing as the character in public to surprise his fans, at Disney Land and at children's hospitals, perhaps attempting a resurrection of his career. Meanwhile, he's inspired imitators the world over. One Sparrow "lookalike" near London makes his entire living impersonating Depp's character. He and other Jack Sparrow admirers provide pirate entertainment at events or make and sell Jack Sparrow costume accessories, scarves, buttons, and wigs. Others have adopted a Jack Sparrow–influenced "pirate philosophy" by which they live their lives. One pirate couple in Michigan is even raising their 2-year-old daughter in the spirit of pirate life.
Some Sparrow fans, however, have dealt with the decline of Depp the person's reputation by insisting that Sparrow is now a separate entity from the actor who created him.The world of modern pirates has many factions — some are into kitschy Renaissance fair piracy, some the steampunk pirate community, and others only participate in historically accurate pirate cosplay. But the ideas of freedom, rebelliousness, and living outside the norm are pervasive throughout all strata, including Sparrow's. Nearly every Pirates fan and Sparrow impersonator I talked to spoke of the "freedom" of being Jack Sparrow and the liberty he provides to "be yourself."
But is the character powerful enough to save Depp? Or, alternatively, to survive without him?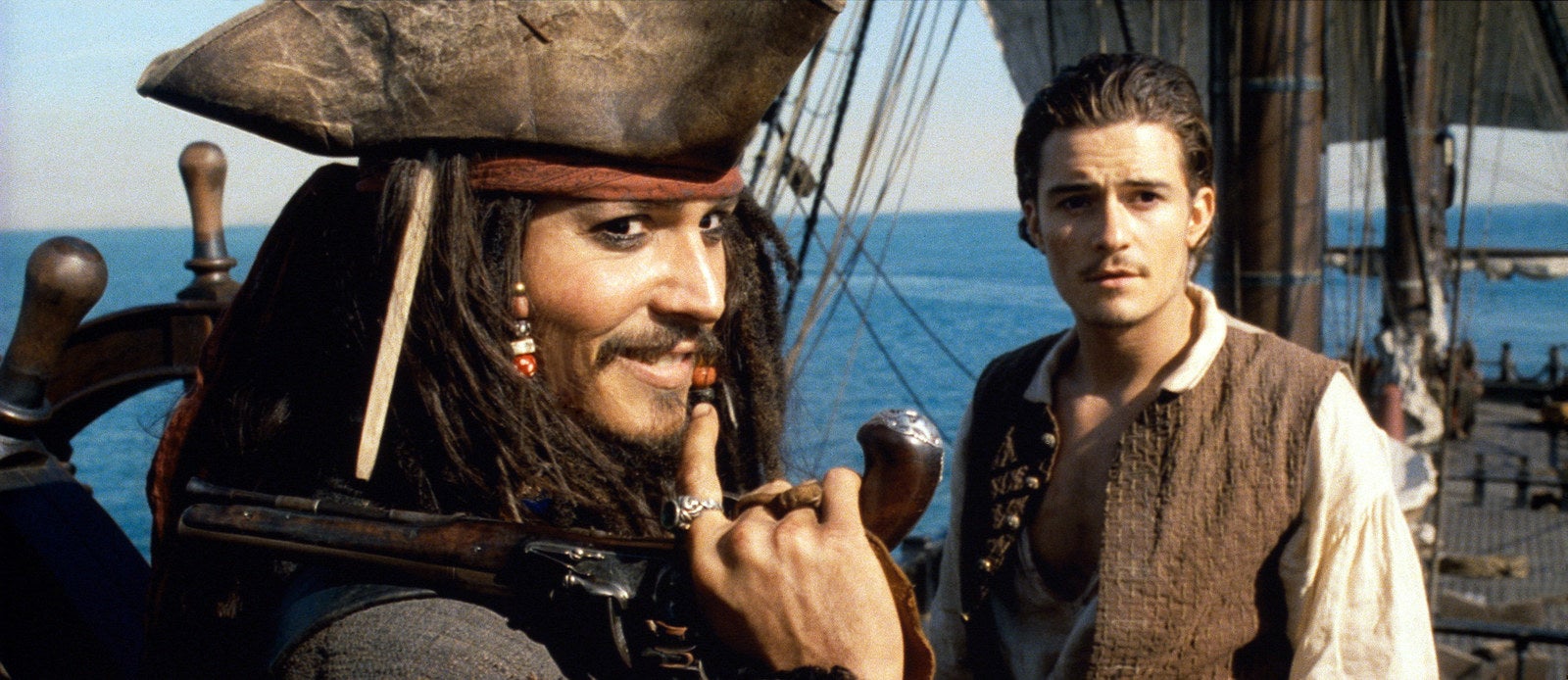 When Pirates of the Caribbean: Curse of the Black Pearl (the first one) came out in 2003, Johnny Depp was just entering his forties. He had already gone from TV heartthrob with 21 Jump Street, to '90s indie darling and Hollywood rebel (when he was arrested for causing nearly $10,000 worth of damage to a hotel room while in a "fight" with then-girlfriend Kate Moss), to having a critically acclaimed but "uneasy" relationship with the film industry, as Vanity Fair put it in 2004. But with the release of Pirates and ensuing kid-friendly films like Finding Neverland and Charlie and the Chocolate Factory, Depp gave press the impression that he was finally settling down and retiring his old ways. He often brought up his then-partner, singer Vanessa Paradis and their two young children in interviews, citing them as influences upon his choice of films. And with this "settling" came financial and career security, repeatedly landing him on Forbes' list of highest paid actors (and recently, most overpaid actor).

The first Pirates movie was a surprise hit. Based on a rickety old Disney ride, the idea was risky, as Disney's first PG-13 movie. Depp's acting choices were bold and creative — so bold in fact that, if Depp is to be believed, he was almost fired from the first film for acting too "drunk" and "gay." But, of course, he carried the film through to commercial, critical, and cult success beyond what Disney could have hoped for, even earning himself his first Oscar nomination.
Thirteen years later, Depp's career and life looks very different. He separated from Paradis in 2012, started frequently appearing dysfunctionally drunk in public, and got engaged to Amber Heard, who was 28 years old at the time. Now almost exclusively playing wacky, half-crazed characters in elaborate costumes, Depp's performances became increasingly soulless and the films started bombing, prompting headlines such as "Has America fallen out of love with Johnny Depp?" and "Why Are All of Johnny Depp's Movies Bombing at the Box Office?" Tim Burton's Alice Through the Looking Glass (2016), sequel to Alice in Wonderland (2010), actually set the record for the biggest difference in earnings between two installments of a movie franchise ever.
In May 2016, Heard filed for a divorce from Depp. A few days later, she filed charges against him for domestic violence. She claimed he was an alcoholic and that he verbally and physically abused her throughout their relationship. In court she described him punching her, pulling her hair, and often making her fear for her life. Selfies of Heard with a black eye and split lip were published, she was photographed leaving court with a bruised face, and later a video she took of him pouring a massive glass of wine in the morning and violently slamming cabinets was leaked. A judge ordered a temporary restraining order against Depp, but Heard retracted her charges before the case could go to trial, a move that was part of a $7 million divorce settlement to be donated to both a charity to help victims of domestic abuse and a children's hospital.
As is often the case in Hollywood, the charges against Depp do not seem to have affected his career, and overall it does not seem to have affected his popularity among his fans. A month after Heard's accusations, Disney CEO Bob Iger told the Hollywood Reporter that he was "not worried" about the effect the accusations would have on the Pirates of the Caribbean franchise, merchandise, and Disney theme park rides because "We have Jack Sparrow." In other words, Iger believes the draw of Depp's character is powerful enough to outweigh the allegations against the actor. And it seems he is right.
While Alice Through the Looking Glass may have been a box office dud, the latest Pirates earned a whopping near $800 million, triggering talk of sixth installment of the franchise, again starring Depp.
Gig Salad, a website that connects people planning events to performers, photographers, caterers, etc., told me that Johnny Depp is the seventh most popular impersonator request in the US, behind Elvis, Michael Jackson, Marilyn Monroe, Frank Sinatra, Prince, and Trump, making him the second most popular one still living. Requests for Sparrow impersonators didn't decrease as his scandals emerged; rather, they rose around the release of Alice Through the Looking Glass and again in May of this year, with the release of Pirates of the Caribbean: Dead Men Tell No Tales.
One of the full-time professional Sparrow impersonators I spoke to, Simon Newton, said that in the past year he's received some comments about Depp's alleged abuse on the websites of events he's been booked for, and he has occasionally been hassled about it in the street when in costume, but infrequently and only by men. Mostly it's been more or less the same, he said. Depp's personal scandals haven't interfered with Simon's work enough to stop him from traveling to jobs in costume.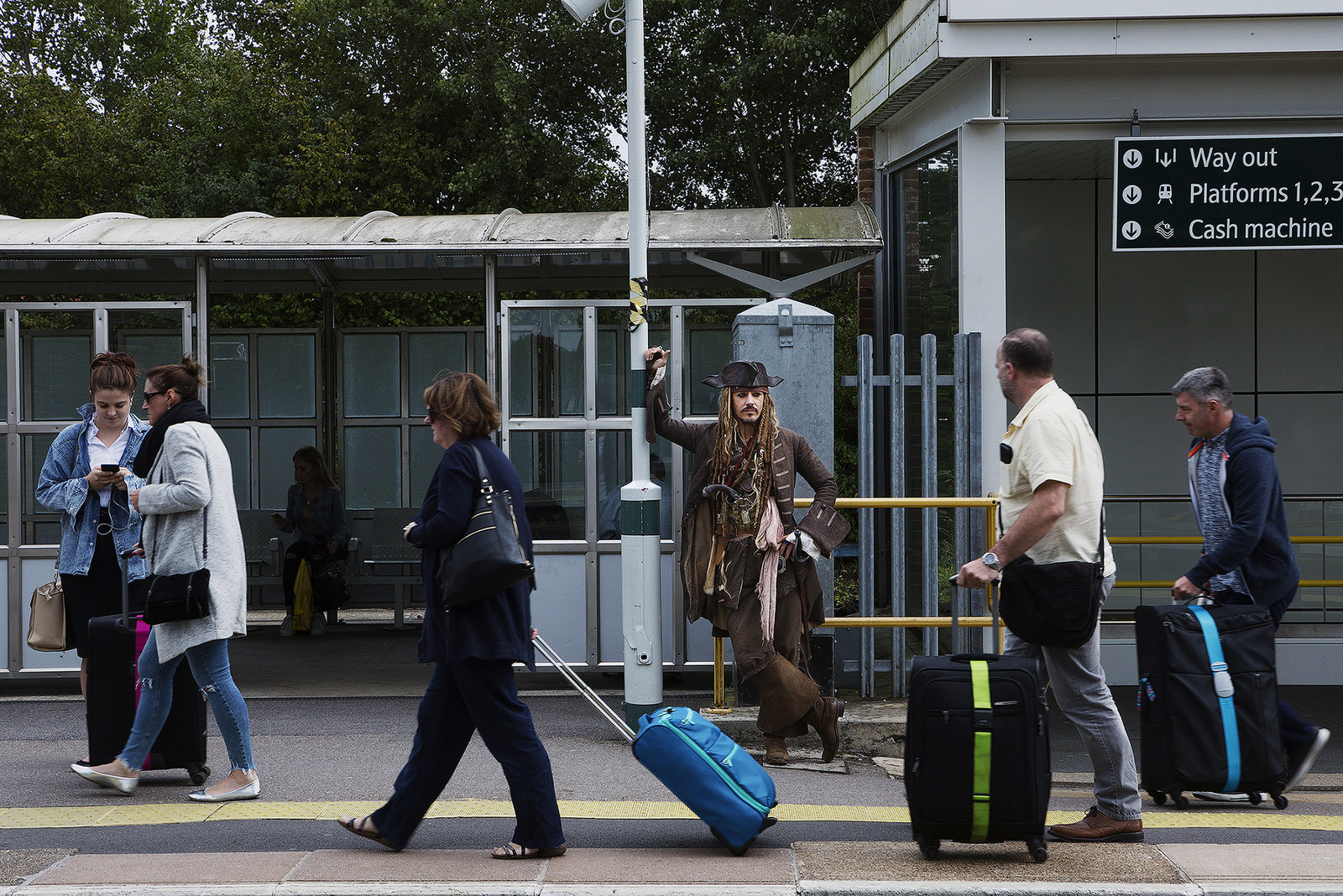 "Life kind of gets switched upside down doing this," Simon told me over the phone from his house in Crawley, West Sussex, where he lives with his dog. "Normal and weird get topsy-turvy." Simon speaks with a drawling English accent, and you can occasionally hear hints of Sparrow's voice and mannerisms poking through his speech.
Simon gets so much work as Sparrow that, when outside his home, he is more often in costume than out. Bizarre interactions with drunken strangers is the norm for him. People saying odd, inappropriate things in his ear, or yelling at him from across the road, is just how he lives his life. "If I walked down the street [in costume] for example, and no one stopped me, it'd be quite weird," Simon said.
It's the everyday, normal, human things that have become strange to him. "If I haven't had time to get changed and I have to pop into my local grocery store, that's more quite weird, just walking around," he said. "And people get confused and don't quite know what's going on, because I'm not there to perform — I'm there to pick up bread or milk or something."
Simon, who recently turned 38, has been a professional, full-time lookalike (British for impersonator) for 11 years. Work brings him everywhere from the US to India for birthday parties, weddings, pirate-themed work events and conferences, and promotional stunts for the films or video games. He was even hired as a hand double for Johnny Depp in one of the Pirates movies, but says he was so good the directors ended up asking him to do full-body double work as well.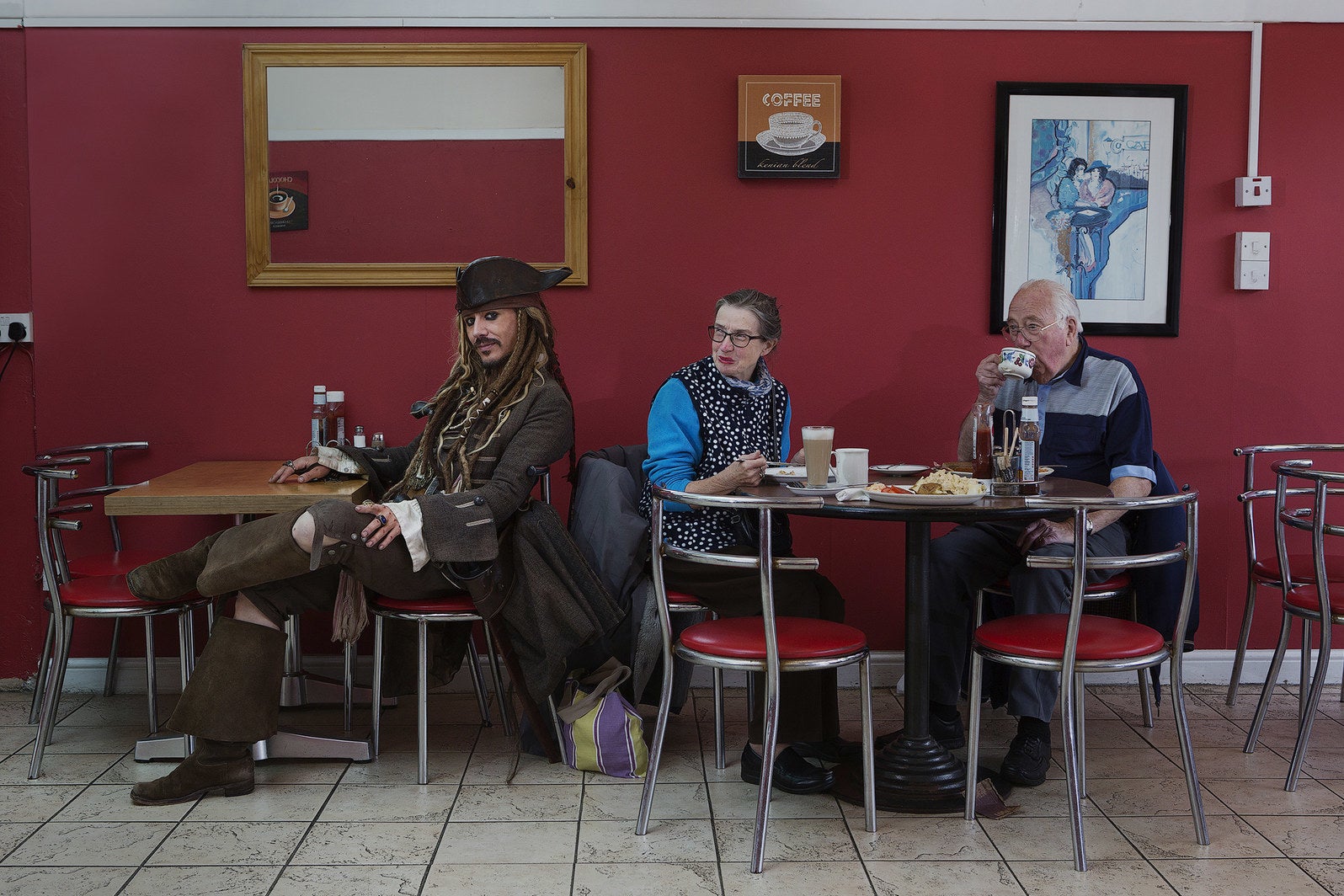 When I raised my clearly ignorant and patently false assumption that general interest in Sparrow waned over the 14 years since the first movie, Simon was quick to shoot me down.
"No, no it's quite the opposite," Simon said. "There are a hundred times more lookalikes now than there were when I started." While there's no scientifically accurate way to gauge fan interest over time, the box office hit of the newest film combined with the apparent demand for these many lookalikes can give you a pretty good idea. Plus, there are the new fans who come across the first movie on Netflix and get as hooked as those of us who saw it in 2003. A number of the fans I found on Tumblr were only 1 or 2 years old when the first movie came out.
"Jack Sparrow is so attractive to people. He's such a sex symbol. Guys like him, girls like him. You can go from being a plain guy who never gets a second look on the street to having everyone interested in you."
But as for the increase in UK lookalikes, "It's probably partly my own fault, to be honest," Simon said. When he first started dressing as Sparrow after the first movie came out, there was nowhere to get a good costume off the rack quite yet, he said, so he started hunting for old cloth and buttons to make an accurate costume, and eventually started selling them online. It was the early days of the internet, so the cosplay community was not what it is now, and Simon really helped out a lot of young Jack Sparrows starting along their paths. And now his business selling accurate fabrics, buttons, and belt buckles for Sparrow's wardrobe subsidizes his lookalike work.
One of Simon's few Jack Sparrow lookalike friends, Johnny Paton, who has since hung up his tricorn hat, told me stories of Simon taking the tube to work in full costume, enjoying the reactions he got.
Johnny, however, (who we must not confuse with Depp) couldn't stand the attention until he was in professional circumstances and fully in character. He went to work in a hoodie with just the braided, beaded beard and the bronzer, eyeliner, and scars, then threw on the wig and the rest in the bathroom.
"People would still think I was some kind of weirdo with that beard and fake tan, but I couldn't bear the attention as Jack Sparrow when I'm not on the job," Johnny told me.
Yet, he found the job thrilling and addictive.
"Jack Sparrow is so attractive to people. He's such a sex symbol. Guys like him, girls like him," the retired Sparrow said, wistfully. "You can go from being a plain guy who never gets a second look on the street, to having everyone interested in you. I think people get addicted to that and crave it, and there was a little bit of that for me."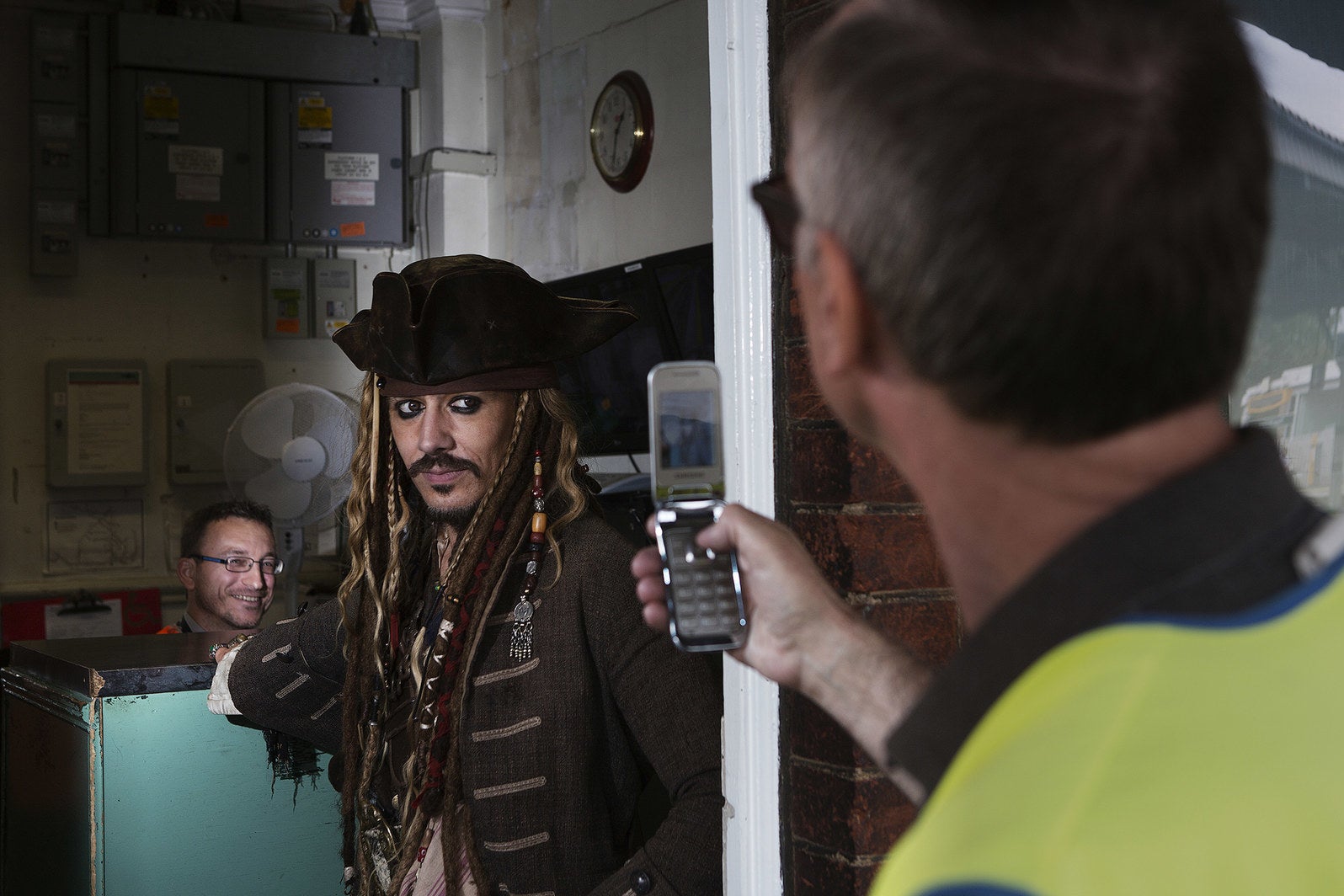 Both Simon and Johnny fell into impersonating by doing a particularly good job of dressing as Jack Sparrow at a "fancy dress party at uni" (translation: costume party in college), and eventually were put in touch with lookalike agencies.
When the Sparrow lookalike community started to kick off in England there were a few Sparrow community-building get-togethers, "But it soon got out of hand," Johnny said."All of a sudden you have these egotistical maniacs going around the country getting drunk and chatting up women."
So Johnny and Simon both took a step back.
Both said they've heard tales of Sparrows using the power the character tends to wield at social events, especially over women, for nefarious reasons. But there's also a lot of gossip among Sparrows, and not all of it is to be believed.
Though the friends greatly enjoyed many aspects of the IRL parts of the job, both expressed distaste for much of the current state of the online Sparrow community: the fights over costume accuracy down to the thread and belt buckles; competitive legions of Sparrows willing to go full troll on someone's Facebook page if provoked; and the "Johnny Depp obsessives" online who find lookalike pages to either try to sexually solicit them or yell at them for trying to imitate the inimitable Depp.
Other impersonators and Sparrow fans I talked to said that the supportiveness of the online community outweighed the negativity, and that the arguments over costume elements, film plotlines, and fan theories were a sort of sport.
For some Disney-employed Sparrows, however, this is just a job. A Sparrow who worked on a Disney cruise for four years (who asked that his name not be included because he signed a nondisclosure agreement with Disney) said that he couldn't care less about Jack Sparrow — he was just an actor in a role that paid the bills. When Disney gave him the movies to watch for work, he couldn't get through even one of them without falling asleep.
"I was expecting them to give me more of a training to be Jack Sparrow, honestly," the former Disney employee said, "but they just gave me the movies and a few poses to do in pictures and that was it."
Several former and current Disney World, Land, and Cruise character actors told me that it is widely known among "face character" actors, as they're called there, that the actor playing Jack Sparrow will be constantly sexually harassed — almost entirely by women — while in costume. One former cruise Sparrow told me he regularly got slipped women's room keys by the women themselves or even their husbands, with a wink and some version of "Show my wife a good time, will you?"
"I'm gay, so that was never something I was remotely interested in. I would just try to ignore it," the former Sparrow said. He remarked that while many of the people playing Sparrow for Disney were gay, the character was "never a gay icon, for men at least."
Johnny, who actually auditioned for the role of Euro Disney Jack Sparrow at one point, had an on-and-off relationship with being Sparrow. He started in 2005, stopped in 2009 to join the military, gave that up, and went back to the trade two years later after missing the adventure of being Sparrow. He's always been introverted and while being thrust into the spotlight has been exhilarating, it's also been exhausting.
"You can't go to the toilet on a job without having someone being like, wow, that's Jack Sparrow going for a wee."
"You can't go to the toilet on a job without having someone being like, wow, that's Jack Sparrow going for a wee," he said. "But the adrenaline keeps you going."
The last straw for Johnny came in 2011, when he encountered an actual pirate. Well, really, he was just a good old-fashioned scammer, allegedly. At that point Johnny had been off the job for a while and was hoping to get back in the game with an upgraded costume. Johnny found a Sparrow doing YouTube tutorials online giving new Sparrows advice on costume accuracy. Johnny slid into the man's DMs and he seemed very friendly and willing to help, so when he told Johnny he would make him human hair dreadlocks to add to Johnny's wig, Johnny happily shelled over $160 (the dreadlocks on Sparrow are historically accurate for British pirates, if considered culturally insensitive by some while worn by modern day white, British men).
It's hard to emphasize how completely obsessed the impersonator and cosplaying community are with these Sparrow costumes. A quick Etsy search will show you a handmade replica of Sparrow's compass going for $918. Simon told me about an argument that "raged for ages" about whether the thread in Sparrow's waistcoat was gold or bronze.
As time wore on and the hair still hadn't arrived, Johnny began to get suspicious. But he said the man — who will remain nameless, as the accusations are unverified — always responded quickly to Johnny's messages and always had seemingly legitimate excuses for the locs not being done, so he didn't think all that much of it. But after a year of waiting, Johnny started seeing other Sparrows complaining online who altogether had been bilked out of around $13,000. So they started a Facebook page to shame the alleged scammer by posting memes and videos about him. (The man accused of the scam didn't respond when I reached out to him over Facebook for comment.)
Johnny soon stepped back from it all, however, feeling it had gotten too ugly, and eventually retired from the community altogether. He pursued his love of art instead, starting a food-and-drink branding studio in Cornwall called Kingdom & Sparrow. Yes, that Sparrow.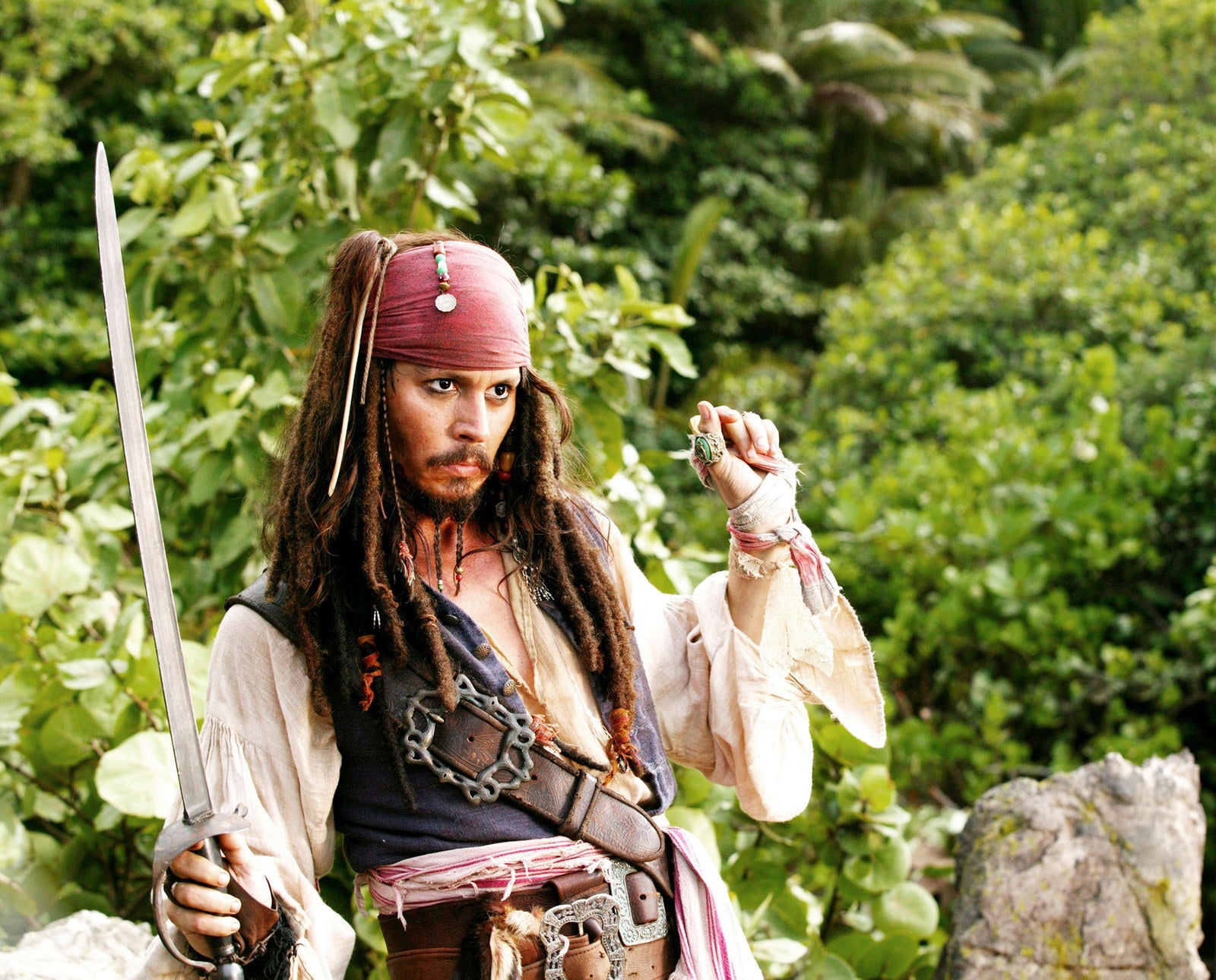 While I may or may not have had the AIM MrSjAkSpArO for a period, Tumblr was not yet invented and my obsession pretty much stopped at printing out Google images of Depp for my wall. With the internet age, Jack Sparrow fandom has taken on new forms, especially on Tumblr, where Sparrow is embraced by the queer community.
"There's a theory on Tumblr that Jack was a trans man, a female who transitioned to male," Sarah Rugg, a 24-year-old woman from Saskatoon, Saskatchewan, Canada told me. Sarah identifies as bisexual and is a massive Sparrow fan and cosplayer. She said the theory is "pretty thin" and based on a few lines in which Sparrow says things like he "intuits the female creature," but perhaps it's more about the queer community wanting to make Jack their own.
Depp has always had a gender-bending appeal. His characters are often described by film critics as androgynous, has crossed-dressed in multiple film roles, and even has the pop-science phenomenon of women allegedly being attracted to more feminine men named after him. It is part of what drew all of my friends and me to him — partially because some of us are queer but didn't yet feel comfortable expressing lust for women, but also because we weren't yet ready to be attracted to the more typical men Hollywood presented to us as attractive (and some of us never were). Despite being a pirate, Depp's makeuped, fashion-obsessed, and generally flouncy character had an unthreatening sexiness that was perfect for us 11- and 12-year-olds.
Sarah was around that age when she saw the first movie as well, though unlike my apostate friends and I, she stayed loyal to Sparrow, even through the panned fourth movie, which she saw four times in a row in theaters, before deciding it was "not good." For comparison, she saw the latest one nine times in theaters.
"I think a lot of women who watched the films were like, 'He's so hot I want to be with him,' but I was like, I kinda just want to be him," Sarah told me. Even at age 10 when she saw the first movie, she walked out of the theater with his swagger in her step, knowing she wanted to become Jack Sparrow.
The online community, which Sarah became a part of through another "lady Jack," holds "friendly critiques" where people submit their cosplay, and the group gives them suggestions. "We really help each other to be the best Jack that we can be."
Dressing like Sparrow, however "is just a symptom," she said. It's all about the mentality. "It's so freeing to have him be a part of me. It's so much fun to play out that lifestyle."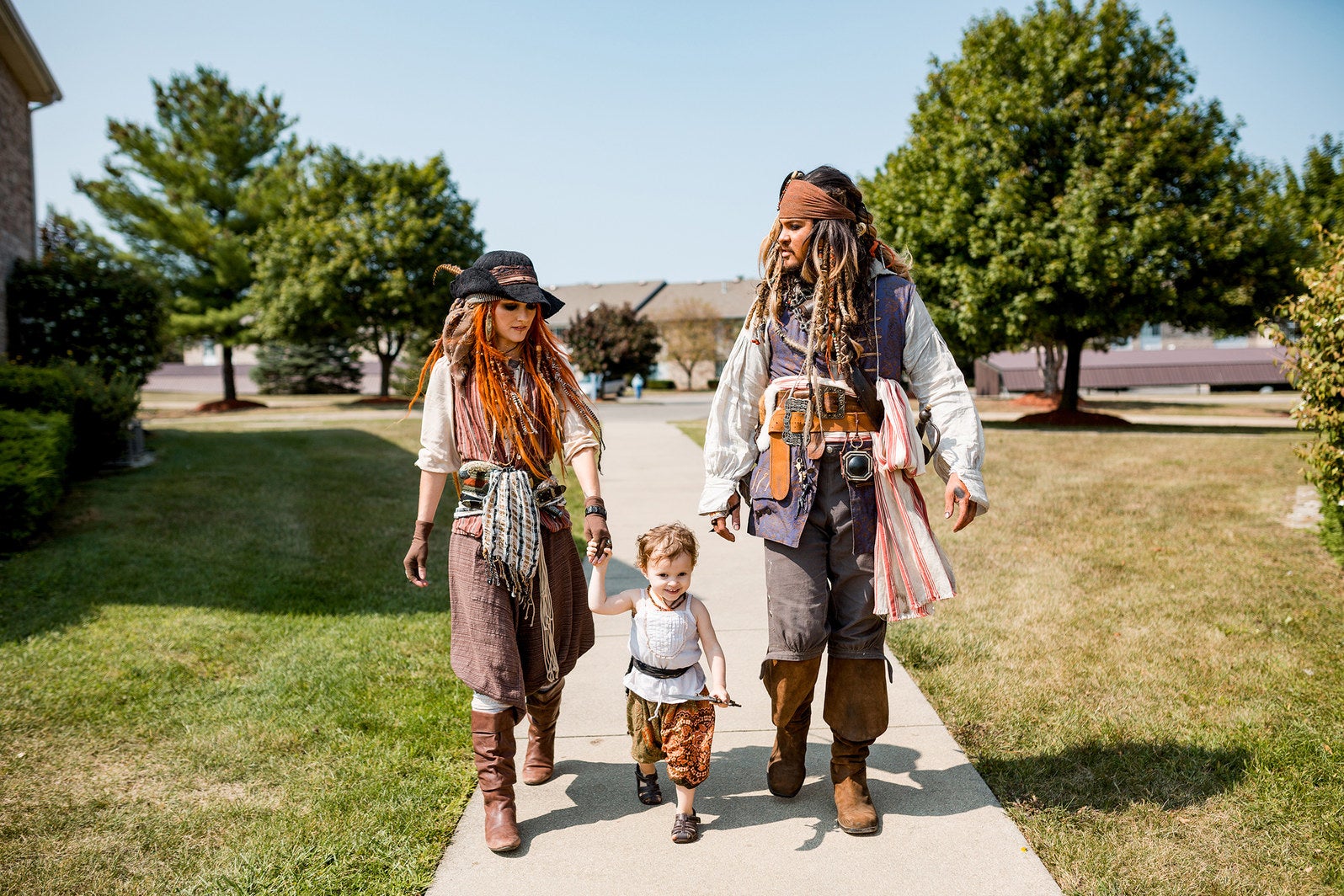 Noah Aton and his pirate family agrees. Noah, his girlfriend Vanna Eckmyre, and their 2-year-old daughter Kalista Eve live in a "pirate apartment" 30 minutes west of Flint, Michigan. Noah and Vanna met three years ago at a store selling pirate costumes and memorabilia that Noah was working at in Portland, Oregon, and reconnected when Vanna found him on Instagram.
In the early days of their relationship they supported themselves by busking as Jack Sparrow and a wand-twirling lady pirate. Their busking days are behind them, now that they have a little pirate mouth to feed, but they still dress up for fun as often as they can, for Renaissance fairs, charity events, and other public festivals, with their pirate toddler in her pirate stroller, giggling alongside them.
"We have a sort of 'pirate art family' thing going on," Noah said.
"It's all about the sense of freedom and a philosophy of life," Noah told me, and Vanna agreed.
"Historically, pirates got their start rebelling against something they didn't believe in," Vanna told me over speakerphone as Kalista Eve screeched joyfully in the background. "They wanted to be free and they wanted everyone in the community to succeed — it was an early version of the democratic process," she continued (this is true, and awesome).
Noah runs a popular and active Jack Sparrow Facebook page, and he and Vanna acknowledged that while they interpret the pirate philosophy as liberal, some people online find it emblematic of libertarianism and Trumpism (there was a short-lived "Pirates for Trump" moment in reaction to Clinton's "deplorables" comment during the election).
"But they're buying into the fantasized aspect of it," Vanna insisted. "They're into all the guns and brutality," and not the community and philosophy that Vanna, Noah, and their pirate friends on the left enjoy.
Noah is a furniture welder and creates nautical and pirate-themed art pieces, which he sells online. Vanna professionally knits and maintains dreadlocks "for all nationalities," though she said the intricate work is taking a toll on her hands, so she's studying anthropology and archeology and hopes to jumpstart a career that would involve studying pirates.
Their parenting philosophy, like their politics, involves the pirate life.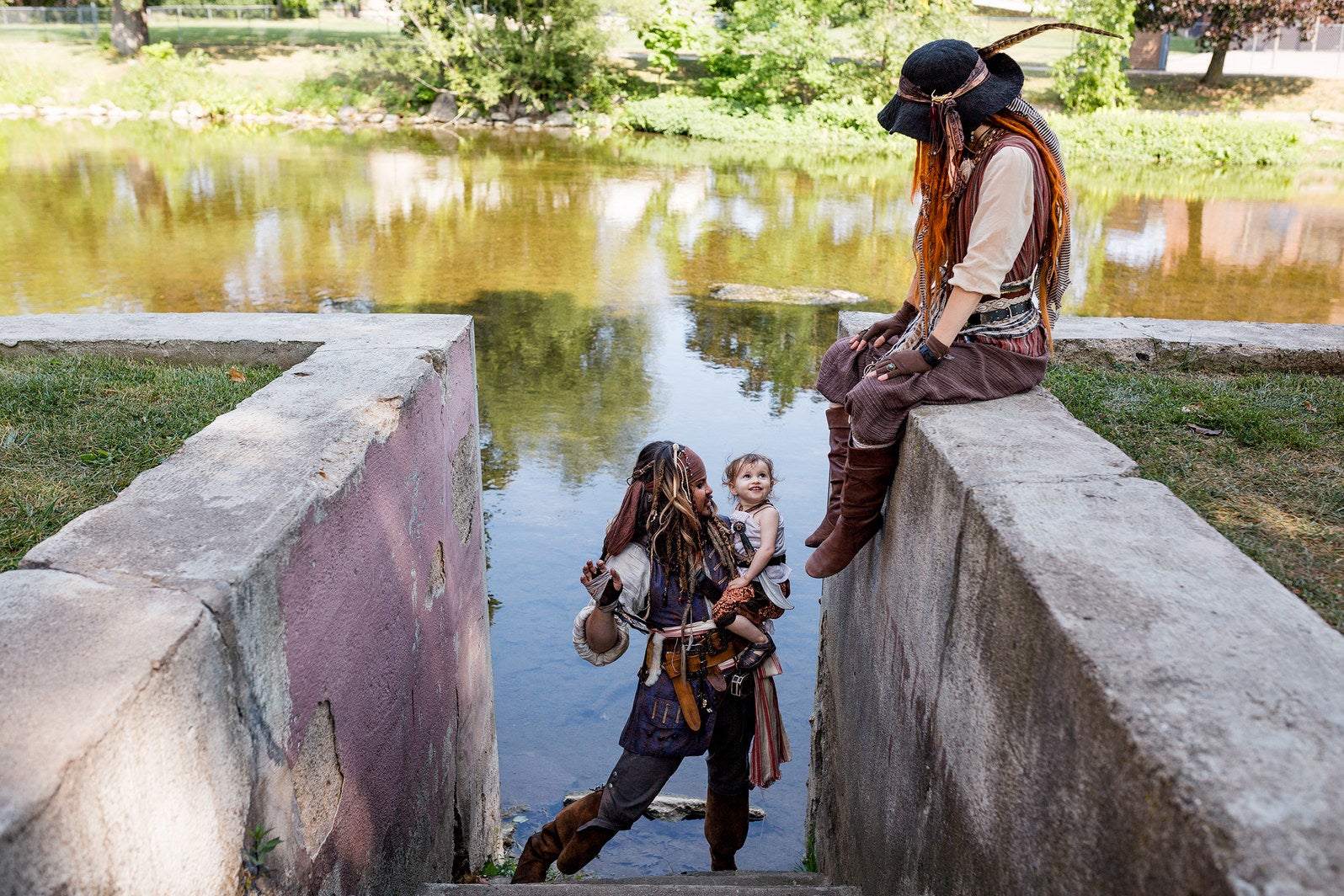 "If I grew up in something like this, it would make me feel like my childhood is just magical," Vanna said. But the parents are concerned that their child, who has not yet gone to school, might grow up and rebel from the pirate lifestyle.
"What if she grows up and she's really into sports?" Vanna asked with half-joking horror.
"I guess we'll be the only two pirates in the stands, cheering her on," Noah responded.
Of all the impersonators and fans who shared their passions with me, Amanda Sparrow Large Teague's love of Sparrow goes beyond the realm of fandom and into actual, matrimonial love.
At first merely an enthusiast for the movies, in recent years Amanda started connecting the pirate world to her spirituality. Following the death of a child, Amanda, who was formerly an atheist, started looking into spirituality and eventually became a Pagan. Occasionally she practices witchcraft, though that's not something that really "defines her life," she said.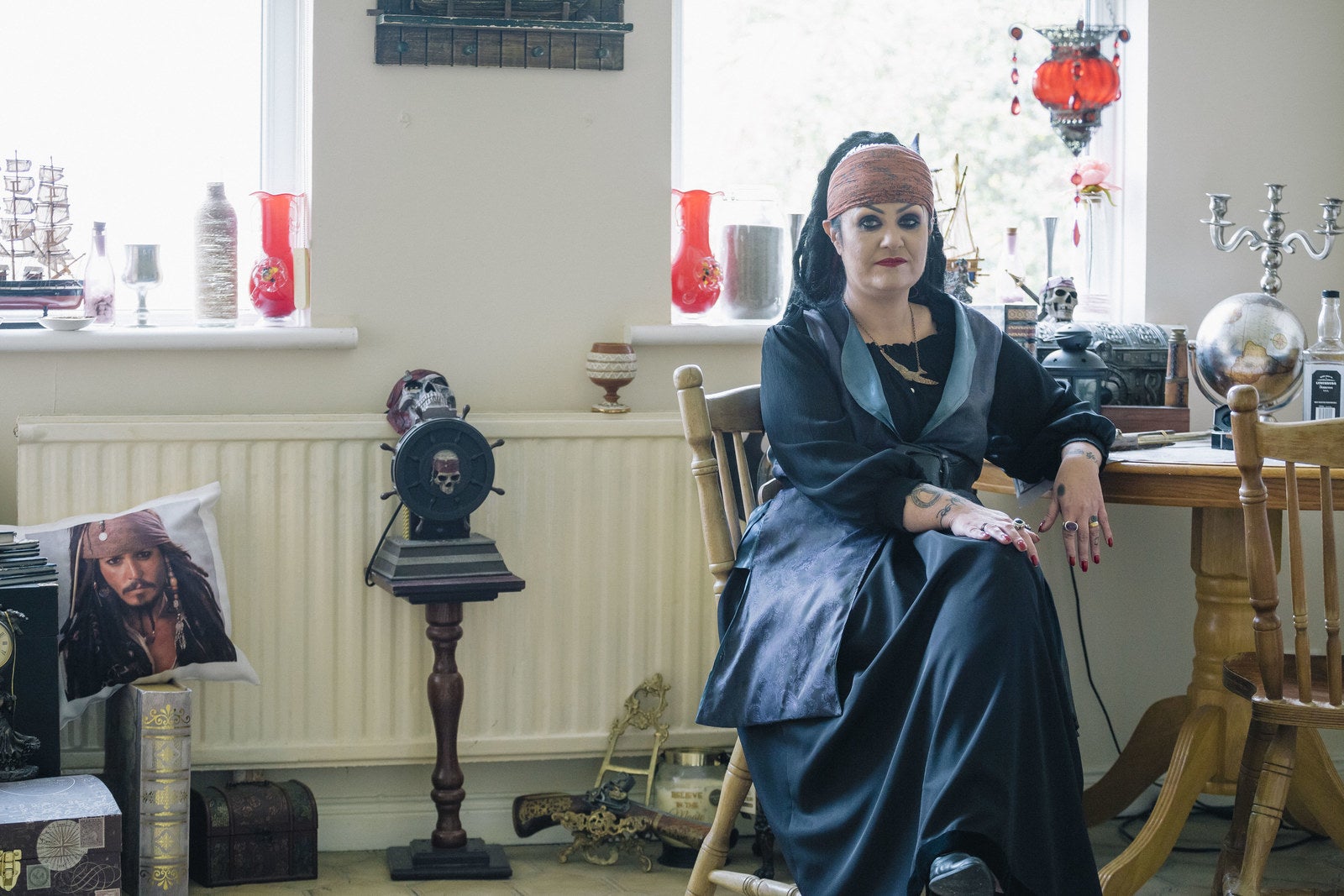 So as she was getting into Jack Sparrow and dressing like him, she also encountered his ghost.
"While I was dressing as Jack ... there was an underlying thing that was going on, to do with the real person," Amanda said. In 2015 she began feeling as if she was living with the spirit of Jack Sparrow. At first it was "a presence," but then, he started communicating with her.
Initially she thought it was the effects of her migraine medication. Then she thought that her Jack Sparrow fascination was taking "a toll on [her] mental health," she said. But eventually, after doing a fair amount of research into the facts about Jack's life the spirit was telling her, she was convinced the spirit was real.
After about a year of communicating with Jack's spirit, and beginning to write a novelized version of their relationship called A Life You Will Remember (now published), the two decided to get married.
Amanda framed Jack as a "spokesperson" for spirits, saying that he wants to communicate what it's like to die and exist in the afterlife.
Amanda researched the practice of "posthumous marriage" and found out marrying someone after their death is legal in France, among other countries, though not in the UK. They were married at sea in international waters. Now, a year later, Amanda and Jack are working with their medium, Crystal Dove, on a book about the spirit world called Ain't No Grave That Can Hold My Body Down, due to be released around Halloween.
Amanda framed Jack as a "spokesperson" for spirits, saying that he wants to communicate what it's like to die and exist in the afterlife, and that every single person has the ability to communicate with spirits. She spoke passionately about spirits being marginalized in society by attitudes and phrases like "rest in peace."
"Spirits don't want to rest," she said. "They want to be included. They want recognition like anyone else."
For Amanda, something that started with an obsession with a Disney character led her to love and a new cause: activism for the spirit world.
"What began as a lovely love story between me and him has unfolded into a bigger picture," she said. "And for that I am grateful."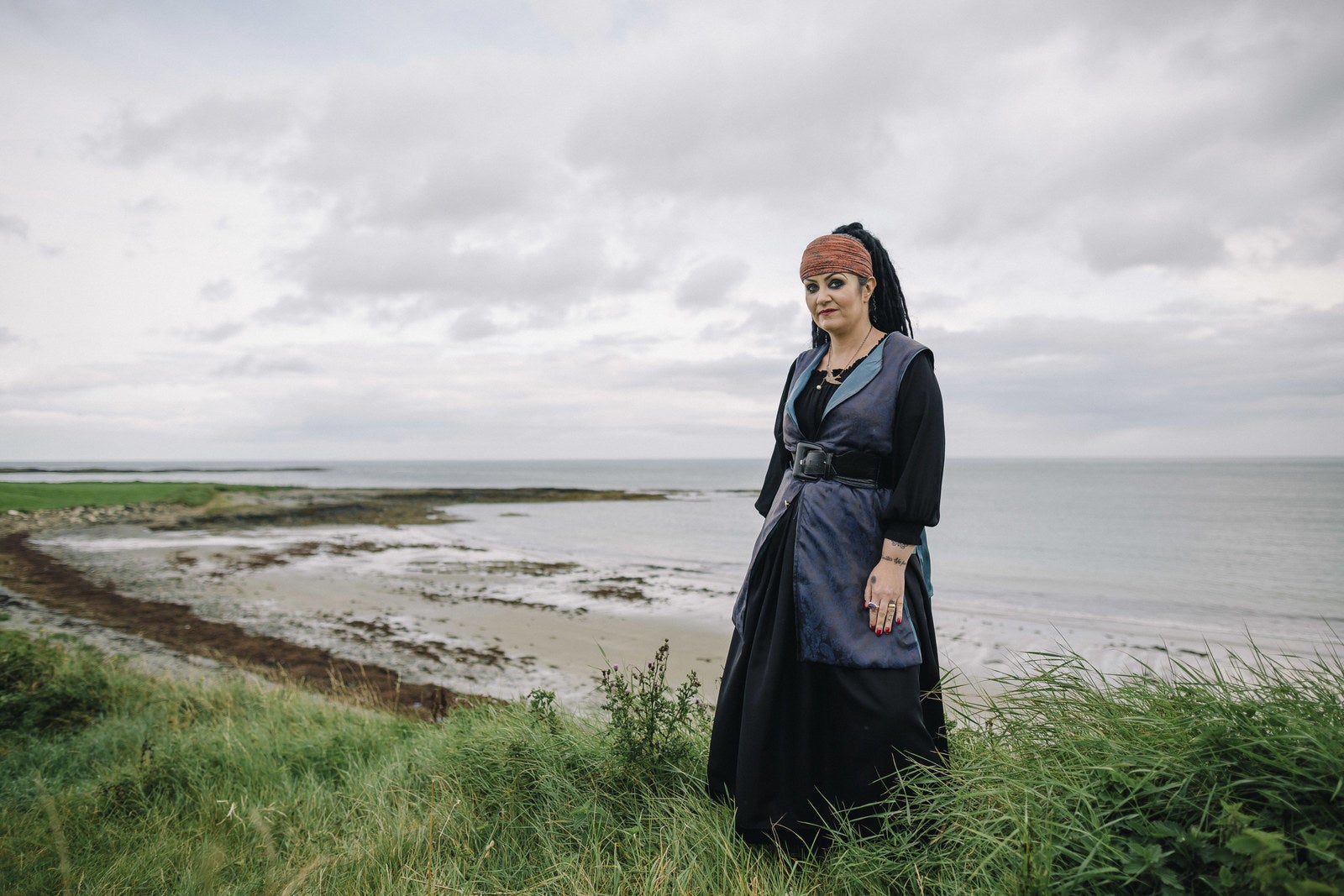 Johnny Depp and Jack Sparrow have always been intrinsically linked. Beyond just actor and character, Depp played Jack Sparrow as a sort of a mockery of his public image, parodying his "bad boy" and "rebel" reputation by becoming a clownish version of himself, but still quick, clever, mysterious, and always two steps ahead. Sure, Depp was doing a blockbuster Disney movie, but it was the first PG-13 Disney movie with a high body count, excessive drinking, prostitutes, and dick jokes. After its success, Depp tied himself to that character, keeping the gold teeth in some interviews, wearing the rings, necklaces, and earrings, actually getting Jack's tattoo, and keeping the moustache.
In interviews for the first two movies, Depp often described Sparrow as making him feel "free to go, and do, and experience." By 2017 he described Jack's freedom as more of a freedom from blame. "He can get away with things we would love to get away with," he said in a slurring Comicon interview in May. "There's a real safety in playing Jack for me."
"He can get away with things we would love to get away with. There's a real safety in playing Jack for me."
With Depp's descent came Sparrow's. Though the movie was a box office hit, Depp's performance was often brutally panned — and even some of the Pirates fans online went as far as to say "if you like this movie, you're not a real fan," Sarah and Noah told me. In the newest movie, made six years after the previous one, Depp's character behaves like an alcoholic uncle everyone warns the women about at Thanksgiving. The handsome, clever, rock star–type that inspired unfamiliar feelings in millions of young people in 2003 is gone. In the film, he slurs more than usual, is perpetually confused, stumbles through action scenes, and is creepy to women. In an early scene he speaks skin-crawlingly about Keira Knightley's character to her son Henry (played by pseudo–Orlando Bloom, Brenton Thwaites) and later gives Henry some pretty incomprehensible advice about having sex with sisters. He eggs on the young Carina (Kaya Scodelario) and watches greedily as she strips down to swim for her life.
Simon was hired to be Sparrow at a Slovenian premiere for the latest movie. But after watching it he felt like Sparrow's character has been tainted. As happens to many a party boy, Sparrow's fun, witty, and charming enthusiasm became depressing with age.
"I was kind of cringing watching it, like, 'Oh God, now I have to go and play this sleazy pirate,'" said Simon.
Such is the nature of being a celebrity impersonator, however — you are relying on a famous person with access to excessive wealth and the vices of fame to maintain the public's support.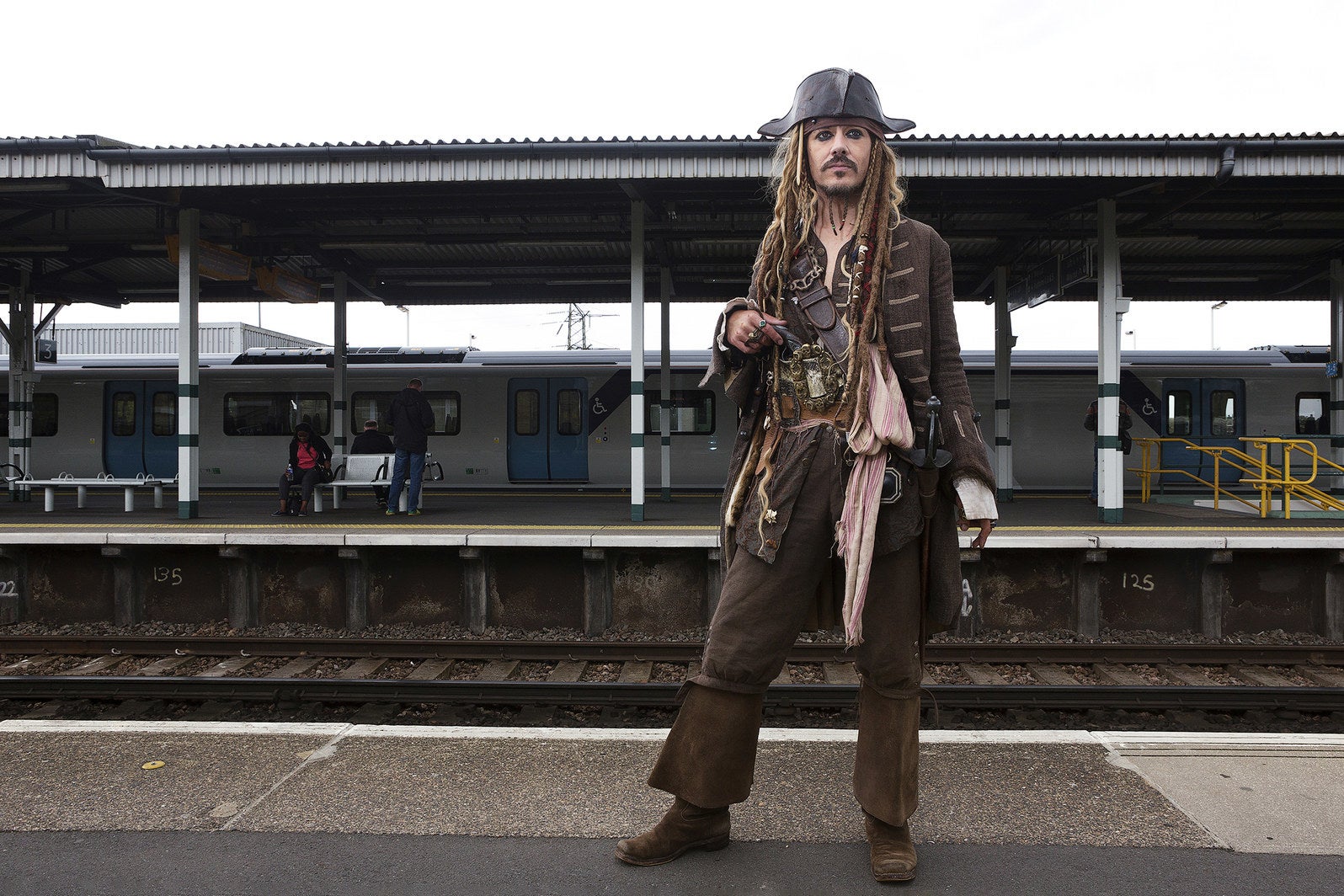 But watching Simon on the job, sword fighting a bald bad guy at the Isle of Wight Pirate Festival this past July, it's easy to forget the sordid behavior of the actor he's imitating. He perfectly embodies Jack Sparrow as we first met him in 2003. Smiling, charming, easily distracted. He tells cheesy jokes — "Why do pirates have trouble learning their alphabet? Because they always get stuck at 'c'" — but his familiar mannerisms make them actually funny. Perhaps it's the audience of mostly young kids, but Simon projects more Pepé Le Pew than Keith Richards in his act, which only makes him even more endearing. We're rooting for him from his first wobbling step onto the stage.

Standing behind a stack of skulls, sword in hand, Simon/Jack at first looks like there's no way he's sober enough for a fight, but soon after the first clink of swords he springs into action. The children are enthralled, chanting, "Jack! Jack! Jack!" One little boy stands at the edge of the stage, gripping his hands behind his head with the stress of the fight.
Alas, Jack is defeated. The whole crowd boos, yelling at him to escape his capture; even the parents are caught up in it at this point. "We're going to put him on trial, then we'll hang him until he's dead!" the baddie says, as Jack flails helplessly, standing in the background between two armed guards.
"You've seen the last of Captain Jack Sparrow," the baddie says. And Jack is taken away.●