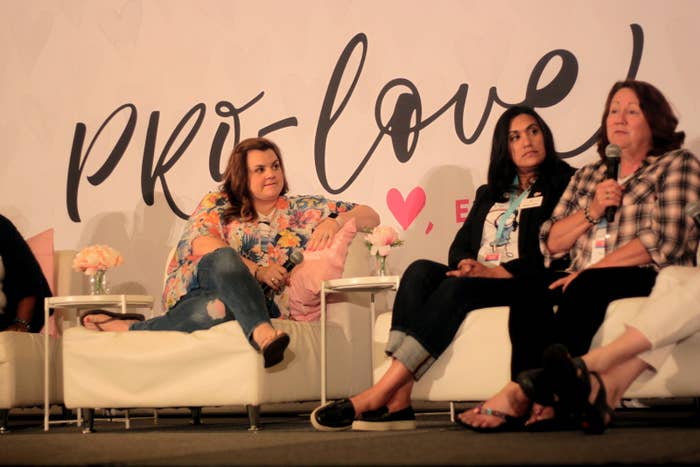 The first catwalker entered the room to the thumping of tinny fashion show music, sporting a head-to-toe Grim Reaper outfit, holding a sickle as an accessory.
"Mr. Reaper is sporting a luxurious drapey black robe, complete with hood, black gloves, and sickle," a woman announced in her best fashion show voice. "Because nothing says 'I'll lead you to the pregnancy center' like a big silver sickle of hope!"
A few dozen women looked on, flanking the aisles of a convention center space in St. Charles, Missouri, the programs in their laps reading: "Don't Be Weird: Ineffective Messaging In The Pro-Life Movement."
Reaper was followed by "The Mad Scientist," a woman donned in a lab coat covered in severed plastic baby limbs and blood, strutting down the catwalk. Then another woman with a bloody baby doll on the end of the fishing pole. The crowd gasped in disgust.
Next came a woman with a bullhorn yelling, "You have fornicated in the sight of God! Come out with your hands up!" to laughter from the crowd.
"Yes, this is real!" the announcer said, "This is on the sidewalk in the Midwest."
The big finale was a woman in an orange crossing-guard vest with a clipboard, who, the crowd was told, was a "Friendly Mrs. Sidewalk advocate. ... someone with a big smile and a reflector vest who tells you that free hope and help are just around the corner." The crowd applauded.
The fashion show took place at the third annual Pro-Life Women's Conference last month, a three-day event that illustrates a generational divide within the anti-abortion movement. The goal of the fashion show, and the conference as a whole, was to start a rebranding of the anti-abortion community, moving away from fire and brimstone, large pictures of bloody fetuses, and the scare tactics of the old guard. Instead, conference organizers are taking a page from the mainstream feminist and abortion rights movements, aiming to expand the anti-abortion movement through a woman-centered, inclusive approach to branding and activism.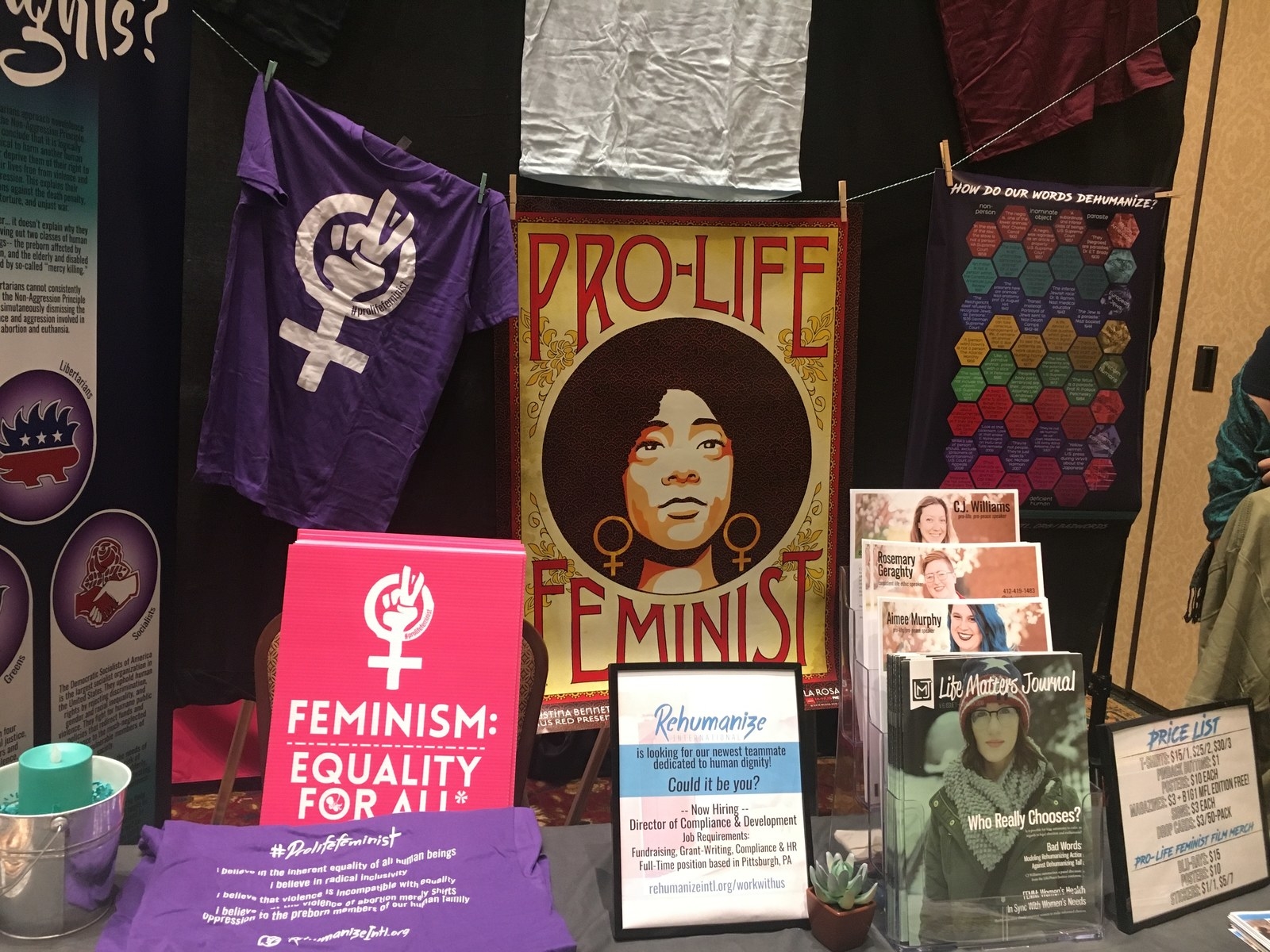 The conference had a clear message: We're not like the other guys. Emphasis on "guys."

Over the past decade, there has been a burgeoning attempt in the anti-abortion advocacy world to fight against the powerful narrative that the anti-abortion movement is run and mostly comprised of old men whose goal is to oppress young women. In its early days, the push manifested itself through the rise of women-focused or women-led groups, like Susan B. Anthony List or Students For Life.
But in recent years, as feminism has increasingly infiltrated the mainstream from Superbowl commercials to Walmart clothing lines, some members of the anti-abortion movement have decided to "get with the times" and borrow some of the language, aesthetics, and tactics of the feminist and abortion rights movements to forward their own cause.
One of the chief proponents of this change is the founder of the Pro-Life Women's Conference, Abby Johnson, a former pro-abortion rights Planned Parenthood employee turned anti-abortion advocate. In addition to the conference, Johnson began a group called And Then There Were None, which tries to persuade other employees of abortion clinics to leave their professions.
About four years ago, Johnson said she realized "that there are a lot of things that were outdated [in the anti-abortion movement], including language, including graphic design, including the way that we present ourselves."
Squinting at the third annual Pro-Life Women's Conference in June, it looked like a pro-abortion rights gathering — but with a lot more babies and Christian rock. Some of the more than 500 attendees, ranging in age from 18 to 82, walked around with pixie-cuts, tattoos, and teal and purple hair.
The venue was covered in "pro-life feminist" posters: One in the style of a nautical tattoo, but instead of a pin-up girl, it was a fully grown baby in a womb. Another was a collage of images, including several Mother Teresas and a floral-patterned uterus containing a small embryo surrounded by the words "freedom from violence, no matter where you live, is reproductive justice." Next to that was a fetus in a Rosie The Riveter bandana saying, "Keep your philosophy off my biology," alongside another fetus saying, "Feminism is inclusive, or it is worthless."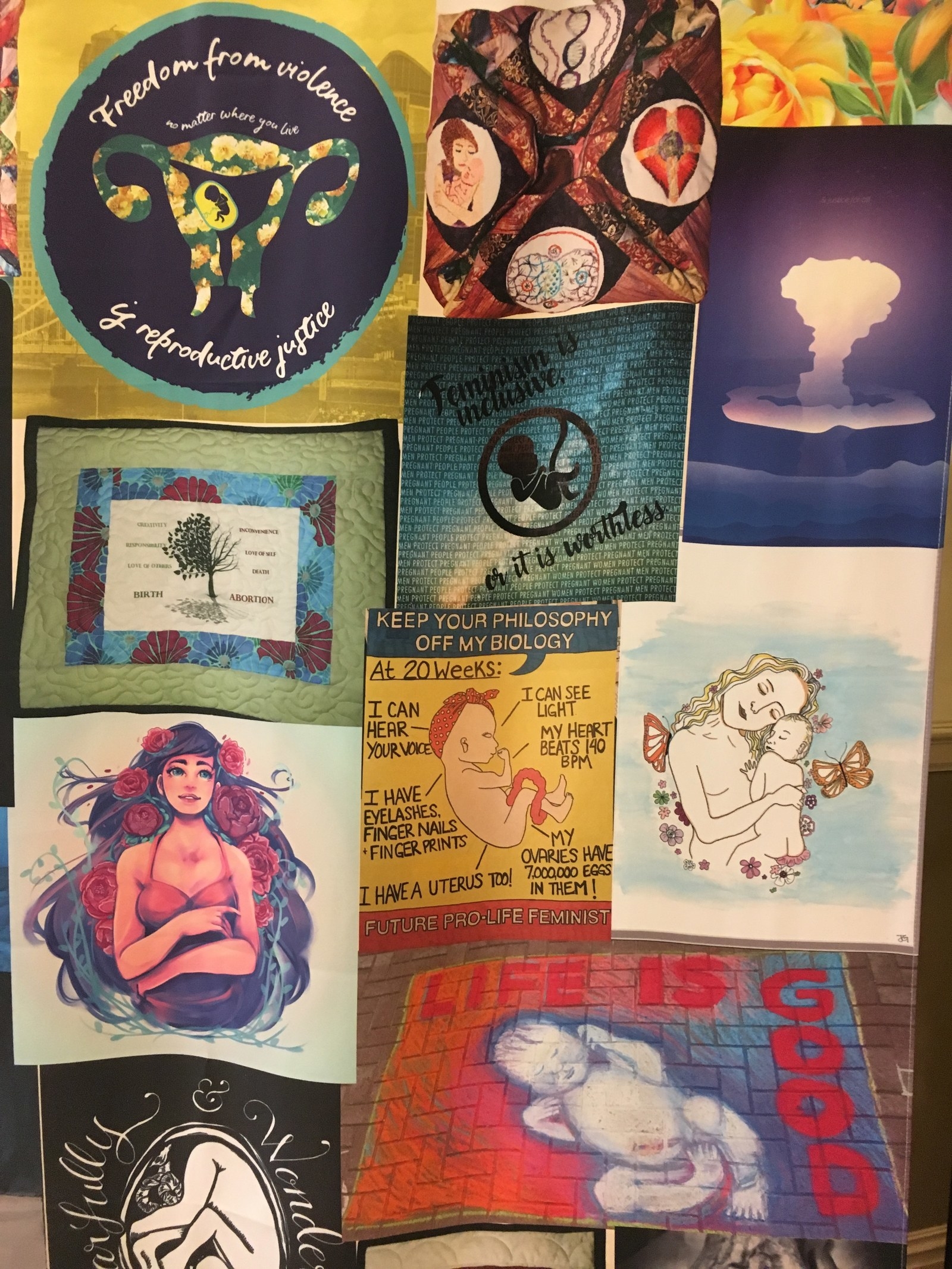 In order for the anti-abortion movement to keep growing, Johnson says, it needs to take a page from "mainstream feminism" and "increase our inclusivity," "put love first," and, most importantly, "put women in charge."

"A lot of the leading pro-life organizations in the movement are still led by men. … There's little bit of patriarchy within the movement," Johnson told BuzzFeed News outside the conference.
"Men don't need to dominate this conversation because it is women who are being uniquely affected by abortion, not men. It is women who are laying their bodies on those tables to have abortions," Johnson said. "I've heard enough from men on this issue. I'm ready to hear from women."
So Johnson looked up the domain prolifewomen.com and was shocked to learn that it was free. She bought it, and the conference was born.
In the ballroom at this year's gathering, vendors from more than a dozen different anti-abortion groups set up booths selling pinterest-style merch with anti-abortion slogans in wedding invitation font. The group Sidewalk Advocates For Life sold MAGA-style hats reading "Make Unborn Babies Great Again." Embrace Grace Ministries displayed a sample "Love Box," a subscription-style box filled with a baby onesie saying, "best gift ever," and other merch saying "brave girl," to be sent to a woman considering an abortion.
The theme of the event was "pro-love," meaning that shaming and outwardly judging women seeking abortions is not the way to prevent it from happening. These methods belong to the "pro-life old guard," as Johnson put it, not to the young women they consider the "future of the pro-life movement."
"Ours is a popular view among the younger pro-life generation, on college campuses for example," Leah Jacobson who leads the "natural family planning" organization Guiding Star Project, which participated in the conference, told BuzzFeed News. "The older generation, especially the ones who were alive prior to Roe [v. Wade], are reacting to the shock of Roe 45 years later because they didn't see it coming and now they just want to stop it, but we've moved past that."
"They're reactive, we're proactive," she said.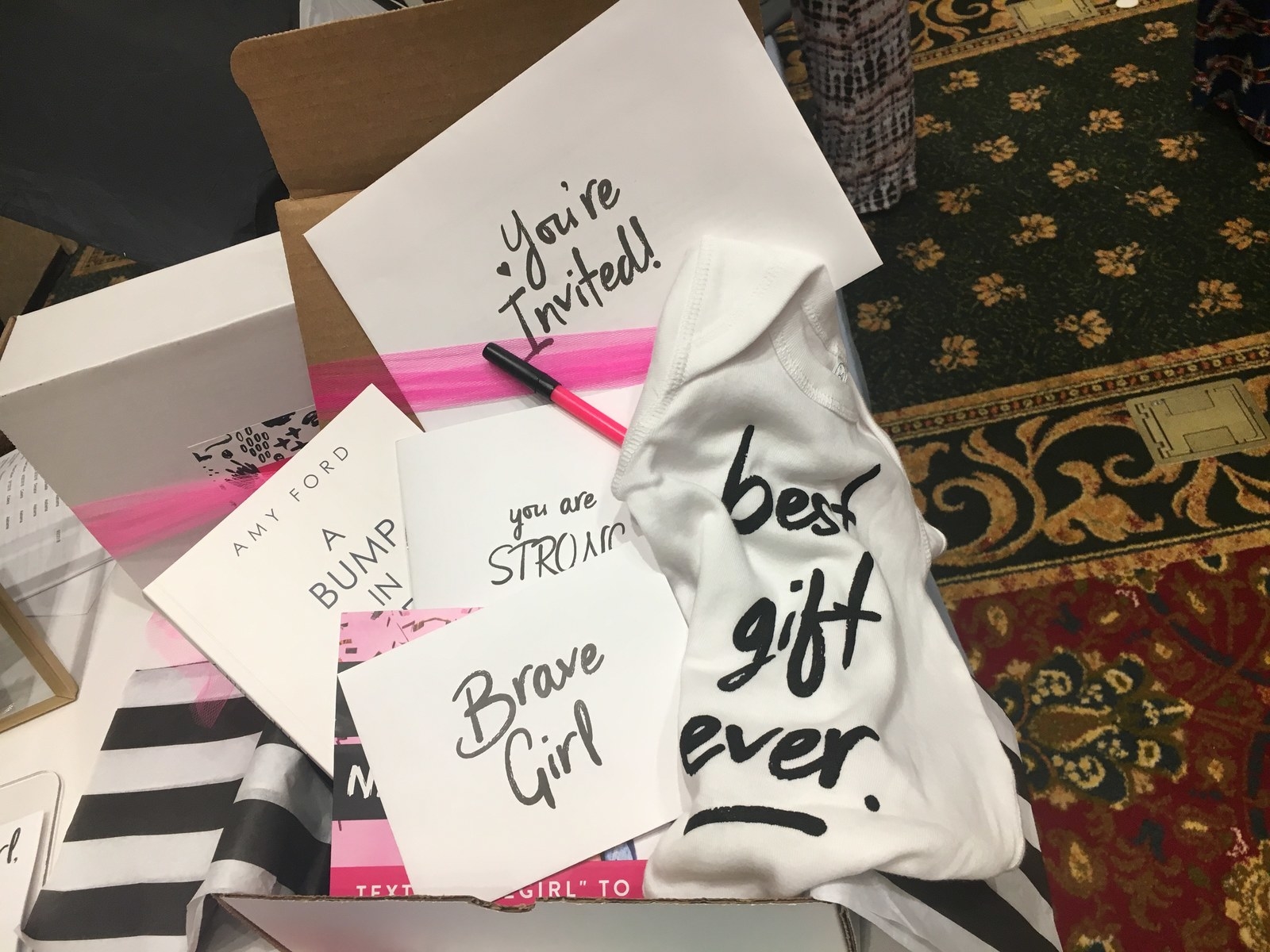 Some of the proactive methods were ones that abortion rights advocates could potentially agree with. The keynote address, made by Feminists For Life of America president Serrin Foster, addressed the "feminization of poverty," focusing on the institutional lack of childcare resources for women in college and in the workplace, as well as the lack of paternal culpability to participate in this care, contributes to women feeling the need to choose abortion. These are all topics that many pro-abortion rights advocates and politicians — including former president Barack Obama — bring up and advocate for as well.

New Wave Feminists and Rehumanize International, two other groups that participated in the conference, have stood firmly against many of the Trump administration's non-abortion related policies, including foreign relations and immigration. New Wave Feminists is also in "no way anti-hormonal birth control," the group's founder Destiny Herndon-De La Rosa told BuzzFeed News. "A prevented unplanned pregnancy is a prevented potential abortion."
In other instances, however, speakers used feminist rhetoric to argue points that are in direct opposition to the goals of groups like Planned Parenthood or NARAL Pro-Choice America.
Jacobson, who said she is writing a book called Wholistic Feminism, advocated for a "fourth wave" of feminism that focuses on natural family planning and childbirth, and is against hormonal contraception and abortion. In a conversation with BuzzFeed News, she even went so far as to call second and third wave feminism "misogynistic."
"When you accept the male-normative culture, that's when you need things like birth control and abortion for women to succeed, to be like men," Jacobson said. "If you accept a culture that is based on the natural biological norm of women," who menstruate, get pregnant, and breastfeed, she said, "you can see how misogynistic it is to expect that women ... suppress your fertility, that you have to abort pregnancy or lose your career."
Jacobson went onto attribute the "reproductive rights" push for access to contraception and abortion to the rise of transgender individuals in society.
"The loss of biological norm as reality has created a lot of gender confusion," Jacobson continued. "So when you have a little boy that really loves ballet or pink … because those things happen so strongly stereotyped as female, he becomes confused about who he is. So he says I must be a girl. But that doesn't make him a girl."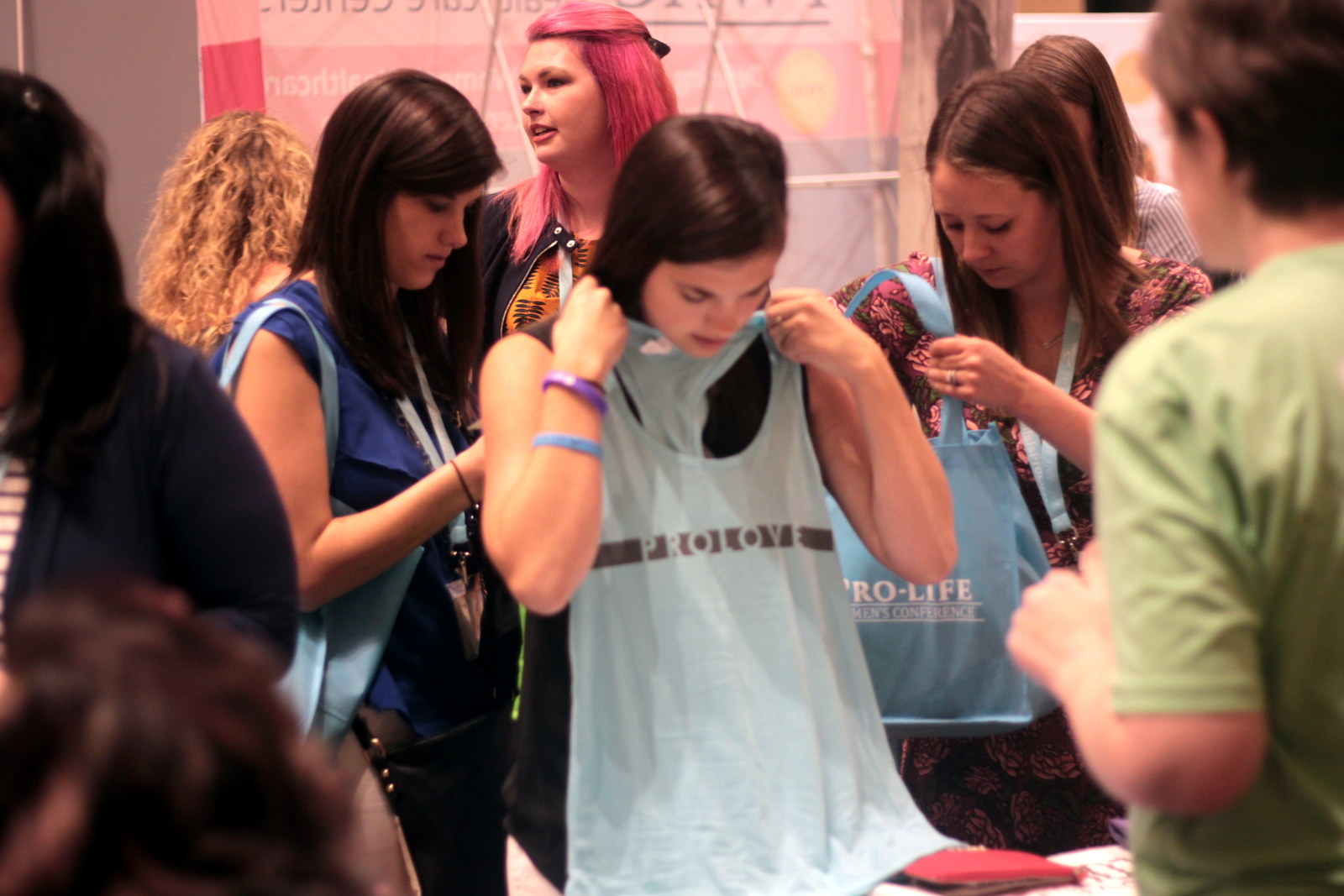 The conference is not the only place where the rhetoric of abortion rights and mainstream feminist groups is being used to further the anti-abortion rights movement and argue that so called "pro-choice" groups are actually oppressing women instead of empowering them.

The organization Women Speak For Themselves, who did not attend the conference, has begun hosting trainings for women all over the US on how to speak to press or the public about anti-abortion, anti-contraception, and pro-abstinence issues "without sounding crazy," as one of the training materials read. And the while the group is similarly co-opting feminist language, it takes a similar stance on the sexism of mainstream feminism.
"Listen I'm pro-women, I'm feminist in some cases," the head of the organization Helen Alvaré told trainees at a training held in Washington, DC in March. "Wherever you stand politically, I think we can agree that part of the reason women don't have things like flexible workplaces and maternity leave is because contraception and abortion has sucked up all the oxygen in the room about what it means to be a women's issue."
Alvaré and her organization argues that the "reproductive rights" push for contraception and abortion access created societal pressure for women to have sex outside of marriage or a relationship. Rather than empowering women, this has actually benefited men and oppressed women, Alvaré argued, because "women would like some love, commitment, future, kin, children, et cetera matched up with their sexual wants."
Women Speak For Themselves' training materials encourage trainees to "reframe issues to appeal to those who disagree," and to notice what anti-abortion "jargon" and religious references they use to speak about issues of contraception and abortion that might ring as "irrational" to the press or audience, causing them to shut down and dismiss their arguments.
At the Pro-Life Women's conference the practical application of this "pro-women" philosophy was not about speaking to press, but for "sidewalk counseling," meaning, standing outside of abortion clinics and trying to convince women not to have an abortion, or to obtain their non-abortion services at a federally qualified health center or crisis pregnancy center, in order to deprive Planned Parenthood of business.
In one panel Lauren Muzyka, head of Sidewalk Advocates For Life, instructed the audience that one of the best ways to begin an interaction with a woman patronizing an abortion clinic was to apologize for any of the anti-abortion protesters taking more aggressive methods, like those featured in the fashion show, and then to show that you are "pro-woman."
"I start with, 'Hi I'm Lauren from the Women's Center,' because right away I'm pro-woman, I'm wearing a reflective vest, I look like a parking attendant," she said, adding that showing concern for the woman, relating to her woman-to-woman, is much more persuasive than "coming at her with baby, baby, baby."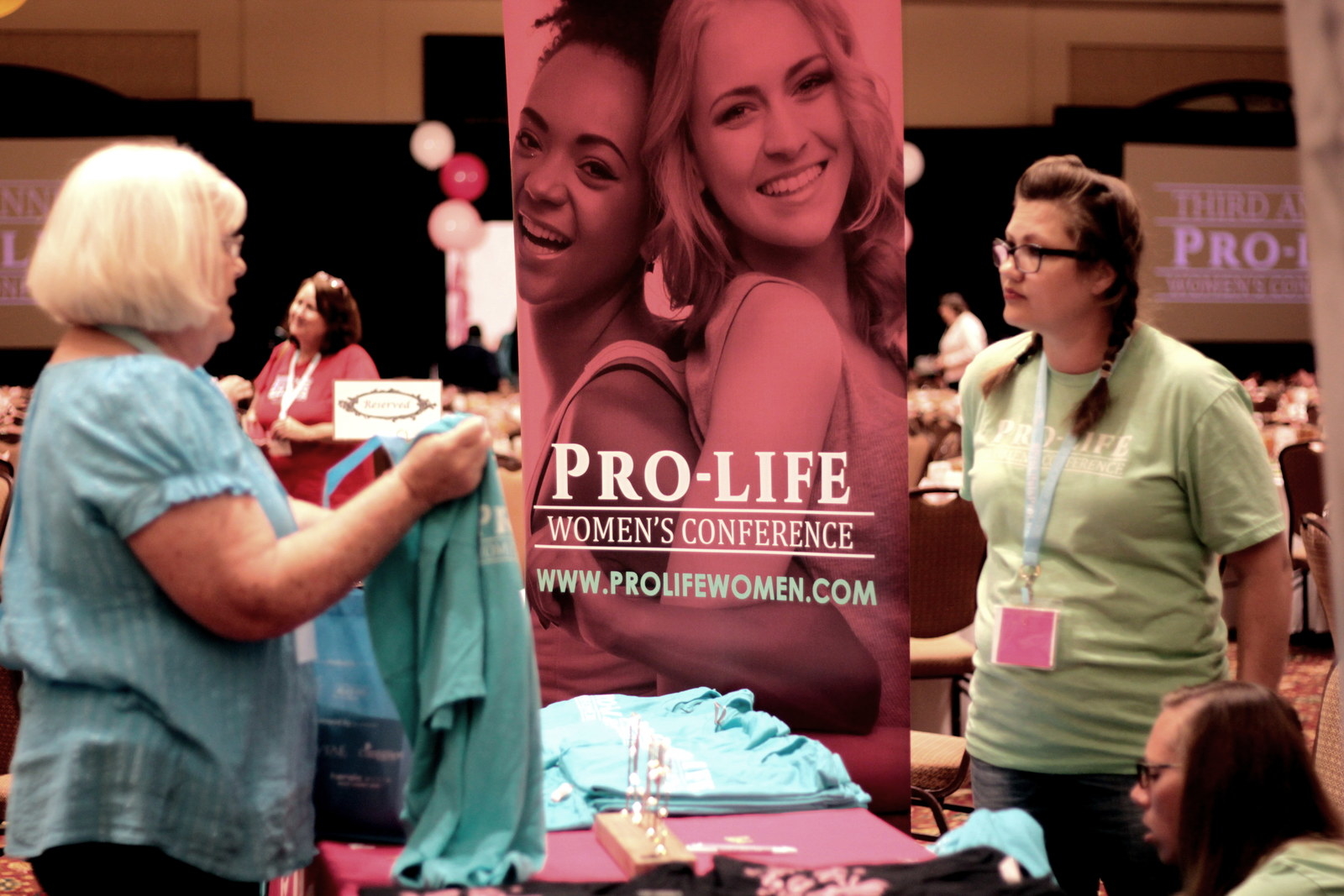 This push to have women take charge, to "reclaim the narrative of women's empowerment," as the convention's website puts it, is not yet widely accepted by the anti-abortion movement, Johnson told BuzzFeed News, and she receives a lot of opposition, even from within her own organization.

"There are a lot of people who are still stuck in this idea that being pro-life is us versus them… who are unwilling to find common ground," she said. She receives pushback on working with organizations that may not be entirely politically aligned with the anti-abortion movement, on using tactics of "inclusion" that the abortion rights movement has successfully used for decades, and on working with former abortion clinic workers and women who have had abortions.
"They say, 'they don't deserve our help, they're babykillers,'" Johnson said. "I talk to people about the importance of not using inflammatory language all the time, with significant pushback as well."
Even some attendees and speakers at the conference seemed to take issue with feminist rhetoric and the "pro-woman" idea of men having "dominated this conversation" for too long, as Johnson put it.
"In our modern society we have pushed men away and demasculinized our men," Bethany Mistretta, the national program manager for Sidewalk Advocates For Life said in a panel. "We should not allow that feminazi language to shut them up, but instead preach love."
After the panel talking to BuzzFeed News, she said that she disagreed with "this whole idea that men don't have a place in the pro-life movement because they don't have the female parts to be able to carry a baby."
"You have this narrative coming from Planned Parenthood from society saying that they do not have any role in this because they're male," but it's not productive, and ultimately whether women or men are leading the movement is not what matters, Mistretta said.
"Honestly whoever can get the job done needs to get the job done right," she added. "Bickering or arguing over that type of issue is just the enemy trying to give us something to fight about to distract us from what our real goal, because Satan wants nothing more than to see Planned Parenthood succeed."