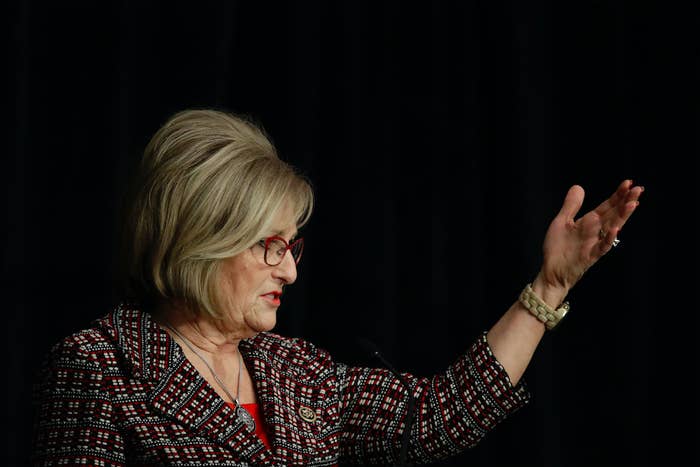 The U.S. House of Representatives voted to overturn an Obama administration rule that prevents states defunding Planned Parenthood and other health clinics that provide abortions on Thursday.
The rule, which went into effect two days before President Obama left office, was a last-ditch effort to protect Planned Parenthood from losing funding under a Republican Congress and president. But even at the time, anti-abortion lawmakers and advocates said rolling it back would be at the top of their list of priorities once President Donald Trump took office. On Thursday, they kept their word.
The House voted 230-188 on legislation to overturn the rule, sending the bill to the Senate, where passage could be more difficult. If passed and signed by Trump, the bill would allow states to give federal funding only to health care clinics that do not provide abortion services, if they choose.
While overturning the rule is likely to affect Planned Parenthood's funding in some states, it's separate from the larger Republican fight to remove all funding from the organization nationwide.

The legislation repealing the rule, sponsored by vocal Planned Parenthood opponent Republican Rep. Diane Black of Tennessee, was passed in the House under the rarely used Congressional Review Act, which allows Congress to undo recent rules implemented by the executive branch with just a simple majority vote, meaning it didn't require any Democratic support.
The Obama rule the House began to repeal Thursday prevented states from withholding Title X federal grant funding from "family planning" organizations that provide abortions. A federal provision called the Hyde Amendment already prevents any of those funds from actually going toward providing abortions, but clinics that provide them can be reimbursed for non-abortion services such as cancer screenings, STD tests, fertility services, and contraception.
Still, many Republican federal and state legislators argue that taxpayer money should not go toward organizations that perform a service that many of their constituents do not agree with, even if the funding doesn't go toward the service itself.
"It is not the role of politicians in Washington to usurp the states' 10th Amendment rights and subject our judgment for that of state and local leaders." Rep. Black said during a heated House Rules Committee hearing on the bill Tuesday.
"Let me be clear, passage of my resolution does not defund Planned Parenthood," she said repeatedly.

"Of course this is about Planned Parenthood," Democratic New York Rep. Louise Slaughter, who argued against the resolution in the hearing, told BuzzFeed News. "It's defunding it."
"For more that 40 years men in blue suits have been trying to determine what women can and can't do with their healthcare, but this is the most serious threat women have faced so far this Congress," Slaughter added.
Since 2011, 13 states restricted Title X funds from going toward clinics that provide abortion, hurting their ability to see and treat low-income patients, the Department of Health and Human Services said in a report on the proposed rule before it was finalized last year.

Now that the bill has passed the House, it heads to the Senate where Republicans need 51 votes to pass the bill, but have just 52 seats. All but one of their members will need to support the bill if Democrats oppose it unanimously.
Both Republican Sens. Lisa Murkowski of Alaska and Susan Collins of Maine have opposed defunding Planned Parenthood in the past. Murkowski told BuzzFeed News that the organization should continue to get Title X funding — though she would not say how she will vote on the bill before the Senate receives it.
"Whether it's through Title X or otherwise we need to make very sure that we're providing women and men with affordable healthcare and reproductive healthcare," Murkowski said.

Collins' office did not immediately respond to a request for comment.
Democratic Sen. Tim Kaine of Virginia, who supports the ban on federal funding for abortions, said he strongly opposed the House legislation. Kaine added that he had to deal with this choice when he was Governor of Virginia and said that he has always opposed defunding Planned Parenthood.
"They are the primary healthcare provider of choice for millions of American women, there's no reason to take that away," Kaine said.
Still, Marjorie Dannenfelser, president of the anti-abortion group Susan B. Anthony List, said that they are confident that the Senate will pass the legislation. "Obama's legacy of forcing Americans to finance the abortion industry is being steadily dismantled by our new pro-life President and the pro-life Congress," she said.

"We look forward to swift passage of this resolution in the Senate so that it can receive President Trump's signature."