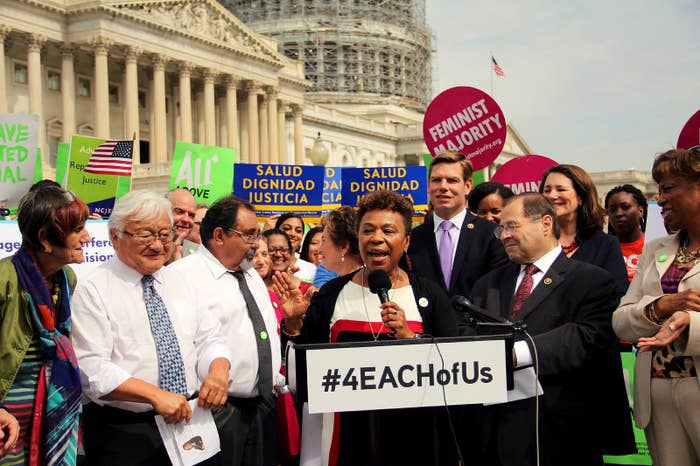 More than a hundred Democratic members of congress sent an open letter to President-Elect Donald Trump Monday asking him to lift the ban on the federal government's funding of abortions.
The letter, obtained first by BuzzFeed News, requested that Trump eliminate the Hyde Amendment — a federal law that is renewed annually that bars any federal government or taxpayer money from funding abortions, with the exceptions of rape, incest, and threat to the life of the mother.
"Every person should be treated with dignity, compassion and respect—and that includes upholding a woman's right to make her own decisions about whether to end a pregnancy," the letter reads.
In a letter of his own written in September with with the anti-abortion rights group SBA List, Trump pledged not only to uphold the Hyde Amendment but to make it permanent law.
Monday's letter asked Trump to forgo his pledge and to remove the Hyde Amendment from his federal budget request for fiscal year 2018.
"We urge you to begin your presidency with a clear and bold statement that abortion coverage bans have no place in our public policy," the letter continues.
"This will send a strong message to Congress and the country that everyone should be able to decide when and how to start a family—no matter their income, the type of insurance they have, or where they live."
The Hyde Amendment only limits funding of abortions for women who rely on Medicaid or Medicare, as well as federal employees and federal dependents such as Native American women, veterans and women in the military, federal prisoners, and Washington D.C. residents. The law overwhelmingly affects low income women and women of color.
Rep. Barbara Lee of California and Rep. Jan Schakowsky of Illinois were two of the letter's primary signatories. They have both been vocal about abortion rights and heavily involved in attempts to eliminate Hyde, including attempting to pass EACH Woman Act (Equal Access to Abortion Coverage in Health Insurance), which was introduced in the House by 128 Democratic congress members in 2015. Both Lee and Schakowsky told BuzzFeed News they plan to keep pushing for the bill.
"We're in a moment we've never experienced before, we've never experienced a president or administration like this," Rep. Lee told BuzzFeed News. "They're trying to roll back the clock on every social issue."
The Trump transition didn't immediately return a request for comment.