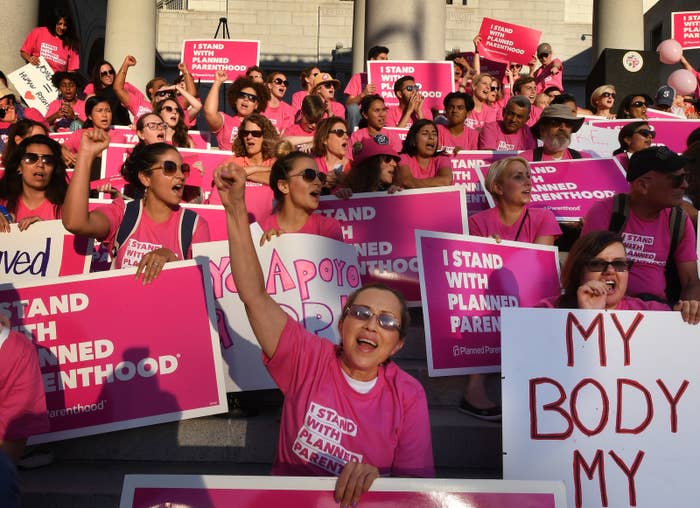 The Senate health care bill "discussion draft" released Thursday contains the same anti-abortion and women's health care provisions as its House counterpart did earlier this year, despite suspicions that at least one of those provisions could violate a procedural rule and prevent it from moving through the Senate.

The bill would also give states the option to opt out of the mandatory "essential health benefits" designated under the Affordable Care Act, which would allow insurers in those states to decide whether to keep some basic coverage, including for contraception.
A source close to the situation, who asked to remain anonymous as they were not given permission to discuss the topic, told BuzzFeed News that GOP leadership worked closely with top anti-abortion organizations while drafting the bill. Many Congressional Republicans have vowed to defund Planned Parenthood almost as often as they've vowed to repeal Obamacare, and even President Donald Trump himself joined in on that rallying cry.
So what does it do?
The bill strips federal funding from Planned Parenthood for one year and blocks people from receiving refundable tax credits to pay for health insurance — one of the main tenets of the bill — if they choose a plan that covers abortion (whether they get an abortion or not), except in cases of rape, incest, or when the life of the mother is endangered.
The bill doesn't specifically name Planned Parenthood, but says funding would be barred from any health care provider receiving Medicaid reimbursements "that is primarily engaged in family planning services, reproductive health, and related medical care; and provides for abortions." The Congressional Budget Office's analysis of the House health care bill, which contained this same language, said that "only Planned Parenthood Federation of America and its affiliates and clinics would be affected" by that provision.
A federal law called the Hyde Amendment already prevents any federal funding from going toward abortions, so Planned Parenthood only receives reimbursements for providing non-abortion services like birth control coverage, pap smears, and pelvic exams to Medicaid patients. This provision would halt those reimbursements for one year. (After that period, Congress would have to decide again whether to continue payments.)
What would happen if it does end up being signed into law?
Insurance companies could stop covering abortions on their basic plans and could raise costs for those plans that do. And without tax subsidies, abortions could become much more expensive for low-income women, particularly those who live in areas that don't have an alternative to Planned Parenthood.
And the rules would put some states, especially California, in a tough position. California requires all health plans in the state to cover abortion, so it would have to either change that law or none of its citizens would receive any tax credits. New York requires all insurance plans that provide coverage for any hospital, surgical, or medical coverage (which is most of them) to cover "medically necessary" abortions as well. It is unclear how New York would be affected, as the Senate health bill also includes exceptions for some situations in which it deems abortions are necessary, but the state and federal legislations could potentially specify different definitions of "necessary" in the final language of the bill.
As for Planned Parenthood, things would not look good. About 60% of Planned Parenthood patients received Medicaid reimbursements for non-abortion services. According to its annual report, Planned Parenthood currently has around 650 clinics across the country and served about 2.4 million people from 2015–16.
Planned Parenthood could still receive funding under Title X, a state family planning grant. But because Republicans already repealed an Obama-era law that protected Title X funds for Planned Parenthood, the organization could lose all public funding in some states.
Many Republicans argue that other federally qualified health care providers could absorb Planned Parenthood's Medicaid patients, yet many of them don't offer all the services Planned Parenthood does and some have said they cannot handle the expected influx of patients.
In a report on the House health bill, the Congressional Budget Office projected that cutting off the women's health organization from federal money would shrink federal spending by $520 million in the short run — a pittance in the context of the $1.1 trillion budget Congress passed earlier this year. But, over 10 years, the CBO predicted an increase in public spending by an estimated $130 million because the bill would increase the number of unplanned births as patients lose birth control access and, if clinics close, abortion access, resulting in increased rates of children and parents on Medicaid and other welfare programs.
Will these things actually happen?
These two provisions could still cause problems for the bill by alienating some Republican senators, such as Sens. Susan Collins of Maine and Lisa Murkowski of Alaska, who have openly opposed stripping funding from Planned Parenthood. Republicans can only lose two senators in order to pass the bill.
Collins said Wednesday, before the bill was released, that she and Murkowski would propose an amendment removing the Planned Parenthood language from the bill if it was included. After the bill dropped, Collins called the inclusion of the Planned Parenthood language nonsensical.

"It makes no sense to single out Planned Parenthood from all of the Medicaid providers and say that it can't be a Medicaid provider," Collins said. She said the law already banning federal funding from going toward abortion (the Hyde Amendment) does its job, and that there was "absolutely no need" to strip the Medicaid reimbursements for Planned Parenthood's non-abortion services.
The Senate's provision preventing people from using tax credits for insurance plans that cover abortions could be in even more trouble. The parliamentarian (essentially the referee of the Senate, who decides whether or not these provisions violate the rules), Elizabeth MacDonough, already warned Republicans even before they released the draft that the provision could violate what is known as the "Byrd Rule."
The Byrd Rule prevents the Senate from making any policy changes that do not affect the budget within the "reconciliation" process — which it is using to avoid needing Democrats to pass the health care bill by lowering the needed votes from 60 to 51.
The singling out of Planned Parenthood could potentially violate that rule as well. A senior Republican Senate aide told Newsweek Thursday that they were not sure whether Planned Parenthood provision would be allowed.
If MacDonough formally rules against either provision on the Senate floor, Republicans will be forced to drop them. They could try to pass those issues separately, but they would need at least eight Democrats to agree.