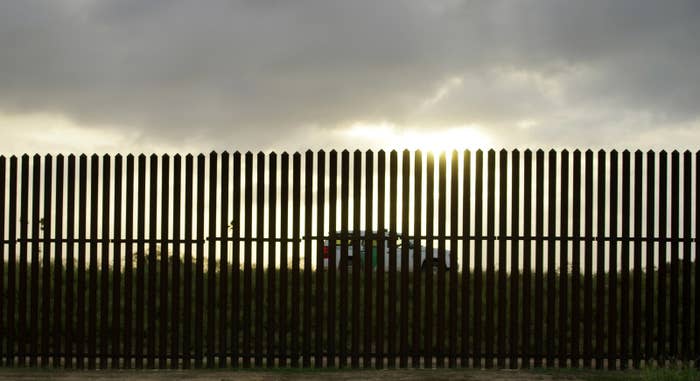 The Justice Department on Thursday released a copy of a letter in which a government official explains his logic for preventing an undocumented teenager who became pregnant after being raped from getting an abortion, despite threats of self-harm if she could not obtain it.

The 17-year-old, who is part of a high-profile legal fight over the Trump administration's efforts to block abortions for undocumented minors in US custody, has since obtained the abortion due to a court order. She was more than 22 weeks pregnant, close to the legal limit for obtaining abortions in many states. In court documents she is referred to under the pseudonym Jane Poe.
The letter released on Thursday was written by Scott Lloyd, the director of the Office of Refugee Resettlement, to explain his denial of Poe's request to get an abortion. Lloyd said Poe first asked for the abortion when she was told she was pregnant, "but rescinded the request after she reported that her mother" and her sponsor in the US "threatened to 'beat' her if she did so." Poe changed her mind a few days later and repeatedly asked for the abortion.
"She still desires the abortion, and has on at least one occasion threatened to harm herself if she does not obtain it," Lloyd wrote, adding that staff in the shelter where she was detained took "appropriate measures" to prevent her from hurting herself. "There is no indication that the pregnancy threatens her physical health in any way."
This paperwork is part of a new application of Department of Health and Human Services policy issued by the Trump administration in March requiring Lloyd to sign off on "any action that facilitates an abortion."
The rest of Lloyd's letter details his numerous reasons for denying the request, and what led him to determine that allowing her to get the abortion was not in her best interest. His reasons included concern that the abortion would cause further trauma for Poe, disapproval of the most common method used for later-term abortions, and his own moral opposition to abortion.
"Sexual assault is among the gravest offenses in the catalogue of offenses man can commit against his fellow man, or in this case, a teenaged young woman," Lloyd wrote, adding that he cannot blame a woman who would want to terminate the pregnancy that was a result of "the vile actions of a criminal."
Even so, Lloyd wrote that he "cannot authorize our program to participate in the abortion requested" because, he explains, "abortion does not here cure the reality that she is the victim of an assault," and rather than helping the young woman recover from her trauma, having an abortion could add to it.
"If the young woman was to go on to regret her abortion and experience it as a trauma, ORR will have had a hand in causing that trauma, and I am unwilling to put this young woman or ORR in that position," he wrote.
Most state and federal laws pertaining to abortion — whether they are setting a limit for how late into the pregnancy an abortion can be obtained, or preventing federal dollars from paying for abortions — contain exceptions for rape, incest, and a threat to the life of the mother. It is US Immigration and Customs Enforcement's policy, for example, to absorb the funds for an abortion in these cases only, though it will help transport the woman to her abortion appointment in any case.
In the letter, Lloyd briefly addressed arguments for the rape exception, writing that some would suggest that "by declining to assist in the abortion we are in some way engaging in a form of violence against the mother, as in the notion that ORR is forcing her to carry her pregnancy to term." Lloyd wrote that he disagreed.
"Implicit here are the dubious notions that it is possible to cure violence with further violence, and that the destruction of an unborn child's life can in some instances be acceptable as a means to an end," Lloyd wrote. "To decline to assist in an abortion here is to decline to participate in violence against an innocent life."
The Justice Department included a copy of Lloyd's letter in court filings on Thursday. The government initially offered to submit a copy under seal to the judge handling Jane Poe's case, but Jane Poe's lawyers pushed for its public release.
US District Judge Tanya Chutkan on Dec. 19 ordered the government to file a redacted copy of the documents, but the Justice Department asked for more time to determine if they included information about internal government deliberations and should be protected against public release. On Thursday, the government filed the documents on the public docket, with several sections fully redacted.
The redacted portions include recommendations about Jane Poe's situation by the deputy director of the Office of Refugee Resettlement to Lloyd. The Justice Department asked the judge to keep that section under seal because it reflected the type of internal agency communications that are privileged and, as a result, shielded from public view.
On Friday, Chutkan ordered that more sections of the documents be unsealed. A redacted version of Deputy Director Jonathan White's memo to Lloyd was filed on the public docket Friday afternoon. It included a more detailed recitation of the facts of Jane Poe's situation and her interactions with shelter staff, doctors and nurses, and a social worker. White's recommendation to Lloyd remains under seal.
Poe is one of three undocumented women who have joined an ongoing American Civil Liberties Union lawsuit against the Trump administration. All three women have since been allowed to get the abortions — two because of court orders, and one because federal officials concluded she was in fact 19 years old and not a minor as she said she was. That woman, referred to as Jane Roe in court documents, was transferred as an adult to the custody of Immigration and Customs Enforcement and was then released on personal recognizance and able to get an abortion.
The ACLU, however, will continue with efforts to have a judge approve the case as a class action on behalf of undocumented pregnant teenagers facing similar circumstances.
The letter denying Poe's request to get an abortion was written on Dec. 6, months after the Trump administration was originally taken to court by the ACLU for similar actions. In the document, Lloyd acknowledges the case, noting that the Justice Department argued on ORR's behalf, saying "declining to authorize abortions" does not impose an "undue burden" on the women's abortion access, and is therefore not unconstitutional.
"She remains pregnant, but this is not the intent of our actions," he concluded in the Dec. 6 letter. "Moral and criminal responsibility for the pregnancy lies with the attacker, and no one else."
In response to the release of the letter, the ACLU demanded that the three redacted pages of the eight-page document be submitted to the court, unredacted. The lead attorney on the case, Brigitte Amiri, called Lloyd's decision "cruel" and "unconstitutional, any way you slice it," in an email to BuzzFeed News. Planned Parenthood reacted by calling for Lloyd's resignation.
UPDATE
Updated with information about portions of the Office of Refugee Resettlement documents unsealed on Friday.