August 14, 1:47 a.m.: US swimmers Ryan Lochte, Gunnar Bentz, Jack Conger, and Jimmy Feigen arrive at an Olympic party at France House in Rio de Janeiro, Brazil.
5:47 a.m.: The swimmers leave the France House party and walk to a cab.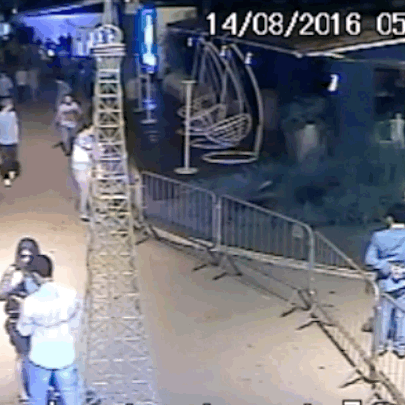 Around 6 a.m.: The Olympians arrive at a gas station, where they allegedly break into the bathroom and get into an altercation with employees.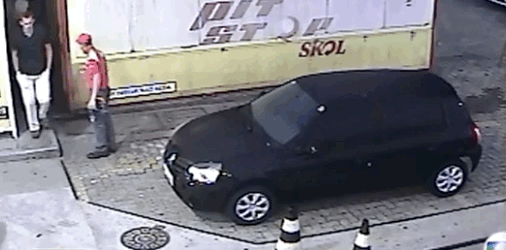 In security footage, the four men can be seen moving around in a hallway where the bathroom is apparently located, though it is unclear what is occurring.
After they leave the bathroom, the men get back into the taxi, but are approached by gas station employees. The men get back out of the car, and one of them has his hands raised, as if in surrender.
6:13 a.m.: A gas station employee can be seen bringing debris out of the restroom area.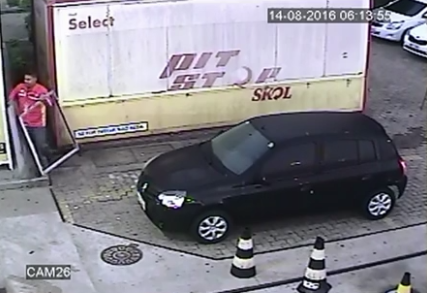 In a news conference Thursday, Brazilian police said the employees and some police security guards talked to the swimmers using a third-party translator, explaining that they had damaged the bathroom — including doors and mirrors — and should pay for the damages.
Police said the swimmers gave them $20 USD and $100 Brazilian real — about $30 USD — before leaving the gas station to go back to the village. Lochte was the most aggressive of the group and was clearly intoxicated, police said.
A security guard did at one point pull a gun on the swimmers because they were behaving aggressively, police added.
Sometime between 6:15 and 7 a.m.: Lochte calls his mother, Ileana Lochte, and tells her that he and his fellow swimmers were robbed at gunpoint.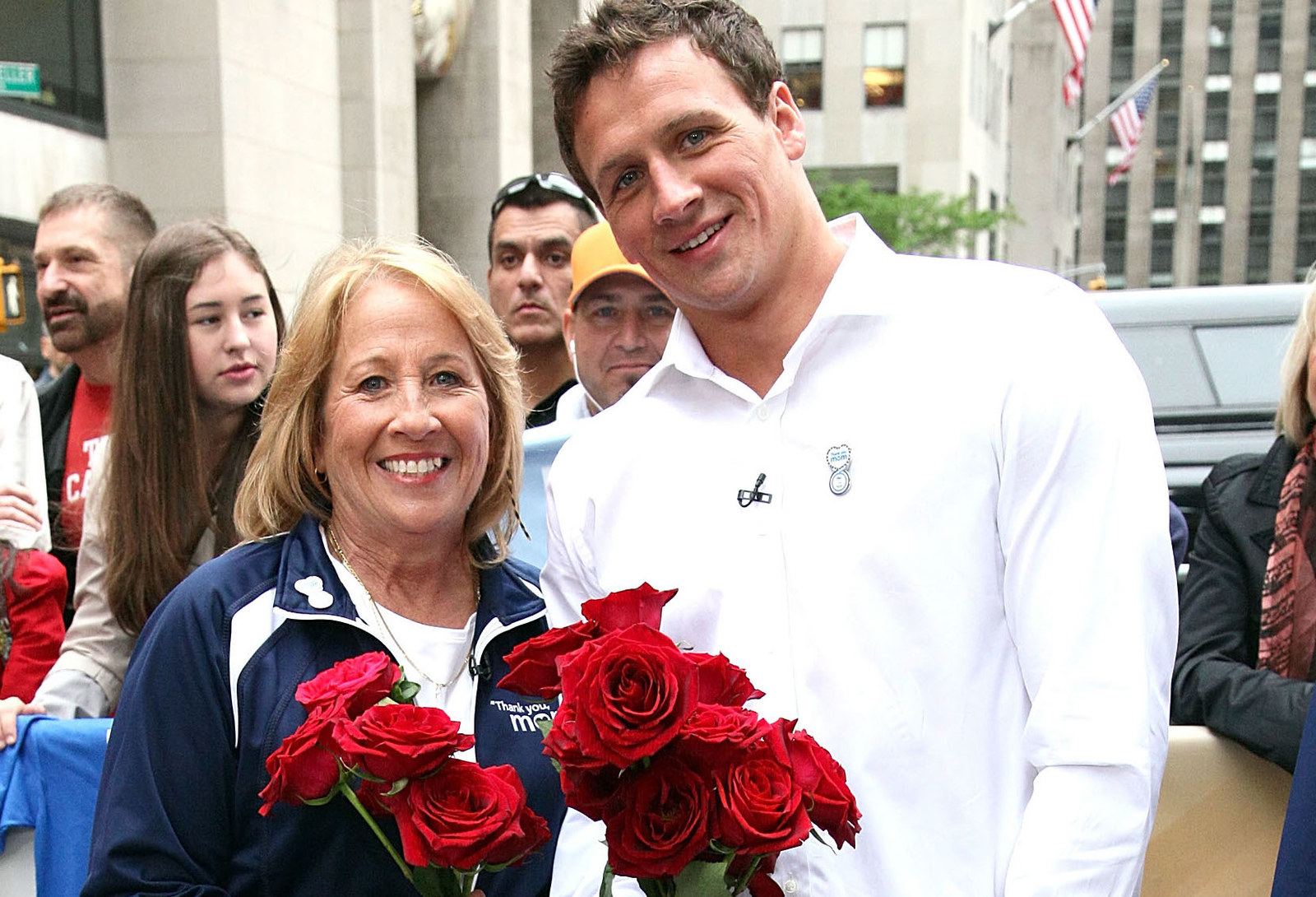 Around 7 a.m.: The swimmers arrive at the Olympic Village and Lochte playfully hits Feigen over the head with his credentials.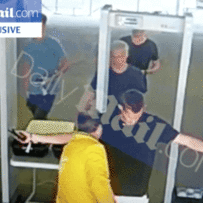 9:27 a.m.: Fox Sports reports that Lochte was robbed at gunpoint.
10:27 a.m.: A spokesman for the International Olympic Committee says the claims are not true.
10:39 a.m.: Ileana Lochte says her son called her immediately after being "robbed."
"I think they're all shaken up. There were a few of them," she told USA Today. "No, they were just, they just took their wallets and basically that was it."
Here is Lochte's first description of the incident:
We got pulled over, in the taxi, and these guys came out with a badge, a police badge, no lights, no nothing, just a police badge, and they pulled us over. They pulled out their guns, they told the other swimmers to get down on the ground — they got down on the ground. I refused. I was like, we didn't do anything wrong, so — I'm not getting down on the ground.

And then the guy pulled out his gun, he cocked it, put it to my forehead and he said, "Get down," and I put my hands up, I was like, "whatever." He took our money, he took my wallet — he left my cell phone, he left my credentials.
5:57 p.m.: Lochte reiterates on social media that he and his teammates were "victims of a robbery."
Aug. 16: Lochte returns to the US earlier than planned.
Aug. 17: A Brazilian judge issues an order to seize Lochte's and Feigen's passports so they cannot leave the country. However, Lochte is already gone, and Feigen is MIA.
Later that evening, Bentz and Conger are removed from a plane headed home to the US and detained by Brazilian police.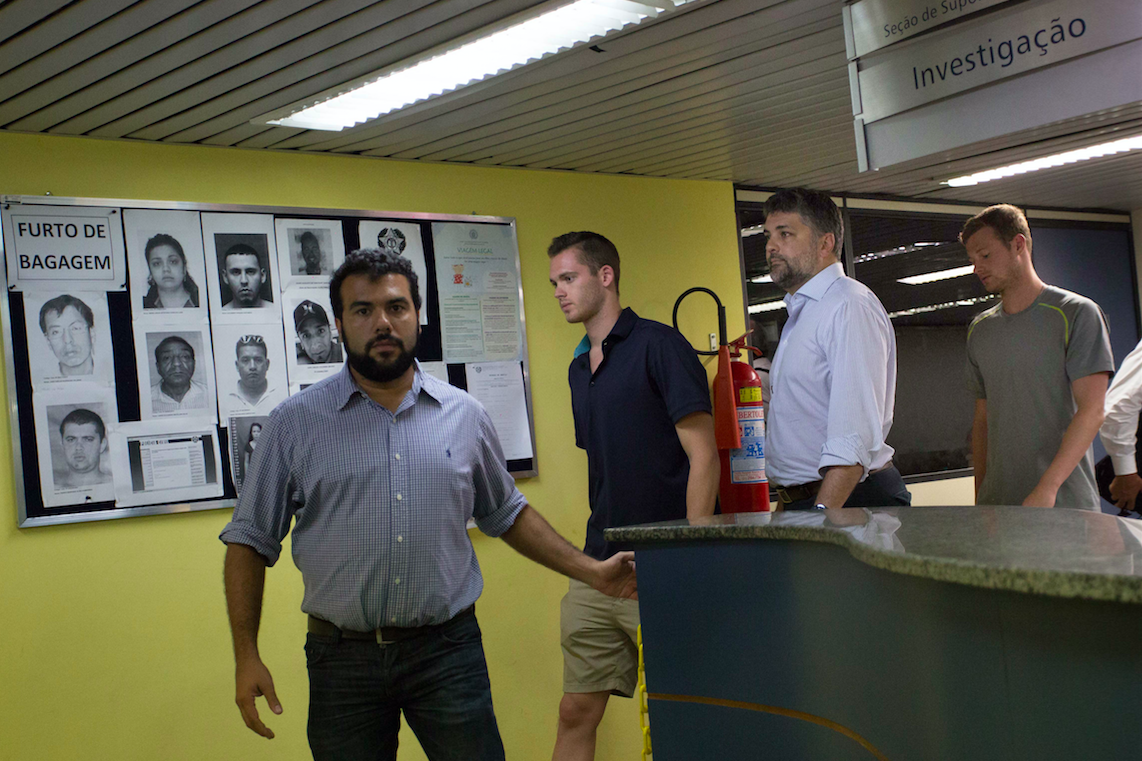 An attorney for the swimmers confirmed they were released from custody, but said they will not be allowed to leave Brazil until they testify about the robbery, the Associated Press reported.
Aug. 18: In an interview with NBC, Lochte recants some of his story, saying a gun was never pressed to his forehead, but maintains he was robbed.
However, when NBC's Matt Lauer questioned Lochte about his change in story, Lochte said he "wouldn't make up a story like this, nor would the others."
At an afternoon news conference though, police say the Olympians were not robbed, and trashed the bathroom while drunk.
That's when they got into a confrontation with the security guard, who told investigators Lochte was so erratic, he pulled a gun on the Olympian.
After the conference, Bentz and Conger are reportedly jeered by onlookers after they are interviewed by Rio police.
Later in the evening, the swimmers' passports were released, freeing them up to leave the nation.
Sergio Riera, the attorney for Bentz and Conger, told BuzzFeed News the swimmers were interviewed as witnesses, not suspects, and there was no reason for their passports to be withheld.
His clients planned to be on a plane to return to the United States, "perhaps tonight," Riera added.
Rio police handed their investigation over to prosecutors, who will decide whether to file charges in the case.
If prosecutors do decide to file, a judge would also still need to sign off.
The swimmers could face charges related to vandalism and filing a false police report, officials said. Rio's police chief, meanwhile, has called on them to apologize, saying it would be the right thing to do.