Here Are The Officers Killed In The Des Moines Police Shootings
Tony Beminio, 39, was a husband and father. Justin Martin, 24, was new to the force.
Officer Justin Martin and Sgt. Anthony Beminio were shot and killed Wednesday near the Des Moines, Iowa, area. The suspect, Scott Michael Greene, has been taken into custody.
The two officers were separately shot and killed in the town of Urbandale after Greene, 46, approached them, asking them to call 911, police said in a press conference Wednesday. The officers did not have time to "interact with the suspect" or to "defend themselves" before they were fatally shot, police said.
Martin was found dead, seated in his squad car, by officers responding to reports of gunfire around 1 a.m. in Urbandale Wednesday morning. Around 20 minutes later, Beminio was shot, also while seated in his car, at an intersection about 2 miles from the first shooting.
Beminio was rushed to a hospital, where he later died.
Greene was taken into custody by police about seven hours later, and brought to a hospital where he remains "sick," the police said. He has not yet been arrested or charged.
Beminio and Greene may have interacted in the past, police said in a press conference Wednesday, though it does not appear that Martin had ever had contact with the suspect.
Both officers were graduates of Simpson College in Indianola, which released a statement Wednesday, giving condolences to the officers' families.
"The loss of any police officer in such a senseless act of violence is a tragedy," Simpson President Jay Simmons said. "This is almost too much to bear. We all extend our deepest sympathy to the families of Anthony and Justin. We consider them part of our family, too."
Members of the Simpson wrestling team donned blue socks during their meet at Cornell College in honor of the two officers, the statement said.
Sgt. Paul Parizek of the Des Moines Police Department said there are no GoFundMe accounts authorized by the family and friends of the two officers. The only official memorial donation page was set up by the police departments.
Sgt. Tony Beminio, 38.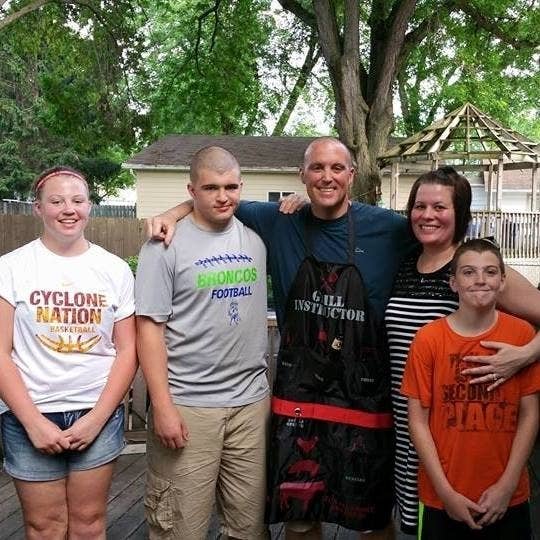 Sgt. Beminio, who went by Tony, was a father and husband from Urbandale, Iowa. Police did not say how many children he had or what their ages are.
He played football at Simpson College and graduated in 2001. The faculty members who best knew Beminio are no longer with the college, the statement said.
He had been with the Des Moines Police Department since 2005 and was promoted to sergeant last year.
Officer Justin Martin, 24.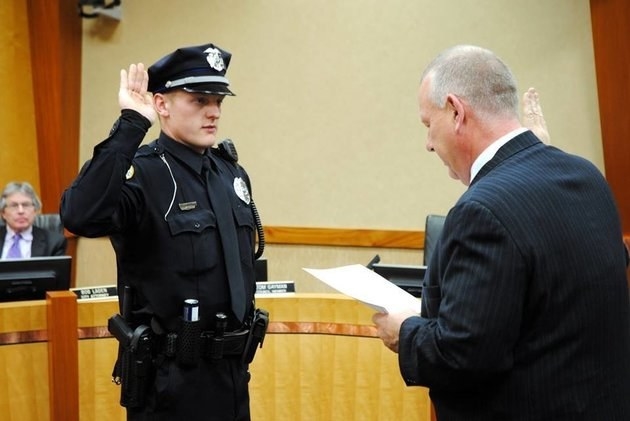 Martin, who police said was "around 24," was new to the force.
He was from Rockwell City, Iowa and reached the rank of Eagle Scout before also attending Simpson College, where he majored in criminal justice and interned at the Urbandale Police Department. In 2015 he was offered a full-time position by the Urbandale police before completing police academy in December 2015.
He was released from a customary probationary period and put out on the street in a one-man unit in October. He was unmarried and did not have children, and is survived by his parents, who both work in the local education system, the Huffington Post reported.
His faculty adviser Fred Jones said Martin was determined to become a police officer from the moment he graduated from high school.
"He was a kind, gentle, compassionate man who was always concerned with serving the public," Jones said. "That's why he went into police work. He was smart and had great social skills. He just had it all."
"I'm having trouble holding it together," Jones continued. "It's just devastating. What can you say?"
Assistant sociology and criminal justice professor Samantha O'Hara also had kind words to say about Martin, calling him "absolutely the best representation" of the criminal justice department.
"When he was in our classes, he always had a quick, ready smile and a positive vibe," O'Hara said. "Our hearts are very heavy right now."
"We had high expectations for his future that were tragically cut short," Urbandale police said Wednesday. "He was a good man."
Recently, Martin had posted on Facebook mourning the death of two police officers and saying that he was, "Beyond proud and honored to be in this profession."