House of Cards actor Kevin Spacey showed up to a Florida Panthers hockey game Saturday night, wearing a "Spacey in Space" sweatshirt and hiding behind a mask with his own face on it.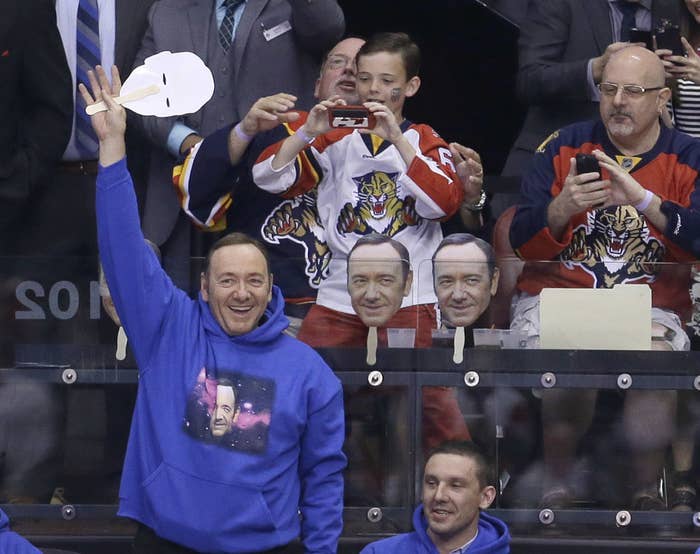 For some mysterious reason, Spacey — or, more specifically, Spacey's head floating in space — has become a new good luck charm for the Panthers and their fans. And Spacey seems to be down.
It all started when Panthers MVP Aleksander Barkov was given his "hero" award, a recent hockey tradition. That award was a sweatshirt featuring Spacey in space.
No one knows (or will tell) how Spacey in Space became the new mascot for the team. When Panthers player Erik Gudbranson was asked by the Miami Herald, he remained tight-lipped. Barkov claimed he was in the dark himself. But the meme picked up steam.
After Spacey himself gave his blessing, the meme picked up steam. The Panthers began handing out spacey masks for fans to wear at the game, creating the illusion of a sea of sly-looking Kevin Spaceys cheering on the Panthers.
Spacey became such a close-knit part of the hockey team that when Barkov signed a six-year contract extension in the middle of the year, Spacey was the first person he tweeted at.
So, when Spacey himself pulled his very meta stunt at the Panthers and Detroit Red Wings game in Sunrise, Florida, on Saturday the crowd went wild.
If Spacey wasn't a Panthers fan before, he certainly is now.