When you Google "final election results," Google sends you to a very helpful page with the results of the presidential and congressional elections. Below that they include "related news articles" — the most prominently displayed of which is fake and has the wrong numbers.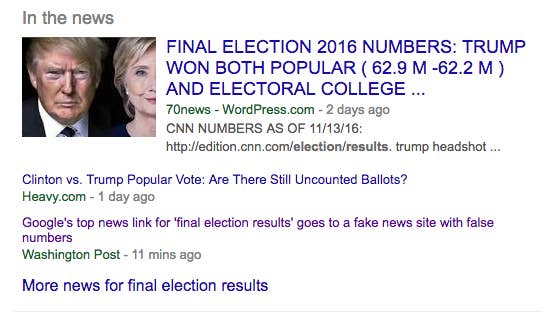 This was first pointed out by Mediaite and later picked up by the Washington Post in an article now sharing the space with the fake news site.
The article demands that petitions asking for the Electoral College to be banned or discounted be "scrapped," because Trump won the popular vote anyway.
This is untrue. Clinton has a popular lead of about 700,000 votes, a number which is expected to grow as more votes are counted from blue states and districts such as Washington and California, which still has around 4 million votes to count.
The site says that it got its numbers from "Twitter posts" because "the Democrat media have been dragging their liberal feet" and refusing to call the popular vote for Donald Trump.
"The goal of Search is to provide the most relevant and useful results for our users," Google said in a statement to BuzzFeed News. "In this case we clearly didn't get it right, but we are continually working to improve our algorithms."
The link leads to a site called "70News," a site created on WordPress which features "Hillary's Health" as its primary vertical, before Politics, Finance, and News.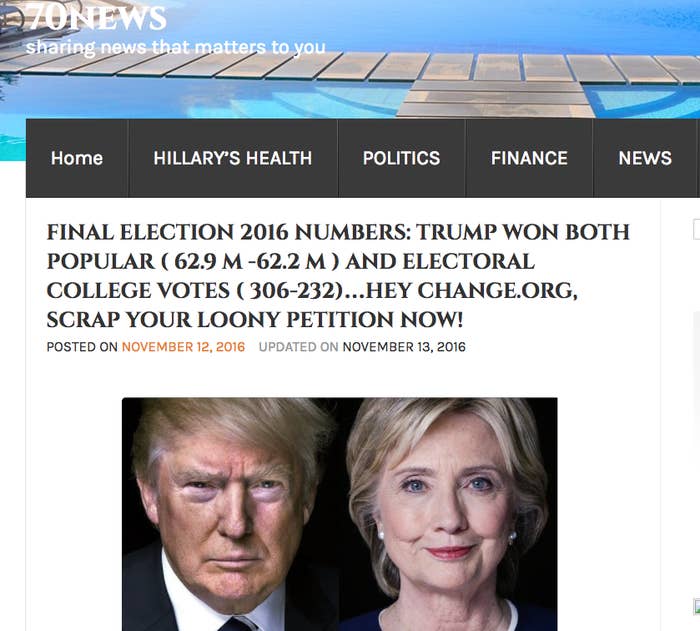 The proliferation of fake news on the web, especially on Facebook, has been a major issue in this election.
This is not the only fake news story of the site. The "Hillary's Health" section is filled with disproved conspiracy theories, and Under "Politics" is a story that incorrectly connects the Council on American-Islamic Relations to Al Qaeda.
The site also supports the popular alt-right theory that anti-Trump protesters in California were being paid.
There was no contact listed for 70News, but it is linked to another fake news site, USA Supreme.
The site is also suggested by Google Assistant.
And even though Google itself says Clinton won the popular vote, at first glance it seem like it is saying Trump won.