These Photos Of Wounded Veterans Are Both Sexy And Inspiring
Talk about a whole new way of serving your country.
When Los Angeles–based photographer Michael Stokes began taking pictures of a former Marine model who had lost his leg in the war, he had no idea how the images would be received.
"I honestly thought people would be very torn about these photos," Stokes, 52, told BuzzFeed News. "I had no idea people would react so positively."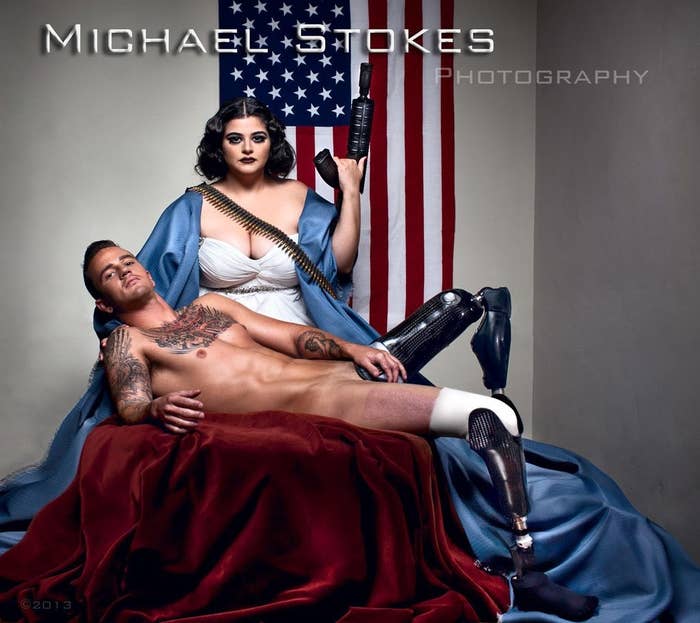 At first, Stokes said he was cautious about how to portray the veteran, Alex Minsky. But Stokes eventually decided to photograph the vet "the same way I shoot all my models." The reaction was overwhelmingly positive.
"All the other photos I've seen of wounded vets have been very downer," Stokes told BuzzFeed News. "I wanted to produce photos that would really show him, let him decide how he wanted to be portrayed."
Minsky's nude shoot showing his amputation added to the veteran's popularity, helping him land a multi-page spread in GQ and a major modeling career.
Though the reaction from the public has been overwhelmingly positive, Stokes told BuzzFeed News that he has had a years-long struggle with those in charge of censoring Facebook.
Many of his photographs are removed, then put back up without explanation, telling any inquiring news outlets that it was a mistake. Then the same photos are removed again a week later.
"I get a lot of threats from religious groups who oppose my photos," Stokes said.
He hypothesized that it was some of those people who consistently report the photos, including one of two fully dressed male police officers almost kissing.
Stokes said he wouldn't call the reactions homophobic, but rather "anti-homoerotic."
"They believe men should not be the subject of what is traditionally the male gaze," Stokes told BuzzFeed News. "My models often take on the traditionally female role of being objectified. Some people just aren't comfortable with that."
Stokes said that even though his photos have often been called homoerotic, over 70% of his active followers and commenters are female.
Yet as the images began circulating, Stokes began receiving messages from other amputees and wounded veterans telling him how much the photographs meant to them.
Stokes recalled one woman's comments on a photograph he posted on Facebook that referred to her 4-year-old son having just been fitted for a prosthetic. "After seeing these photos, I know he's going to grow up to be a man," Stokes recalled the message saying.
Another email he received was from a woman missing a leg who said she was even uncomfortable taking her prosthetic leg off in front of her husband at night. Seeing Stokes' photos, though, had given her more confidence, she added.
"I wasn't thinking about empowering these vets," Stokes said. "They have the confidence already. I was just giving them the exposure."
Before he begins shooting a model, Stokes said he lets them choose the way they want to "brand themselves."
"If they want to be on the cover of romance novels, I can make that happen," Stokes told BuzzFeed News.
Though Stokes has included veterans in his photography books before, this calendar and book series, called Always Loyal, is his first vet-only production.
An upcoming second book will be full of "the sexy stuff," Stokes told BuzzFeed News.
When asked if these photos wouldn't also be considered "sexy stuff," he responded: "Oh, no. No, it's not."
One can only imagine.