Condition Of France Train Hero Spencer Stone Improves After Stabbing In California
The U.S. airman was upgraded from serious to fair condition at a Sacramento area Friday hospital after he was repeatedly stabbed the day before, officials said.
The condition of Spencer Stone — one of the Americans who helped foil a shooting attack on a Paris-bound train in August — improved from serious to fair condition on Friday, one day after he was stabbed repeatedly in Sacramento, hospital officials said.
The status update from UC Davis Medical Center indicated that Stone, 23, is conscious and his vital signs are stable, the Associated Press reported.
A U.C. Davis Medical Center spokesperson said Thursday afternoon that Stone, who is a first-class airman, had been in surgery for several hours for the stab wounds to his torso.
Sacramento Deputy Police Chief Ken Bernard told reporters that the stabbing was in no way related to terrorism. Instead, he said, the incident stemmed from "a very unfortunate altercation between two groups of folks enjoying the nightlife" in downtown.
"We know it is not related to what occurred in France months ago," he said.
The stabbing took place on a street corner at around 1 a.m. Thursday, Bernard said, adding that the confrontation between the two groups is thought to have been "related to a night club incident."
Police are not aware of anyone else being injured besides Stone, and no arrests had been made as of Friday afternoon.
Bernard said they do not know if Stone was drinking, but his friends have said they consumed alcohol. Two Asian men wearing white T-shirts and blue jeans attacked Stone, Bernard said, then fled the scene.
Initially, police thought he would not survive the attack, KCRA reported, but he was stabilized at a nearby hospital.
Police released surveillance footage of the attack, showing the altercation between the two groups:
The investigation remains ongoing.

Stone's cousin, Chase Eskel, told BuzzFeed News said "it was a shock" to learn of the stabbing.
The 24-year-old San Francisco resident said he too was also assaulted in mid-town Sacramento in May, leaving him with a fractured clavicle and eight stitches on his face.
Eskel learned through his father that the altercation early Thursday may have have erupted over a woman who was with Stone's group. The two men who attacked Stone were allegedly yelling at the woman and Stone reacted in her defense, Eskel said.
"I think with what originally happened to him in France, he's just not going to stand for stuff like that," Eskel said. "But I dont think he was expecting what happened at all. He fights for what he believes in."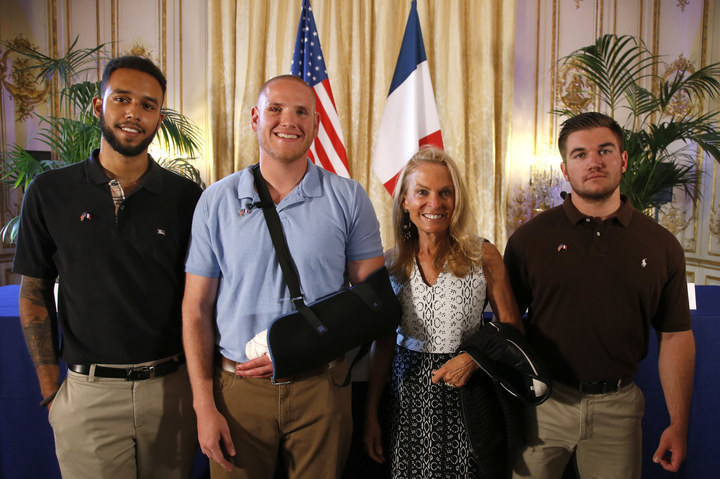 Stone was one of three American men and a British citizen living in France to help stop a shooting attack on a Paris-bound train in last August by subduing a gunman who was armed with a handgun and an automatic rifle.
The men tackled the shooter and wrestled his gun away from him. In the fray, the gunman stabbed Stone multiple times with a box cutter before the three men beat the gunman unconscious.
Stone and the two others – who were his childhood friends – received Legion d'Honneur medals, France's highest honor.