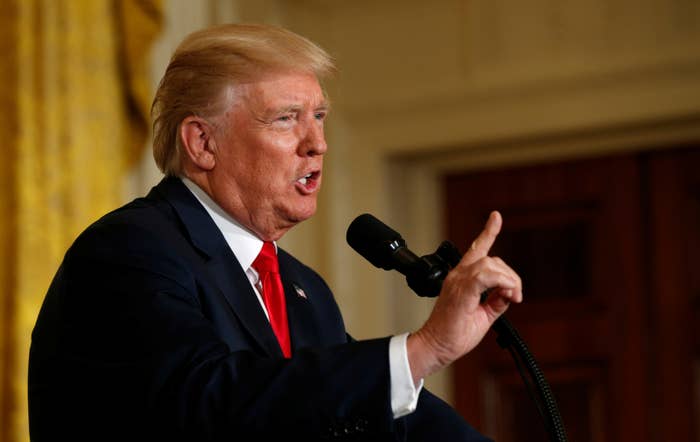 Several states and activist organizations filed lawsuits against the Trump administration over its new rules allowing employers to drop insurance coverage for contraception, within days of the Department of Health and Human Services implementing the changes.
The ACLU and state attorneys general for California and Massachusetts lead the charge in filing lawsuits Friday, mere hours after the rule was implemented, and Several more states, including Washington and Pennsylvania state followed suit the next week. The Center for Reproductive Rights filed their own lawsuit Tuesday afternoon, and students at Yale Law School joined CRR to file suit on behalf of Medical Students for Choice and students at Notre Dame University.
Other organizations are working on filing additional lawsuits, and 18 state attorneys general signed onto a letter Friday saying they are "ready to take action" against the rule if necessary. By now, some of them already have.
The lawsuits and letter cite several reasons for their oppositions to the rules, including gender discrimination, preventing women from accessing "essential care," separation of church and state, violating the required procedure for releasing rules, and prior Supreme Court decisions surrounding Obamacare's contraception mandate. The suits filed by the ACLU and Center for Reproductive Rights ask for the courts to strike down the new rules immediately.
The ACLU, the Center for Reproductive Rights, the National Women's Law Center, and Americans United for Separation of Church and State all announced their plans to take legal action against the government on a call Friday with Planned Parenthood, and California Attorney General Xavier Becerra.

The remaining two organizations said they are still working on the lawsuits and plan to file as soon as possible. They all plan to challenge the administrations' rules allowing employers with "religious" or "moral" objections to drop birth control coverage, as forms of gender discrimination and violations of the separation of church and state.
"With these actions, [the Trump administration] is saying to employers, 'If you want to discriminate the administration has your back,'" Fatima Goss Graves, President & CEO, National Women's Law Center said. "We will see them in court."
Along with the Center for Reproductive Rights, a group at Yale Law School called filed a lawsuit on behalf of the group Medical Students for Choice and two students at the University of Notre Dame.
Notre Dame sued the Obama administration over the contraception mandate in 2013. On Friday, shortly after the rules were released, Notre Dame released a statement commending the Trump administration. While it did not directly say it would take advantage of the rules, it was enough to prompt a protest from students on campus Tuesday demanding their and their classmates' contraception be covered.
"We're prepared to act, including in court, and we'll do it swiftly," Becerra said on the call. He added that he was "in conversation with a number of states" about filing lawsuits together and separately, and that they would "make an announcement in an appropriate time."
Shortly after, Massachusetts Attorney General Maura Healey announced that the state would be filing lawsuits against the Trump administration over the rules. The ACLU and Becerra acted on their promise, and 18 state attorneys general — including the three who filed lawsuits — expressed "strong concerns" over the new rules in a letter drafted by Virginia Attorney General Mark Herring.
"This ill-considered change is discrimination on the basis of sex and may be procedurally deficient from a legal standpoint," the letter read. It is addressed to Acting HHS Secretary Don Wright, Labor Secretary Alexander Acosta, and Treasury Secretary Steve Mnuchin.
Both the ACLU and Center for Reproductive Rights' suits ask the court to place a permanent injunction against the rules, alleging they violate the Administrative Procedures Act.
HHS published the regulations Friday as "interim final rules." Under the Administrative Procedures Act, new rules are released after a 30 day notice, and have a period for comments from the public before they are amended and implemented. But while the new contraception rules do have a public comment period until December 5, there was no formal notice and they went into effect immediately upon publication. It is unclear what effect the comment period will have, if any.
"Both rules are being pushed through on an emergency basis, and there's no emergency," Graves said on the call.
Brigitte Amiri, senior staff attorney at the ACLU, also argued that the new rules could conflict with prior Supreme Court rulings. Amiri specifically cited the Burwell v. Hobby Lobby Stores, Inc. and Zubuk v. Burwell cases, in which the court decided that religious groups and family businesses with religious beliefs would not have to provide contraception coverage, as long as an accommodation remained in place that ensures that employees had access to contraception under a separate plan.
"The availability of the accommodation is what allowed the Supreme Court to ensure that women received this coverage," Amiri said. "The Supreme Court has absolutely recognized the necessity of seamless contraception coverage."
These rules, she argued, violates those decisions.
The two rules, which went into effect immediately after they were published at 11:15 a.m. on Friday, would greatly broaden the ability of employers, universities, religious institutions, and even health insurers themselves, to opt out of covering birth control.
Employers could stop providing some or all contraceptive coverage to their employees for moral or religious reasons, without having to alert the government or make the claim of their opposition to anyone besides their employees. They could also opt out of a government accommodation set up by the Obama administration to ensure that religious institutions would not have to cover contraception themselves, but that women would still obtain contraception coverage through separate insurance.
While HHS said the moral or religious opposition to covering contraception has to be "sincerely held," it is unclear how they would determine this.
CORRECTION
Maura Healey's and Alexander Acosta's names were misspelled in an earlier version of this post.
UPDATE
This story was updated to include new lawsuits filed by attorneys general in Washington and California., and the Center for Reproductive Rights.