Ferguson Police Officer Investigated For Bragging Online About His "Michael Brown Bonus"
Missouri police officer Todd J Bakula apparently posted on Facebook that he spent money earned policing protests marking the first anniversary of Michael Brown's death by taking a bicycle trip, having dinner, and staying in a bed and breakfast.
St. Louis County police are investigating a Facebook post allegedly written by one of their officers in which he bragged about taking a vacation using his "annual Michael Brown bonus," police officials told BuzzFeed News.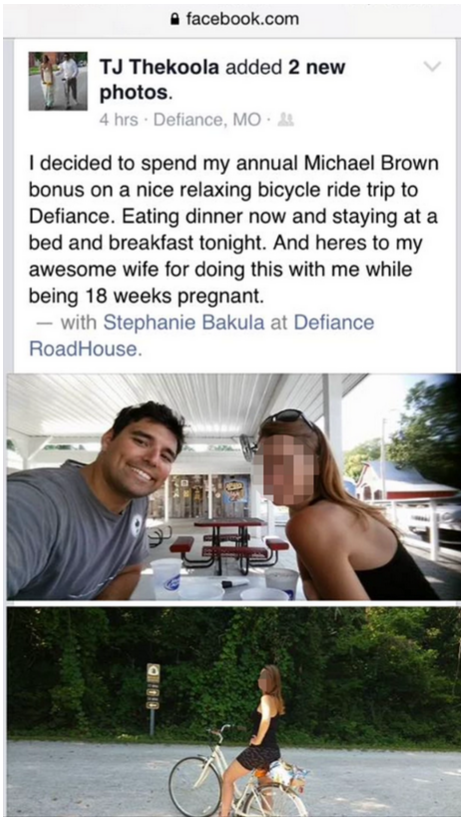 As first reported by The Guardian, the post was written on Friday by Officer Todd J Bakula – who went by "TJ Thekoola" on Facebook – on his public Facebook profile.
"I decided to spend my annual Michael Brown bonus on a nice relaxing bicycle ride trip to Defiance," a vacation destination about 40 miles from Ferguson, Missouri. "Eating dinner now and staying at a bed and breakfast tonight."
The "bonus" Bakula mentioned presumably referred the overtime pay he earned while working extra hours during the demonstrations marking the one year anniversary of Michael Brown being fatally shot by a police officer in Ferguson.
Soon after publishing the post, it began to gain negative attention online.
Shawn McGuire, media relations officer for the St Louis County police department, confirmed that Bakula was one of the department's patrolmen and referred BuzzFeed News to a statement from the police toThe Guardian:
We understand the post is controversial. The St Louis County police department takes these allegations very serious[sic] in every case. The remarks on the Facebook page will be investigated by our department.
"This is a first party investigation," McGuire told BuzzFeed News. "First, we have to realize whether or not it's his Facebook account at all, as the post came from an unknown name."
If it is in fact Bakula's Facebook account, "then we have to look into whether or not it's against our social media work policies," McGuire said, adding that Bakula will continue working throughout the entire investigation.
When asked what the standard overtime rate was for officers working demonstrations in Missouri, McGuire told BuzzFeed News that the St. Louis county police "don't know the exact figures yet," though a report on overtime is currently being written, he said.
According to an article in the St Louis Business Journal from August 2014, during the protests and riots following Brown's death, St Louis County reportedly spent "$4 million on its response to the crisis in Ferguson," including "$2.5 million in overtime for police work."
By January, this number increased to "$3.9 million in overtime costs and $1.2 million in fringes," the South Country Times reported.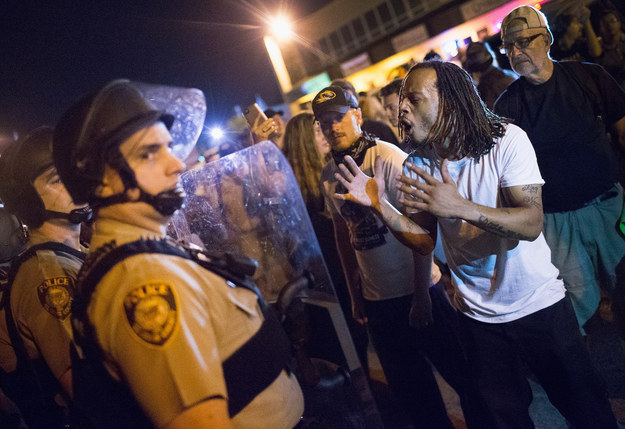 By Saturday, the Facebook account for TJ Thekoola had been deleted, along with any record of Bakula online, including his personal business website. Any listed phone numbers for him had been turned off or disconnected.
Though McGuire said he had not personally talked to Bakula – "I don't even know the guy, took me a while to confirm he was even one of our officers," he told BuzzFeed News – he said he assumes Bakula "automatically shut everything down" as soon as the post began to receive attention from the press.