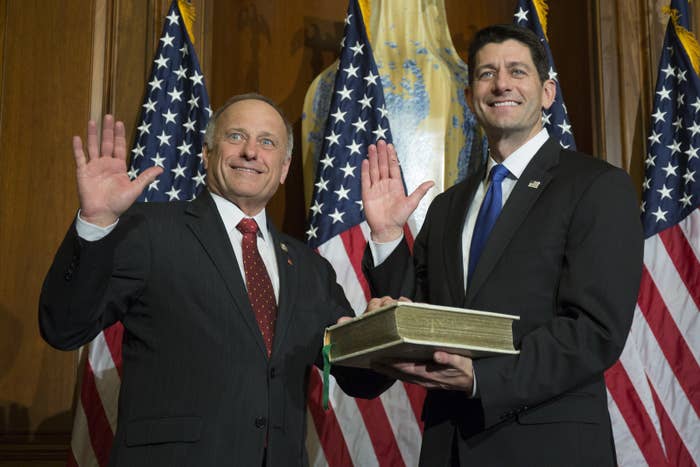 Rep. Steve King of Iowa on Tuesday pushed his bill banning abortion after a month and a half, standing with women who said they will send heart-shaped valentines to members of Congress.

The bill, known as a "heartbeat bill," would ban doctors across the country from preforming an abortion after a fetus's heartbeat was audible — on average around six weeks into pregnancy. Many women do not know they are pregnant until the second month of a missed period, so the bill would amount to nearly a total abortion ban, King said at Tuesday's press conference.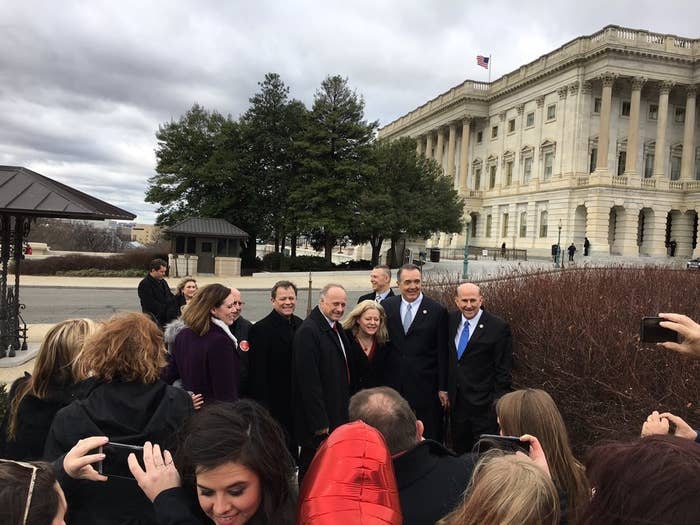 Though the bill is unlikely to become law, it is one of the most extreme bills on abortion introduced since Roe v. Wade, the 1973 Supreme Court decision legalizing abortion. King has called that decision "unconstitutional."
"This bill does eliminate a large share of abortions, about 90%" King said, standing outside the Capitol building. He added that he hopes this bill will eventually get to the Supreme Court, and hopefully play a role in overturning Roe v. Wade.
"By the time we march this thing down to the Supreme Court the faces on the bench will be different," King said, referring to President Donald Trump's new appointment, as well as the possibility that some of the older, more left-leaning Supreme Court justices may die or retire. "I'm not sure how different, but I'm hopeful," he said.
King introduced the bill on Jan. 12, but held a press conference on Tuesday — the week of the 44th anniversary of Roe v. Wade. The limits it places on abortion would most likely violate the constitutional clause that prevents an "undue burden" from being placed on access to abortion, making it unlikely to get the votes it needs to become law.
"We stand here and assert that life begins at a distinctive moment. The most precise instant is the moment the heartbeat begins," King said Tuesday, standing with a woman holding a sign reading "My Abortion Hurt Me."
The bill says a provider "who knowingly performs an abortion and thereby kills a human fetus" would be fined or imprisoned for no more than five years — or both. The bill contains exceptions when abortion is necessary to save the life of the mother — "but not including psychological or emotional conditions" that "arise from the pregnancy itself," such as severe depression or suicidal tendencies.
The law also does not contain exceptions for pregnancy by rape or incest, or for fetal abnormalities. It contains a clause that would ensure a woman who obtains an abortion after six weeks would not be punished, though her doctor or the person who provided her with medical abortion pills would.
A heartbeat bill passed by Ohio's congress in December caused uproar among Ohio's citizens as well as both Democratic and Republican lawmakers. Republican Ohio Gov. John Kasich said that "certain provisions" in the six-week ban were "clearly contrary to the Supreme Court of the United States' current rulings on abortion," and vetoed it in favor of a 20-week ban on abortion instead.
"Abortion restrictions like these do not make abortion go away — they just make it more likely that women will take matters into their own hands," Dr. Diane Horvath-Cosper of Physicians for Reproductive Health, a group of doctors who support abortion rights, told BuzzFeed News.
"We've watched anti-choice lawmakers propose bans like this in the past, and we know that the reason such bans are introduced is not because they have any hope of becoming law, but because [other] kinds of laws" — such as 20-week abortion bans — "look moderate in comparison," she said.
Both Ohio and King's federal six-week ban were co-authored by anti-abortion and anti-LGBT rights activist Janet Porter — formerly Janet Folger. She authored the book The Criminalization of Christianity: Read This Book Before It Becomes Illegal!.

Porter on Tuesday said she and others will send heart-shaped valentines to Congress to encourage them to vote for the bill.

Porter was formerly the legislative director for the Ohio Right to Life group, and had a radio program that was deemed "too extreme" by Christian talk radio, Mother Jones reported. In 2011 she brought two in-utero babies to "testify" before the Ohio House of Representatives via ultrasound.

Porter brought a number of women to the press conference who said they had abortions in the past and now regretted it, as well as anti–abortion rights priests and reverends from around the country.