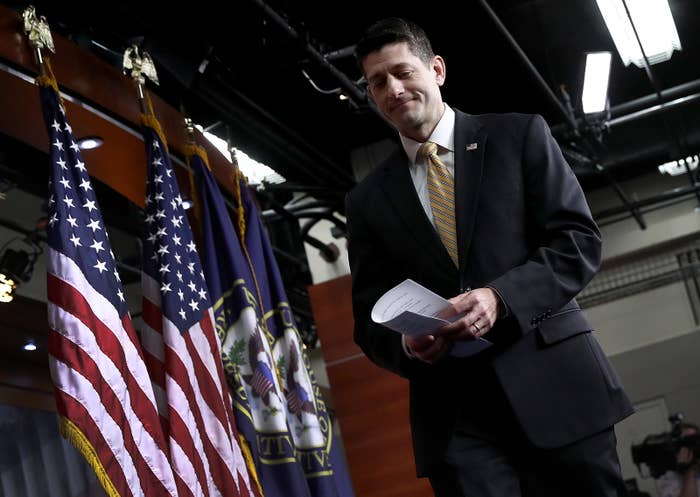 The Republican bill to repeal and replace Obamacare — supported by congressional leaders and President Donald Trump — includes a provision that prevents people from receiving tax credits for private insurance plans that cover abortion, except in cases of rape, incest, or a threat to the life of the pregnant woman.
The new provision does not ban coverage of abortion entirely, but it prevents people who need help or reimbursement from the government to pay for their insurance from choosing plans that cover abortion.
But experts and insurance industry sources say it's far from clear just how the exceptions would be enforced, or how much this would dissuade insurance companies from offering abortion coverage. Meanwhile, anti-abortion groups are raising concerns that the bill could potentially allow people to use refundable tax credits to pay for abortion.
Under the Republican bill, people seeking abortion coverage would have to pay for separate plans to cover those services without assistance from government subsidies, or they would have to take out an insurance plan that doesn't cover abortion, except in those exempted cases.

But experts say that making exceptions in cases of rape, incest, and endangerment of the woman's life could prove complicated. "Who would then verify whether that was true or not?" asked Linda Blumberg, a senior fellow at the Urban Institute's Health Policy Center.

Sources in the insurance industry, who preferred not to be named, also called the abortion provision "confusing" and "unclear," and said that it did not "specify" how exceptions would be determined and enforced. Experts said from reading the legislation it was unclear who would decide whether a woman's abortion falls into one of these categories.
Enforcing exceptions in abortion-related laws is always complicated. A federal law called the Hyde Amendment prevents any federal funds — through Medicaid or other health care grants — from going toward abortion, though it also includes exceptions for rape, incest, and the life of the mother.

In many states, women have to present evidence of reporting their rape to the police in order to get reimbursed for their abortions through Medicaid, and doctors have to wade through red tape to prove an abortion was necessary to save their patient's life. Multiple studies found that many Medicaid beneficiaries who qualify to have their abortions covered under the exception don't end up getting reimbursed for the procedure or medication. The Guttmacher Institute, a pro-abortion rights research group, estimated that in 2009 about a quarter of women on Medicaid who planned on getting abortions gave birth instead.

"With exceptions for rape we've seen all sorts of hurdles, like Republicans imposing regulations causing women having to report their rape to law enforcement within a specific timeframe," Rachel Easter, Counsel at National Women's Law Center told BuzzFeed News. "This [provision] is really intended to eliminate insurance cover of
abortion plain and simple," she added.

But anti-abortion advocates have expressed misgivings over another aspect of the bill, arguing that it could potentially allow people to use refundable tax credits in their health saving accounts to pay for abortions. The anti-abortion Family Research Council (FRC) voiced this "pro-life concern" in a statement released Tuesday: "We discussed with congressional leaders who agree with the importance of making sure this bill has rock solid pro-life protections."
The FRC also expressed concern about the restrictions on abortion potentially being struck down in the Senate due to "strict budget rules" that led to similar anti-abortion provisions being removed from Medicaid reforms in the past.
"If the abortion funding restrictions for health care credits and state funds in this new bill fails in the Senate, then these provisions will subsidize abortion," the FRC continued. "In that case, the pro-life community could not support the overall bill and should oppose it."
Blumberg and her colleague Stan Dorn of the Health Policy Center told BuzzFeed News that a trust exists between doctor, insurer, and the IRS. When women and their physicians apply for abortions to be covered by their insurance because they qualify for the exceptions, this faith in the forms insurance providers and physicians fill out would prevent them from being audited for tax fraud.

"If suddenly there was a big surge in abortions due to these excepted circumstances, I suppose the insurer would get suspicious and the doctor could be in danger of being excluded from the plan's network," Blumberg said. "Generally speaking, doctors aren't big on committing insurance fraud."

Dorn added that insurance companies would report to the IRS about "each individual who received 'eligible health insurance,'" including the women whose abortion would be covered by insurance under exception, and the IRS would rely on those reports, "rather than independently investigating the bona fides of their particular insurance policies," he said.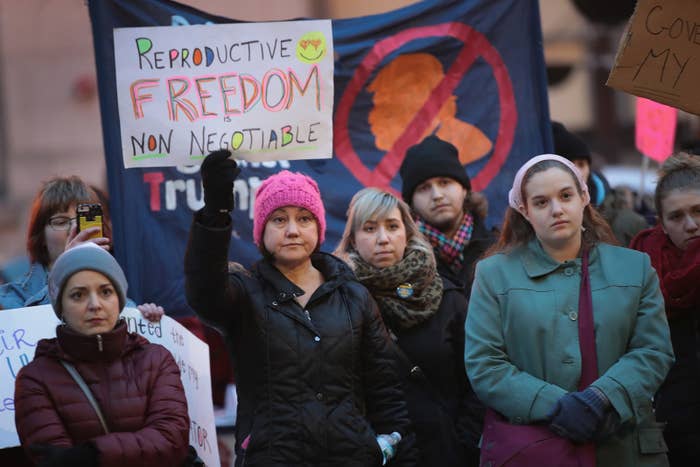 IRS involvement in health care is controversial among fiscally conservative Republicans who spent years opposing Obamacare's individual mandate, which involved the IRS in healthcare by instating a tax penalty owed for anyone who didn't have health insurance.
A spokesperson for Republican Rep. Diane Black — who has repeatedly introduced bills defunding Planned Parenthood, and has also spoken out against the IRS's involvement in health care — said that the provision was nothing out of the ordinary and in line with what Republicans have long argued: that taxpayers should not be forced to pay for abortions. The spokesperson referred to a poll by Marist and the Catholic organization Knights of Columbus stating that 60% of Americans "oppose using tax dollars to publicly fund abortions." (It should be noted that the poll asked individuals their views in the context of the Hyde Amendment, which would enable Medicaid to cover abortions, and not in the context of enabling individuals to recoup tax credits on insurance plans that include abortion).

"This legislation scales back the IRS's role in Americans' daily lives by repealing Obamacare's individual mandate and dismantling its most onerous taxes," the spokesperson said.