The day after Donald Trump was elected president, people began donating to Planned Parenthood to an "unprecedented degree," a spokesperson for the women's health organization told BuzzFeed News.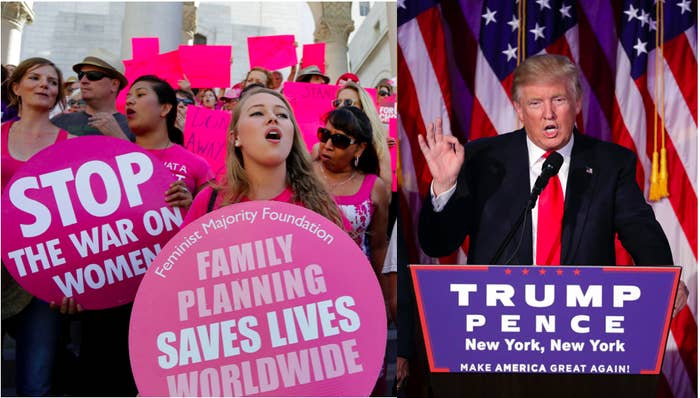 "In the last two days, 73,000 Planned Parenthood supporters from across the country donated to Planned Parenthood," the spokesperson said, adding that they have never before seen such an increase in donations over a two-day period.
While running, Trump vowed in a letter to defund Planned Parenthood should he be elected.
Many donors posted on social media about their contributions, saying their donation was either to make themselves feel better about the election results, or to compensate for a friend or family member's vote for Trump.
One person claimed someone they know is selling the possessions of their Trump-supporting ex-boyfriend and donating part of the proceeds to Planned Parenthood.
Summer, 24, who asked that her last name not be used out of fear of retribution, came up with the idea to donate to Planned Parenthood under the president-elect's name.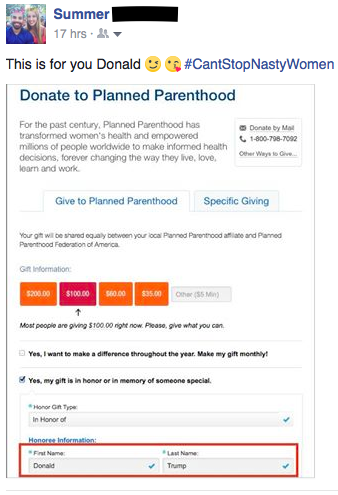 Summer told BuzzFeed News that she was "scared" about what this election meant for women.
"This donating stunt gave me hope and made me feel empowered. My friends and I didn't just want to become complacent and settle for just complaining and venting," she wrote in an email. "This was a small way to make us feel like we could actually do something."
She posted the image to social media, and was quickly flooded with positive reactions and other people following suit.
Summer's friend Connor, who also asked to be referred to by his first name, said that he thought the stunt was "an easy, subtle way to be heard and be proactive for the future."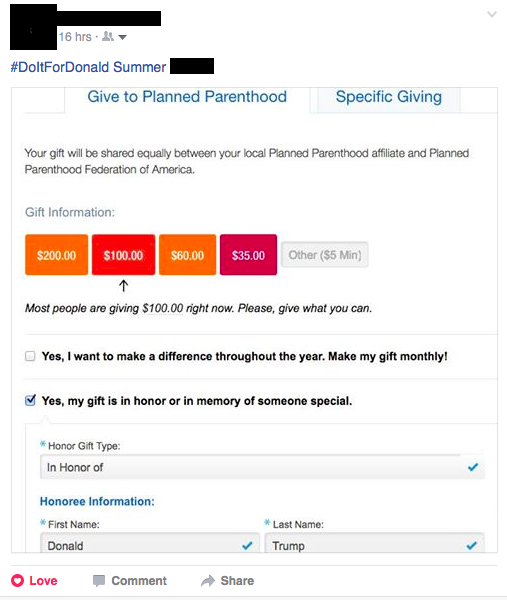 "Maybe he'll never see our posts, but it feels empowering to not only support a cause we believe in [but also] one that might be threatened by the rhetoric and policy Trump supports," another person who participated in Summer's stunt told BuzzFeed News. She also wished to remain anonymous.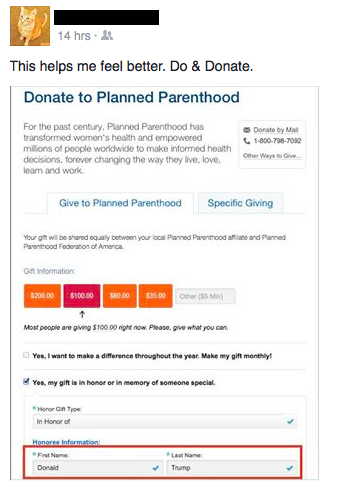 Some posted it to Snapchat, with some emotive embellishment.
Another found a productive way to deal with uncomfortable post-election family gatherings.
This person has already started. Is Donation Therapy a thing now?
Carina vowed to donate any money she received from Trump's proposed tax cuts to Planned Parenthood and the ACLU, whose website crashed due to an overwhelming amount of donations.
And Lauren plans to donate money every time a Trump supporter says something mean online. And in their name no less.