Someone Is Placing Posters Of Donald Trump As Hitler Around Atlanta
Atlanta police say that if the graffiti artist is found, they will be incarcerated.
Days after Donald Trump called for a ban on Muslims immigrating to the U.S., posters of the GOP candidate in front of a swastika began popping up around Atlanta, Georgia.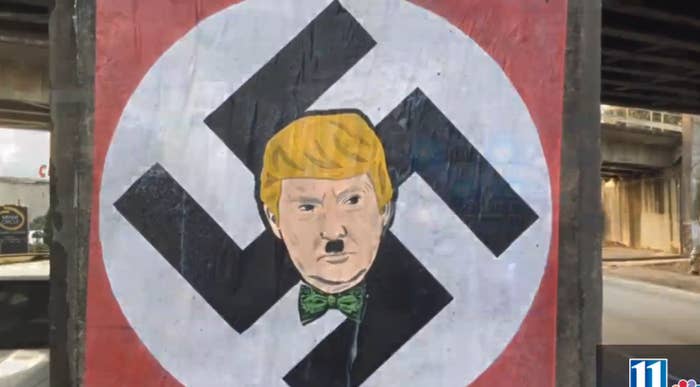 Two posters – depicting Trump with a hundred-dollar bill bow tie and a Hitler-like mustache, were found on highways, clearly visible to passing cars but in a dangerous area for pedestrians.
Atlanta police quickly got to work removing the graffiti, local news outlets reported.
Police officer Thomas Coxe told the Atlanta Journal-Constitution that police have to find the posters soon after they are posted while they're still wet, or else they become "nearly impossible" to remove.
"If they are caught, they will be incarcerated for illegally posting in a public way," Coxe said, adding that posting on a highway also distracts drivers which puts them in danger in addition to it being dangerous to police trying to remove the posters.
"We've almost had numerous accidents just being out here," Coxe said, adding that the graffiti artist must have faced a similar situation.
Atlanta police did not immediately return BuzzFeed News' request for comment.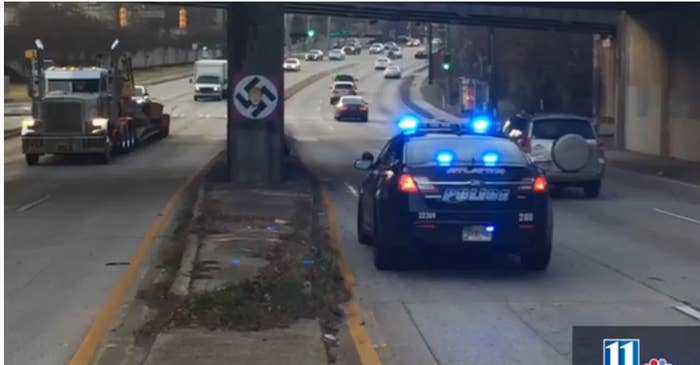 In a statement released Monday, Trump called for a "total and complete shutdown of Muslims entering the United States," adding later that day at a campaign rally that the ban should last "until our country's representatives can figure out what the hell is going on."
Trump's statements were quickly met with public outrage and condemnation from both Democrats and Republicans, including former Vice President Dick Cheney.
Though many on social media have compared Trump to Hitler, including through artistic renderings, the art on the posters in Atlanta seem to be unique.