Justice Department Issues Anti-Gender Bias Guidelines For Sexual And Domestic Violence Cases
"Make no mistake: [sexual and domestic violence] is an affront to us all," Attorney General Loretta Lynch said Tuesday.
Attorney General Loretta Lynch announced on Tuesday a new initiative from the Justice Department designed to prevent gender bias in law enforcement's approach to domestic violence and sexual assault cases.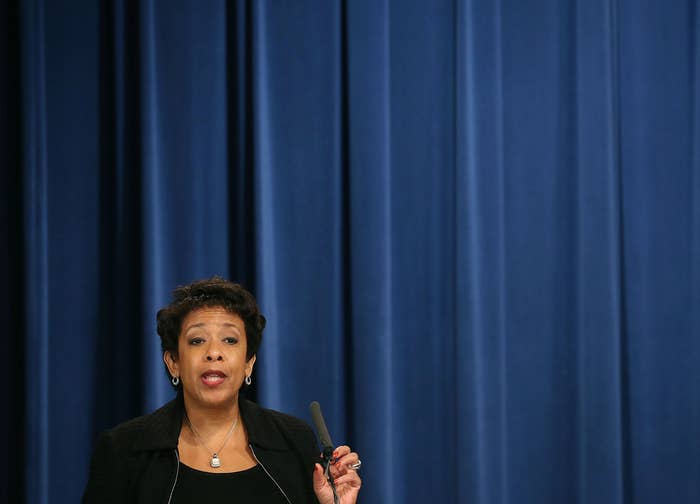 The guidance – created in collaboration with victim advocates, police leaders, and civil rights advocates – aims to examine how gender bias limits the response of police to cases of domestic and sexual violence, and to provide a set of "basic principles" to help eliminate its effect, the Department of Justice (DOJ) said in a statement.
"Sexual and domestic violence is a heinous crime, inflicting physical and emotional trauma that can linger for years, with grave consequences for survivors and their loved ones; for neighborhoods and communities and for our country as a whole," Lynch said at a press conference Tuesday. "And while the brunt of sexual and domestic violence is borne disproportionately by women and LGBT individuals, make no mistake: it is an affront to us all, threatening the integrity of our communities and violating the dignity of our fellow citizens."
The attorney general said the new guidance was created in response to requests for assistance from many of the DOJ's law enforcement partners in creating anti-gender bias guidelines to integrate into their training, policies, and practices.
The guidance will affect state, local, and tribal law enforcement agencies, Lynch said.
The DOJ guidelines address stereotypes and assumptions commonly made by law enforcement officials, the department said.
"For instance, Lunch said, "false assumptions about alcohol use, the physical strength of a victim's partner or a victim's sexual orientation can lead police to make judgments about the truthfulness of the survivor's account or the severity of the assault that are simply wrong."
The guidelines also outline modified "victim-centered and trauma informed" interview techniques, as well as statistics about sexual assault and domestic violence cases.
The Attorney General did not specify when the guidelines would go into effect.
The DOJ provided this snapshot of some of the new guidelines: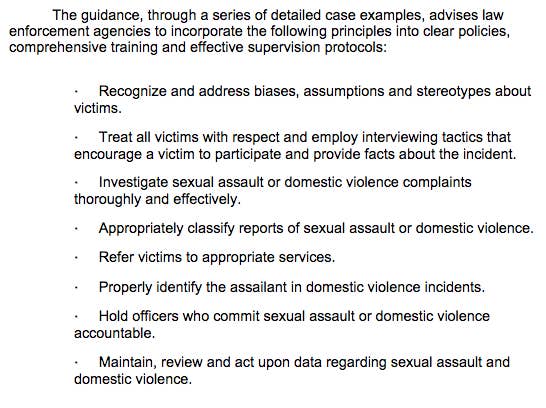 To emphasize the proven effectiveness of these modified guidelines, Lynch cited a 2013 DOJ investigation into the Missoula, Montana police department, which was largely failing to respond to sexual assault complaints.
The DOJ and Missoula law enforcement worked together to modify the local law enforcement's policies. Lynch said the town's law enforcement has since made "tremendous strides" toward providing providing better services for victims.
The announcement comes in the midst of a federal effort to reform the justice system's attitude and response toward sexual assault cases, including a $41 million federal grant to help reduce backlogs of untested sexual assault kits.