FORT LAUDERDALE, Florida — Democratic and Republican voters in South Florida's two most contested counties don't agree on much, but on this they do: that the election recount has been a giant mess and that they've lost faith in their electoral system.
"My family and I voted for different people — they're Republicans — but all of us were like, 'Oh my god, we're the laughing stock of America right now because we can't get our shit straight,'" Fallon Williams, a Democrat and veteran of the Coast Guard in her thirties, told BuzzFeed News.
Members of the pro-Trump demonstration that had been camped out all week outside the Broward County Supervisor of Elections Office, where the recount for the Senate race was happening.
"It's like, you had one job," Liz, a 30-year Broward County resident wearing a vest covered in American flags and a hat signed by Trump, said. "It's not rocket science. What's with all this chaos?" (Liz asked only to use her first name for fear of how it might affect her job.)
Broward and Palm Beach counties, both of which went blue in 2016, have been in the eye of the storm since the midterm elections. Several lawsuits have been filed over uncounted votes, recount efforts have resulted in missed deadlines, and ballot-counting machines have broken down.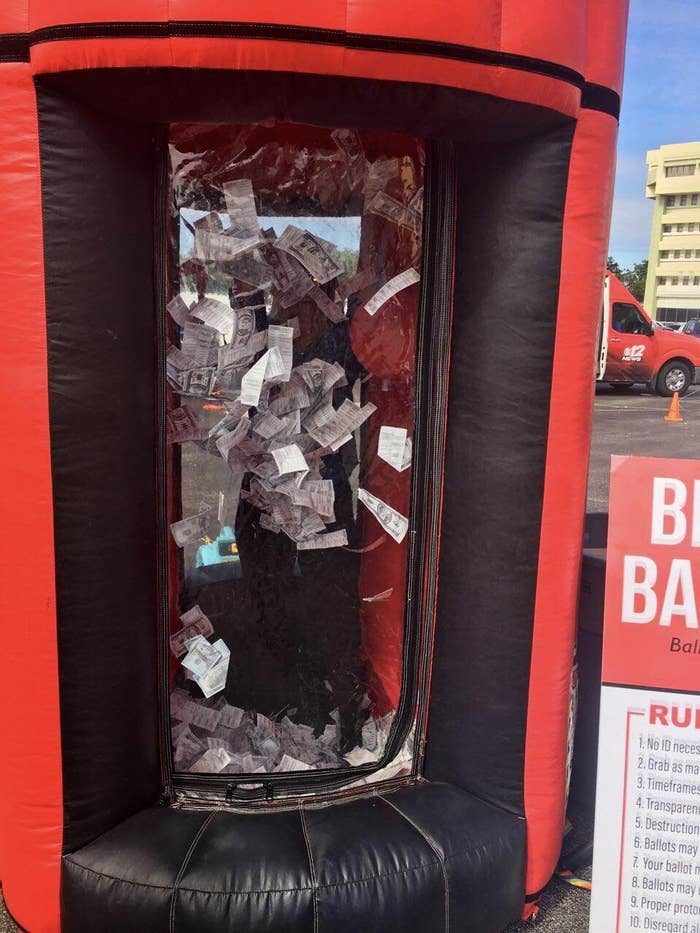 Democratic and Republican volunteers from all over the country have showed up to help oversee ballot-recounting to make sure people whose votes weren't counted can fix their ballots, chant, and hold signs that read "I voted Republican, but did that even count?" and "Not 2000 again!" The Trump supporters in Broward County even set up "Brenda's Ballot Box" that blew into the air ballots you could grab, imitating the cash box on the money booth arcade game.
It wasn't until Saturday night that Democratic candidate Andrew Gillum conceded the race for Florida governor to Republican Ron DeSantis, ending a protracted recount fight that started after the Tallahassee mayor took back his initial Election Day concession. However, the Florida Senate race had yet to be called.
The machine recounts were ordered across the state after the races were deemed too close to call, but last week, both Broward and Palm Beach counties' recounts met a chaotic fate. Palm Beach's outdated ballot-counting machines overheated and stopped working, causing them to miss the deadline. Broward finished their machine recount, but Supervisor of Elections Barbara Snipes turned in the ballots two minutes late, and the state refused to accept them.
The recount results from both counties were rejected, so by state law the original election night results were consulted in their place, meaning the margin between Nelson and Scott stood at just 0.15%, below the state-mandated recount threshold. The counties now have until noon on Sunday to finish a manual recount and submit it to the state. The official election results will be announced on Tuesday.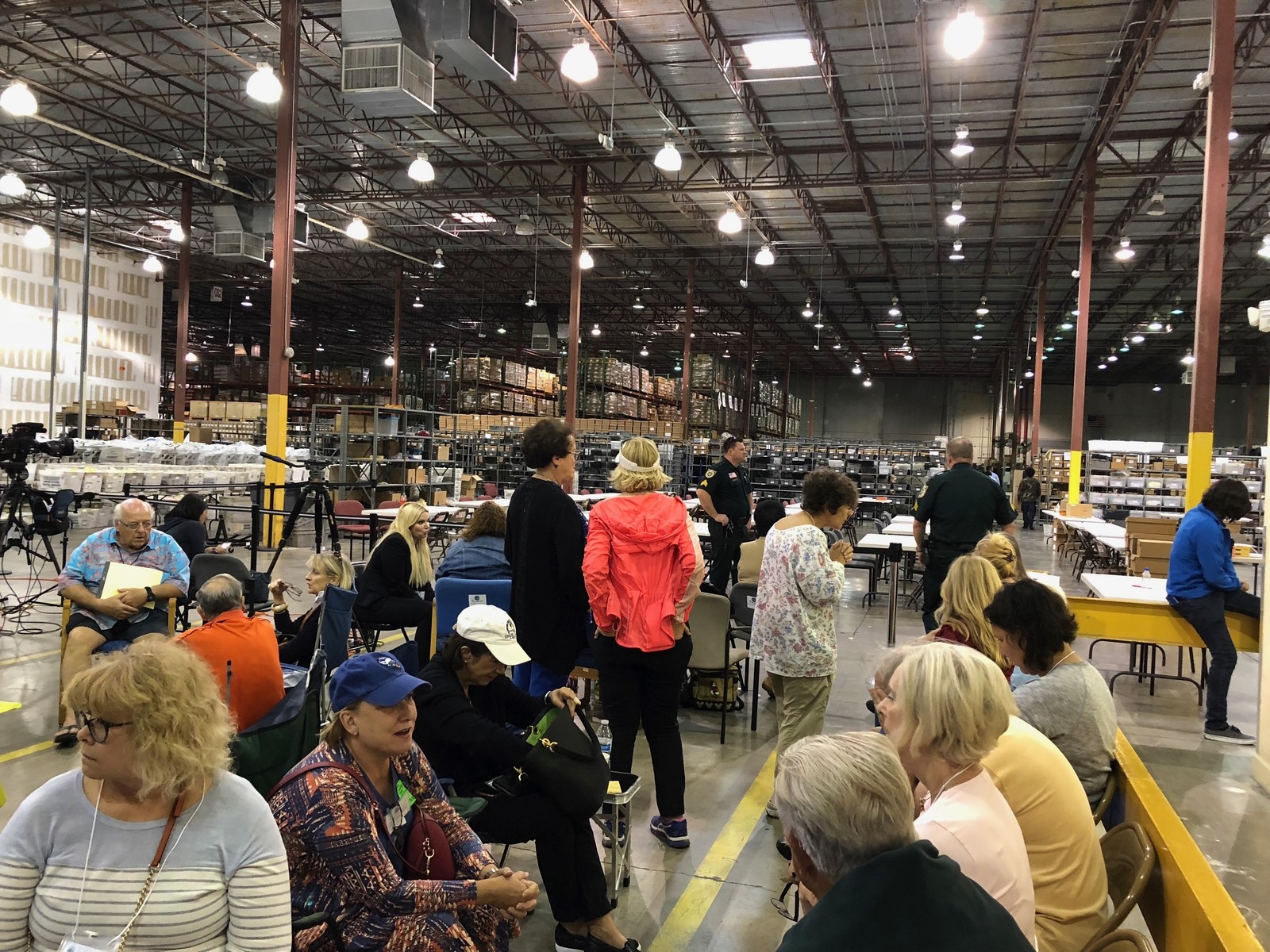 On Friday, both counties finished hand-recounting the Senate votes in a matter of hours, but by Saturday, Palm Beach County was behind on counting the votes for a local House and commissioner's race. The machines were acting up again.
"We're working with decade-old machines and too few of them," one of the attorneys overseeing the recount told BuzzFeed News Saturday, asking not to be named. "Since these machines were purchased, the country has increased in size by about 300,000 voters."
Another attorney stormed in and out of the recount room, yelling that they were going to miss the deadline. Organizers went home to have dinner with family, whom they said they had barely seen all week. Democratic and Republican volunteers sat in lawn chairs in the recount warehouse and sighed.
Nearly all of the 12 voters who spoke to BuzzFeed News said that the state of Florida's midterms has made them feel disenfranchised and caused them to lose their faith in the electoral system and state government. Several voters said they would no longer vote by mail, and Stanley Desuis — a 20-year-old Democratic student activist at a rally in Palm Beach County — told BuzzFeed News that many of his first-time voter friends said this election has made them never want to vote again.
"I really trusted that everybody in charge of our votes would want democracy to be fair and honest, and I didn't really think that politics would ever play a role in somebody doing their job properly," Mechelle Boyle, a 42-year-old Army soldier from Parkland, Florida, told BuzzFeed News.
Boyle is a Trump supporter and has three children. She has been involved with her community since the school shooting at Marjory Stoneman Douglas High School in February.
"We should all be on the same side. This is about democracy. That it should be about accountability — it should be about trust," Boyle said, adding that if election officials are incompetent, "it doesn't matter what your affiliation is, that should be fixed."
Where the voters differ by party is on who to blame. In the case of Snipes missing the ballot deadline by two minutes, both sides agree it was absurd. But most of the Republicans who spoke to BuzzFeed News blamed Snipes, some suggesting that she may have done it on purpose because the results weren't favorable to her Democratic leanings. The Democrats blamed the state for not forgiving those two minutes, some suggesting the results weren't favorable to its Republican leanings. A few blamed both.
Most of the Republicans who spoke to BuzzFeed News said they believed in voter fraud and election tampering, and many mentioned rumors they had heard about ballots being stolen, or people filling out blank ballots on purpose.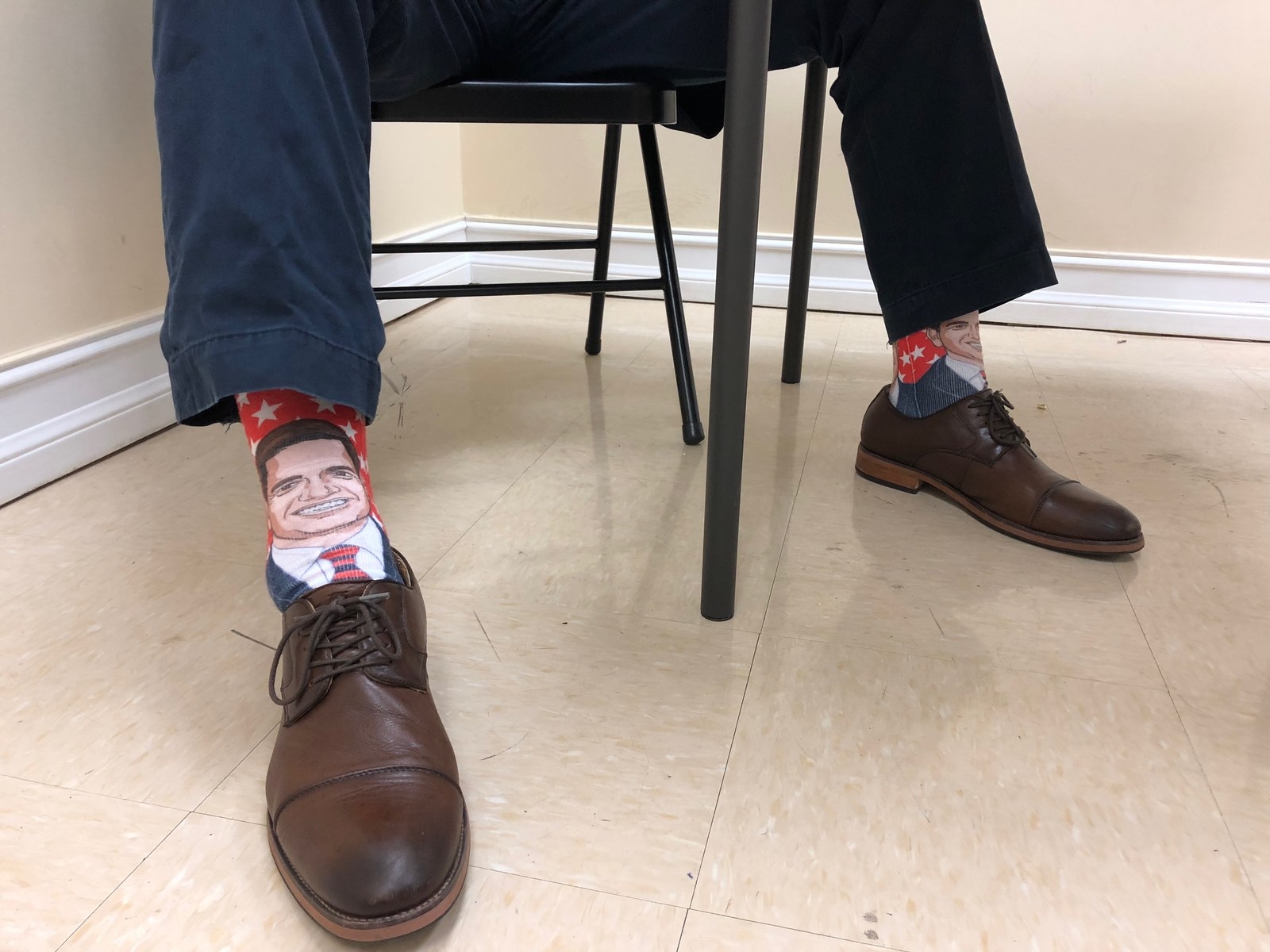 Democrats brought up voter suppression and the marginalization of low-income voters and voters with disabilities. One example was the thousands of voters whose ballots were not counted because their signature on the ballot did not match the one they registered to vote with.
A judge on Thursday ruled that the state law allowing election officials to reject those ballots "with no standards, an illusory process to cure, and no process to challenge the rejection," was unconstitutional, and required that all those voters be given until 5 p.m. Saturday to prove that their ballots were legitimate, or "cure" them, so they could qualify for the recount.
Five of the voters BuzzFeed News spoke with had faced this issue, including Williams, who provided an affidavit in the Democrats' lawsuit over the law.
"I was able to leave work to cure my ballot because I have a job that lets me do that, and I have a car," Williams, a Democrat, said. "But I don't know anyone else who could just leave their job and go down there and fix their signatures … and how are people without a car supposed to get to the [elections office] under a time limit?"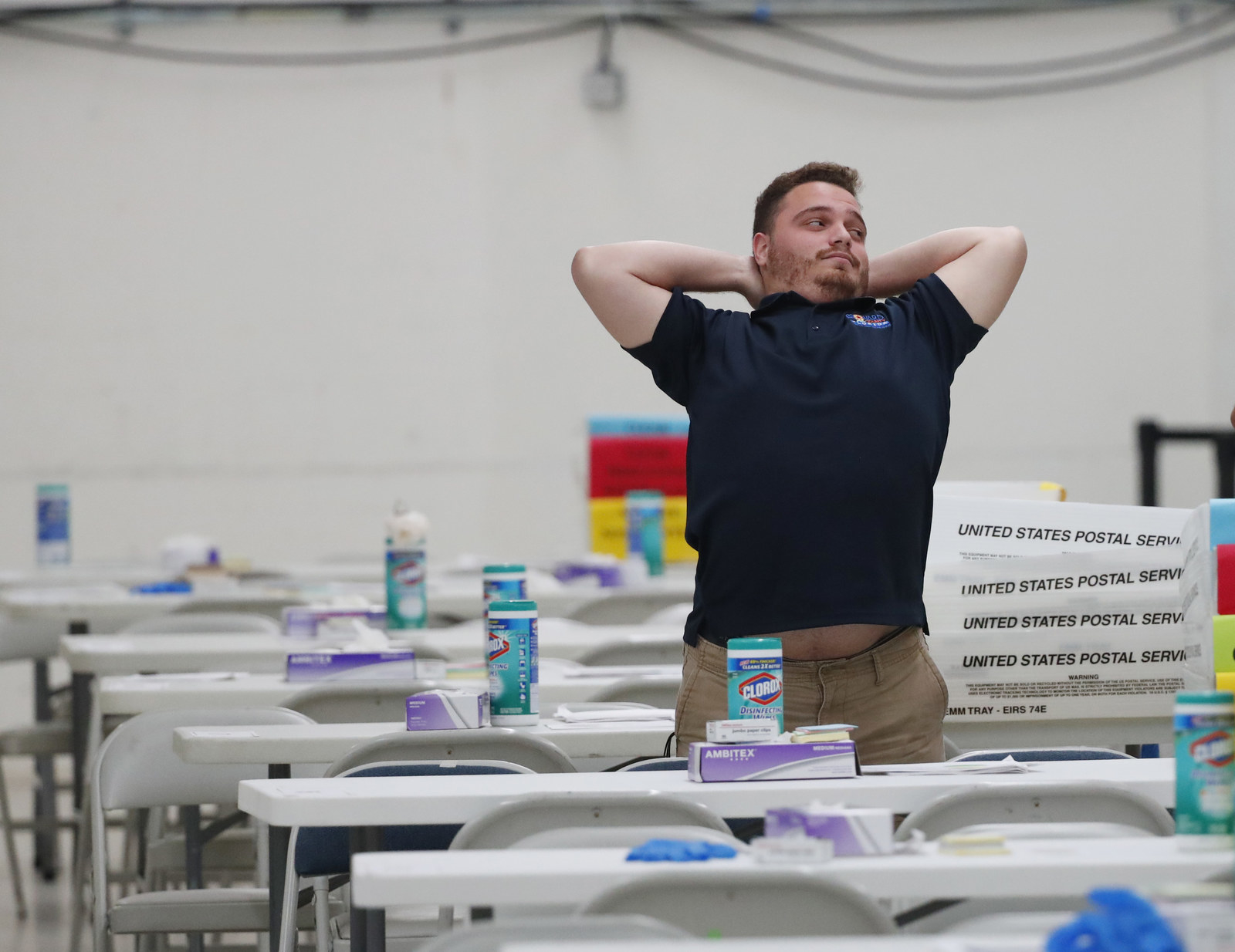 But everyone who spoke to BuzzFeed News — Republicans, Democrats, activists, protesters, volunteers, voters, and attorneys — agreed that something needed to change about Florida's election laws and vote-counting systems, saying that the systemic breakdown had happened too many times.
"At the end of the day, if the election works out against my own wishes, then that's OK. That's the game. That's fair," Caroline McNail, a 70-year-old Broward County voter who had issues with her signature, said. "But to have all this chaos, it's just not democracy."