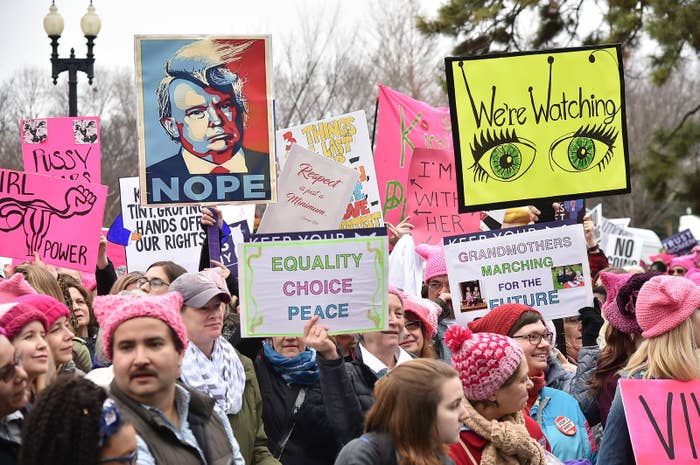 As Democrats work to retake control of Congress, they're running up against a major question for the party: Can they support a candidate who opposes abortion rights?

There is a growing disagreement among Democrats over whether it is worth the sacrifice to compromise their party's reputation of being an advocate of women's reproductive choices in order to win back seats in Congress — or whether that sacrifice is necessary.
To broaden their reach in the era of Donald Trump, most Democrats accept their party's game plan. In order to win in the red states they'll need to take back Congress or the White House, they'll need to focus on an economic message that appeals to rural voters instead of buckling down on divisive social issues.
But whether they should draw the line on abortion rights and if a candidate who is anti-abortion rights has any claim to the Democratic party mantle — or its money — is a hotly contested debate raging through the party.
"We do not have to compromise on protecting women's health to win back the House or Senate," Democratic New York Senator Kirsten Gillibrand told BuzzFeed News in a statement. "I plan on doing everything I can to help recruit, support and mentor pro-choice women candidates all across the country."
But even as the party's base has been activated with nationwide women's marches and other pro-choice rallies since Trump's election, the problem for liberals is that abortion isn't exactly seen as a means to expanding the Democratic map and winning political power.
Red state Democrats, regardless of how they feel about abortion, tend to avoid the subject in their campaign messaging. Instead, they focus on kitchen-table issues, like jobs and the economy, a safe-zone for candidates who have to run in districts that aren't safely blue.
"This is not an issue that is one bit really helpful to talk about in swing districts," a Democratic member of the House said. (Several sources on both sides of the issue spoke to BuzzFeed News on the condition of anonymity for this article in order to speak candidly.) "It's very much a divisive issue."
"If I get asked about my views on abortion… I just say, I'm pro-choice, but that's not what I focus on. I focus on jobs and the economy, and I get off the topic as quickly as I can," the member said.
New York Rep. Sean Patrick Maloney, a moderate Democrat whose district voted for President Donald Trump by two points in 2016, argued to BuzzFeed News that a strong economic message can help give Democrats in difficult districts cover on social issues.
"I think if you have those issues right, and you're in a good relationship with those voters, they'll cut you slack on a lot of other things, from abortion to gay rights to things like gun safety," said Maloney, who is openly gay. "All I can tell you is there's a lot of examples of members who are able to hold positions that are at first blush at odds with the way the districts might think, and I think the reason is the voters trust them more broadly."
"If I get asked about my views on abortion… I just say, I'm pro-choice, but that's not what I focus on. I focus on jobs and the economy, and I get off the topic as quickly as I can."
The fight over whether abortion should be a litmus test for Democratic candidates recently rolled into the public debate over an unlikely contest — the race for mayor in Omaha, Nebraska. Liberal icons like Sen. Bernie Sanders and Rep. Keith Ellison, as well as the Democratic National Committee, faced significant backlash for backing Heath Mello, an anti-abortion Democrat who had a history of voting for laws that restrict abortion access in his state. Sanders and Ellison even joined Mello on a "unity tour" to support Democrats in local elections, earning criticism from progressive groups. (Mello eventually lost.)

NARAL Pro-Choice America President Ilyse Hogue issued a statement at the time, calling the tour less of a "'fight back tour' look more like a throw back tour for women and our rights."
Amid mounting pressure from abortion rights groups and the liberal base of the party, Perez backtracked in a statement, saying that supporting abortion rights was "not negotiable" for Democrats. "Every Democrat, like every American, should support a woman's right to make her own choices about her body and her health," Perez said in the statement, adding that "every candidate who runs as a Democrat should" as well.
Unfortunately for Perez, these statements triggered backlash from the other side, this time with congressional Democrats leading the charge. In multiple interviews House Democrat Minority Leader Nancy Pelosi openly disagreed with Perez's comments, saying that anti-abortion Democrats should "of course" have the support of the Democratic party.
When asked about Mello, specifically, Senate Minority Leader Chuck Schumer told BuzzFeed News earlier this year: "Democrats are a pro-choice party. I'm proudly pro-choice, but we don't have a checklist."
When asked whether he could support an anti-abortion rights candidate, however, Schumer said he wouldn't speak in the abstract, but that it would trouble him. "I'd try to persuade them to be pro-choice, even if they were personally pro-life."
A DNC spokesperson later told BuzzFeed News that the chairman "does not believe in a litmus test" for Democratic candidates and that he "recognizes there will be pro-life candidates in our party."
As the party pushes the view that it is open to a diversity of ideas, many Democrats see hypocrisy in the idea of a litmus test, regardless of what the base wants.
"They get to sit and watch Rachel Maddow and tweet about how unfair the world is while we're going out trying to win elections with one arm tied behind our backs," said Colin Strother, a Democratic strategist based in Texas, of "turn hard left" members of the party. "We need every tool in the toolbox that we can get."
North Dakota Sen. Heidi Heitkamp,, another red state Democrat who believes abortion is a personal decision, but opposes federal funding for abortions, told BuzzFeed News that suggesting all Democratic candidates should be in favor of abortion rights was "inappropriate" and "unfortunate." The Democrat added that abortion "should never be a litmus test for whether you're welcome in the Democratic Party."
Virginia Sen. Tim Kaine, Hillary Clinton's former running mate, said that he's been able to find a comfortable place in the party, despite his his personal opposition to abortion. While Kaine's position on the issue is rooted in his Catholic faith, he feels that individuals can make up their own minds and has a record of supporting pro-abortion rights policies as a lawmaker.
"People should be able to make their own moral positions," Kaine told BuzzFeed News. "I feel very free to have the position that I have. I do think this is a very important moral issue. ... I've lived according with my values."
But while many Democrats insist that anti-abortion candidates are welcome within their party, some say they don't feel like their views are accepted by the party brass.
Former Michigan Rep. Bart Stupak, an anti-abortion rights Democrat, told BuzzFeed News that he has seen "the opposite" of acceptance of those views in the Democratic party. Stupak left Congress in 2011 after receiving massive backlash and threats from abortion rights groups and activists for introducing an amendment to the Affordable Care Act that would prevent federal funding of abortion. Stupak called his life at the time a "living hell" in an interview with The Hill.
"I don't see any pro-life candidates they've been treating as real options," Stupak told BuzzFeed News, adding that this has been the case in the Democratic party his entire career.
Stupak pointed to his first campaign for the House in 1992, saying that the Democratic Congressional Campaign Committee (the campaign arm of the House Democrats) asked him to drop out of the race against a pro-abortion rights Democrat and funded his opposition. "When you're a right-to-life Democrat you're pretty much alone," he said.
"We're the minority because we cannot attract candidates that fit their district in the more conservative parts of the country," Stupak said.
Stupak told BuzzFeed News that he and some fellow members of Democrats For Life Of America, an anti-abortion rights organization, have tried to set up meetings with Perez to talk about his stance, but that the meetings "keep getting cancelled." A DNC aide told BuzzFeed News that they are working on scheduling a meeting "with elected officials, as they requested, and have not cancelled anything."
Former North Carolina Rep. Heath Shuler, another anti-abortion rights Democrat who left Congress in 2012, emphasized the importance of staying true to the "big tent philosophy" of the Democratic party and accepting diverse points of view, including anti-abortion ones.
"No one issue is going to put you in the majority, it's policy that puts you in the minority," Shuler told BuzzFeed News. "If everyone had to agree 100% on every single issue then we'll have to be just like the Republicans."
""Stop trying to chase the coal miner vote, motherfuckers aren't gonna vote for you anyway."
Still, some Democratic congressional aides expressed concerns that supporting anti-abortion rights candidates as a party could end up angering and alienating the most motivated part of their base — women who support abortion rights.

When the Democratic party added repealing a law that bans federal funding of abortion to its platform last year, it marked a height of the party's support of abortion rights. If the DNC and DCCC start backing down even more from their support of abortion rights, some aides worried the base may feel "betrayed or abandoned."
And it could mean losing the help of groups like NARAL Pro-Choice America and Planned Parenthood, both of whom organize their millions of activist volunteers around local elections and make significant contributions to Democratic candidates.
In a statement send to BuzzFeed News, NARAL's Hogue called supporting anti-abortion rights candidates "bad politics."
"The conversation about whether the Democratic Party has room for people who personally identify as pro-life is the wrong conversation and only plays into the hands of our political opponents," Hogue said. "Encouraging and supporting anti-choice candidates leads to bad policy outcomes that violate women's rights and endanger our economic security."
Some advocates criticized the very idea that abortion was itself purely a social issue, arguing that it most affects people in the very rural parts of the country that Democrats are trying to expand to.
"Women's issues ARE economic issues," Planned Parenthood Action Fund spokesperson Erica Sackin told BuzzFeed News in an email, echoing a common rallying cry used by congressional Democrats. "The idea that you somehow have to make a choice between women's health care and economic issues is ridiculous."
"We've seen what happens when politicians alienate women," she continued. "That's why women, especially women of color, have been marching in the streets in record numbers, shutting down the Congressional switchboards, flooding town halls, and at the forefront of the grassroots energy we've seen sweeping the country."
Some in the party remain convinced that they don't need pro-abortion rights candidates to be competitive, even in red states and districts.
"We've just got to go out and get really good pro-choice candidates! There is not a single [swing] district in this country where you can't get a good pro-choice candidate elected," a Democratic Senate aide said. "Stop trying to chase the coal miner vote, motherfuckers aren't gonna vote for you anyway, there's no way we're ever gonna get the coal miner vote."