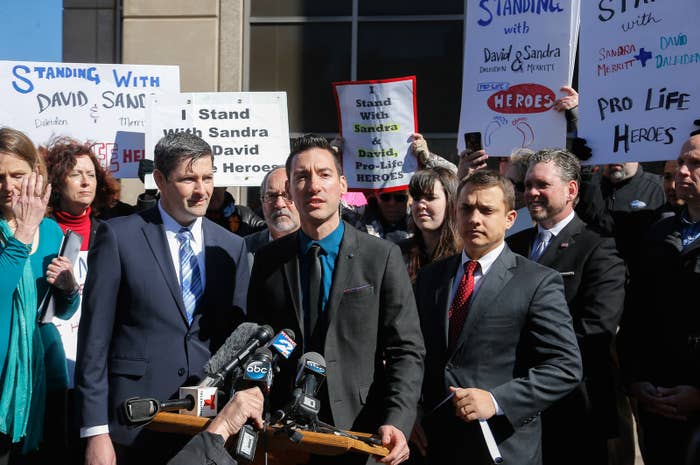 The founder of the anti-abortion group Center for Medical Progress (CMP) and the cameraman behind a series of secretly recorded videos of Planned Parenthood staff members surrendered himself to Harris Country authorities Thursday morning, his lawyers said.
David Daleiden was charged last week by a grand jury with tampering with a government record – a felon punishable with up to 20 years in prison – and for the "offer to buy human organs, namely fetal tissue, for valuable consideration."

Peter Breen, a member of Daleiden's legal team, told BuzzFeed News that if they are unable to "quash the indictments" against his client, they plan to reject any probation offer or other plea that "suggests any guilt on David's part," and head to trial.
"But we'll wait to see what the prosecutor has in min," Breen added.
As Daleiden, 27, traveled from sheriff's office to court house, a "parade of well-wishers" followed him, holding signs and a bound book of signatures requesting the DA drop the charges against him, Breen told BuzzFeed News.
Upon emerging from court, Daleiden gave a short speech to around 30 supporters, thanking them for their support and assuring them that a day would come when, "there is no longer a price tag on human life."
"The whole process took about an hour," Breen continued, adding that Daleiden is now back at home in California.

The grand jury was initially called to investigate Planned Parenthood Gulf Coast, but upon finding no evidence of wrongdoing instead charged Daleiden and his partner, Sandra Merritt, and warrants were issued for their arrest.
Daleiden made two court appearances and posted his $3,000 bond Thursday.
"The charges are without legal merit," Breen said, adding that "a dismissal of charges and and apology is what we expect and what [Daleiden] is entitled to."
Daleiden's team plan to file a motion for the charges to be dropped before the next scheduled court date on March 28.
Merritt also turned herself in Thursday morning. Attorneys for both activists said they plan to plead not guilty. Merritt's attorney did not tell reporters whether she would accept her plea deal.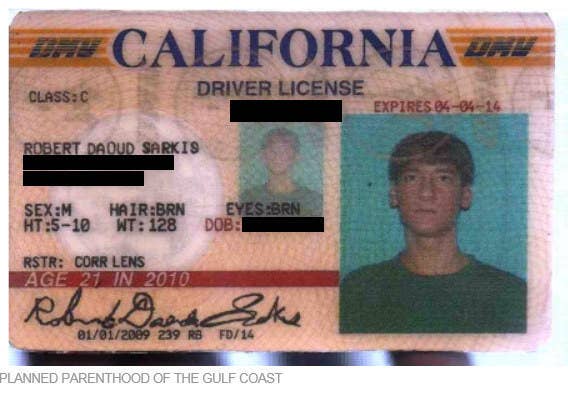 For three years, Daleiden and Merritt posed as representatives of a biomedical tissue procurement firm called Biomax. In doing so, authorities say they acquired fake government IDs and IRS status as a nonprofit organization for their fake organization. They also met and exchanged emails with many Planned Parenthood employees around the country, all the while secretly filming and keeping records of their meetings.
Josh Schaffer, a Houston lawyer who represents Planned Parenthood Gulf Coast in the Harris County criminal investigation, told BuzzFeed News that he believes the charges stemmed from an email exchange between Daleiden and Planned Parenthood officials in Houston. In the email, Daleiden offered to buy fetal tissue for $1,600 per sample. Planned Parenthood did not respond, Schaffer said.

"The charges against David Daleiden are legally and factually baseless," Breen said in a statement. "David used standard undercover journalism techniques to catch Planned Parenthood staff agreeing to alter abortion procedures to get more intact organs and tissue from aborted babies, presumably without telling their patients."
Planned Parenthood has donated fetal tissue to scientific research firms in exchange for reimbursements for costs involved. It's illegal to buy or sell fetal tissue for profit.
Along with the announcement that Daleiden will present himself before Judge Brock Thomas of Harris County, CMP released a new secretly recorded video alleging to show a Planned Parenthood accountant using "gimmicks" to hide illegal sale of fetal tissue.
"Planned Parenthood's self-interested political maneuvers will never silence free speech or the citizen press," Daleidan said Wednesday. "The new video released today shows that no amount of half-baked barratry can conceal Planned Parenthood's barbaric harvesting and profiting off baby body parts."

Read Daleiden's indictments below.