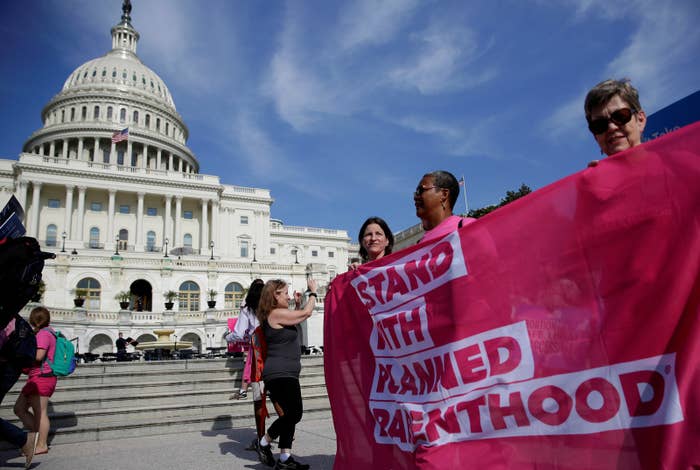 A federal judge in Baltimore ordered the Trump administration to resume funding two entities receiving grants through the Teen Pregnancy Prevention Program (TPPP) on Wednesday afternoon, days after two similar rulings were issued in federal courts in Washington state and Washington, DC.
Trump's Department of Health and Human Services abruptly cut funding for TPPP in August — two years before the original grants were supposed to end. The grants fund programs providing "comprehensive sexual education," access to contraception, and health opportunities for teens, mostly in low-income areas. HHS later reopened applications for the funding, but with strict requirements focused on abstinence education.
This is the third ruling ordering the Trump administration to continue the TPPP contracts within a week. Last week, a judge in the US District Court for the District of Columbia determined that HHS's decision to cut funding for four other recipients of the TPPP grants was "arbitrary and capricious," and Tuesday night a judge in Washington state found the same thing, ordering the re-funding of three Planned Parenthood affiliates and questioning HHS's motives to cut funding. A fourth lawsuit over the grant cuts is pending before a federal judge in Seattle; that case is still being briefed.
These rulings come as the Trump administration has shifted the focus of both domestic and international women's health programs toward abstinence education.
After HHS announced in August that it would cut funding for all TPPP grants, it said it would allocate $10 million toward researching "more effective" methods of teen pregnancy prevention instead. That funding would come with an emphasis on "sexual delay" and "sexual risk avoidance," which are terms used by advocates to mean abstinence education.
On Friday, however, HHS gave current TPPP grantees the opportunity to reapply for the grants and compete with new organizations for funding — but only if the organizations make huge changes to their programs to focus on detailed abstinence and "sexual risk reduction" strategies. The new funding opportunity guidance included instructions for grantees to "identify and reduce the opportunities for sexual activity" among teenagers, and compared teen sex to "drug use, lack of physical activity, and failing to use a seatbelt when riding in a car."
This announcement came long after the lawsuits were filed, and just days before the second of the three rulings.
Sean Sherman, the lead attorney for the challengers in the DC case, told BuzzFeed News Wednesday that the new funding opportunity announced Friday was unlikely to affect the lawsuits. "It shouldn't have any bearing on whether the termination for existing grants was illegal, which is what the case is about," he said.
"The Justice Department could try to argue that … the grantees could go ahead and compete for their funding," he added, "but telling someone they can compete for something they've already won is never very convincing."
Before HHS cut the funding and revamped the requirements for TPPP, 81 grantees received $213.6 million in federal funding and served more than a million teenagers across the country each year.
Following HHS's announcement in August, Planned Parenthood quickly filed a lawsuit on behalf of its three affiliates that received funding from the program. Seven other former TPPP grant recipients also filed separate lawsuits in their districts to challenge the funding cuts, including individual organizations (such as Policy and Research LLC in Washington and the Healthy Teen Network in Baltimore), as well as local governments that received the grants (such as the Mayor and City Council of Baltimore and King County in Seattle).
Federal judges in all three cases decided so far indicated that they ruled against HHS because the agency failed to provide a valid reason for terminating the grants. The judges all cited the congressional requirements for TPPP grant recipients: that they are "medically accurate and age-appropriate programs aimed at preventing teen pregnancy."
"HHS has not shown that it considered any of these congressionally prescribed factors when making its decision to end the plaintiffs' program periods early," Judge Catherine Blake of the US District Court for Maryland wrote in her ruling Wednesday, echoing the statements made by the judges in DC and Washington state.
"HHS may have had a sufficient, lawful reason, for terminating the plaintiffs' [grants] early," Blake continued, "but because it failed to provide a reason in this case, or to meaningfully explain the factors it considered relevant to its decision, it is impossible to determine what was motivating the agency and whether that motivation was relevant at all."
Judge Thomas Rice, who serves as the chief judge of the US District Court for the Eastern District of Washington, cast similar doubts on HHS's intentions based on testimony from Justice Department lawyers arguing on their behalf. In his ruling April 24, Rice wrote that cutting funding for Planned Parenthood's affiliates would cause "irreparable harm to the youth they serve, their staff, the communities, and Plaintiffs' reputation within those communities."
Rice also stated that HHS, by its own statements, "concede that their concerns with the TPP Program are based on 'policy concerns,' not the alleged ineffectiveness of the Program," the ruling reads.
"Public interest weighs in favor of Plaintiffs," Rice wrote, "as it would prevent harm to the community … and prevent loss of data regarding the effectiveness of teen pregnancy prevention."
In a statement sent to BuzzFeed News Wednesday evening, HHS said: "We are disappointed with today's ruling. As numerous studies have shown, the Teen Pregnancy Prevention Program is not working. Continuing the program in its current state does a disservice to the youth it serves and to the taxpayers who fund it. Communities deserve better, and we are considering our next steps."
The Justice Department told BuzzFeed News that it is "currently evaluating our options" on whether or not to pursue an appeal.
CORRECTION
The US District Court for Washington, DC, ordered the Trump administration to continue funding Planned Parenthood affiliates receiving TPPP grants. A previous version of this article misidentified the location of the court.