CHAPPAQUA, New York — Video of Hillary Clinton showed her struggling to walk after she unexpectedly left New York City's annual 9/11 memorial ceremony early on Sunday, prompting her campaign to reveal hours later that the candidate was dehydrated and had been diagnosed with pneumonia two days before.
Clinton was filmed stumbling and being helped into a van as she made a sudden early departure from the ceremony at Ground Zero. At the time, spokesman Nick Merrill told reporters Clinton "felt overheated" and had left for her daughter Chelsea's apartment.
Dr. Lisa Bardack, the Democratic nominee's doctor since 2001 and the chair of internal medicine at Mount Kisco Medical Group, visited Clinton at her house in Westchester County after the candidate arrived home from the ceremony around 1:30 p.m., according to a campaign aide.
The visit followed a separate examination from Bardack on Friday to treat Clinton for a cough related to allergies, the doctor said. After that Friday exam, she was diagnosed with pneumonia, put on antibiotics, and advised "to rest and modify her schedule."
Clinton will not travel to California on Monday or Tuesday as originally planned, a spokesman said Sunday night.
"While at this morning's event, she became overheated and dehydrated," Bardack said in the statement on Sunday, passed on to reporters by the campaign. "I have just examined her and she is now re-hydrated and recovering nicely."
He said that her doctor recommended she relax for two days, but Fallon said that she was making calls from home and participating in events over the phone. He said in the coming days the campaign will release more of Clinton's medical records.
Fallon added that the delay in giving press information about Clinton's health was the aides' fault, and not Clinton's.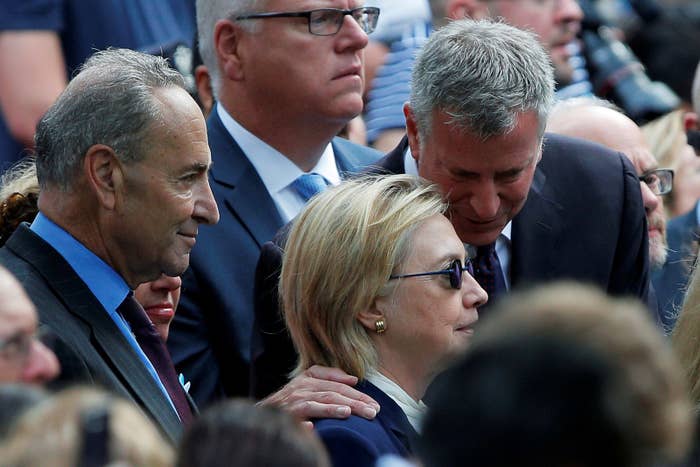 Bardack's 61-word summary of the Sunday visit follows the evaluation she released last year of Clinton's health, including the concussion Clinton sustained as secretary of state in 2012.
Video from the 9/11 ceremony, uploaded to Twitter on Sunday morning, appeared to show the Democratic presidential candidate being helped into a black van by aides and US Secret Service agents. The man who filmed the video, New Jersey resident Zdenek Gazda, 50, told BuzzFeed News he was at the memorial when he spotted Clinton being led away.
"I take two pictures before she passed me," said Gazda, who said he moved to the US 24 years ago from what was then Czechoslovakia and is a Clinton supporter. "She looked like everything was fine and everything was good."
"I just saw the secretary waiting for the van and the van came and she can't walk inside and she gets helped," he said. "She lost her shoe and everything."
Campaign staff initially refused to tell reporters traveling with the Democratic presidential candidate what had prompted the early departure, after Fox News reported that Clinton had experienced a "medical episode."
She arrived at the memorial at 8:18 a.m. and left unexpectedly after about an hour and a half, according to pool reports. Later that morning, Merrill released the following statement:
Secretary Clinton attended the September 11th Commemoration Ceremony for just an hour and thirty minutes this morning to pay her respects and greet some of the families of the fallen. During the ceremony, she felt overheated so departed to go to her daughter's apartment, and is feeling much better.
In an interview with CNN Monday Clinton's press secretary Brian Fallon said that "pneumonia is the extent of what she's been diagnosed with" and that Clinton is "not contagious."
After more than 90 minutes, Clinton left her daughter's Madison Square Park apartment around 11:45 a.m. ET, waving to the press and posing for a photo with a young girl.
"I'm feeling great," she said, walking to her car. "It's a beautiful day in New York."
Clinton arrived at her home in Chappaqua around 1:30 p.m. Her husband, former President Bill Clinton, was in the house when she arrived, according to the campaign. Neither Clinton appeared to leave their residence all afternoon.
It was not clear exactly when Dr. Bardack, the physician, conducted the examination, but several SUVs and sedans were seen leaving the Clinton home on Old House Lane throughout the day.
Temperatures hovered around 82 degrees late on Sunday morning, with a humidity rate of around 41%, according to Weather.com.
A pool reporter said it was not clear whether Clinton was standing directly in the sunlight when she fell ill, but "there was not a ton of shade out there."
Rep. Joe Crowley, who was with Clinton, told BuzzFeed News, "It was stiflingly hot... and for this time of the year it was unusually warm."
"I got there around 8:40, she gave me a big hug and a kiss, and was happy to see me," Crowley said. "She said, 'Hey Joe! How you doing?' and asked about my family. She was totally fine. She just got overheated. We all did."
A law enforcement official who claimed they were "15 feet" from Clinton told Fox News that they saw the Democratic candidate "stumble off the curb" and into a van, losing one of her shoes in the process.
She was "clearly having some type of medical episode," the source told Fox News.
As her motorcade left the scene, pool reporters were initially penned in, but later released.
"I saw the video, I think she got overheated," said Rep. Crowley. "I drank a gallon of water."
"Anyone who says they wasn't hot doesn't know what they are talking about," Crowley said. "Chuck Schumer's shirt was blue at the beginning and it was dark blue by the time we left. That's how much he was sweating. We were all sweating and praying for a breeze."
"Hillary and I chatted for quite a while about our remembrances of 9/11/01 and our families," Sen. Schumer said in a statement. "It was pretty hot out there, but she seemed fine to me, and left on her own accord."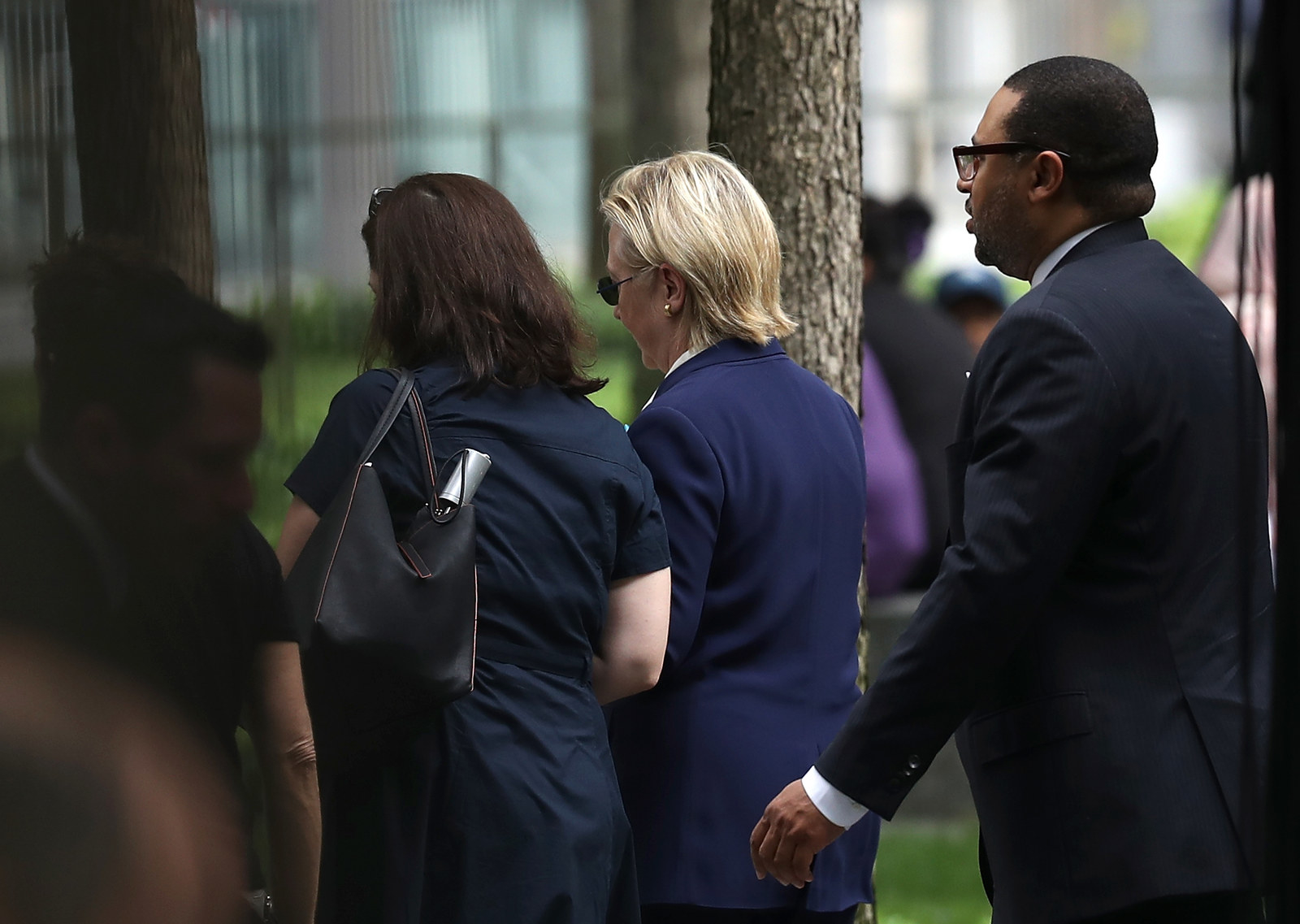 Clinton's health has been the subject of conspiracy theories online, which have been increasingly embraced by the Trump campaign. She ignited the rumors by breaking into a four-minute coughing fit last week during a day of Labor Day events, later joking that she was simply "allergic" to Trump.
Speaking to reporters the next morning on her campaign plane, Clinton said she was feeling better.
"Now the advice, of course, is just don't talk for a day or two," she laughed. "Yeah, that's not gonna work for me. I'm just gonna keep talking and hope that power through and tomorrow I'll be fine."
Clinton also noted that she "upped" her antihistamine to "try to break through" the allergies. "As I said, it happens, you know, like twice a year. It happens in the spring when the pollen goes up, it happens in the fall when the pollen goes up. It lasts for a couple days and then it disappears."
That day, Trump weighed in on Twitter, asking why the media "never covered Hillary's massive 'hacking' or coughing attack, yet it is #1 trending," he wrote. "What's up?"
After the coughing episode, Clinton joked that there was already "a long, I'm sure, video record that someone is compiling right now going back decades," she told reporters on her plane.
Her communications director, Jennifer Palmieri, chimed in, "Oh, it's been done."
Ema O'Connor and David Mack reported from New York City. Ruby Cramer reported from Chappaqua. Kate Nocera and Talal Ansari contributed reporting from New York City.