Special agents at the ATF are investigating three of the four fires that burned predominantly black churches last week to determine if any were hate crimes, federal officials told BuzzFeed News.
The three church fires erupted on three consecutive days beginning Monday of last week, in Knoxville, Tennessee; Charlotte, North Carolina; and Macon, Georgia.
The ATF, which is federally mandated to investigate all church fires and bombings, said Tuesday that "we have no reason to believe these fires are racially motivated or related." But, the officials said, "we are in the early stages of these investigations."
"We have special agents and certified fire investigators from several field divisions investigating the fires to determine cause and origin," the agency said in a statement.
The fires in Knoxville and Charlotte have been confirmed as arson by local fire departments and the ATF. The fire in Macon has yet to be determined arson, ATF Public Information Officer Larry "Nero" Priester told BuzzFeed News.
"Based off of what fire investigators have found so far, there is no basis for a racial motivation," Priester said. "If we could prove that the fire was intentionally set somehow, that would be the first step toward determining hate crime." Other factors could include "if there was graffiti written inside using racial slurs," he said.
The ATF is in touch with fire investigators in Charlotte and Knoxville to investigate a any possible connection between the fires.
"At this point we haven't found any connection," Priester said.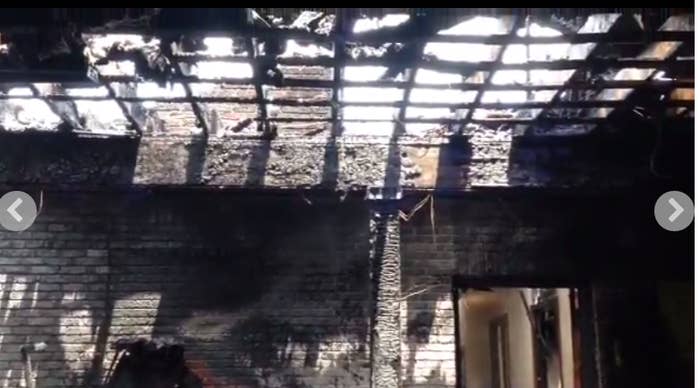 Gerod King, spokesperson for ATF's South Carolina and North Carolina divisions told BuzzFeed News that the fire that scorched Briar Creek Baptist Church in Charlotte has been confirmed as arson, though they have no suspects at this time.
King reiterated Priester's statement that investigators are not seeing any indication of a connection between the various church fires, though investigations are on going.
"Someone who's intent on doing something to someone's church usually wants people to know what they did," King said. "They often call in to get credit. We're seeing nothing like that here."
FBI spokeswoman Shelley Lynch said that their Charlotte, North Carolina branch had opened a their own and preliminary inquiry, working with the ATF and local officials' investigation, into the "suspected arson" at the Briar Creek Road Baptist Church, to determine if "any federal crimes were violated" – including any hate crimes.
Captain DJ Corcoran of the Knoxville Fire department told BuzzFeed News that like the church in Charlotte, the College Hills Seventh Day Adventist Church has been officially determined arson, though there is no reason to suspect it of being a hate crime.
"A van in the parking lot that was the property of the church was burned, ... straw and plastic bags were against the brick façade of the church and a metal door leading into the church," Corcoran described.
"As all of the items that were burnt were already on site, it is almost as if it was not done by intent, but by an opportunist vandal."
Joyce McCants, spokeswoman for the Knoxville Division, confirmed that "Knoxville FBI has been engaged with the local authorities regarding the church fire," but that the investigation is ongoing.
The fires occurred less than a week after Dylann Roof allegedly went on a racially-motivated killing spree at a historic black church in Charleston, South Carolina.
"I think the cause for alarm would be the proximity of these fires to the incident that occurred in Charleston," an ATF source told BuzzFeed News.
"Church fires like this are no longer very common," the source added. "They are no more common than any other fire."
Three other churches in South Carolina, Florida, and Tennesee caught fire last week as well. The fires in Florida and Tennesee have been attributed to electrical issues.
The last of the six fires, which occurred early Friday morning at the Glover Grove Baptist Church in Warrenville, South Carolina, is still under investigation by the local County Sheriff's office and the ATF.
King of the South Carolina ATF division said that arson has not been ruled out, but they have not yet determined the cause of the fire.