A small blast in Central Park in New York City severed a man's foot on Sunday, police told BuzzFeed News.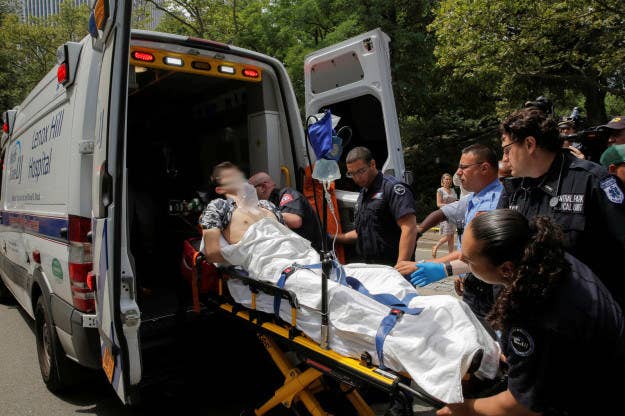 The 19-year-old tourist had a horrendous welcome to the Big Apple when he stepped on what witnesses described as discarded fireworks near 61st St. and Fifth Avenue.
Connor Golden was visiting from Fairfax Virginia with two friends when he unwittingly set off a homemade explosive device. His friends told police they all jumped from a rock to the ground below, triggering an explosion. Golden's foot was severed and he later had to have his leg surgically amputated below the knee.
The friends told witnesses and police that they were not carrying any fireworks or explosives.
Fire Department of New York Deputy Assistant Chief Michael Gala told reporters officials did not suspect any of the three young men of being involved in the creation or planting of the explosive.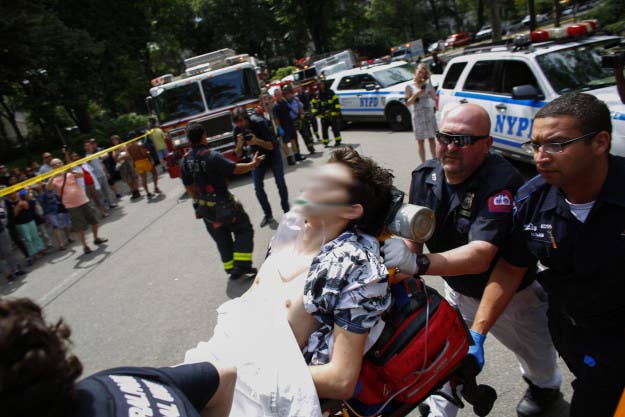 Golden was quickly brought to the nearby Bellevue Hospital where he was in critical but stable condition, police said.
Witnesses and vendors were lead away from the scene and the area has been cordoned off.
"His left foot looked severed. It was very graphic," another witness, Sara Gordon, 27, told the Daily News. "I was running back and forth to direct the police here. It sounded like a cannon. I thought it was a 4th of July thing."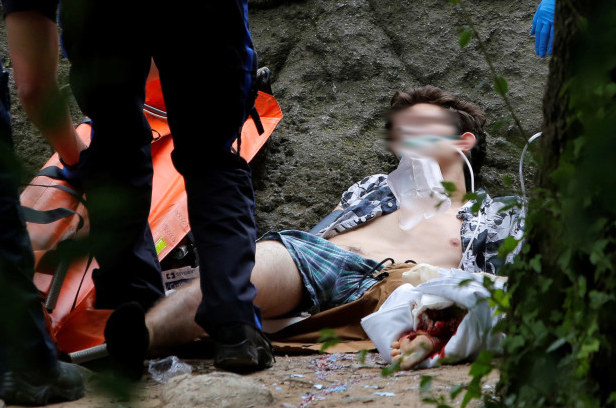 A witness told the Daily News he attempted to keep Golden conscious, adding that his friends appeared to be panicked and in shock.
"His foot was all but gone," John Murphey, 53, said.
Golden is a student studying music engineering at the University of Miami. He and his friends were in town for the holiday weekend.
Golden's birthday is next weekend, his grandmother Roberta Golden told the New York Post, and he has asked for a longboard.
Roberta said she thinks Golden wants to continue at college and continue playing sports, though she said she has "no idea how he would go about it."
In a press conference later on Sunday, NYPD bomb squad chief detective Mark Torre said there was "no evidence" that the blast was terrorism-related.
He said police are treating it as a homemade explosive device associated with the holiday weekend.
"It's not unusual for the public to make fireworks around the [4th of July]," he said.
Torre said the bomb squad is "very familiar" with homemade explosive devices and fireworks, though he had never before seen one triggered by being stepped on.
Though he would not go into detail, he said forensic details showed that the explosive was not created to go off once stepped on. Torre added that it was hidden in a spot where people usually do not walk, and that investigators suspected it was an "experiment."
"You don't have to be anything more than good with computers ... to figure out how to make one of these," Torre said.
Though police were still investigating the incident, every other part of the park remained open for use.
The explosion was heard by crowds gathered nearby for the funeral of Elie Wiesel, the Pulitzer Prize winning Holocaust survivor who died Saturday — though there is no evidence the blast was related to the funeral.
Each 4th of July, an average of 230 people end up in the emergency room for fireworks-related injuries, the U.S. Consumer Product Safety Commission says.