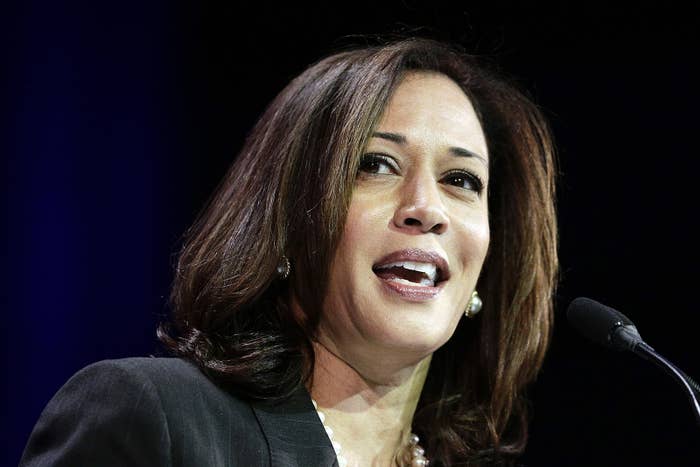 Attorney General of California Kamala Harris announced Wednesday a multifaceted program to come down hard on "cyber exploitation" — explicit images or videos uploaded to shame or extort someone, often an ex, often called "revenge porn."
The program was created with the help of a regularly-meeting task force comprised of representatives from some of the world's leading internet companies – such as Twitter, Facebook, Google, and Yahoo, among others – as well as victim advocates, academics, and members of law enforcement, Harris said at a press conference.

"Something people don't realize is that this is an issue of security," Harris told BuzzFeed News shortly after the launch. "The victims of these crimes are no less victimized than someone who has been harmed physically – the toll it exacts on these women in terms of trauma, devastation, and violation is equal to any other crime."
The task force met over the course of nine months, during which many of the companies, including Twitter, Google, and Facebook, have created and launched programs that enable users to remove explicit content from their sites that has been posted without the subject's consent. A "research hub" website for victims of cyber exploitation was launched Wednesday and was the product of the collaboration between the internet superpowers and the Attorney General's office.
The website contains links that can help victims remove the unwanted images or videos from the website they were posted on, tells them who to contact to seek help from victim advocacy groups, trauma centers, and law enforcement to help prosecute those who posted to pictures. The site also has resources for law enforcement, the tech industry, and anti-cyber exploitation activists to help combat the crime.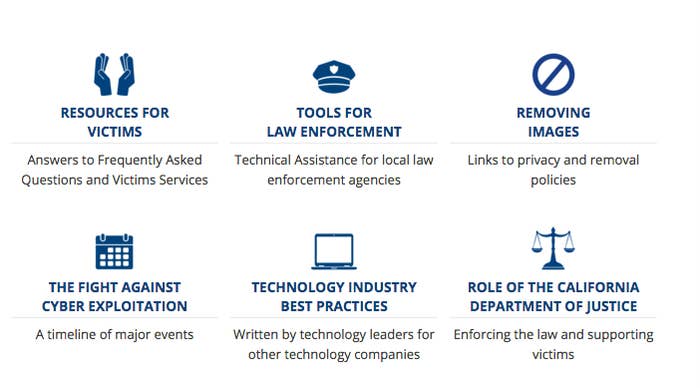 Harris told BuzzFeed News that part of the importance of this initiative is bringing awareness to a crime that many do not realize is a crime.
"Victims of cyber crime may not walk into a police station partially because they don't know there is someone there who can help them," Harris said, adding that law enforcement doesn't always know how it can help either.
Another aspect of the initiative is to educate law enforcement about the issue, give officials the proper technology and training to investigate the crime, and give them the legal ability to prosecute it. To this end, two bills signed by the Governor of California will go into effect on the first day of 2016. The first allows law enforcement to "demand and destroy" posted images, the second allows the case to be prosecuted where the victim lives and where he or she was affected, as opposed to having to be prosecuted from where the image was posted from.
Part of the importance of passing these laws and creating these resources, Harris said, is because of how new and different these problems are from any other cases of slander, harassment, or invasion of privacy that the Department of Justice has had to deal with in the past. Another aspect, is how disproportionately it affects women.
Harris' team of researches found that in 90% of these cases, the victims are women. "There is no question in my mind when you are talking about a woman as a victim and the incident involves ... sexuality, a huge amount of judgement is thrown in her direction," Harris told BuzzFeed News, going on to explain the importance of eradicating the term "revenge porn."
The women involved in these cases "are not porn stars." The pictures posted were often taken consensually, by them or by an ex-partner, but they were not shared consensually, and therefore it is not pornography, Harris argued. What is done in a consensual relationship is not for us to judge, she continued, "So when it's used without their consent we shouldn't transfer over and all of a sudden say it's pornography ... It's just not fair to these women."
At the conference Danielle Keats Citron, a law professor at the University of Maryland who was involved in researching cyber exploitation, spoke about how detrimental these crimes can be to the lives of the victims. On top of the humiliation of having explicit images sent to their friends, families, and coworkers – a common form of cyber exploitation – "victims had a hard time finding employment because [the images] appeared prominently in online searches," Citron explained. "They were terrified that strangers would confront them in person. They moved; some changed their names; all were distraught. The fallout was devastating,"
Just as California is at the forefront of the tech movement in general, it has also been by far the most active state investigating and prosecuting cyber exploitation cases – beginning with the first ever conviction of a cyber exploitation criminal earlier this year. In April, Kevin Bollaert, the owner and operator of a widely-used revenge porn site based out of San Diego, was sentenced to 18 years in prison.
While other states have shown interest in following California's lead in this field, Harris told BuzzFeed News, nothing like Harris' task force, information hub, or bills have occurred anywhere else in the country.
"So many people are living their lives in a big way online," Harris said. "This is an all too rare example of [the tech] industry and government coming together to solve a problem. ... We need more commitments like this in order to live functionally in this new world."