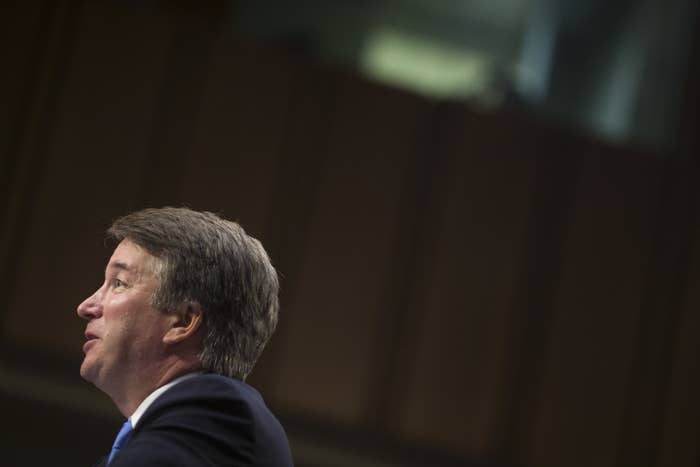 A leaked email from Judge Brett Kavanaugh sent during his time serving under President George W. Bush indicates that the Supreme Court nominee may not consider Roe v. Wade — the 1973 Supreme Court decision that legalized abortion nationwide — to be broadly accepted as the "settled law of the land."
The email, sent in March 2003 and obtained by the New York Times, was in response to a draft of an opinion editorial intended to be signed by "pro-choice" women, according to the subject line. Kavanaugh suggested deleting a line in the proposed op-ed reading, "it is widely accepted by legal scholars across the board that Roe v. Wade and its progeny are the settled law of the land."
"I am not sure that all legal scholars refer to Roe as the settled law of the land at the Supreme Court level," Kavanaugh responded, "since Court can always overrule its precedent, and three current Justices on the Court would do so."
The email was leaked to the New York Times Thursday, and was part of the thousands of documents related to Kavanaugh's records that were turned over to the Senate Judiciary Committee but deemed "committee confidential," preventing them from being made public or discussed during the public hearings.
During the second day of his hearing, Kavanaugh was repeatedly questioned by senators on his stance on abortion and whether, if he is appointed a Supreme Court justice, he would vote to overturn Roe v. Wade.
"[Roe] is settled as precedent under the Supreme Court," Kavanaugh said repeatedly throughout Wednesday's marathon hearing. "One of the important things to keep in mind about Roe v. Wade is it has been reaffirmed many times over the years, as you know."
When asked to provide his personal opinion on whether abortion should be legal, Kavanaugh declined.
Sen. Dianne Feinstein, ranking member of the Judiciary Committee, asked Kavanaugh about the email during Thursday morning's hearing, requesting that he, in light of the email, "Please tell us once again if you think Roe is settled law and if you think it's correctly settled."
Kavanaugh responded that his 2003 email was warning against "overstating" the opinion of "legal scholars," rather than suggesting that he himself didn't think Roe was "settled law."
"I am always concerned with accuracy," Kavanaugh said.
He then reiterated his statements on Roe from Wednesday, calling the case "an important precedent of the Supreme Court" that "has been reaffirmed many times."
Feinstein then asked Kavanaugh for "a yes or a no" on whether he thought the law was "correctly settled," but Kavanaugh again declined to give his opinion.
"When you're in this seat, you're not sitting here as yourself, you're sitting here as a representative of the judiciary," Kavanaugh said, adding that he was answering questions the same way past Supreme Court justices had during their appointment hearings.
"Basically all the justices have not given hints or forecasts or preview" on the decisions they will make on the Supreme Court. "I cannot give a thumbs up or thumbs down."
After this exchange, the leaked email was officially added to the record.
While the email stops short of Kavanaugh providing his opinion on whether Roe should be repealed, his statement about the Supreme Court being "always" able "to overrule its precedent" are in opposition to what he implied Wednesday when he repeatedly referred to the landmark abortion decision as "precedent on a precedent."
The "committee confidential" documents were a contentious topic of debate during the hearing from the moment it first started Tuesday morning.
The new leaks reignited the debate at the start of Thursday's hearing, triggering speeches from Democrats expressing their disapproval of the unusual confidentiality and the lack of time they were given to review the thousands of documents.
"The fact is we should agree on who determines what is 'committee confidential,' what is released to the public, particularly in the case of Supreme Court nominees," Feinstein said.
Democratic Sens. Dick Durbin, Mazie Hirono, and Cory Booker, among others, took time to express exasperation at what they called lack of transparency in Kavanaugh's hearing process.
"I would defy anyone reading this document saying that it should be deemed confidential in any way, shape, or form," Hirono said about the leaked email.