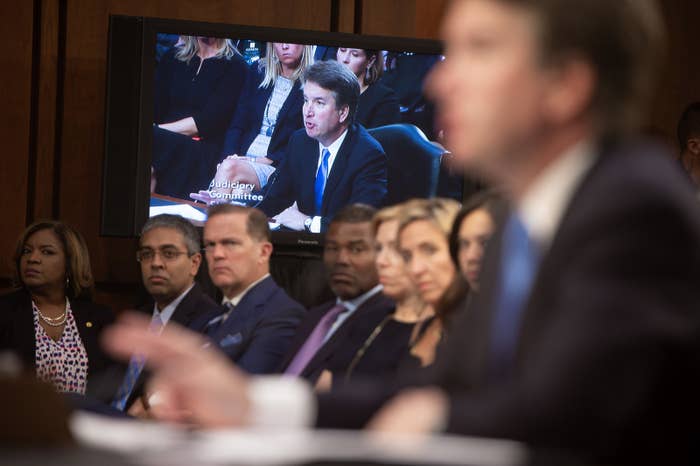 In response to questions about his stance on abortion from Sen. Dianne Feinstein, Judge Brett Kavanaugh, President Trump's Supreme Court nominee, called Roe v. Wade — the 1973 Supreme Court decision that legalized abortion nationwide — "settled Supreme Court precedent" that has been "reaffirmed many times" over the years.
Wednesday was the second day of Kavanaugh's confirmation hearing, and the senators' opening questions revolved around three issues: Kavanaugh's beliefs regarding the extent of presidential power, gun control, and abortion.
Is Roe v. Wade "settled law," Feinstein asked Kavanaugh, "or can it be overturned?"
"It is settled as precedent under the Supreme Court," Kavanaugh responded. "One of the important things to keep in mind about Roe v. Wade is it has been reaffirmed many times over the years, as you know."
After this response, Feinstein asked about Kavanaugh's personal beliefs on "a woman's right to choose." He responded that "as a judge" he would respect the "important precedent" of Roe v. Wade and its reaffirmations.
The most important case reaffirming Roe, Kavanaugh said, was the 1992 case Planned Parenthood vs. Casey, which restated that the right to an abortion was protected by the Constitution and said that states could not place an "undue burden" on women's access to abortion. What constitutes an "undue burden" has since been the subject of many different court cases over state laws restricting abortion.
"When that came up, the Supreme Court didn't reaffirm it in passing," Kavanaugh continued, saying that Justice Anthony Kennedy and his fellow justices considered Roe very carefully and decided to reaffirm it, making Roe a "precedent on a precedent," Kavanaugh said.
Abortion and the future of the most important Supreme Court decision on this issue has been a hot-button issue surrounding the nomination since Kennedy announced his retirement.
Kennedy, who Kavanaugh would replace, was seen by advocates on both sides of the abortion issue as the one man standing between conservative legislators and the overturning of abortion rights nationwide.
It is believed by many advocates that Kavanaugh's confirmation hinges on the votes of two Republican senators: Lisa Murkowski and Susan Collins, who have voted against anti–abortion rights legislation in the past.
Both abortion rights groups, like Planned Parenthood, and anti-abortion groups, like Susan B. Anthony List, spent millions of dollars over the Senate recess on ads and actions in an attempt to convince those senators to vote for or against Kavanaugh's confirmation.
Kavanaugh has not given a direct answer about his own position on abortion rights during the confirmation process, but in the past he has written decisions and memos expressing anti-abortion sentiments. For example, in the late-2017 case Garza v. Hargan he wrote that the government had an interest in "favoring fetal life … and refraining from facilitating abortion."
Kavanaugh said in his hearing Wednesday that he is aware of the importance and sensitivity of the issue of abortion, and how deeply and passionately senators and voters alike feel about the issue.
"I don't live in a bubble," he said. "I live in the real world."