A student at Ohio State University in Columbus used a car to run down pedestrians and stabbed people with a knife on Monday before he was shot dead by police, authorities said.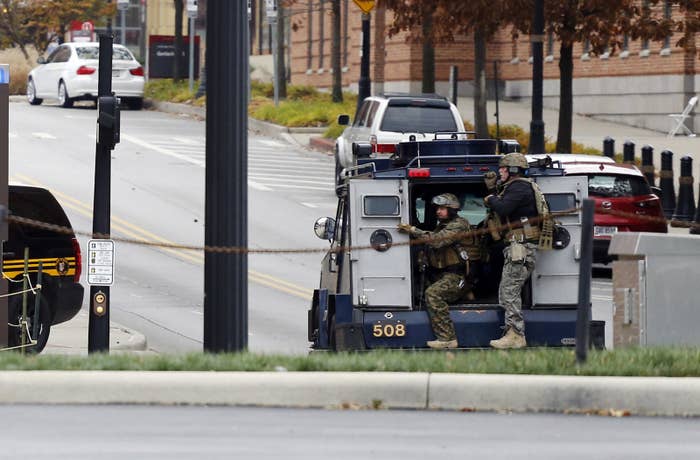 Shortly after 9:50 a.m. ET, the male student drove his car over the curb into a group of people before exiting his vehicle and using a butcher knife to stab multiple individuals, officials said.
A police officer responded within a minute of the attack and engaged the suspect, identified as OSU student Abdul Razak Ali Artan, before fatally shooting him.
Within minutes, emergency officials sent out an alert to students on campus, warning them to shelter in place.
"We believe the threat was ended when the officer engaged the suspect," OSU Director of Public Safety Monica Moll told reporters. "We're very fortunate that an OSU officer was there and took quick action and we believe that injuries were minimized as a result of that."
Officials said they were investigating whether the incident was a terrorist attack.
Numerous media outlets reported Artan was a Somali refugee who had permanent US residency.
Alan Horujko, the 28-year-old police officer who shot Artan, was praised for preventing further injuries. Horujko has been a member of the OSU police department since January 2015.
Columbus Police Chief Kim Jacobs told reporters authorities were investigating possible motives to determine if the incident was an act of terrorism.
"We have to consider that it is that possibility," she said. "You know, we had an attack earlier this year with a man with a knife causing multiple injuries. So we're always aware that that's the potential, and we're going to continue to look at that. That's why our federal partners are here and helping."
Officers were later filmed putting a white blanket over the body, which lay in a pool of blood. Photos then showed them standing near the covered body.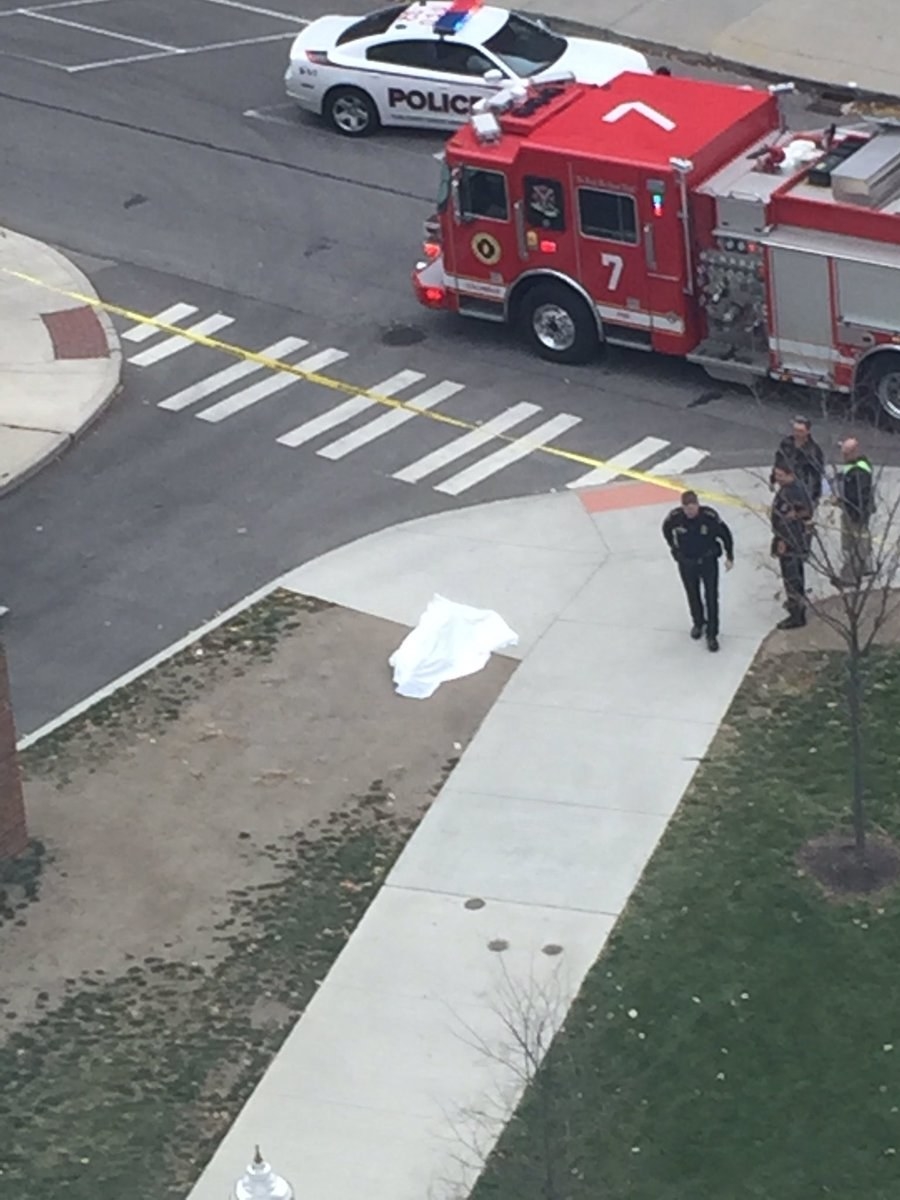 A reporter on campus shared a photo of what appeared to be the suspect's car after it crashed into a pedestrian plaza.
Officials said 11 people in all were injured in the attack.
Andrew Thomas, chief medical officer at Ohio State Wexner Medical Center, told reporters his hospital received six injured people. Two had stab wounds, three had been hit by the car, and one had lacerations.
Two others with stab wounds were taken to Grant hospital, while a person injured by the car also arrived there for treatment, Thomas said. Two other people hit by the car were taken to Riverside Methodist hospital, he said.
"None of the individuals appear to have life-threatening injury at this time," Thomas said, adding that two had undergone surgery for "orthopedic issues."
The identities of the injured have not been officially released.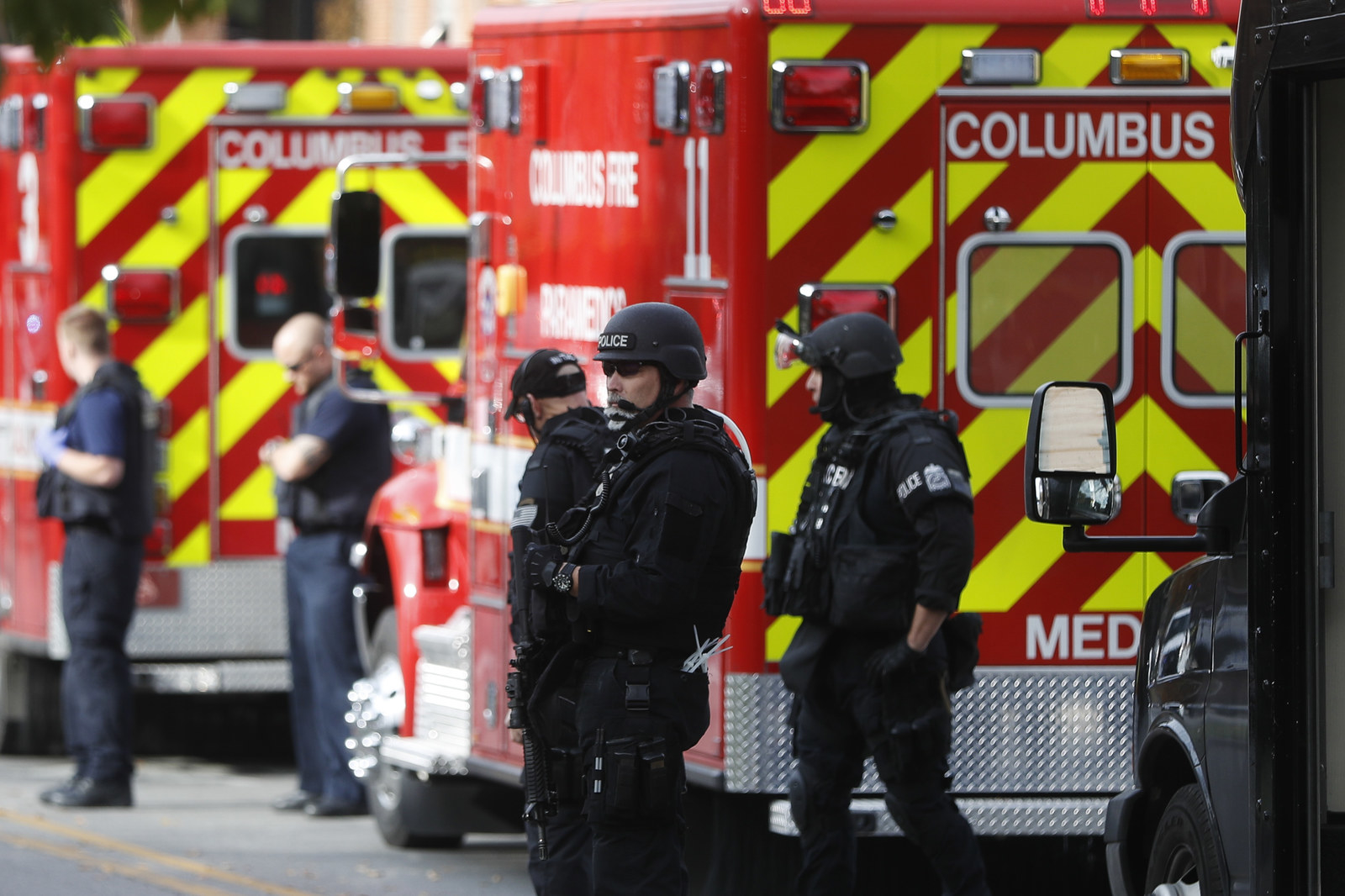 University President Michael Drake said the situation was "tragic," but something for which officials had prepared.
"Our students, our faculty and staff are all trained because we've seen things like this happen around the country, and the best we could do is be prepared and respond appropriately," Drake told reporters.
Classes were canceled for the remainder of the day, he said.
After being warned by authorities, students on campus barricaded themselves in rooms using chairs and desks.
One of the victims, OSU Prof. William Clark, said Tuesday that several students from his building had been outside on the curb because of an unrelated fire alarm that had rung minutes before the attack occurred.
Clark was hit by the perpetrator's car, but the entire incident occurred so quickly he didn't immediately realize what was happening.
The car had just hit a planter and when it backed up, Clark said, he was hit by the rear of the vehicle.
"I really didn't know what to think. I thought maybe it was a traffic accident, and then I heard people shouting," he said. "At that point I learned it was more than just a car accident."
Clark said he was bleeding but able to get up and walk back toward his building. It wasn't until later that he learned he had suffered two cuts on his leg and had been leaving behind bloody footprints.
He was released from the hospital Tuesday.
There were several people on the street at the time, he said, and if it hadn't been for the planter and the quick actions of the officer, several more people would have been injured.
Trying to hold back tears, Clark said he would tell Officer Horujko he did the right thing.
"If he was here, I'd put my arm around him and tell him he's got a lot to cope with in the days to come, he's got to live with this for the rest of his life, but he did the right thing," Clark said. "Who knows what other damage this young man would have done."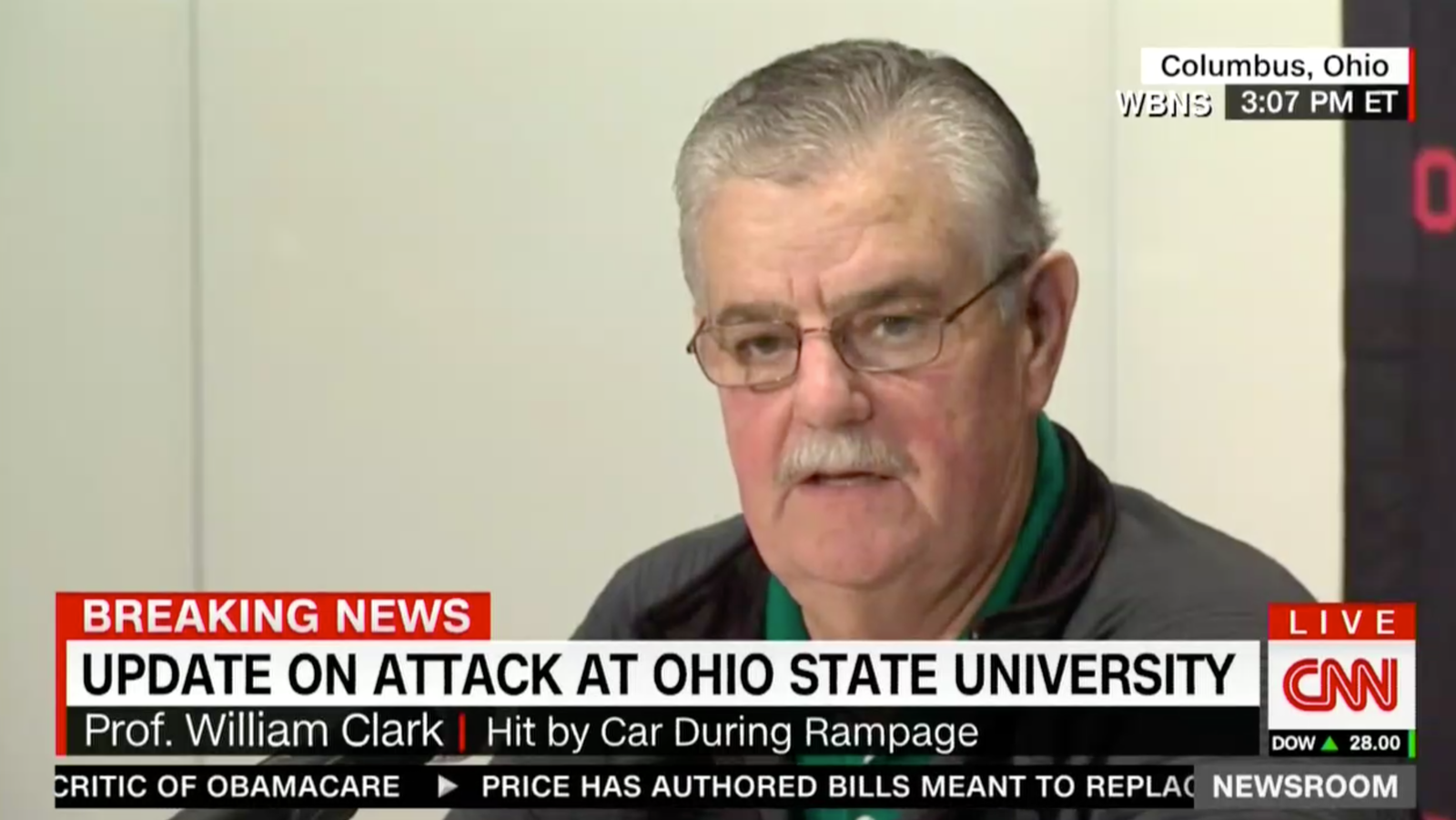 Graduating senior student Yoon Lee told reporters he was in class when he heard gunshots.
"I was just really shocked," he said. "I heard multiple gunshots and I wasn't sure it was real or not, but as soon as I looked out the window, and I saw the scene, I noticed that it was really happening."
Scott Bedle, an OSU student, told local press over a live Periscope stream that he saw students running and screaming from an area.
"I saw someone laying on the ground," Bedle said. "It was crazy, interesting ... I felt pure panic."
Basketball star LeBron James, Gov. John Kasich, and Ohio Senators Rob Portman and Sherrod Brown were among those praying for the welfare of those on campus.
A White House spokesman said President Obama had been briefed by his top Homeland Security adviser and would be kept up to date on the investigation.
"There's still a lot of information to review and collect. But obviously this is a difficult situation, and our thoughts and prayers are with the people of Columbus and the community of Ohio State at this difficult time," White House press secretary Josh Earnest said.