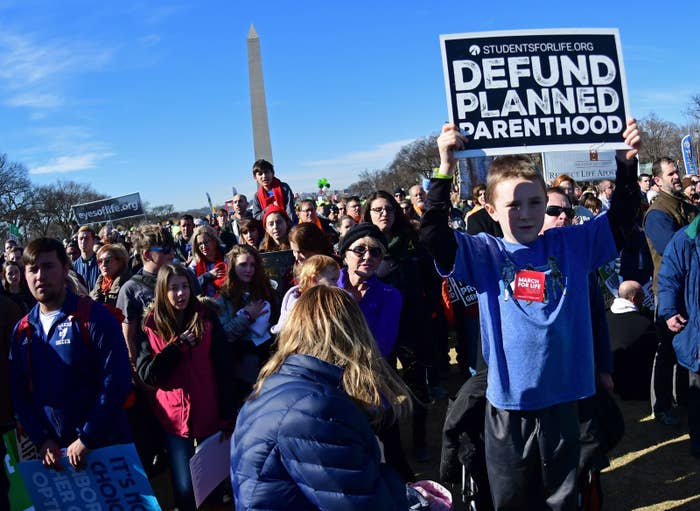 Democrat Rep. Dan Lipinski, one of the few members of his party to openly oppose abortion rights, was supposed to be a featured speaker at the anti-abortion rally the March For Life on Friday. Lipinski, who has attended the march in the past, was highlighted as one of the top speakers for this year's rally.

But when the day came around — after President Donald Trump was added to the speaker lineup at the last minute — Lipinski didn't show.
The Illinois Democrat could be in for a tough primary race this year. While his opponent, Marie Newman, is political neophyte, his stances on abortion and other social issues have put him in a tough spot in his own party. In an extremely rare move, just days before the March for Life two of fellow Illinois members, Reps. Luis Gutierrez and Jan Schakowsky, shirked their colleague and endorsed his Newman, a down-the-line progressive and, importantly, actively pro-abortion rights Democrat.
In a statement to BuzzFeed News Saturday, Lipinski cited his distrust of Trump as his reason for dropping out of the March For Life.
"I have been critical of many things the President has said that have been offensive to the dignity of many individuals and groups. Unfortunately, no one knows what the President may say at any time," he said. "Knowing this, I chose not to speak at the Washington March for Life because I did not want to put myself in a potentially morally compromised situation."
The congressman did show up to the Chicago March For Life, the weekend before his colleagues made their announcements. But on the day of the DC event, he made no announcement of his change of plans.
Even many of the national March For Life's organizers seemed unaware of Lipinski's decision to skip the event until after the march had ended.
"I understand why appearing with the opposition party right now would make him feel uncomfortable," Tom McClusky, President of March for Life Action, told BuzzFeed News later Friday. He added that while Lipinski was top-billed on their list of speakers early on this year, whether or not the Democrat would join the march had been the subject of an "ongoing discussion."
Having an anti-abortion Democrat in the March for Life lineup is important to the organization, McClusky told BuzzFeed News, and they try to get a Democrat to speak at the event every year. McClusky, who has had stints working for the Republican National Committee, told BuzzFeed News that he himself has only ever donated to one congressional campaign: Lipinski 2018.
Just two days before the march, Gutierrez and Schakowsky held an unusual Capitol Hill press conference alongside Newman, announcing their endorsements.
"It's not easy to endorse a challenger for a colleague in the House of Representatives. Especially when that colleague is a member of your own party," Gutierrez said at the event, according to the Chicago Sun-Times, adding that "this is a very special, and, I think, dangerous time in the United States of America."
The decision to endorse Newman so early on — and in Washington — reflects an ongoing and increasingly tense argument within the Democratic party. Particularly following the 2016 elections, Democrats have questioned whether the party should open its doors to more socially conservative Democratic candidates in an effort to win back a majority in Congress, or stay loyal to its pro-abortion rights base.
While there is little chance his seat won't stay blue, some see Lipinski's reelection as a test of Democratic Congressional Campaign Committee chairman Ben Ray Luján's statement that there is "no litmus test" on abortion for Democratic candidates the committee will support. The DCCC did not immediately respond to BuzzFeed News' request for comment for this story.
"If they push him out, it will be very detrimental to the Democratic party," Kristen Day, the president of Democrats for Life told BuzzFeed News at the March for Life Friday, arguing that the party could easily pick up ambivalent voters with strong feelings about abortion. "We need to be strategic about this."
Informed of Lipinski's decision not to attend the March for Life on Friday, Schakowsky told BuzzFeed News in an interview Saturday that she thinks he "is running a bit scared. He has been outed as voting in a way contrary to his district."
"He says he doesn't agree with Donald Trump, but Donald Trump and the GOP are engaged in an assault on women's rights at any turn," Schakowsky continued, "and he has been lockstep with Donald Trump and Republicans … when it comes to [abortion]."
But Schakowsky denied that Newman winning Lipinski's seat would have any bearing on future candidates supported by the Democratic party in swing-state elections.
"This is not about trying to purge people running as a Democrat in pro-life districts," she said. If being anti-abortion is "a personally held view by a Democrat running in a district where that view is also supported, i get it," she said, adding that she would still try to convince that person to vote on behalf of abortion rights once they were in Congress.
Certainly, Lipinski has been a thorn in the side of fellow House Democrats for much of his seven terms. While he often stays within party lines on labor, education, and gun control, he frequently votes with Republicans on other major issues, including opposing Obamacare and the DREAM Act. This year, he was the only House Democrat to not sign onto the Equality Act, which would increase discrimination protections for LGBT individuals.
Gutierrez told BuzzFeed News Saturday he doesn't "understand Lipinski" given the make-up of his congressional district, which voted heavily in favor of Hillary Clinton in 2016. "He's pro-life, he voted against Obamacare, he won't vote to protect the LGBTQ community. … I mean, why doesn't he just join the Republican party?"
Several powerful left-wing national groups, including the Human Rights Campaign and Democracy for America, MoveOn.org, and the Progressive Change Campaign Committee — have all united against Lipinski as well. NARAL Pro-Choice America launched an entire campaign called "Let's Dump Dan." They also targeted his scheduled March for Life appearance, saying in a scathing press release, "Lipinski is doubling-down on his bid to ban abortion and subjugate women to second class citizens" and accusing him of pursuing "an extreme right-wing agenda," despite his party affiliation.
Democratic National Committee spokesperson Xochitl Hinojosa told BuzzFeed News that the DNC does not get involved in primaries, but said that "the Democratic party is pro-choice. It is written into our platform."
"We of course have pro-life Democrats in our party," she said. "But that does not change the fact that the Democratic Party will continue to strongly support every woman's right to make her own decisions about her reproductive health and will fight Republican attempts to strip women of these basic rights."