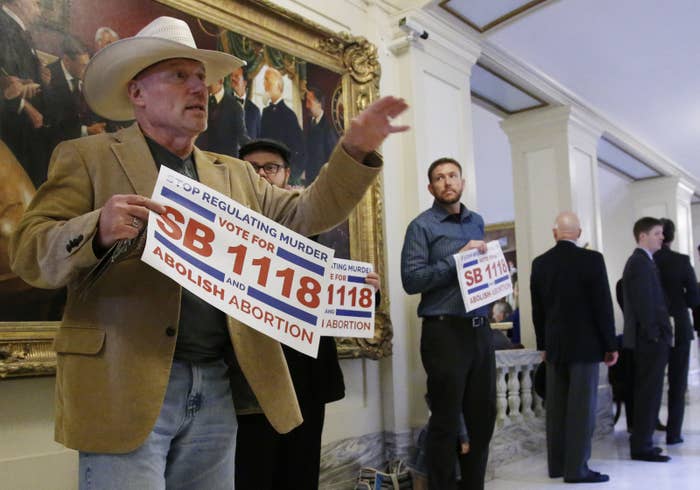 The Oklahoma Supreme Court on Tuesday unanimously overturned a law that would have imposed numerous restrictions on abortion providers, including new criminal penalties for anyone helping a minor evade the requirement for parental consent.

Senate Bill 642, which was broken down into four sections, would have required abortion providers to take and preserve samples of fetal tissue from any patient younger than 14 in order to help investigators catch "child rapists," legislators supporting the bill claimed. It also would have added more licensing requirements and permitted unannounced searches of abortion clinics and providers without warrants.

It was originally signed into law by Gov. Mary Fallin in 2015 amid a nationwide fight over abortion restrictions and Planned Parenthood funding. It was prevented from being enacted, however, due to questions over its constitutionality.

The New York Based Center for Reproductive Rights, whose attorneys led the fight against the bill, argued that legislative language could be interpreted to allow authorities to bring felony charges against providers for violating any of 140 existing statutes, including ones "as minor as posting a required sign in a font style different from that dictated in the statute" or filing their forms late.
The nine-member state Supreme Court agreed that the law violated Oklahoma's constitutional requirement that each bill must only address "one subject." The legislators behind the bill argued that the single subject was women's reproductive health, but Oklahoma's highest court strongly disagreed.

"We reject defendants' arguments and find this legislation violates the single subject rule," Justice Joseph Watt wrote for the court, "as each of these sections is so unrelated and misleading that a legislator voting on this matter could have been left with an unpalatable all-or-nothing choice."

The law was first introduced in 2015, while anti-abortion legislators across the U.S. introduced laws which came to be known as Targeted Regulation of Abortion Providers, or "TRAP," laws.

Oklahoma has often been at the center of the fight against these laws, including the mandate of a 72-hour waiting period before a woman can obtain a second trimester abortion. The CRR's attorneys have challenged eight laws they argue restrict abortion access in Oklahoma over the past four years.

Four of the Oklahoma justices also agreed that should the law not have violated the single subject rule, they would still have struck it down for impeding on women's constitutional right to have abortions.

"This court decision overturns a nasty law but the politicians who supported it will never stop until Oklahoma families start holding them accountable," the pro-abortion rights group NARAL said in a statement about the decision. "As this law shows, when anti-choice politicians hold power — be it in state legislatures, governor's mansions, or the White House — they will focus their energy on banning abortion and restricting access to basic health care."